August 21, 2011 -
Barry Dorey
NFP Sunday Blitz
Sean Weatherspoon, the Falcons' 19th pick in the 2010 draft, is having an excellent training camp in his new position at weakside linebacker. He's flying around the field, making plays with frequency. The team expects him to become a force in the regular season.
No one in the Falcons' front office will be surprised to see Weatherspoon become a star. Their biomechanical scouting profile of Weatherspoon told them he would be special.
What the Falcons have been doing for the last four years is taking a contingent of scouts and coaches to maybe 20 schools each spring. Most of the trips are made on Arthur Blank's private plane. At these schools, they put 50 to 80 players who interest them through a private workout, and videotape the workout. Then they use a software program that biomechanically asses how each player moves. Sometimes, they use game tape to make further biomechanical assessments.
"I'm not saying we have all the answers, but I'm a firm believer in trying to determine a player's level of athleticism, efficiency of movement and body control," Atlanta general manager Thomas Dimitroff told me. "Movement has always intrigued me. In the end, this league is about matching athleticism. If you can't run with someone, it doesn't matter how strong or smart you are."
Dimitroff is quick to point out the Falcons do not set up their draft board based strictly on what a software program tells them. "You put five linebackers on the board, and try to differentiate between them," he said. "There are character issues, there are intelligence issues. But when it comes down to the physical issues, how do you differentiate and scientifically look at the players to assess their skills? One scout might see one thing and another might see something else. Our goal is to eliminate some of the guesswork."
This approach is more helpful with some assessments than others. Biomechanical testing can probably tell the most about players who run and move the most. The Falcons didn't even biomechanically evaluate Julio Jones, their first-round pick this year, because his game tape told them everything they needed to know about the wide receiver's movement skills.
ICONThe Falcons like the way Sean Weatherspoon moves.
But biomechanical testing has helped them separate players. Weatherspoon, for instance, graded higher in biomechanics than any linebacker the team has evaluated in four years. His fluidity, efficiency of movement, stop-start skills and ability to generate speed quickly all were off the charts.
"No question it has affected who we have drafted," Dimitroff said. "To see Sean Weatherspoon's efficiency of movement and to compare it to other linebackers in that draft was powerful."
Old-school scouts may scoff at the notion, but if Weatherspoon is playing in a Pro Bowl soon, you can count on more teams following the Falcons' lead. Dimitroff believes it is a wave of the future, one of the next frontiers of scouting.
Dimitroff began thinking hard about the science of movement years ago. He spent about a decade working the three-cone drill at the combine when he was a scout for the Patriots. As he watched the players go by, he thought about how they moved. Some outstanding players were very efficient in the drill; others were not. Some marginal players looked like stars in the three cone; others were not.
A marginal performer with outstanding movement skills might be capable of more than he's shown, he figured. And maybe a star player who doesn't move well might not transition well to the next level.
When teams are looking for every edge they can get before investing millions in players, biomechanical scouting makes perfect sense. It can make what is widely described as "the inexact science" of scouting a little more exact.
"It's not the end all, be all," Dimitroff says. "It's just another tool to help us narrow down our focus."
Things I Didn't Used To Know
*Ten years after the death of Korey Stringer, the use of heart rate monitors is becoming more commonplace in NFL training camps. The Falcons, surprise, surprise, are using the technology to an unprecedented degree after cutting a deal with Polar, a company that manufactures the monitors. Last year the team monitored 10 players at time during practice. This year, the Falcons are monitoring 75 players at a time through four base stations around the practice fields. The information is studied after practice as well, and if a player had too high a workload in one practice, the team sometimes will make adjustments the following day.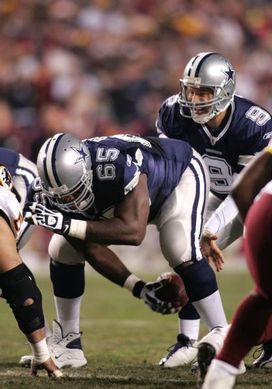 Will Andre Gurode be snapping to someone besides Tony Romo this year?
*The string of big-name Cowboys players leaving Dallas may continue. Next to go could be Pro Bowl center Andre Gurode. The impediment to trading Gurode is his salary of about $4.5 million. He also is coming off knee surgery. But Gurode is a good enough player for teams to think about making a deal. If Gurode is moved, the Cowboys will have a completely new right side of their line, as 2010 right guard Leonard Davis and 2010 right tackle Marc Columbo previously were let go.
*Having an uncapped year in 2010 might have helped the Packers win the Super Bowl. At least that's what coach Mike McCarthy believes. "If not for the uncapped year, we probably don't get done what we got done," McCarthy told me. The Packers put an NFL-high 15 players on injured reserve, and subsequently had more players on their payroll than any team in the league. Like many teams, the Packers would have exceeded a cap if it had been say, $132 million, which is a reasonable projection from the old deal. But the team also would have operated differently had there been a cap. The Packers funneled some cap expenses from 2011 and beyond into 2010, as numerous teams did. Their in-season pickups included Howard Green, Anthony Smith and Erik Walden. "Not that we brought in big-ticket guys, but they all helped," McCarthy said. "If there had been a cap, we would have been up against the cap, and not able to bring them in."
*The Saints may be over their Super Bowl hangover. It wasn't a very well-kept secret that many of the players enjoyed the spoils of their Super Bowl victory a little too much last year. Given the city they play in, some of the Saints found temptation was always right around the corner. But the word out of the Crescent City is the team is more focused and serious this season.
*Tandon Doss doesn't have Torrey Smith's speed or pedigree—he was chosen in the fourth round of the April draft after Smith was taken in the second—but so far Doss looks like he might be able to help the Ravens more this year. Doss has adjusted to the pro game quickly and caught everything in camp. His playing style is a little like Anquan Boldin's. It won't be surprising to see Doss overtake Smith on the depth chart. Smith has struggled to get his 4.41 speed to translate on the field.
My Sunday Best: Unsigned players
The unusual nature of free agency this year left more good veteran players without teams than usually is the case. Many of them will find work as injuries pile up. Here are some of the best still out there.
Kevin Bentley. He started eight games for Houston a year ago but wasn't a scheme fit in Wade Phillips' new defense.
Tony Brown. This interior lineman was a starter for the past four years for the Titans and is only 30 years old.
Mark Clayton. The former Ram is coming off a knee injury but is only 28 years old and was productive in spots last year both for the Ravens and Rams.
Channing Crowder. He claims he is retired after his surprise release from the Dolphins. But at 27, Crowder should still have a lot of good football left in him.
Leonard Davis. His best days are probably behind him at 32. But if Davis' weight is under control, he still could start and play effective football in a zone scheme.
Kelvin Hayden. The Colts signed the hero of Super Bowl XLI to a $43 million deal two years ago, and he still can cover. Hayden's price tag and a neck injury made him expendable in Indy. Other teams have been cautious because of his medical situation.
T.J. Houshmandzadeh. The 33-year-old hasn't been the same player since leaving the Bengals after the 2009 season. Even though he dropped a critical pass that might have cost the Ravens their playoff game against the Steelers, Housmandzadeh still could help a team as a possession receiver.
Vince Manuwai. A team that loses a guard will be all over this veteran known for his run blocking.
Kirk Morrison. He didn't have his best season in 2010, but Morrison is a starting-caliber middle linebacker and a good locker room guy.
Randy Moss. He still has the speed and talent to make big plays, but he isn't as well-rounded as he once was. Many teams perceive Moss to be a divisive force, which makes him less marketable. Moss says he is done.
Antwan Odom. The defensive end can get after the passer, as evidenced by his five sacks of Aaron Rodgers in one game in 2009. But he is considered a durability risk. If Odom can stay healthy, he can help a team.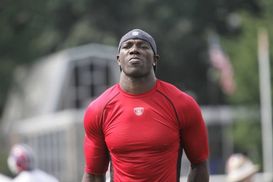 ICONTerrell Owens still has the muscle to make plays.
Terrell Owens. He doesn't separate the way he used to and his route running has slipped, but he still can run a slant and go vertical.
Clinton Portis. He's only 29, but he hasn't been able to stay healthy for two years. Portis can't be counted on to be a workhorse anymore.
Darren Sharper. He still can play centerfield and come up with the football, especially on nickel downs. But like a lot of veterans, he's not a great special teams candidate, and most coaches demand their backups be special teams contributors.
Max Starks. There is good tape on Starks, but his weight is a concern and he is coming off a neck injury.
Lofa Tatupu. He has some wear and tear on him, but in the right scheme Tatupu can be a very effective middle linebacker. He's arguably the best player on the market at any position.
Brian Waters. He is 34 but made the Pro Bowl last year. Waters should not be unemployed for long.
Stylez G. White. He isn't for everybody, but White will find a job with a defense that uses an up-the-field scheme and needs a pass rusher.
Pat Williams. At 38, he isn't what he was, but players as big as Williams with his ability to clog up the middle of the field are hard to find, so it's likely he'll find work if he wants it. He could even end up back with the Vikings at some point.
One Man Yelp: Michael Vick in GQ
Read Will Leitch's fine profile on Michael Vick in GQ if you get a chance. It's a good look at a man who has experienced some incredible highs and lows.
There is some understandable frustration in Vick over how the whole dog fighting mess overtook his life. Vick paid a very steep price, 544 days in prison. He thinks it's a media issue. He thinks it's a culture issue. And he is right on both counts. But it's also a legal issue, which is what left him vulnerable.
In the story, Vick said he thinks one of the reasons he wasn't better in Atlanta is because they had a revolving door of coaches. That's frequently a problem with player development. And where the door will spin isn't always easy to predict. Few organizations have been as stable as the Eagles, however.
His initial hesitancy about signing with the Eagles and preferring the Bills or Bengals shouldn't surprise us. It's probably the way most players would have felt. When players have these kinds of choices, they are almost always motivated by money first, opportunity second. And not much else. In Vick's case, opportunity was especially important because he viewed his first contract after prison as a stepping stone to a second. The organizational stability, coaching, environment and prospects for long-term success rarely are given as much credence as they should.
Vick's marriage with the Eagles has worked out better than anyone could have forecast. But it's difficult to envision a marriage with the Bengals or Bills having worked out anywhere near as well.
Vick and his agent Joel Segal ultimately placed him in the right spot, whether or not they had a nudge from above.
In GQ, Vick willingly exposes his abs, and more. He exposes his heart.
Hot Reads
*The man speaks the truth.