October 21, 2012 -
Dan Pompei
NFP Sunday Blitz
The Cleveland Browns are notorious for starting a new era every 15 minutes.
Check your watch. It's time.
But this era may be different. At least that is the promise of new team CEO Joe Banner and the hope of the Browns faithful.
Banner, who was put in charge of this historic franchise last week by new owner Jimmy Haslam, shared his vision for the Browns in an interview with the National Football Post.
One of the things the former Eagles president talked about in his introductory press conference was his hope that the Browns won't take very long to turn things around. He expounded on it when we spoke.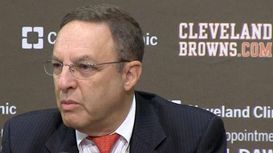 Joe Banner is introduced as the Browns' new CEO.
"I believe the team is further along than it may look," he said. "They have added some players in the last few years. They are very young. Most turnaround teams, the record lags behind the talent a little bit. As you draft players, it's usually couple years or so before they really start to approach their potential. So it's not unusual that when a team is improving it is not necessarily showing it in their won loss record, at least initially. You don't want that to go on very long, but I actually believe this is an instance where the quality of the team is better than the record. I'm more optimistic about the starting talent on the team than a 1-5 record would make you think."
That would lead us to believe that players like Brandon Weeden, Trent Richardson, Josh Gordon, Joe Thomas, Joe Haden, Phil Taylor and Jabaal Sheard have a decent chance to remain core players on the new Browns. But those aren't decisions anyone is making at this point.
Instead, Banner is establishing a model. "What we did in Philadelphia, and what most winning teams have done, is you have to have character players who are willing to work hard and be unselfish," he said. "You have to be able to dominate both lines of scrimmage. You have to have a quality quarterback. You have to have a good head coach with good coordinators and a personnel department that gets a good batting average on personnel decisions."
I asked him if he thought the Browns' culture of losing would be an obstacle. "I hate to use the word obstacle, but it is certainly something that needs to be changed," he said. "It may be in the process of happening. I think we want to set high goals in everything we do. We don't want to have people who are afraid of that, or have an organization that thinks moderate, incremental improvement is good enough. It starts with creating high expectations and getting people comfortable with that. One of the things we want to do quickly is instill that mindset in everything we do."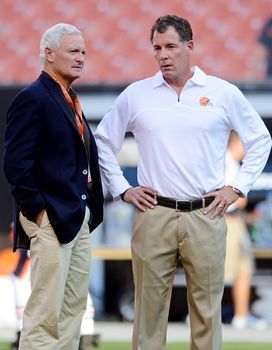 Browns owner Jimmy Haslam talks with head coach Pat Shurmur.
One of Banner's first issues is whether or not he feels comfortable doing that with current general manager Tom Heckert and head coach Pat Shurmur. He has made no decisions yet, and wants to use the rest of the season as a gauge.
Banner may come to the conclusion that having the Browns change courses yet again may not help the team in the short term, but it could benefit them in the long term. One thing is certain—he wants to stop the constant turnover.
"I'm a very big believer on the importance of continuity," he said. "But I think you have to hit the right point when you walk your team of people in and drive continuity going forward. One of the things we intend to do is evaluate where we have the people who are capable of bringing us to the level we want, and where we need to put in different or better people. Sometimes, maybe it's not better people but people who fit better together. Then you want to lock in and make a priority of the continuity. If you do that prematurely, you are liable to be locking into not quite good enough."
Banner has noted that different front office structures have succeeded in the NFL, so he is not locked onto doing it one way. He also is not locked onto having a certain type of general manager. Banner acknowledges it would be ideal to find a general manager with a proven track record, but don't be surprised if he doesn't.
"Maybe more so than anybody, I've shown a willingness with Howie [Roseman], Andy [Reid], Don Smolenski and others in the organization to find people I think are very smart, hard working and put faith in them and give them responsibility, support and leadership," he said. "I won't be afraid of that again. But at the same time I won't rule out the possibility that I'd hire somebody with experience of from a more traditional background."
Banner does not feel obliged to have a traditional "football guy" as his GM. "The league has changed. There are more and more Mickey Loomisis, Mike Tannenbaums, Howie Rosebaums, Bruce Allens—men who aren't what used to be defined as football people and are running extremely successful operations," he said. "You want to be open minded about finding the best."
He also wants to be open minded about who the Browns' head coach will be. He said in a perfect world, he's favor a coach with an offensive background. But that won't be his biggest priority.
"If you pigeon-hole it, you are likely to overlook somebody who could be a superstar," he said. "You try to get by the biases and find the quality. I think you have to have a head coach who has phenomenal leadership skills and the ability to put together an outstanding staff and work the staff so you get the most out of it. I don't think you see successful teams that don't have quality coordinators. I don't think you see successful teams who don't have head coaches who can't inspire the players to work hard and work together and be unselfish."
Whoever ends up in the general manager and head coach positions will report directly to Banner, and he will report to Haslam. That's a slight change from Banner's role in Philadelphia, where the football people reported directly to Eagles owner Jeffrey Lurie.
All of this makes Joe Banner a very important man in the future of the Cleveland Browns.
Things I Didn't Used To Know
*The top five spending teams in the NFL this year, judging by money paid to players, are the Saints, Texans, Eagles, Lions and Bills. Their combined winning percentage is .500. The bottom five spending teams in the NFL this year are the Vikings, Colts, Rams, Bengals and Packers. Their combined winning percentage is .517. Most interesting is the Saints, football's top spenders, doled out more than $63 million more than the Vikings, football's lowest spenders. And the Vikings have three more wins.
*Losing Ladarius Webb is more concerning to the Ravens than losing Ray Lewis because Webb was playing much better. Webb, who has played in 13 fewer Pro Bowls than Lewis (Webb hasn't made one yet), quietly has developed into one of the Ravens best players on either side of the ball. The good news is the team has a fine replacement ready to step in. Former first round pick Jimmy Smith is one of the most talented corners in the NFL. He just hasn't put it together yet in terms of being disciplined in his coverage and trusting his eyes. Some think Smith will step up now that more is expected of him.
My Sunday Best: Old Guys
We have forever been told that football is a young man's game. But there is a hearty group of NFL survivors who are playing at a high level and challenging that notion in 2012. Yes, this is a trend. Here are my Sunday best old guys. I'm using 34 as the cutoff point, with the exception of one position that didn't have a good candidate who was older than 31.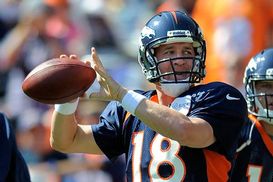 Peyton Manning has silenced those who thought he could no longer perform at a high level.
Quarterback—Peyton Manning, 36. He and 35-year old Tom Brady have thrown for more yards than any other quarterback in the league. Even though Brady beat Manning, Manning has thrown for four more touchdowns, completed a higher percentage of his passes (67.8 to 65.8), come back from a year away from the game and engineered the most dramatic victory of the season last Monday.
Running back—No one qualifies as a 34-year old here. There also are no 33 or 32 year olds. Best 31 year old is Willis McGahee, who has rushed for more yards than all but 13 others and is averaging 4.3 yards per attempt.
Wide receiver—Reggie Wayne, 34. Despite playing with a rookie quarterback, Wayne is third in the NFL in receiving yards, thanks in part, to his 212 yard performance against the Packers.
Tight end—Tony Gonzalez, 36. His 430 receiving yards are tops among NFL tight ends. He killed the Redskins with 123 yards.
Offensive tackle—Jeff Backus, 35. He might not be on his way to a Pro Bowl, but he remains entrenched as a starter at a critical position for one of the NFL's most statistically successful offenses.
Guard—Steve Hutchinson, 35. He isn't what he was in his prime, but after jumping from the Vikings to the Titans, Hutchinson has treaded water.
Center—Jeff Saturday, 37. He is revitalized snapping to Aaron Rodgers. The former Colt gets the nod over Baltimore's Matt Birk.
Defensive end—John Abraham, 34. He's playing both right and left end, and having success at both positions. He had three sacks and dominated against the Raiders.
Defensive tackle—Casey Hampton, 35. He is sharing snaps with Steve McLendon, but Hampton still is a force in his 12th season. He even is playing on some passing downs.
Outside linebacker—Paris Lenon, 34. The former Packer, Lion and Ram has six starts and two sacks for the Cardinals, who are ranked 10th in NFL defense.
Inside linebacker—London Fletcher, 37. Lot of good candidates here, including Brian Urlacher, Keith Brooking, Mike Peterson and Takeo Spikes. Fletcher leads his team in tackles and has shown little dropoff.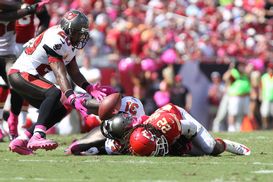 Ronde Barber still has the instincts that have made him one of football's best defensive backs.
Safety—Ronde Barber, 37. Tough call between Barber and Ed Reed, but we'll give it to Barber because he is three years older than Reed and playing a new position. Both have two interceptions. Barber returned his latest 78 yards for a touchdown against the Chiefs.
Cornerback—Antoine Winfield, 35. He has some tough competition with 36-year old Charles Woodson and 34-year old Champ Bailey, but Winfield's success has been the most surprising after he missed 11 games last year with a broken clavicle. In addition to having two interceptions, he has seven tackles for a loss. Pro Football Focus rates him as the most effective two-way corner in the league this year. This is what Vikings defensive coordinator Alan Williams told the St. Paul Pioneer Press about his performance last week, "I would say wow—capital W, capital O, capital W… wow. It has a huge impact. That's as good as I've seen anyone play in a long, long time."
Hot Reads
*Let me say something about Jimmy Haslam right now: impressive, very impressive. I'll be surprised if he doesn't give Cleveland a franchise it can be proud of.
*Andy Reid is an outstanding coach and a first-class human being, but firing Juan Castillo, instead of maybe re-assigning him, seemed very much out of character for him.
*Everybody wins with the appointment of Paul Tagliabue to hear the appeals of the four players in the Saints' bounty scandal. The Saints win because Tagliabue is not just an extension of Roger Goodell. And Goodell wins because he washes his hands of the mess while providing a credible arbiter.
*If Jimmy Kennedy could unload on QBs the way he did on the commissioner, teams would be lining up to sign him.
*Matt Bowen figured out how the Patriots have been killing everyone in the passing game.