May 27, 2012 -
Dan Pompei
NFP Sunday Blitz
Not many general managers are reputed to be great drafters, but Ted Thompson is. So it's worth studying the patterns of his drafts—if you can find them, that is.
One of the qualities that makes the Packers general manager so good is his draft philosophy is fluid, and flexible, always changing based on circumstances. That was evident in the recent draft.
One of the hallmarks of a Thompson draft is the trade down. In his seven previous drafts as G.M., Thompson made 16 tradedowns and only three tradeups. Moving down clearly has been his preferred trade mode.
And what did he do in this draft? Trade up. Three times.
What's up with that?
Thompson has some outstanding new lieutenants in place in director of football operations John Dorsey and pro personnel director Eliot Wolf, but he isn't being talked into a new way of doing things as much as he—and they--are being reactive to circumstances.
"In every case, there was a player we had rated higher than where they were at that particular time," Thompson told me. "You trade up because you think the player won't be there at your turn.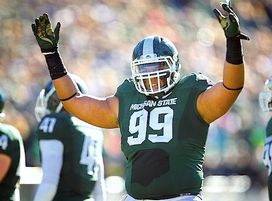 ICONIt takes a great value to entice Thompson to trade up. He thought Jerel Worthy was one.
The players acquired as a result of the trades were defensive end Jerel Worthy in the second round, cornerback Casey Hayward in the second round, and linebacker Terrell Manning in the fifth. The Packers had the 31st pick of the second round originally. When they saw Worthy still on the board in the middle of the round, Thompson's eyes got big. They moved up to the 19th pick to take him, giving up a fourth round pick in the process.
"It's always hard to give up the picks," Thompson said. "Draft picks are very important. We don't just casually do it. But if there comes a moment in time in the draft when we feel it's too good to turn down, we do it. We thought Worthy was a very good value at that point of the draft. We were a little surprised he was still there."
What he did to get Worthy was not unlike what he did in 2009 when he moved up for Clay Matthews. He saw a player who he thought was an outstanding value who also not coincidentally filled a significant need.
When he moved up 15 spots in 2010 to take safety Morgan Burnett in the third round, there was another motive: jumping teams ahead of the Packers that needed safeties, most notably the rival Bears.
Trading up felt good this year, but there were some unusual circumstances that led to Thompson changing it up this year. First, the Packers had 12 picks, including four compensatory picks. That was a big wad of cash in Thompson's pocket. Given where the Packers are as a team, they didn't need 12 players. They needed impact players.
Thompson also thought the draft was exceptionally strong in the second through fifth rounds. That's where he did his dealing.
"Most of time when traded down, we felt a number of players were available and that some of them would still be available at where we were going," he said. "We could go down, get additional picks and still be able to help our team."
Thompson also can be defined as a drafter who follows the best available player philosophy. But there have been times, including this past draft, when he clearly has drafted for need. Of course, drafting the best available and drafting for need don't have to be mutually exclusive.
"This year it worked out pretty good because there were some areas we wanted to address," Thompson said. "Going in the defensive board was pretty strong, and we had opportunities to take players within our philosophy. It worked out."
It also worked out in 2009 when the Packers plucked B.J. Raji and Matthews from the first round to fill two giant needs. "We were taking pretty good players that year," Thompson said. "It's rare that it comes together like that when you are able to get the players who clearly are the best players on the board and they also fill your needs."
Tell Thompson he drafted for need, and you will have an argument on your hands. "You can say I've done things differently, but I've never gone against that philosophy of taking the best player," He said. "Needs are temporary. That's the reason I stick with the best player available strategy. What you think you might need, or where you think you might be strong can change. You can have a couple of accidents in the offseason and all of a sudden you aren't strong at all."
Thompson may be flexible, but some things are set in stone.
Things I Didn't Used To Know
*Missing offseason work is a big deal for Titus Young because one of the Lions' offseason goals for him was to get him comfortable playing more than one position in 2012. In order to do that, the second year man needs to take a lot of practice reps. If Young can line up in different spots, he can be included in more plays. He made news by missing OTA practices last week after taking a swing at teammate Louis Delmas, but the Lions believe he will be making news in the fall for making plays. The team has high hopes for Young because he finished the year strong and seemed to develop a rapport with quarterback Matthew Stafford as the season went on.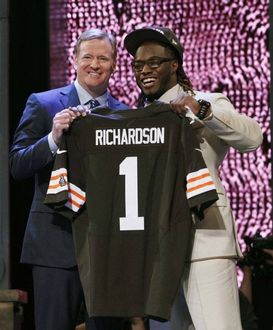 The Browns are thrilled to have Trent Richardson, regardless of what Jim Brown thinks.
*The great Jim Brown might not see anything outstanding in Trent Richardson, but the Browns office sure did. In fact, the name "Adrian Peterson" came up in the Browns offices when they were evaluating Richardson. The Browns acknowledge Peterson is a little faster, but they think Richardson is better in pass protection, and they believe he is one of the best backs to enter the league in quite awhile. The Browns love his versatility and plan on getting a lot of out of Richardson ASAP. They are not the only ones who think Richardson will be a quick study. Richardson's presence does not mean the team is giving up on injury-prone Montario Hardesty, however. The hope is that Hardesty can stay on the field and give the Browns a pair of pounders.
*It is no surprise that the production of Seahawks receiver Mike Williams took a dip in 2011 after he had a career year in 2010. Williams' breakout season was the result of dedicating himself to conditioning and preparation for the first time in his career. Last year, sources say he reverted back to some of his old lazy habits. His weight has been an issue, both during the season and in the offseason. And not being in shape contributed to him not staying healthy last year.
*The Falcons were interested in Asante Samuel in part because they believe he will bring a higher level of confidence and swagger to their defense. Samuel is a four-time Pro Bowler and his 45 career interceptions are third most among active cornerbacks. Samuel is a risk taker, but the Falcons believe he has "some of the most accomplished anticipatory skills of any DB in the league." Samuel believes he can cover any receiver. The Falcons think that kind of attitude can be contagious.
My Sunday Best: Thompson's Top Picks
Since becoming general manager of the Packers in 2005, Ted Thompson has become respected as one of the best in the business at drafting. With that in mind, here are my best dr aft picks by Thompson. Any disagreements?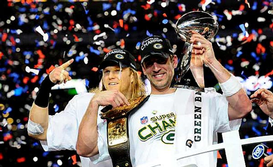 Ted Thompson doesn't have to be picking at the top of the draft in order to find stars like Clay Matthews and Aaron Rodgers.
1. Aaron Rodgers, first round, 2005. This was one of the best draft picks by anyone, ever. I can't see a player like Rodgers ever falling to the 24th pick again, given how the quarterback desperation has driven up the stock of players like Ryan Tannehill, Brandon Weeden, Jake Locker and Christian Ponder. Thompson, who already had a 35-year old Brett Favre playing very well in 2004, was smart enough to overlook other needs and stop Rodgers' slide. Thompson and the Packers were good, but they also were lucky. Andrew Brandt once wrote that the team really wanted DeMarcus Ware or Marcus Spears with this pick, but both were off the board. He also said the team would have entertained a trade proposal, but none came.
2. Clay Matthews, first round, 2009. He was the fifth pass rusher/outside linebacker taken in the draft and has become the best. Matthews was a late riser in the draft process, and at the time, some thought Thompson reached for need by trading up 15 spots and picking him 26th. Clearly, he did not.
3. Matt Flynn, seventh round, 2008. It's difficult finding a starting NFL quarterback in the first round, let alone the seventh. Flynn is as much a credit to Mike McCarthy and Tom Clements as Thompson, because the coaches developed him. Eleven quarterbacks were chosen ahead of Flynn, including Brian Brohm by the Packers in the second round. Brohm did not make this list.
4. Nick Collins, second round, 2005. After the release of Darren Sharper, the Packers desperately needed a playmaker at safety, and they found a three time Pro Bowler in Collins. A lot of teams considered him a cornerback, and he wasn't that highly regarded until he ran a 4.37 at the combine.
5. Desmond Bishop, sixth round, 2007. In a draft with a number of linebacker busts, Thompsons pulled a solid starter out of round six. Bishop, like Rodgers and other Packers, benefited from patience, time, and good positional coaching from Winston Moss. He took off after Dom Capers became defensive coordinator.
6. Greg Jennings, second round, 2006. Jennings did not have the kind of measurable that made teams drool. And that's often all that matters in terms of wide receivers' draft stock. But Thompson saw an instinctive player with top quickness who knew how to get open.
7. Josh Sitton, fourth round, 2008. He played right tackle at Central Florida and was not that highly regarded by some teams. He has become one of the better guards in the NFL.
8. Jermichael Finley, third round, 2008. This was an excellent value pick as many thought Finley would be taken as high as the second round. The Packers got him with the 28th pick of the third.
9. Jordy Nelson, second round, 2008. Based on what scouts were telling me pre-draft, I had Nelson rated as a third round pick. Thompson nabbed him with the fifth pick of the second round and made him the third overall receiver taken. Nelson's play the last couple of seasons has justified Thompson's faith in him.
10. B.J. Raji, first round, 2009. Some thought the ninth overall pick was a bit rich for Raji, but he filled a need and has played some excellent football. If Raji can become more consistent year to year, he can make the selection look inspired.
Scout Talk: Let's Make A Deal
The NFL is in a new era for draft pick movement as well as ball movement. In the recent draft, 36 picks were dealt, including a record setting 16 in round one.
Thirteen teams made at least three draft pick trades. The Eagles won the trading Super Bowl by making five deals. Next up were the Broncos, Dolphins, Niners, Patriots and Vikings with four deals apiece. Making three deals each were the Bucs, Colts, Jets, Lions, Packers, Rams and Redskins.
Of course, the lack of a rookie salary cap paved the way for more deals. Especially in the first round. But there is more to it than that, according to front office men I spoke with.
Said one AFC executive, "This draft was not deep, so it led to trades. People needed things, so they went up and got them."
A second AFC front office man said he believes future drafts will look like the 2012 one in terms of trades. He cited the change in the rookie pool as one reason, but he said there is another reason too. "Philosophies are changing," he said. "First time general managers and head coaches feel they have to make impact moves because they won't have a lot of time to turn around their teams. A lot of existing general managers and head coaches feel pressure to get what they need in order to stick around."
It seemed as if fans and teams were in agreement on one thing. "I loved all the movement," the second AFC man said.
Hot Reads
*This piece in Esquire beautifully tells the story of how the greatest athlete in the world became a sideshow to the former girlfriend of Reggie Bush. And Miles Austin. And a few others.
*Titus Young would be best advised to try to follow the career path of someone like Gene Washington, not Kermit Washington.
*Some might say a thief robbing Chad Ochocinco evened out what Ocho did to the Pats last year.
*I'm all for more pads in the NFL—on coaches.
*Some people got down because of the NFL lockout last offseason. Others, like Fred Davis, did the opposite.
Dan Pompei covers pro football for the Chicago Tribune. Follow him at Twitter@danpompei