November 21, 2010 -
Dan Pompei
NFP Sunday Blitz
Michael Vick aside, the top quarterbacks in the game all share one trait in common—they have been in the same system for a significant period of time.
Peyton Manning has been in the same system for 13 years. Tom Brady for 11. Ben Roethlisberger, Eli Manning, Aaron Rodgers, Drew Brees and Tony Romo all have been in one system for at least four years.
Which leads us to one reason why Philip Rivers may be the frontrunner for most valuable player in the NFL this year. Rivers is in his fourth season with Norv Turner, and he is operating the Chargers' offense as if he is using Turner's mind combined with Rivers' arm.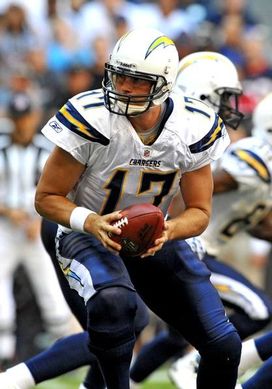 ICONThe more entrenched Philip Rivers becomes in Norv Turner's offense, the more dangerous he becomes.
"You're on the same wavelength, now," Turner told me. "The first year you are together you have to say the whole play, and sometimes have to repeat it. Now, give him the formation and he knows what play is coming, or give him the formation and protection and he knows what play is coming. It helps the whole production. He knows when to get off a guy, when to stay with him, when to check down. He doesn't get fooled very often."
Turner has had such a connection with only a few quarterbacks in his long NFL career. Some coaches are never fortunate enough to develop it because they aren't in one place long enough, or they don't have a quarterback who stays in the same place. Turner had it with Troy Aikman in the 90s, certainly. And he developed it quickly with Brad Johnson with the Redskins in 1999 and 2000. "He had played a lot, and the offense just fit him," Turner said. "He's that kind of sharp guy. Philip had not been in a system like this. Each year he has gotten more comfortable to the point where we do have that rhythm."
In addition to being in sync with Turner and his offense, Rivers also is in sync with some of the players he's throwing to. He has played with Antonio Gates for seven years, with Vincent Jackson for six years, with Malcolm Floyd for five years and with Darren Sproles for six. "They really have a great feel for each other and a sense of what they expect each other to do," Turner said.
And when some of those veterans have missed time, Rivers has still been able to carry the Chargers' passing game. In their last game two weeks ago against the Texans, the Chargers were without Gates, Jackson, Floyd and Legedu Naanee. Rivers made it work with a group of no-names, including two practice squad call-ups.
"It's been harder for him than other years because we've played a lot of young guys, had problems in the kicking game and fumbled the ball probably more than any team in the league," Turner said. "He's had to overcome a lot of things. He just makes it work."
And Rivers has done that. Statistically, he is the best passer in the NFL. And as the Broncos may discover Monday, he may be the best passer in the NFL by any measure.

Things I Didn't Used To Know
*Word on the street is that Cowboys owner Jerry Jones is planning on putting together a "super staff" of assistant coaches for the Cowboys next year, and is willing to pony up to get the best. That could be an indication that he is thinking about retaining Jason Garrett.
*The Rams can't help but giving Sam Bradford more of the offense and more responsibility than they originally planned. That explains why the first pick in the draft is on pace to have more completions and attempts than any rookie quarterback in history. Rams quarterbacks coach Dick Curl told me it's been difficult to spoon feed Bradford because he keeps digesting everything so quickly. "We tried to give it to him gradually, but we've given him more than we wanted to because he has grasped things so well," Curl said. "From the day we drafted him, he's worked at it. He's in all the time, to the point he kind of pesters me. He's a workaholic." Curl said Bradford typically arrives at Rams part at 7 a.m. and stays until 6 p.m. But then he studies tape and the game plan on his laptop at night. During my 8 p.m. conversation with Curl, he was preparing to fax Bradford something for that week's game plan. He said he knew Bradford would know it all by the morning, and come in prepared with questions.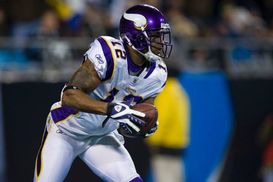 ICONThis guy does it all for the Vikings.
*Speaking of quick studies, it's easy to forget Percy Harvin is a second year player because he shows such a deep understanding of the game. The Vikings couldn't do more with him if they tried. He plays in the slot, out wide, in the backfield and is often put in motion before the snap. "We do as much as we can with him," Vikings offensive coordinator Darrell Bevell said. "He has done a great job of enabling us to move him wherever we need to move him. His overall understanding of our offense has grown so much. He understands the whys of the offense, why we need him where we need him and how he can be most successful." Also noteable: Harvin has been able to expand his understanding while missing a significant amount of on field work, mostly due to migranes.
*With three new wide receivers and two new tight ends, Joe Flacco has had a lot to learn this year. Ravens coach John Harbaugh told me Flacco still is figuring out when he can stick a throw into a tight spot to a certain receiver, and when he should look elsewhere. He also said Flacco, in his third NFL season, still is figuring out how he wants his receivers to respond to him. It's not like he's a veteran who knows exactly how to groom his receivers. But the chemistry between Flacco and his receivers definitely has improved. Since the third week of the season, Flacco has the best passer rating in the NFL (107.2) and has thrown 14 touchdowns to two interceptions.
*Jerraud Powers will likely be a key player in the Patriots-Colts battle because he usually moves inside on nickel and covers the slot receiver. He's been a key player ever since he became a starter last year as a rookie. In fact, Bills president Bill Polian told me he thinks Powers should have been in the running for defensive rookie of the year in 2009. Powers is better this year, as he is playing with more consistency. He's been banged up a little, but his instincts still have shown through.
*Moving Chris Kelsay back to defensive end was a good move for the Bills. One pro scout told me even though Kelsay is a good run and chase guy, he lacks the instincts and ability to play in space to be an effective outside linebacker.
*Eric Johnson has come a long way since the first time I heard his name. Last week, the gossip rags told us he has become engaged to the lovely Jessica Simpson. The first time I heard Johnson's name, I was sitting in the 49ers' draft room in April of 2001 as their pick approached. He was an obscure tight end out of Yale who wasn't even on many team's radars. But Bill Walsh loved him. He was one of the players Walsh targeted in the draft. And when he got him in the seventh round, a celebration ensued. Johnson ended up being Walsh's last draft pick. Let's hope his marriage lasts longer than his career (seven years).
Thing I Didn't Need To Know
*Vikings defensive tackle Pat Williams, who has one of the worst bodies in the NFL, wears a G-string.

My Sunday Best: Quarterback Leaders
When Peyton Manning and Tom Brady square off for the twelfth time Sunday, the two undisputed best quarterback leaders in the National Football League will try to prove, once again, that he can lead better than the other guy. So far, Brady has gotten the better of Manning if seven of 11 meetings. To recognize the Patriots-Colts game, here are my best leaders at the quarterback position in the game today.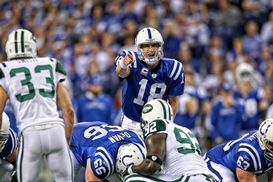 ICONPeyton Manning shows the Colts the way on every snap.
1. Manning. He is a complete leader in every way. He does everything right as a football player, from offseason work, to in-season practices, to pre-game preparation, to game play. He is vocal, forceful and demanding. Manning has more latitude in running the Colts offense than any other quarterback in the league has in running his offense.
2. Brady. If he were in the armed forces, he'd be a general. The perspective of a sixth round draft pick and the talent of a hall of famer make Brady an unusual man. He takes to coaching as well as anyone. He puts the team first. And he will step up to meet any challenge. Not showing up for some of the Patriots' offseason activities might have knocked him down a notch, however.
3. Drew Brees, Saints. Has any player in recent years lifted up a team and a city quite like Brees has? If someone didn't know him, they might not think he was a great leader because of his understated demeanor. But Brees is the type of player who everyone in the locker room gravitates to.
4. Brett Favre, Vikings. He's still one of the very best leaders in the game, even though the results haven't shown it this year. He can galvanize a team like few can. Favre is a legend who is one of the guys. Vikings players want to win for him as much as for themselves.
5. Aaron Rodgers, Packers. As a young player replacing a legend, Rodgers did a remarkable job of winning over his team. And he did it just by being himself.
6. Philip Rivers, Chargers. In past years, Rivers wasn't as much of a leader because of the presence of so many other veterans in the locker room. But this year, he has become the leader of this team. He has become more vocal and has taken some young players under his wing.
7. Matt Hasselbeck, Seahawks. He is the kind of player everyone looks to at crunch time. He always has been a bit of a rebel with a wild hair, but that's not necessarily a bad thing for a leader.
8. Matt Ryan, Falcons. He is the preeminent leader of the new generation of QBs. He has great presence and is always calm under pressure.
9. Donovan McNabb, Redskins. He is one of the most charismatic leaders in the locker room. Terrell Owens aside, McNabb is well-liked by everyone he works with. Before his recent two minute benching, he was giving the Redskins direction.
10. Carson Palmer, Bengals. This is a quarterback who can manage personalities around him. And he's being put to the test this year.
Numbers Games: Are the Packers the best team in the NFL?
Everyone and his brother does power rankings. Sometimes they are completely subjective. And there is no perfect way to do them. But average point differential can be revealing. They say no team has been as dominant as the Packers. And it's really not close. Here is a power ranking of the 32 teams based on points scored and points allowed.
1. Packers--plus 8.7. No one thinks of the Packers as a dominant team, or the best team in the NFL. But the scores of their games tell a different story.
2. Titans—plus 6.9.
3. Saints—plus 6.5.
4. Jets--plus 6.4.
5. Colts—plus 6.1.
6. Eagles—plus 5.4.
7. Falcons—plus 5.3.
8. Raiders—plus 5.2. This is an impressive number for a team that has been inconsistent. It's helped by the fact that the Raiders have averaged 26.1 points per game—seventh most in the NFL.
9. Patriots—plus 4.9. The vaunted Patriots are the top scoring team in the league, but they also have allowed more points than all but eight teams.
10. Giants—plus 4.8.
11. Chargers—plus 4.7. Based on this number, San Diego could be a lot better than its 4-5 record indicates.
12. Bears—plus 4.5.
13. Steelers—plus 4.2.
14. Ravens—plus 3.5.
15. Chiefs—plus 2.
16. Lions—plus 1.5. Surprise, surprise. The 2-7 Lions are one of only two teams with a losing record to have scored more than they've given up.
17. Rams—minus 0.4.
18. Browns—minus 1.1.
19. Bucs—minus 2. Their 6-3 record looks a little flimsy next to this number.
20. Vikings—minus 2.9.
21. Bengals—minus 3.3.
22. Dolphins—minus 3.6.
23. Seahawks—minus 3.7. This inconsistent team has a winning record but is minus in the points column.
24. 49ers—minus 4.2.
25. Texans—minus 4.5.
26. Redskins—minus 5.1.
27. Broncos—minus 5.4.
28. Jaguars—minus 6. They are above .500, but have allowed the fifth most points in the league.
29. Cowboys—minus 6.4.
30. Bills—minus 9.
31. Cardinals—minus 9.6.
32. Panthers—minus 12.3.

Scout Talk: One team's trash
When Ryan Fitzpatrick returns to Cincinnati Sunday as the starting quarterback of the Bills, he will do so with a higher passer rating than Carson Palmer, the player he backed up when he was a Bengal.
Fitzpatrick is a fifth year veteran on his third team, and he is playing the best football of his life by a considerable margin. The Bengals thought Fitzpatrick was no more than a second stringer. The Rams gave him away for a seventh round draft pick. But he's starting to look like he has a future as a starter in Buffalo.
I asked three pro scouts what they thought about Fitzpatrick's sudden success and his future in the league. This is a consensus of what they said.
Chan Gailey's system and coaching is bringing out the best in the quarterback. He's a good fit for the system because he's so smart and such a quick decision maker. He also has the courage to throw the ball into coverage, which you sometimes have to do in that offense.
What helps Fitzpatrick is his competitiveness, combined with mental and physical toughness. Plus, he has the mobility to not only escape pressure, but also to make defenses respect the possibility of him scrambling. Part of his success this year is merely the result of getting an opportunity. He did start 12 games for the Bengals in 2008, but he was just getting his feet wet then. Now he is playing more like a veteran.
One scout said he still isn't sure Fitzpatrick could be a guy you win with over time. He said he might just be a player you can succeed with on a short term basis. Fitzpatrick does not have great arm strength, but he sometimes makes throws like he thinks he has great arm strength. His accuracy also is erratic. His passes sometimes sail.
But Fitzpatrick appears to have enough skill, combined with more than enough moxie, to win as long as he has a decent supporting cast around him. He really doesn't have that right now.

One Man Yelp: Reflections of a Life in Coaching
Bill Parcells is one of the most intriguing and enigmatic personalities in professional football, and was the perfect subject for a documentary. Reflections of a Life in Coaching, which first aired Friday on NFL Network, was well-done by NFL Films (like everything done by NFL Films).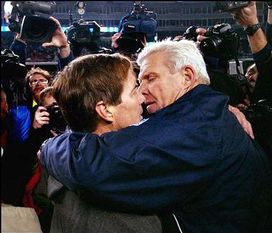 Anyone who admires Bill Parcells will want to watch Reflections of a Life in Coaching.
We all know Parcells is a hard man, but he comes across as likeable and even sympathetic in some aspects. One of my favorite parts of the show was when he spoke of his mortality, which he came to grips with in the midst of life-threatening heart problems. Yes, he has a heart.
Curtis Martin in particular showed an incredible affection for Parcells. Of course, he also said Parcells reminds him of the Godfather. Bill Belichick talked about how Parcells would take him into his office on a regular basis when Belichick was an assistant, and Parcells would tell him things he would need to know about being a head coach. Phil Simms quotes him daily.
Parcells says his famous temper isn't always what it appears to be. "Sometimes purposely being irate in order to accomplish something can be more effective in sports than approaching it with a rationale or seemingly rationale approach," Parcells says. "Creating the turmoil gets the attention where you want to get it."
The documentary did a fine job of telling us who Parcells is, and why he is who he is. I would have liked to have known more about his philosophies, why he does things the way he does.
Parcells is a character, the likes of which the league needs more of. And from the sounds of it, Parcells might be working for another NFL team soon after vacating his office at Dolphins headquarters.
Asked about why he keeps coming back, he said, "It's the juice. You need the juice."