November 10, 2013 -
Dan Pompei
NFP Sunday Blitz
New Orleans had eight completions of 40 yards or more in its first eight games of the season – only four clubs had more – and splendid New Age tight end Jimmy Graham accounted for three of those long balls. The identity of the only other New Orleans player with more than one, fast-improving (emphasis on the "fast" part) rookie wide receiver Kenny Stills, might surprise some people.
But not the New Orleans coaches and personnel officials, who took a chance on the former Oklahoma standout in the fifth round over six months ago, and may have unearthed the kind of long-speed dimension that they had arguably lacked since the departures of Devery Henderson and, to a bigger extent, Robert Meachem.
Make no mistake, starting wideouts Marques Colston and Lance Moore are terrific receivers, and Graham is a matchup nightmare for opponents. But during his season-long "Bountygate" banishment in 2012, head coach Sean Payton had the opportunity to view the Saints through a different, more dispassionate, prism. And he surmised the Saints needed to add a deep-ball threat if they could, a guy who could burn vertically, and clear out mid-range seams for the other receivers, while constituting an occasional boundary threat in his own right. And so Stills, regarded by some scouts as an erratic route-runner with iffy hands in college, but a guy who could "take the top off a secondary," in the vernacular, became part of the solution after suffering through some problems as a collegian.
Not the only part, because New Orleans took some other measures as well, but clearly the most conspicuous one.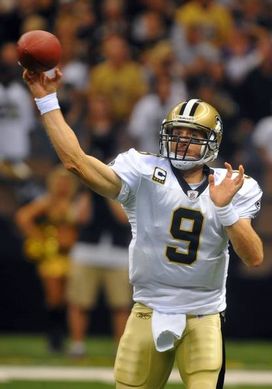 ICONBrees and the Saints are back on top of the NFC South...and rookie Stills has had a hand in helping them get there.
The Saints actually felt they were developing such a player already in Joseph Morgan, but he tore up his knee in a summer scrimmage. Stills, admittedly an enigmatic player while at Oklahoma, and a prospect to whom some teams weren't attracted despite a 4.38 time at the combine, stepped up. He's averaging a gaudy 22.6 yards on 16 catches and forces opposition secondaries to honor his speed and not sit inside as much on Colston (who is superb in the middle of the field) and Moore (a consummate technician).
"Just him being out there creates more space," Moore acknowledged. "There's more room to work."
But as noted, Stills was only one component utilized in the speed upgrade. He isn't used as much, but second-year veteran Nick Toon has sneaky speed. And the return of the prodigal Meachem, quickly re-signed after he was cut by San Diego following a disappointing season with the Chargers in 2012, has helped as well. Meachem is the only other wide receiver with a 40-yard catch in the first eight games. So the speed story, in the bigger scheme of things, is more about a team generally upgrading an area most observers felt couldn't get a whole lot better. Those sentiments aside, the Saints' passing game, if possible, is even more explosive now.
It's no great secret that New Orleans has been a big run-after-catch team since Payton's arrival in 2006. In the first seven seasons of his tenure – even counting 2012, when the offensive design was his, despite Payton's absence from the sideline – the Saints ranked in the top nine in YAC (yards after catch) every year. They were either first or second in five of the seasons. True to form, New Orleans ranked No. 5 so far this season entering this weekend's action.
Because of the nature of the Saints' passing game design, with so many screens, they are probably always going to rank high in the yards-after-catch category. They throw a lot of five- to seven-yard screens that turn into big gains, thanks to the running skills of tailbacks Pierre Thomas and Darren Sproles, and to Graham, who is also a healthy part of the screen game. But as good as the passing game was – and it has never ranked statistically lower than No. 4 under Payton, and has been first in four of seven seasons – the coaches decided it could get better. And with Stills and the other additions, and the speed they add, it has.
+AROUND THE LEAGUE
*As noted in the "Sunday Blitz" a few weeks ago, early draft rankings are only helpful to a point right now for several reasons: The rankings typically rate senior prospects only, change dramatically once the underclassmen are added, and there remains a ton of evaluation to do in general. Still, it's never too early to dredge up some draft info, particularly in a few of the league's woebegone precincts. So this nugget courtesy of several teams' scouts:
There are probably less than 20 prospects who technically had the equivalent of first-round grades in early discussions. The ones most prominently mentioned were: CB Antone Exum (Virginia Tech), LB Dee Ford (Auburn), OT Seantrel Henderson (Miami), OT James Hurst (North Carolina), OG Gabe Jackson (Mississippi State), DE Jackson Jeffcoat (Texas), DE DaQuan Jones (Penn State), OT Taylor Lewan (Michigan), OT Jake Matthews (Texas A&M), LB C.J. Mosley (Alabama), DE/LB Trent Murray (Stanford), OG Cyril Richardson (Baylor), DT Will Sutton (Arizona State) and QB Logan Thomas (Virginia Tech).
Matthews is the son of Hall of Fame offensive lineman Bruce Matthews, and Jeffcoat is the son of onetime Dallas standout defensive lineman Jim Jeffcoat. Not too surprisingly, some of the assessments for a few of the players originally pegged as potential first-rounders have already changed – Exum, for instance, has battled injuries most of the season—and the deck will continue to be shuffled as the process wears on. The one thing that might not change: It looks like another big year for offensive tackles.
*On the subject of the draft, amid recent suggestions from some unnamed league scouts that Florida State quarterback Jameis Winston would probably be the first overall player chosen in the 2014 draft if he was eligible for the lottery, there were some quiet rumblings in the rumor-verse last week that the Florida State star might actually consider challenging the NFL's "three-year rule." Sources inside the FSU program and close to Winston adamantly insisted to NFP that the speculation was totally unfounded.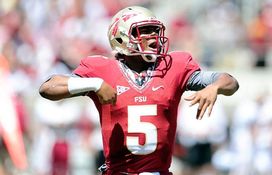 Is Winston considering a challenge to the NFL's draft rules?
The rule, which simply states that a player has to be three years removed from high school before he can petition for inclusion in the draft, hasn't been tested since the ill-fated challenge by then-Ohio State tailback Maurice Clarett in 2004. Winston, of course, has been scintillating in leading the Seminoles to an undefeated season to date, and a possible spot in the national championship game, especially after Oregon's loss at Stanford on Thursday night. Winston has 24 touchdown passes and just six interceptions, and is on pace to break Sam Bradford's record for best completion percentage by a freshman, with a 70.3-percent hookup rate entering the Wake Forest game. But the Bessemer, Ala., native is said to have told friends and relatives that he still has a way to go in his development and enjoys the college game. That said, no one seems ready to rule out the strong likelihood that Winston will be in the 2015 draft.
*With all the attention afforded the Richie Incognito-Jonathan Martin situation of late, the recent health scares for coaches John Fox of Denver and Houston's Gary Ku biak sort of took a back seat in the public's consciousness of NFL matters. But there are a group of former coaches who want some of their past colleagues – men like Bill Parcells and Mike Ditka, who experienced persistent heart problems, and Dan Reeves, who underwent quadruple bypass surgery late in the '98 season – to become more proactive in delivering the message to their successors about the health risks seemingly inherent to the profession. The discussion last week among the former coaches was how that could best be done. Reeves in particular has been very outspoken about preventive care and not ignoring warning signs.
"Guys just don't pay attention to their bodies," Reeves said. "Something happens and they tell themselves, 'I'll take care of it later, maybe during the bye (week).' You just can't downplay this stuff; it's critical to get help."
Coaches typically have physical exams yearly, but the in-season stresses can exacerbate a situation. So some of the former coaches are pushing for more regular checkups. NBC analyst Cris Collinsworth recently suggested a "7-to-7" rule, in which club facilities would not be allowed to open before 7 a.m. and had to close by 7 p.m. That might be a bit extreme for many of the workaholics in the profession, but the incidents with Fox and Kubiak may have highlighted the need for some type of action.
*New England has three defensive starters on injured reserve (not counting safety Adrian Wilson, who might not have been a starter anyway had he not sustained a hamstring injury before the season), and there's no denying the impact of the losses of tackle Tommy Kelly and linebacker Jerod Mayo. But the effect of the season-ending Achilles injury that defensive tackle Vince Wilfork suffered at Atlanta on Sept. 29?
"Not having the big man, if it's (bad), will really make a huge difference for us," cornerback Aqib Talib told NFP the night Wilfork was hurt, before anyone knew the severity of the injury.
That was a prophetic assessment. At least according to the raw statistics – it's impossible to gauge the intangible absence of the respected 10-year veteran and five-time Pro Bowl defender– the loss has been pretty significant. In the five games the Pats have played without Wilfork in the lineup, during which time the Pats are 3-2, the New England defense has allowed an average of 146.8 rushing yards and had three games in which it gave up 150 or more yards. Opponents have averaged 4.4 yards per carry, scored three touchdowns, and had four attempts for 20 yards or more. In the four contests in which Wilfork started, the Patriots were 4-0 and surrendered only 105.0 rushing yards per game. They allowed an average of 4.1 yards per rush, gave up only one touchdown on the ground, and the longest run by a back (not counting quarterback scrambles, the longest of which was for 19 yards) was for only 13 yards. During Wilfork's career, the numbers are fairly similar to those for 2013. Since he became a full-time starter in 2005, Wilfork has started 126 regular-season games and missed 11 contests. In the games Wilfork has started, New England is 97-29 (.770) and has allowed 103.7 rushing yards per game. In the 11 he hasn't, the Pats are 8-3 (.727), and have surrendered 133.2 rushing yards per game.
*Every franchise claims to hate penalties, but some seem to grudgingly tolerate them a little more than others. "Sometimes (the penalties) are kind of a reflection of how tough and physical you are," one veteran Seattle front-seven defender told NFP last week. "I mean, look at the Raiders in their heyday. They were probably the most 'flagged' team in the league for a lot of those years, but they were among the best, most physical teams. They didn't take any (stuff) from anybody. I actually think the penalties were like a badge or something for them. Our coaches (complain) at us all the time, especially about the pre-snap stuff . . . but they also seem to know some of the penalties are a part of who we are."
Seattle has been penalized the second most times in the NFL (71) and leads in penalty yards (649), but the Seahawks are 8-1. The team is tied for the most defensive pass interference penalties in the NFL (nine) and the defender said that "only adds" to the perception of the Seattle secondary as a physical bunch. Surprisingly, four of the top 11 clubs in terms of penalties (there is a tie for the 10th spot) currently have winning records.
*Maybe his release by San Francisco last week, with the 49ers needing to clear a roster spot for cornerback Eric Wright, who was activated from the non-football injury list, didn't end the career of 11-year veteran Nnamdi Asomugha. But an NFC personnel director, who had pored over video of Asomugha's last couple years before taking our call, claimed there are "maybe three or four" cornerbacks on his "emergency list" he would think about signing before considering the onetime Pro Bowl defensive back. That's not to say some club desperate for an experienced corner or a veteran presence at the position won't bite. "(But) it's just not there," the personnel director said. "His speed is down, he can't play the slot, he's not nearly as physical a presence as he was a few years ago. And I don't see him moving inside (to safety)."