January 26, 2014 -
Erik Oehler
NFP Sunday Blitz
Among the many old and hackneyed saws connected to the NFL are these two: There is nothing new under the sun in the league. And second, as noted hundreds of times already on NFP, the NFL is the consummate copycat league.
Combine the two and what do you get? Well, you get the Seattle Seahawks' desire for big cornerbacks and the rest of the league's sudden love affair to emulate that with coverage defenders who can not only knock down a pass but also knock a wide receiver off his route before he even has a chance to get to the ball.
Nothing succeeds quite like success in the NFL, and with the Seahawks having carved out the best record in the NFC and advanced to Super Bowl XLVIII next Sunday with safety- or even linebacker-sized defensive backs, they have unwittingly established the template for other franchises. And as evidence of that, despite the seemingly recent phenomenon of trying to unearth bullish cornerbacks, understand that Seattle coach Pete Carroll first became enamored of the idea more than 30 years ago.
Yeah, thirty-something years ago.
As a nondescript defensive assistant at North Carolina State, Carroll was watching a training camp practice matching the Oakland Raiders and San Francisco 49ers in the early 1980s, a joint session rare in those days. This was in an era in which San Francisco coach Bill Walsh, even in the earliest days of the West Coast offense, favored big receivers such as Dwight Clark. The Raiders, not necessarily because of the 49ers, but because owner Al Davis coveted size and speed, countered with cornerbacks Mike Haynes and Lester Hayes.
Watching the practice, and taking note of the difficulty the San Francisco receivers had in getting releases and moving into their routes, the synapses fired in Carroll's fertile cranium. While he hasn't always succeeded in finding bigger cornerbacks in his various incarnations as a head coach at the college and the professional levels, Carroll recalled that innocuous practice at every stop. He tied the adage that "bigger is better" to a position where it historically hadn't always been applied.
For whatever reason – and despite the successes of teams like Pittsburgh, which had Hall of Fame cornerback Mel Blount, a horse of a man at nearly 6-feet-4 – the notion of big cornerbacks was hardly a widespread one. But Carroll, who concedes he is hardly a visionary, saw the possibilities. "I just thought that adding another kind of physical (obstacle) that receivers would have to deal with was a way to go," he said. "It was just obvious watching that (1980s) practice."
Recalled the verbose Hayes, who has been considered in the past for Hall of Fame induction, and probably should keep company with his old buddy Haynes in the Canton shrine: "I remember that (wide receivers) didn't like playing us. We were good. We were physical. And, man, we were big. I mean, you didn't see guys who were 6 feet, 6-1, whatever out there at corner that much, you know?"
Thirty years later, the bigger cornerbacks aren't as prevalent as some coaches likely wish they were – "Hey, try finding a 6(-foot) something guy that can run that well. It's just not that easy," one AFC defensive coordinator said this week – but perhaps the success of the Seahawks is changing the paradigm a bit.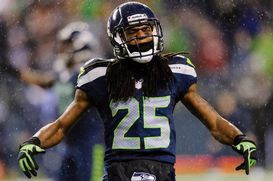 Sherman stands 6-3 and was found in the fifth round of the 2011 draft.
If you want evidence of that, look no further than the Senior Bowl practices from last week. Even reviewing the sessions on television instead of in-person, and looking over the video of the practices, it's obvious that size is definitely "in" at the cornerback slot. Senior Bowl executive director Phil Savage said the collection of bigger cornerbacks wasn't necessarily a conscious decision, and that's true. But Savage has an NFL pedigree, keeps close tabs on what's happening in a league where he was once a standout talent scout and general manager, and it's not totally happenstance that the game included five cornerbacks of impressive size.
Perhaps were the Senior Bowl able to recruit underclass players (at which point it would no longer be the Senior Bowl, right?), the size component at cornerback would not have been so profound. Still, of the consensus top six cornerbacks cited by most scouts to whom NFP regularly speaks, three are 6 feet or taller. Oklahoma State standout Justin Gilbert, generally thought to be either the No. 1 or 2 prospect at the position, told NFP: "It's kind of the old 'tit for tat.' The receivers have gotten bigger, so the (cornerbacks) had to as well."
The Senior Bowl practices featured corners such as Utah's Keith McGill (6-3, 215), Pierre Desir of Lindenwood (6-1 1/8, 195), Nebraska's Stanley Jean-Baptiste (6-2 3/8, 214), Walt Aiken of Liberty (6-0 5/8, 205) and Dontae Johnson of North Carolina State (6-2, 199). Maybe given the origination of Carroll's penchant for size at the position, it was fitting a North Carolina State player would be in the group.
"I'd like to think that size is just one of the reasons I'm here," Nebraska's Jean-Baptiste told NFP from Mobile last week. "But I do think that, with guys like (Seattle's Richard) Sherman, the thinking has changed some. Maybe a few years ago, I would have just been pegged as a safety (and some scouts still think that might be where he best projects), and wouldn't have even had the chance to line up (at cornerback). But that's not how it is now. Teams are looking at you differently if you're a corner with size. Receivers don't necessarily like it, but that's the way it is."
It's certainly the way it is for Carroll and the Seahawks, whose scouting department has been well schooled in the preferences of its staff. There are five cornerbacks on Seattle's active roster heading into next Sunday's title game. And all but Walter Thurmond are at least 6 feet tall; all weigh at least 190 pounds. The emphasis on size extends even to the cover guys on the team's various reserve lists. Rookie Tharold Simon, for instance, is 6-3 and weighs about 205.
A fifth-round draft pick from LSU, Simon is on the physically unable to perform list, but the Seahawks quietly acknowledge they feel the youngster will be a player at some point. And it doesn't hurt that he fits the "bigger is better" template.
"I've got some good size myself," said Denver cornerback Dominique Rodgers-Cromartie, the biggest of the Broncos' cover guys. "But their people are huge."
Of course, the models for the template were to have been the tandem of Sherman and Brandon Browner until the latter was suspended indefinitely for a violation of the NFL's illegal substance policy. Browner was a monster at 6-4, a thumper who reveled in mixing it up, whose size and strong hands could redirect a receiver, and who could run. When he was suspended, though, the Seahawks didn't have to look very far for a corner to line up opposite Sherman. Not that the replacements were as good as Browner, whose future is uncertain, given his long suspension and pending status as a free agent. But the style of play didn't have to change.
"You miss (Browner), sure. But schematically, It's not like we had to go back to the drawing board or anything," Sherman said.
That sai d, scouts are going back to their draft boards and probably re-thinking some old philosophies about the cornerback position. It took 30 years, but Carroll's idea seems to have gained considerable traction in the league.
+AROUND THE LEAGUE
*Arguably the guy who most dominated the Senior Bowl practices last week, Pitt defensive tackle Aaron Donald, is also the player who has scouts most puzzled. There is no doubt that Donald, who won four major college awards for linemen or defensive performers, is a player. But he measured in at just a shade over 6 feet and was 288 pounds, and doesn't quite fit the mold of an NFL tackle. But Donald did what he always seemed to do at Pitt, use his great leverage, ability with his hands and incredible quickness to wreak havoc and win most one-on-one battles with the offensive linemen. Donald is most often compared to Cincinnati star tackle Geno Atkins, but isn't quite as big.
"(But) he might be, technique-wise, the best 'three'-(technique tackle) I've seen in a long time," one NFC scout with keen interest in Donald told NFP. "He's just one of those guys who has it, whatever it is."
The big consensus is that Donald almost certainly has to go to a 4-3 team where he can play the "3" spot. In a few drills, he was actually lined up at end, a position he played at times for Pitt when the Panthers coaches wanted to create a certain matchup, but he isn't as effective on the outside. Donald regularly dominated good players such as Baylor guard Cyril Richardson, and he's just a tremendous two-gap defender who can get his shoulders through openings and be disruptive. "You know how they say rats can get through the smallest openings?" one scout said. "He's like that." The question becomes whether some team, even at the end of the round, will invest a first-rounder in Donald. The guess is that he'll go in the second round . . . and be more productive than a lot of players chosen ahead of him.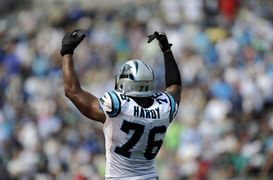 The Falcons are more than familiar with soon-to-be free agent Greg Hardy's skill set.
*Atlanta will almost certainly dip into free agency for a veteran free safety to pair with strong safety William Moore in 2014, which means incumbent Thomas DeCoud could be in trouble. And while the Falcons' brass has said it won't necessarily make any big free agent splashes, expect Atlanta to go hard for a pass-rusher like Michael Johnson (Cincinnati, and former Georgia Tech player). If the Falcons wanted to spend really big, they're pretty familiar with a guy from their division, Carolina's Greg Hardy, who abused the Falcons' tackles for four sacks in the season finale. The Falcons tried to pry then-free agent end Charles Johnson away from their NFC South rivals a few years ago, but he signed an extension. They could go back to the well again and hope for better results. Meanwhile, the team still hasn't begun to address the defensive tackle situation, where its top three players, including standout Jon Babineaux, are slated for free agency.
*Denver mammoth defensive tackle Terrance "Pot Roast" Knighton, who figures to be a key as the Broncos attempt to slow Marshawn Lynch next Sunday, allowed that he didn't have a lot of options in unrestricted free agency last spring. But when the phone rang and it was former Jacksonville coach Jack Del Rio, the man who drafted him for the Jaguars, there was no hesitation about reuniting with the defensive coordinator of the Broncos. "The thing about Jack," said Knighton, "is that, even when he got on me about my weight, he was trying to make me better. It was always about being a better player. I kind of knew, because of our familiarity, that he understood how to use me and put me in situations to succeed. He's given me a second crack at things." The Broncos may approach Knighton about a contract extension to the two-year, $4.5 million deal to which he's signed. Knighton is earning only $1.5 million this season between salary and bonuses. And that makes him one of the best bargains in the league, given his performance. Denver would also like to keep end/linebacker Shaun Phillips, another one-year bargain who led the team in sacks in 2013.
*In announcing the hiring of Mike Pettine as their new coach, Browns officials played up big-time the fact he understands what it takes to win in the AFC North. Maybe so, since Pettine's resume includes a tenure as an assistant at Baltimore for seven seasons (2002-2008). The bigger question: Do they? Pettine becomes the seventh full-time coach – not counting interim boss Terry Robiskie in 2004 -- since the Cleveland franchise was taken out of mothballs in 1999. That's seven head coaches in what will be the team's 16th season in 2013. Chris Palmer, the initial coach of the reborn franchise, lasted two seasons. Butch Davis was around five games shy of four years. Romeo Crennel got four seasons, Eric Mangini two, Pat Shurmur two, Rob Chudzinski one. So since Crennel was hired in 2005, the Browns are working on their fourth head coach.
In the same stretch, the Browns' division opponents have had an aggregate five head coaches. Extending things to the '99 rebirth of the Browns, the team, as noted, is now on its seventh different full-time coach. Baltimore, Cincinnati and Pittsburgh, among them, have had seven coaches in that period. So perhaps one of the biggest elements a coach needs to win in the tough division is patience from his bosses. Clearly, Chudzinski didn't get it. Hopefully, Pettine got at least the promise of more than one season. Team president Joe Banner and general manager Michael Lombardi said some of the same things of Pettine that they did of Chudzinski a year ago. They shouldn't get a mulligan from owner Jimmy Haslam on the Chudzinski hiring. And if Pettine doesn't work out, especially after the seemingly endless search, they certainly should be held accountable.
*The loneliest guy, or more accurately the least-used, on the Denver roster? Punter Britton Colquitt, who has one kick in two playoff games. Denver has registered 16 possessions in its two playoff victories and scored 10 times (five touchdowns and five field goals). In addition to the one Colquitt punt, the other five possessions have ended thusly: one missed field goal, one lost fumble, one interception, and two series that concluded in the end of the game. Besides the fumble, the Broncos have had just one three-and-out series and only two possessions in all in which Denver failed to register at least two first downs. "If my biggest concern (in the Super Bowl) is staying warm," Colquitt said, "that's fine with me." Colquitt, by the way, will try to join his father, Craig, as a Super Bowl champion punter. The elder statesman of what is arguably the NFL's greatest punting tree won a pair of Super Bowl titles (XIII and XIV) with the Pittsburgh Steelers in the '70s.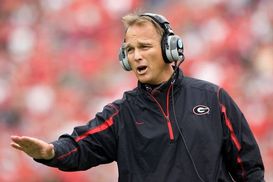 ICONRicht (above) opted for Florida State's Jeremy Pruitt.
*A few weeks ago, we mentioned in this space that at least a couple NFL assistant coaches were "sniffing around" the University of Georgia defensive coordinator job, which came vacant when Todd Granth am departed for Louisville. The Atlanta Journal-Constitution, through a Freedom of Information Act request, last week identified the two as Vance Joseph and Bob Slowik. The former, who had been the secondary coach for the Houston Texans but lost his job when the team hired Bill O'Brien, caught on with the Cincinnati Bengals in the same capacity. Slowik, a longtime league assistant and coordinator, who was the Washington linebackers coach until Mike Shanahan was dismissed, remains out of work. Both men sent letters of application to UGA coach Mark Richt, but there is no indication that they were interviewed before he hired Jeremy Pruitt of Florida State as the Bulldogs' new defensive coordinator. It's likely, though, that either was making (or will make) close to the $850,000 Pruitt will be paid. Which might be a