June 19, 2011 -
Dan Pompei
NFP Sunday Blitz
Tomorrow is coming more quickly than the Colts and their fans like to admit. In that tomorrow, there is someone under center who does not wear No. 18.
The team acknowledged as much last winter and spring as they went through the pre-draft process with a careful eye on quarterbacks. They identified two or three they had serious interest in, but did not end up taking one.
Eventually, perhaps next April, the Colts will draft the player they believe will one day take Peyton Manning's job. The succession planning already is well underway.
Manning is 35-years old. The hope is that he can play at a high level for at least another four years. "I don't think he is on a short time frame in terms of quality play," Colts president Bill Polian told me. "I think four years is an absolute certainty barring injury. It could go beyond that. He believes he can go beyond that. I wouldn't argue with him. I believe everything he says. This is not something that has to be imminent."
The Colts have done a study on how long great quarterbacks last, how well they play late in their careers and how injuries affect them.
If you look at the players I would consider to be the last 10 great quarterbacks, you'll see that five of them (John Elway, Dan Marino, Joe Montana, Steve Young and Kurt Warner) played until they were 38. Two of them (Warren Moon and Brett Favre) played until they were 44 and 41, respectively. And three of them retired before they were 38. Troy Aikman retired at 33 after suffering his tenth concussion. Dan Fouts quit at 37. And Jim Kelly stopped playing at 36.
Of course there is a difference between playing until near 40 and playing well until near 40. Since the merger, there have been only five instances when a starting quarterback who is 38 or older has had a passer rating of 90 or above. Twice, the quarterback has been Favre.
Then again, Manning has done a lot of things no other quarterback has done. He may continue to as he becomes an old quarterback.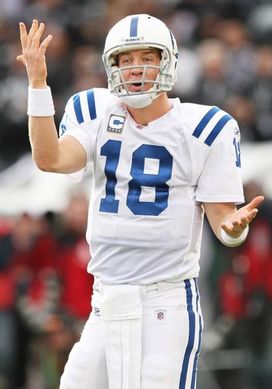 Peyton Manning has been better than almost every other quarterback at almost everything he has done. Will he age better as well?
Manning is like Favre in terms of the way he has avoided injuries. He actually has taken much less physical abuse than Favre, and most other quarterbacks relative to the amount of passes he has thrown. His body, then, should be younger than the body of most 35-year old quarterbacks.
This offseason, Manning did undergo a second neck surgery in as many years. But the Colts are not concerned about his disc issues. "All I can tell you is I can only go by what our doctors tell us," Polian said. "They said were he not a football player, they would have simply treated him with traction. The fact that they performed a procedure was almost a fail-safe type thing. They don't consider it career threatening or debilitating."
If the Colts were concerned, they might not be so willing to make Manning, whose contract is up, the highest paid player in the NFL. They are expected to do that when the lockout lifts.
It probably made more sense for the Colts to wait to sign Manning until a new CBA is in place, and it probably made more sense for the Colts to wait to acquire Manning's successor until after a new CBA is in place.
Before he does anything, Polian will want to know what the rules are governing the contact length for Manning's potential successor, and when that player will become an unrestricted free agent. If he had drafted, say, Ricky Stanzi, in April, Stanzi might have been able to sign with another team at the very moment the Colts were ready to make him the starter.
The ideal situation would be for the Colts to draft a mid-round with a reasonable salary and let him learn the system for a few years while Manning still is productive. They might not be able to pay a first round quarterback, given what Manning's salary is expected to be.
No one can be sure how the transition from Manning to the next Colts quarterback will go. If history is an indicator, it might not be as smooth or painless as the Colts prefer.
Really, there is only one certainty. "The next person is not going to be another Peyton Manning, of that I'm sure," Polian said. "There will not be a second Peyton Manning. There is only one of him. We were fortunate enough to have him."
Things I Didn't Used To Know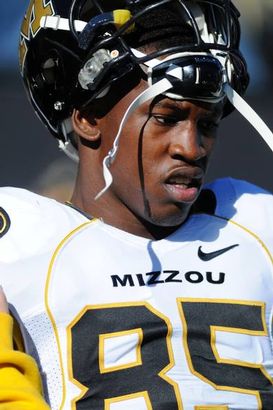 The lockout hasn't helped rookies like Aldon Smith.
*The plan is for Aldon Smith to get on the field quickly for the 49ers. Where remains a little uncertain. The team ultimately plans on playing the first round pick all over the field, at right and left outside linebacker, and as a defensive end on passing downs. They believe he has the versatility to help the defense a lot of ways. Given the fact that the 49ers haven't been able to work with Smith all offseason, the chances of him being able to integrate everything he needs to know to play everywhere before the start of the season aren't good. So what could happen is Smith will start out as a nickel rush end. Then maybe he graduates to playing linebacker on one side on first and second down. The more comfortable he gets, the more he'll do.
*The position of Cowboys first rounder Tyron Smith also could be affected by the lockout. Eventually, the Cowboys want Smith at left tackle because he is a superior athlete. They would do it this year if they felt Smith, a right tackle at Southern Cal, was ready to make the switch. But their inability to work with him has them thinking they might be better keeping him at right tackle for a year, and then flipping Smith and Doug Free down the road.
*Free agency may be more difficult to forecast than ever this year. Under normal circumstances, general managers have a good idea in the weeks before free agency what a player will cost, and how much interest there is in him. That isn't the case this year because agents are prohibited from talking to teams. Of course, they are still talking. But not to the extent they usually are. The result is teams have to have better, more specific contingency plans than usual. They have to be prepared for the unexpected. And they need to be flexible.
*Chances are looking good that the Seahawks may have two new quarterbacks by the time camp opens. They tried to re-sign Matt Hasselbeck before the lockout started and couldn't come to terms. Now they may move on if they can find a better alternative (hello, Kevin Kolb) as a starter. Getting hurt in each of the last three years has left Hasselbeck vulnerable in Seattle. And it would almost be an upset if the Seahawks didn't sign Matt Leinart to come in as a backup. The Seahawks might not be crazy about what they have seen of Leinart on tape, but coach Pete Carroll has won a lot of games with him, and he thinks he can win some more.
*Among the people who believe the Saints might have gotten a steal in the seventh round with defensive end Greg Romeus was his college coach. Former Pitt coach Dave Wannstedt, who now is the assistant head coach in Buffalo, told me Romeus reminds him of one of his undrafted players when he was with the Dolphins – Adewale Ogunleye. Like Ogunleye, Romeus' draft stock fell precipitously after injuries. Romeus was considered to have third round talent prior to his senior year. Wannstedt believes Romeus, like Ogunleye, has the intangibles and ability to overcome his injuries and surprise a lot of people.
My Sunday Best: Father & Son Coaches
The NFL has been shared between millions of fathers and sons. For some, it has been shared as a profession. Here are my best father and son coaching combinations, in alphabetical order.
Jim and Jeremy Bates. Neither is currently in the NFL, but Jeremy probably will be again soon. Though he was fired by the Seahawks, Jeremy is considered a bright young offensive mind with potential. Father Jim was very well respected long time defensive assistant who was a head coaching candidate for awhile.
Zeke and Bob Bratkowksi. Both of these men ran NFL offenses with some success, Zeke with the Bears, Colts, Eagles and Jets, and Bob with the Seahawks and Bengals. The younger Bratkowski just ended a 10-year run in Cincinnati and was hired as quarterbacks coach of the Falcons.
Jack, John and Jim Harbaugh. Jack, a long time college assistant, had some success as the head coach of Western Kentucky, winning a 1-AA national championship. He also was the head coach at Western Michigan. He also knew how to raise coaches, and John and Jim are the first two brother head coaches in league history. They actually could serve on the same coaching staff pretty seamlessly, as Jim is an offensive coach and John specialized in defense and special teams.
Dick and Mike Nolan. They both were head coaches of the 49ers, and the elder Nolan also was head coach of the Saints. Their combined record as head coaches is 87-119-5, but Mike remains one of the league's better defensive coordinators with the Dolphins.
Bum and Wade Phillips. Both had winning records as head coaches, and together they have a .554 winning percentage. Wade was relieved from his duties as Cowboys head coach during last season, and has resurfaced in dad's old stomping grounds as the defensive coordinator of the Texans.
Buddy, Rex and Rob Ryan. No coaching sons are more like their father than Rex and Rob Ryan. Like their innovative pop was, the sons are among the foremost defensive minds in the game. All three are highly aggressive tacticians, and unafraid to speak their minds. Buddy was a better coordinator than head coach, but so far it looks like Rex might be a pretty good head coach as well as an outstanding coordinator.
Marty and Brian Schottenheimer. Hard to believe Marty is coaching in the UFL. Despite the elder Schottenheimer's postseason failures, he has more NFL victories than all but five men. His son, the offensive coordinator of the Jets, is almost assuredly a future head coach. He could even get his promotion in 2012.
Mike and Kyle Shanahan. They are teaming up in Washington, Mike as the head coach and Kyle as the offensive coordinator. Kyle did OK in Houston as Gary Kubiak's offensive coordinator but wanted to work with dad again. Often times, the son wants to get out of the father's shadow.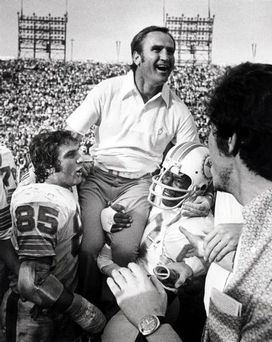 Don Shula produced some great teams, and some pretty good coaches, too.
Don, Dave and Mike Shula. Don is the king of all coaches with 347 victories. No. 1 son Dave had a rough four and a half years as the Bengals head coach and decided to get out of the business and sell steaks instead. But he wasn't a bad offensive mind. No. 2 son Mike had a 26-23 record as head coach of Alabama, and has been a pretty good NFL assistant for a long time. He's currently the quarterbacks coach for Cam Newton in Carolina, and also has had stints with Jacksonville, Miami, Tampa Bay and Chicago.
R.C. and Shawn Slocum. R.C. doesn't have many NFL ties, but he is the winningest coach in Texas A&M history. His son is the special teams coach of the Packers.
Lovie and Mikal Smith. The head coach of the Bears has his son handling defensive quality control and working with the nickel backs. He did a nice job last year with D.J. Moore. As for the father, he has won more games during his time in the league than all but Bill Belichick, Andy Reid and Tom Coughlin.
Jim and Jeremiah Washburn. This year the Eagles were fortunate to lure Washburn, arguably the finest defensive line coach on the planet, away from the Titans. Washburn's son Jeremiah, the Lions' assistant offensive line coach, has a bright future in the league. He also has a background in scouting.
Gregg and Blake Williams. Dad Gregg is mostly known for his not so successful run as the Bills' head coach. For years though, he has been one of the very best in the NFL at devising defensive game plans and putting players in position to succeed. He'll be a head coach again someday, probably soon. His son Blake assists his father on the Saints staff, and is fast becoming known for his relentless work ethic and willingness to do whatever it takes.
Ernie and Ken Zampese. Ernie's was Don Coryell's brilliant right hand man on offense during the glory years in San Diego. He has helped the Air Coryell system remain a force in the NFL by passing it along to other coaches like Mike Martz, Norv Turner and his son Ken, who will be tutoring Andy Dalton as the QBs coach in Cincinnati.
There are so many good father-son coaching combinations. Did I miss one of your favorites?
One Man Yelp: ESPN--Those Guys Have All the Fun
Finally made it through the 748 pages of the new book about ESPN--Those Guys Have All the Fun. And to think another 350 pages were cut from the original draft. In its present form, it's a lot of information. This is an exhaustive history of a great American company.
Scores of eager interviewees help us understand how an idea to televise local sports events in Connecticut in 1979 blossomed into the most powerful sports media brand ever. The good thing is the book is presented in oral history form, so it's easy to skip from section to section if something doesn't interest you.
There were not a lot of earth shattering revelations in Those Guys, or sordid details about scandals. But everything of significance that ever happened at ESPN is covered. Along the way, we are given some insight into Tony Kornheiser's failed Monday Night Football foray, Erin Andrews' misfortune and Keith Olbermann's personality.
There are a lot of layers to ESPN, and many of the people who have passed through Bristol. It's all a little easier to understand after reading this book.
Hot Reads
*I like to kick some tires before making a big purchase. So does Larry Fitzgerald, apparently.
*Despite his strong arm, I don't believe an NFL team will come calling for Brett Favre. But maybe Jerry Glanville should give Favre another try.
*The most convincing proof that players need owners to give them a break in CBA negotiations? This offseason Mike Vrabel was arrested for stealing a few bottles of beer, and Raheem Brock got pinched for walking out on a $27 bar bill. Next thing you know, a starting quarterback will be playing the bongos in a train station, hoping for your quarters.
Dan Pompei covers pro football for the Chicago Tribune. Follow him at twitter@danpompei