March 24, 2013 -
Dan Pompei
NFP Sunday Blitz
Of all the players who have changed teams so far this offseason, the one who has the potential to affect two offenses the most is Mike Wallace.
The old Steeler and the new Dolphin wide receiver might not be the most productive acquisition in the NFL next year. But if he is healthy, he is almost certain to have a major impact on the way the Dolphins do their offensive business. And his absence is certain to affect the Steelers.
With 4.33 40-yard dash speed, Wallace changes the way defenses approach him, and that impacts everyone around him. "Mike is as good a deep threat as there is in the league," Steelers general manager Kevin Colbert told me. "There always is a threat of him getting deep on any play."
If a defense treats Wallace like it treats other receivers, it risks giving up a quick six.
These are some of the ways Wallace tilts the field:
*He forces coverages to change.
"You have to change up a lot of techniques in the way you cover him," Bengals defensive coordinator Mike Zimmer told me. "The bump and run changes."
Defenses might double him. They might rotate a safety his way, or a linebacker underneath. They could cheat the zones to his side of the field.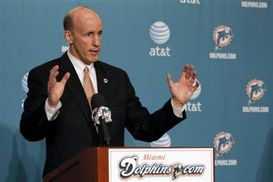 'Phins coach Joe Philbin is looking forward to finding ways to utilize Mike Wallace.
Many defensive coordinators like to disrupt a speed receiver at the line. But in order to do that, you usually need help over the top. "Our hope would be at times, we may get tilted coverage, a rotation that way," Dolphins coach Joe Philbin told me. "It makes it a little difficult to get him the ball, but maybe opens up other aspects of the offense, be it receivers on the other side or the running game. The resources potentially devoted to stopping a real speed guy may open up some other things for us."
*He could declare defenses to declare sooner.
If a safety waits until the last second to rotate to Wallace, he might be too late. An early declaration would be a significant advantage for young quarterback Ryan Tannehill. "If he displays good production, hopefully it makes defenses more predictable," Philbin said.
*He could force defenses to pressure less, or at least pressure in fewer ways.
"You have to try to have pressures where you are leaning the safety that way," Zimmer said. "It usually takes one more guy out of the pressures when you are going against a guy like him. Some of the two deep pressures you are going to be pushing him a little more with the coverage off of it."
*He will make safeties be more hesitant about firing up into the box on play action, and he will discourage eight man boxes.
"Any time you have a deep threat, defenses are less inclined to pull the safety up," Colbert said.
And that is significant for the Dolphins, who finished 17th in the NFL in rushing yards and lost leading rusher Reggie Bush. His apparent replacement Lamar Miller had 250 rushing yards last year.
"Teams last year were not afraid to overload the box, which makes it more challenging," Philbin said. "I'm sure we'll get some of that still, but maybe less. And maybe we can take advantage of it when we do see it."
The Steelers, meanwhile, will likely have to find other ways to skin the cat. It is not easy to recreate what a player like Wallace can do.
"It depends on who we employ Maybe we replace Mike Wallace with a guy who has Mike Wallace type speed and the change schematically might be minimal," Steelers coach Mike Tomlin said. "We might replace him with a different animal that has a different skill set that requires a different response."
Dolphins defensive coordinator Kevin Coyle, a former Bengals assistant, told Philbin that Wallace would force opposing defensive coaches to meet longer and consider more possibilities.
Wallace's presence will challenge Dolphins' opponents. And his absence will relieve Steelers' opponents.
My Sunday Best: Receiver Free Agents
A lot of wide receivers have changed teams via free agency in 20 years, but not many of them have paid off big for their new teams. Here are my Sunday best all-time wide receiver free agent signings. If you think I missed someone, let me know.
1. Joe Horn, Saints 2000. He was no more than a complementary receiver with the Chiefs, but he became an instant star in New Orleans, making the Pro Bowl four times in seven years and setting a team record for career touchdown receptions. He was a rare wide receiver free agent signing in that he became a much better player after joining a new team.
2. Jimmy Smith, Jaguars 1995. A second round pick, Smith couldn't stay healthy and subsequently was cut by the Cowboys and then the Eagles. The expansion Jaguars picked him up and 12,287 yards and five Pro Bowls later, Smith clearly was one of the all-time great wide receiver pickups.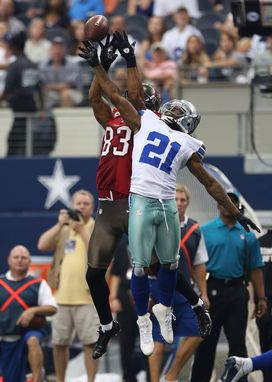 Vincent Jackson is one difficult receiver to defend.
3. Vincent Jackson, Bucs 2012. A lot of receivers have gone into the tank after getting paid in free agency. In his first season in Tampa Bay, Jackson was dominant and had career numbers in catches, yards and average per catch.
4. Keenan McCardell, Jaguars 1996. He parlayed a nice season in Cleveland into a nice contract with the Jags, and then he really blossomed. In six seasons in Jacksonville, McCardell hit 1,000 receiving yards four times. He had another 1,000 yard receiving season in Tampa Bay after leaving the Jags. The 12th round pick lasted 16 years in the NFL.
5. Ed McCaffrey, Broncos 1995. Upon joining his third NFL team McCaffrey didn't become a superstar. But he did become a productive player and key piece in an offense that won two Super Bowls in Denver. McCaffrey even made it to one Pro Bowl.
6. Terrell Owens, Cowboys 2006. Four days after he was cut by the Eagles, Owens was signed by the Cowboys. In Dallas, he was no angel. But he had three straight 1,000 seasons and made it to a Pro Bowl.
7. Jerry Rice, Raiders 2001. When Rice's production dropped in 1999 and 2000, the 49ers gave up on the GOAT after 16 seasons. He promptly crossed the San Francisco Bay to play for the rival Raiders. In Oakland, a revitalized Rice had two straight 1,000 yard receiving seasons, he made it to a Super Bowl and a Pro Bowl.
8. Plaxico Burress, Giants 2005. After six years as a Steeler, Burress was signed to a big money deal by the G-Men. He averaged 78 yards per game for the Giants after averaging 57 yards per game for the Steelers. And he caught 10 more touchdown passes for the Giants in 17 fewer games than he played for the Steelers.
Things I Didn't Used to Know
*One of the reasons the Ravens didn't flinch about losing Paul Kruger is they believe Courtney Upshaw is ready to step into a larger role. Ravens coach John Harbaugh told me Upshaw was "dominant on the edge" in his first season, and he liked the physicality with which Upshaw played. But Upshaw didn't get as many opportunities to rush the passer in part because of the presence of Kruger. The Ravens believe Upshaw is ready to blossom as a pass rusher and become a complete player.
*New Colts offensive coordinator Pep Hamilton is trying to minimize changes in the playbook and adapt as much of Bruce Arians' offense as possible to make it easier on his young players. That includes terminology, formations and personnel groups. Even though Andrew Luck is familiar with Hamilton's old offense because they worked together at Stanford, Hamilton and Chuck Pagano don't want to burden the rest of the offense too much. And, they want to stick with what worked.
One Man Yelp: Earn The Right To Win
Tom Coughlin is one of those bosses who bugs his employees but makes them better. That's one of the things that comes across in his new book Earn The Right To Win: How Success in Any Field Starts with Superior Preparation. It's a good look inside the mind of a sometimes misunderstood man.
Written with David Fisher, the Giants coach reveals how his fastidiousness has led him to success. For instance: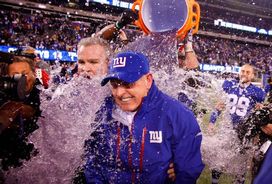 Tom Coughlin may be quirky, but he knows how to get a Gatorade shower.
*Coughlin writes that he makes schedules sometimes as far as a year in advance. He not only schedules his time by the hour, but by the minute. "My players in Jacksonville used to joke that I was so focused on using every second of every minute of the day that I would plan my restroom breaks a week in advance," he writes. "Obviously that wasn't true. A day in advance, maybe."
*During the 2011 lockout, he had assistant coach Chris Pridy draw up a potential off-season schedule at the beginning of the lockout, and then he had him update it every day so that if the lockout suddenly ended, the Giants had an offseason schedule in place and there would be no time wasted.
*He said he writes lists of the lists he has to make.
*Former Jaguars great Tony Boselli used to complain he needed to carry a cheat sheet just to keep all of Coughlin's rules straight.
*His wife forced him to sign a contract saying he would take five days off in the offseason. She tried to renegotiate for seven days. He would have none of it.
I found this very interesting from Michael Strahan, who wrote the forward: "He is not a physically demanding coach. Physically, he was the easiest coach I ever played for. But mentally, I've known few people like him." Some of the anecdotes in the book from Coughlin's Jacksonville days don't paint the same picture, which probably is a reflection of how Coughlin has evolved as a coach.
Coughlin's way might not work for everyone. But you can't argue that it has worked for him.
Hot Reads
*Getting screwed by the Steelers, the referees or the salary cap is one thing for the Ravens. But getting screwed by the Orioles? That's going too far.
*You may not have realized it, but the Bengals have a well thought out philosophy for having deep pockets and short arms.
*Someone needs to tell Jim Harbaugh you can never be too young, too rich or too muscular.
*There is absolutely no way on earth the Jets are trading Darrelle Revis.