March 20, 2011 -
Dan Pompei
NFP Sunday Blitz
The Patriots are set up perfectly for the April draft.
Set up, that is, to trade away draft picks.
It's what Bill Belichick does with regularity. And he trades picks to his advantage better than anyone in the league.
This year, prior to compensatory picks being announced, the Patriots have nine selections. Only the 49ers have more. But it's where the Patriots picks are that make their position so enviable. They have two in the first (17th and 28th), two in the second (33rd and 60th) and two in the third (74th and 92nd) to go along with a fourth, a fifth and a sixth.
That gives Belichick the flexibility to do just about whatever he wants to do in this draft. If he wants Von Miller, he can go get him. In fact, Patriots fans surely are fantasizing about top of the draft players like Patrick Peterson or A.J. Green. Others may be dreaming of an influx of many, many rookies.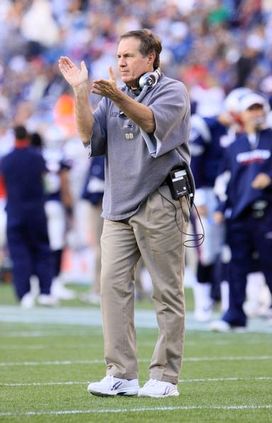 Bill Belichick deserves applause for the way he drafts.
This could be the perfect year for Belichick to move up to grab a difference maker, and it wouldn't be surprising to see him do that. But his history says he is more likely to package picks to trade down, and move at least one pick for a selection in a higher round in 2012. Given the flexibility he has—he could do all three.
The great advantage the Patriots have over most organizations in the draft game is they are not looking at the draft as a way to stop bleeding. They are looking at the draft as a way to make the muscle bigger. Theirs is a long-term program, and the way they keep multiplying picks is a self perpetuating process.
The Patriots have the luxury of knowing Belichick isn't going anywhere. He can afford to sacrifice incremental short term gain for substantial long term progress. Most teams cannot. Most head coaches and general managers are worried about doing everything they can to win now, and they know if they don't, they won't be around to enjoy the benefits of moves that were made for tomorrow.
If you study how the Patriots got to be in the position they will be in come April 28, their thought process becomes clear.
For instance:
*In September of 2009, Belichick acquired what would become the 17th pick of this draft by shipping Richard Seymour to the Raiders. A lot of teams wouldn't have made that deal because they couldn't take the hit that came with parting with a player who had been to five Pro Bowls for them. And the Patriots did take a hit, both internally and externally.
But in retrospect, the move was brilliant on a number of levels. With Seymour's recently signed two year contract, he reportedly can collect $32 million after already pocketing $12 million last year. He's 31 years old now. The Patriots saved the money and the cap space. And it's likely that if they use the 17th pick, that player will be earning significantly less than the 17th player of last year's draft, once a rookie wage scale takes effect in the new collective bargaining agreement.
So the trade enabled the Patriots to get younger and spend less money. They should be much better off for the deal in two years than the Raiders ever could hope to be.
Belichick has made similar moves over the years. When he traded Drew Bledsoe, he wound up using the pick he acquired from the Bills to acquire Ty Warren. Last fall, he traded Laurence Maroney and Randy Moss for fourth and third round picks, respectively.
*Last April, the Patriots gave the Panthers a 2010 third round pick, the 89th overall, in return for a second round pick in the 2011 draft. In essence, they traded Appalachian State quarterback Armanti Edwards for the 33rd pick in the coming draft.
The Patriots have made similar moves in past drafts. Belichick even did it with the Browns, dealing their first round pick in 1995, the tenth overall, to the 49ers. San Fran used it to take wide receiver J.J. Stokes. In return, the Browns received the 30th pick and a fourth round pick that year and the 49ers' first round pick the following year.
Belichick never had the chance to use that second first rounder because he was fired when the team moved to Baltimore. But the Ravens did OK with it, picking some guy named Ray Lewis.
I once asked Belichick about giving up a present pick for a future one. "The concept of trading for next year's picks value wise is pretty good," he told me. "Generally speaking, if you can bump up a round, that's pretty good value."
How else can you turn a third round player into a second one? Or a second into a first? The Patriots were able to acquire Jerod Mayo as a result of a deal like these.
The Patriots often are positioned to make these trades because they have an abundance of picks from what they did in previous years. Most teams feel they can't afford to give up a valued pick and get nothing in return now when all they have is seven picks.
Here's another thing you'll notice about the Patriots' trades for future picks: they often make them with teams that are not anticipated to be very good. That means the Patriots can expect to get more value than they would from a team with a good record and a lower draft pick.
*Last April, the Patriots traded twice to move down five spots in the first round. They were rewarded with three picks that turned out to be cornerback Devin McCourty, wide receiver Taylor Price and tight end Aaron Hernandez.
Belichick and his staff are very good at getting a feel for where players will go, and then taking a gamble that they can acquire the player they want with a move down. At times, they have moved down thinking they could get a player, only to reassess and then move back up. It happened in 2001 when they chose Matt Light, and in 2003 when they picked Eugene Wilson.
The point is, the Patriots often end up moving down, acquiring extra picks, and still getting exactly what they want.
Look for history to repeat itself in late April.
Things I Didn't Used To Know
*The best thing Beanie Wells did for the Cardinals in 2010 was throw a block. You might see that as discouraging if you are a Cardinals fan, but coach Ken Whisenhunt remains high on Wells, in part because of that block. Wells picked up a blitz that enabled the Cardinals to score on a 74-yard pass on Christmas against the Cowboys. Blitz pickup had been an issue for him. "That was ne of the things he needed to show improvement on," Whisenhunt told me. "I was encouraged to see him make progress, and I believe it will continue." The Cardinals think Wells' pedestrian production last year was the result of never having his knee at 100 percent after injuring it in the final preseason game. The hope in Arizona is Wells will have a breakout season in 2011.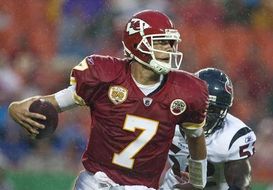 The Chiefs are learning how to use Matt Cassel.
*Don't be surprised if the Chiefs don't play much shotgun in 2011. The reason is Matt Cassel has been a much more effective passer under center. Last year, he threw all but one of his interceptions from the shotgun formation even though he threw 48 percent of his passes after taking the snap under center. According to STATS, he had a 104.6 passer rating when he was under center, and an 82.3 passer rating in the gun.
*Tommie Harris still has some of the quickness that resulted in him scoring three straight Pro Bowl invitations, which explains how he occasionally flashes. But the reason he hasn't been back to the Pro Bowl , and the reason the Bears let him go, is he doesn't have the same kind of lower body strength, according to scouts who have studied him. The defensive tackle wasn't the same after a serious hamstring tear and knee injury took away some of his power.
*As pointed out by Len Pasquarelli in his Friday Tip Sheet on The Sports Exchange, a number of special teams coaches are grumbling about the proposed change in kickoffs and are lobbying against it. "I'm not happy about it, and no one I've talked to is happy about it," one told me. This is one of those issues that may pit owners, who generally are sensitive to safety proposals, against coaches, who are protective of the competitive aspects of the game.
*I'm with Matt Bowen on this one. From everything I hear, Vince Young is going to have to go to a new team as a backup before he gets a chance to start again. The veteran quarterback who could be most attractive to teams in need is Kyle Orton, but the Broncos might not part with him.
My Sunday Best: Best Draft Classes
You are an NFL general manager. You could draft an entire class from one school. How would you line up your board? Here are my best draft classes this year.
1. Alabama. They have three potential first rounders in defensive tackle Marcel Dareus, wide receiver Julio Jones and running back Mark Ingram. What's more, it's possible all three will be the first player taken at their position.
2. North Carolina—Twelve Tar Heels were invited to the combine, and five of them (including defensive linemen Robert Quinn and Marvin Austin) could be chosen in the top two rounds.
3. LSU. This is a solid class led by Patrick Peterson, who some think is the best prospect at any position, and defensive tackle Drake Nevis. The Tigers had eight players at the combine.
4. Georgia. A.J. Green, Justin Houston and Clint Boling each are among the most highly rated players at their positions.
5. Missouri. They don't offer the depth to the NFL that some schools do, but quarterback Blaine Gabbert and defensive end Aldon Smith aren't too shabby.
6. Illinois—They finished 7-6 but could put three players in round one in DT Corey Liuget, running back Mikel Leshoure and linebacker Martez Wilson.
7. Auburn. The national champs won't the champions on draft day, but Nick Fairley and Cam Newton are expected to be first rounders, maybe top five picks.
8. Wisconsin. J.J. Watt and Gabe Carimi should be first rounders, and Lance Kendricks and John Moffitt are among the better players at their positions. Even quarterback Scott Tolzien has picked up a little steam.
9. Clemson. DaQuan Bowers, who could be the first overall, pick, could be one of four Tigers chosen before the fourth round.
10. Miami. They are supposed to be down, but still have four players who should be picked in the top two rounds in cornerback Brandon Harris, wide receiver Leonard Hankerson, offensive tackle Orlando Franklin and defensive lineman Allen Bailey.
11. Iowa. Among their seven combine invitees were potential first round defensive linemen Adrian Clayborn and Christian Ballard. Many scouts are intrigued by safety Tyler Sash and quarterback Ricky Stanzi as well.
12. Colorado. Nate Solder, Jimmy Brown and Jalil Brown are probably all future NFL starters.
13. Nebraska. Cornerback Prince Amukamara, a potential top 10 pick, was one of nine Huskers who landed a combine invite.
14. Southern Cal. They've had much better crops, but still could have five players off the board in the top three rounds, including top offensive tackle Tyron Smith.
Scout Talk: Medical Issues
A number of draft prospects could see their stock affected by physical exams. It's always one of the secrets of the draft.