November 05, 2011 -
Barry Dorey
NFP Sunday Blitz
Chris Johnson has gone from 5.6 yards per carry to 2.8. That's like a baseball player going from hitting .300 to .150. Or a marathon runner going from a finish time of 2:30 to a time of five hours.
He ranks 34th among NFL running backs in yards; second among NFL running backs in pay. Having 33 running backs more productive than Johnson is like having 33 companies sell more mp3 players than Apple.
The why is the interesting part. To get some answers for you, I spoke with two front office men who have studied Johnson, a broadcaster and former general manager who has watched every one of Johnson's plays this year, and someone who works with Johnson on the Titans.
Here are the top five factors that have led to Johnson's problems, in order of importance.
1. The juice isn't there.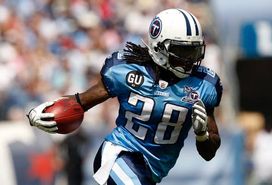 Here is a rare sight this year: Chris Johnson running free.
You can attribute it to missing training camp, or not having an offseason, or whatever else you would like. But Johnson has not run with the same explosion he has in the past. And explosion is everything to him.
"The instant acceleration and burst that he had before is not there," said CBS insider and former Texans general manager Charley Casserly. "You see some instinct and quickness, but he's not making plays in space. He's not making people miss. His balance is a little off."
One director of pro scouting said he still sees Johnson's speed on the edge and in space, but not between the tackles. That's where Johnson has been least effective.
This isn't the whole story though. As the member of the Titans told me, "He's not playing as fast, but he still is faster than most."
2. His running back vision doesn't seem to be quite right.
The lack of practice reps might be evident in how Johnson is identifying where he should run. More than one of the people I spoke with said he appears unsure of where the hole will be. It was noted that Javon Ringer (who is averaging nearly one yard per carry better than Johnson) is finding space more easily than Johnson.
"He hasn't been as patient, and he has a tendency to run as fast as he can to the outside if the hole isn't there initially," the director of pro scouting said. "He needs more patience."
3. His teammates aren't helping him enough.
Johnson has benefited from pretty good blocking in his previous three years. Not so much this year. The people who have broken down the tape say the Titans have had repeated blocking breakdowns, especially on inside runs. And Johnson hasn't been able to compensate for it. "Every yard he gets is hard," the member of the Titans said.
Johnson also has been hurt by the absence of wide receiver Kenny Britt, whose season ended in the third game with a torn up knee. "Without Britt, defenses can give all of their focus to Johnson," a pro scout said. Safeties aren't concerned about their deep game and they can load up against the run."
4. Opposing defensive coordinators have started to get a feel for Johnson and adjust.
Last year a number of teams—the Steelers, Broncos, Eagles, Chargers and Colts especially--handled Johnson pretty well. In the offseason coaches looked long and hard at the tapes from those games, and this year every team is playing Johnson the way those teams did. "Teams spent a lot of time studying that," the director of pro scouting said. "They figured out they needed to be disciplined in their gap responsibility and not take chances against him."
5. Johnson is playing under a new offensive coordinator in Chris Palmer, and there has been an adjustment period.
The late Mike Heimerdinger knew exactly how to use Johnson. Palmer has called the right plays for Johnson, according to two of the men I spoke with, but there still has been a natural feeling out process.
What you did not see in the top five reasons is a lack of effort. Some people have assumed Johnson has gotten fat and lazy after signing his new contract. The member of the Titans does not believe that is the case.
A lack of confidence could be becoming an issue, given that a lack of success usually leads to self doubts. But not a lack of desire.
The consensus is this is a temporary state of impotence for Johnson, and that he will, at some point, get back his mojo, or at least some degree of it. When it happens could determine whether or not the 2011 Titans go where they want to go.
The Titans hope Johnson rediscovers himself Sunday afternoon when the Bengals come to town.
Things I Didn't Used To Know
*A number of people who have a good pulse on the NFL believe scoring will level off in the coming weeks. Among the reasons: defenses were hurt more than offenses by the lockout and defenses are starting to get in sync; weather conditions are starting to become a factor; and defenses are getting a book on the first time starting quarterbacks. Right now there are 10 starting quarterbacks who defenses were unfamiliar with before this season— John Beck, Andy Dalton, Blaine Gabbert, Kevin Kolb, Colt McCoy, Matt Moore, Cam Newton, Curtis Painter, Christian Ponder and Tim Tebow. "Defenses will catch up when they get a book on new quarterbacks, and then the younger quarterbacks will learn, get better and grow," said Colts president Bill Polian, a member of the competition committee. "But it tends to dip as we go through the second half of the season."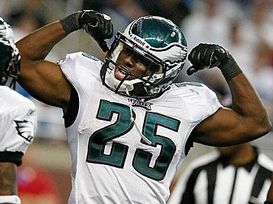 It's about more than muscle for Shady McCoy.
*With LeSean McCoy tearing up defenses, there has been much talk about his unusual cutting ability and Barry Sanders-like ability to make defenders miss. But there is another reason why the Eagles running back is playing better than ever. "I think patience is the No. 1 thing for him," Philadelphia coach Andy Reid told me. "He's allowing his linemen to get into position to block. It's not speed to the hole but speed through the hole. He has great vision." And it should be noted that McCoy's teammates are blocking well for him. Reid points out that the receivers—even DeSean Jackson--have cleared downfield space for McCoy.
*People who know Jeff Fisher wouldn't be surprised if the former Titans coach ends up in Dallas if the Cowboys season continues to go south. The reason? Fisher and Cowboys owner Jerry Jones are old buds from their days together on the competition committee. If the Cowboys do make a change and decide to pursue Fisher, they could have some competition for him from the Dolphins.
*Laron Landry still looks very impressive physically, but he is considerably heavier than the Redskins coaches want him to be, and it has affected his play. The Redskins safety got off to a poor start with hamstring problems and hasn't recovered. His weight has been an issue, and he hasn't been allowed to blitz as much as he has in the past.
*Chris Houston has become an interceptor. The Lions cornerback has four interceptions in eight games this year, as many as he had in his previous four years in the league. Among his interceptions this year are two pick-sixes. When the Lions acquired the cornerback from the Falcons last year, the 2007 second-round pick had lost confidence. Lions defensive coordinator Gunther Cunningham and secondary coach Tim Walton slowly have re-instilled that confidence. Walton noticed Houston struggled to locate the b all, so he and Cunningham developed some unique ball drills that have helped Houston. It also has helped that the Lions have an able corner playing opposite Houston this year in Eric Wright. Teams can't throw away from Houston as easily as they did in the past. The team also is using more man to man defense, which plays into Houston's strengths.
*If you were a fly on the wall at the 49ers' Santa Clara facility during their bye week, you'd understand why defensive end Justin Smith is having such a great season. Smith could have coasted through the week and stayed away from the facility, as the team was staging "opportunity" practices for players who hadn't gotten much game time. But Smith took advantage of the time to make himself better. Smith and fellow defensive end Ray McDonald were pushing around a 500-pound sled on the practice field when they didn't have to be there. "The guy is just a pro, a great leader," coach Jim Harbaugh told me.
My Sunday Best: Midseason All-Pro Defense
Last week,