January 02, 2011 -
Dan Pompei
NFP Sunday Blitz
Being successful in the NFL isn't just about maximizing abilities. It's also about adjusting to adversity. No team has done that better than the Green Bay Packers, who are hoping to secure a playoff spot Sunday despite having 15 players on injured reserve.
They might be without as many as 10 starters in what looks like the most important game of the season against the Bears. Starters already have lost 77 games to injuries. But somehow, someway, the Packers have found a way to overcome playing without many of the stalwarts they had been dependent on just a few months ago.
They have overcome the losses partly because they have had good young replacements on the team, partly because they have been able to pick up some veterans off the scrap heap, partly because they have stayed the course, partly because they have a difference making quarterback in Aaron Rodgers and mostly because they have made necessary strategic adjustments.
Packers head coach Mike McCarthy, who runs the offense, isn't just calling the same plays that he would have if he had Jermichael Finley, Ryan Grant and others in the lineup. "When you build your offense, you spend the whole spring doing it with the people you think are going to be here," McCarthy told me. "You have primary concepts, personnel groups, formations. That's part of the offseason. The way we trained in May, June and July is significantly different from what we're doing now. That's obvious. It points to the fact you have to be able to adjust. That's part of having a very flexible system, maybe play with primary concepts that are now secondary concepts and secondary concepts that are now primary concepts. We've had to do more of that than in the past. Our players have responded, and more importantly our quarterback has handled it."
McCarthy has resisted the temptation to rewrite, or add chapters to the playbook. Instead, he has drawn from more heavily from areas of it that he did not intend to. "In building this scheme, I'm always very conscious of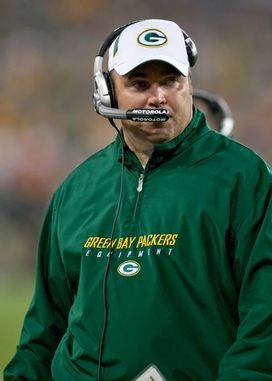 ICONMike McCarthy has found ways to maintain his team's efficiency despite numerous player losses.
the volume," he said. "It's easy to get too much volume. I made that mistake in my younger days as s coordinator. We have a saying on our coaching staff that is kind of our mantra—'Less volume, more creativity.' I think we've stayed true to that. We're not drawing up plays in the dirt or anything like that."
Losing Finley and right tackle Mark Tauscher provided a particular challenge for the Packers' third down package. Initially, they struggled on third downs, and too many interceptions were the result. As the season has gone on, they have adjusted and found ways to execute without their tight end, around whom much of the third down package had been designed.
The Packers defense has lost more bodies than their offense, and the reaction of coordinator Dom Capers has been to cut back when necessary. He has been forced to rely on younger players such as nickel corner Sam Shields and pass rushing linebacker Frank Zombo. "Dom is really good and playing guys to their strengths and minimizing weaknesses," one NFL pro scout said. "They have simplified some things and haven't been as exotic."
The Packers have done whatever is necessary to survive and thrive. You have to admire their resiliency as a team and their resourcefulness as a coaching staff. "We've played at a pretty consistent level regardless of all the challenges," McCarthy said.
They can make it all pay off with a victory Sunday.
Things I didn't used to know
*The 49ers say they want to hire a general manager before the head coach, but they were reaching out to head coaches, even talking money with some, while they were still interviewing general manager candidates. The top two coaches on their wish list apparently were Jim Harbaugh and Jon Gruden. Their chances of enticing either to coach the 49ers are not good, despite the fact that the 49ers made it known they were willing to pay $5 million a year. Many coaches around the league are skeptical about the team's ownership/management situation.
*It's starting to look like Jim Fassel could be in play in Denver, especially if John Elway is in the equation. The team could do a lot worse than the former Giants coach.
*There are no indications that Mike Holmgren is interested in returning to the sidelines in Cleveland, but there are indications that Holmgren will make a head coaching change. His top two targets are believed to be Gruden and John Fox.
*On the subject of Fox, if the soon to be former Panthers coach does not get a head coaching job this go-round, there are rumblings that he could be headed back to the Giants as a head coach in waiting. Tom Coughlin will be 65 when the 2011 season begins, and the Giants might want to start thinking about a succession plan. Fox, who worked for the Giants for four years before heading to Carolina, is well liked and well respected in the Giants offices. In fact, one source says the Mara family absolutely loves him.
*The Vikings have a number of free agents to be to concern themselves with, but sources say they have already started trying to re-sign one key player—Chad Greenway. The linebacker had his best season in his fifth year in 2010, and is regarded as one of the players the Vikings want to build around, regardless of other changes that may take place in the organization.
*One of the keys to the Packers maintaining an acceptable level of defensive play despite all the player losses has been the ascension of inside linebacker Desmond Bishop. A virtual unknown before this season, Bishop has made big plays when the Packers have needed them this year. Bishop replaced Nick Barnett at inside linebacker on the weak side in the Packers' base defense, and has moved around in sub packages. Their coaches tell me he has been particularly effective in coverage, and he also has contributed with inside blitzes and run defense.
*One of the best stories in the NFL this year is the success of Jason Babin. The Titans defensive end has 12.5 sacks, tied for third most in the NFL. Not only does that constitute a career year for Babin, but it blows away any of his previous seven seasons. The 30-year old who is on his fifth team has 7.5 more sacks than his previous career best. The Texans, who drafted Babin in the first round, tried to make him a linebacker. That wasn't Babin. In Seattle Babin clashed with then coach Mike Holmgren. He didn't get many chances in Kansas City or Philadelphia. But Titans defensive line coach Jim Washburn begged for his team to sign Babin. He saw Babin as an ideal fit because of his toughness and intensity. In fact, Washburn told me Babin's motor is the second best he's ever seen behind only Kyle Vanden Bosch's. Washburn, one of the best assistants in the business, got the best from Babin by putting him on the edge of the offensive tackle and just letting him go.
My Sunday Best: Should Have Been Pro Bowlers
You can make a team of the best players in the league who didn't make the Pro Bowl. And that's what I'm doing.
Quarterback—Aaron Rodgers, Packers. With the exception of Tom Brady and maybe Philip Rivers or Michael Vick, Rodgers takes a back seat to no quarterback. How he was left off the NFC team is a mystery.
Running back—Chris Johnson, Titans. When you consider that no runner is keyed on more than Johnson, his 1,325 yards and 4.5 average are even more impressive. What's mor e, only one player, Darren McFadden, had more runs of 20 plus yards than Johnson, and only three players, Arian Foster, BenJarvus Green-Ellis and Adrian Peterson, scored more rushing touchdowns.
Fullback—LeRon McClain, Ravens. If you need the tough yard, McClain is the guy you want throwing the lead block.
Wide receiver—Wes Welker, Patriots and Mike Wallace, Steelers. Welker is the perfect slot receiver and Wallace is the ideal vertical threat. Neither may be as well rounded as some of the players who made the Pro Bowl rosters ahead of them, but both excel in what they do best.
Tight end—Kellen Winslow, Bucs. Given the Bucs' other skill position players, Winslow arguably was more important to his offense than any other tight end was to his offense in the NFC.
Offensive tackles—Andrew Whitworth, Bengals and Tyson Clabo, Falcons. The truth is there isn't a lot of outstanding tackle play in the NFL. But Whitworth stood out on a bad team, and Clabo is an important cog on an excellent team.
Guards—Josh Sitton, Packers and Brandon Moore, Jets. There aren't many stars at the guard position either, but these two did the job as well as anyone in 2010.
C—Jonathan Goodwin, Saints. Getting the protections straight in Sean Payton's offense is no easy task.
Defensive ends—Trent Cole, Eagles and Jared Allen, Vikings. Forget statistics. Any team that didn't game plan for both of these players paid a price.
Defensive tackle—Kevin Williams, Vikings and Terrance Knighton, Jaguars. Williams has been so good for so long that he doesn't get noticed much anymore. Knighton hasn't been good long enough to get noticed.
Outside linebackers—Tamba Hali, Chiefs and Brian Orakpo, Redskins. These are two premium pass rushers in 3-4 alignments.
Inside linebacker—A.J. Hawk, Packers. You can make strong cases for Karlos Dansby and Lawrence Timmons as well, but the Packers would have been in big trouble without this guy.
Safeties—LaRon Landry, Redskins and Eric Weddle, Chargers. Until Landry was injured, he was playing as well as any safety. Weddle didn't make a lot of big plays, but he was very steady.
Cornerbacks—Champ Bailey, Broncos and Tramon Williams, Packers. Williams would have been a better choice than his teammate Charles Woodson. Two others who merited consideration were Aqib Talib and Antoine Winfield.
Kicker—Rob Bironas, Titans.
Punter—Donnie Jones, Rams.
Returner—Leon Washington, Seahawks.
Special teams—Corey Graham, Bears.
Scout Talk: 2011 Class of Defensive Tackles
There might not be any Ndamukong Suhs in the next class of DTs, but there should be a number of desirable players. The depth is very good at the position. And there might even be a Gerald McCoy in the crowd.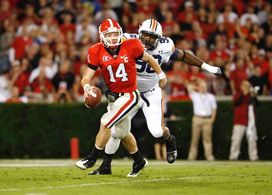 ICONNFL teams will be pursuing Nick Fairley with the same fervor that Fairley has pursued quarterbacks.
Auburn's Nick Fairley, should he decide to make himself eligible, was compared to McCoy by one scout I spoke with. Fairley is a big, strong, athletic player who can rush the passer and play the run. He likely will be a top 15 pick in the draft.
The only other player who looks like a sure-fire first rounder is another SEC underclassman, Marcel Dareus of Alabama. He is an ideal three technique in a 4-3, and he's got a nice blend of power and quickness. Depending on what flavor you prefer and how the postseason goes for both players, Dareus could even go ahead of Fairley.
Miami's Allen Bailey has a chance of being a first rounder. Not every team will be crazy about him because he's a tackle/end hybrid who lacks instincts. His best position might be as a five technique in a three man front. He has the size and speed and power to draw a lot of attention.
Marvin Austin may have enough talent to be a first round consideration, but teams are moving cautiously with him because he didn't play last season as a result of a suspension for receiving improper benefits. Most NFL teams need to delve deeper into Austin's character before they are comfortable with him.
Three nose tackle candidates who could go in the second round range are Jerrell Powe of Mississippi, Stephen Paea of Oregon State and Jarvis Jenkins of Clemson.
Other talented tackle prospects are LSU's Drake Nevis, Baylor's Phil Taylor, Iowa's Karl Klug, Notre Dame's Ian Williams and Hampton's Kendrick Ellis. It's possible each of them will be chosen before the end of round three.
Numbers Games: Play It Again (Or Not)
If you are a fan of the Bears, you should be rooting for Lovie Smith to keep his red handkerchief in his pocket, unless his nose needs blowing. Smith's success rate on replay challenges this year is 14.29 percent, worst in the NFL.
If you are a fan of the Saints, you should be cheering for Sean Payton to throw the flag. He has succeeded on 77.78 percent of his challenges this year.
Other coaches who have done very well include San Francisco's Mike Singletary (71.43 percent), Buffalo's Chan Gailey (66.67 percent), Indianapolis' Jim Caldwell (66.67 percent), Kansas City's Todd Haley (62.50 percent), Miami's Tony Sparano (60 percent), New England's Bill Belichick (55.56 percent) and Arizona's Ken Whisenhunt (55.56 percent).
Others who have not done well on challenges are Baltimore's John Harbaugh (18.8 percent), Carolina's John Fox (21.43 percent), Cleveland's Eric Mangini (25 percent) and Jacksonville's Jack Del Rio (25 percent).
Seattle's Pete Carroll has thrown the red flag more than anyone, 16 times, and succeeded at a rate of 37.50 percent. Mangini has thrown it an NFL-low four times.
The major calls that have been overturned at the highest rate have been runner down by contact (58.14 percent) and loose ball recovery (57.14 percent). The challenges with the worst success rates: runner was in bounds (20 percent), first down (20.69 percent), and runner broke the plane (28.21 percent).
One Man Yelp: iPad
I've been an iPhone fan for awhile, and am quickly becoming an iPad fan. It's a sleek device that's easily transportable that has many business applications as well as personal applications. The display is stunning, perfect for photos or surfing the web.
I'm not sure if magazines and newspapers have a future on these types of devices, but I hope they do. It's easy and enjoyable to read them on an iPad. Books, videos, music and games are great on iPad too. iPad is the perfect device for a calendar, contacts and filing information.
The only thing I wish I could do on the iPad is type my stories. Then I'd get rid of my laptop. But the onscreen keyboard isn't quite meaty enough.
One more thing about the iPad: it's just plain fun.
Hot Reads
*The perception of Mike Singletary as wildman is part of the reason he was dismissed as head coach of the 49ers. But what's interesting is when he was a middle linebacker, he was the voice of reason and the calming influence in the Bears locker room and defensive huddle.
*Following Tom Brady's logic that having an MVP doesn't make sense in a team sport, then how does Brady's exorbitant salary make sense in a team spo rt?
*Anyone who still thinks Michael Vick should be the MVP over Brady must not have watched the Eagles and Vick get whupped by the Vikings last week. Vick had more turnovers in that game than Brady has had in his last 13 games combined.
*The broadcasting career of Tucker Carlson should be executed.
*The blizzard on the East coast last week and subsequent postponement of the Eagles-Vikings game clearly exposes the folly of a New Jersey Super Bowl.
*And, finally, have you heard the NFL is thinking about moving the date of the Pro Bowl? It's apparently supposed to be really sunny in Honolulu the day the game is currently scheduled for.
Dan Pompei covers pro football for the Chicago Tribune at chicagotribune.com.