November 04, 2012 -
Dan Pompei
NFP Sunday Blitz
When Mario Williams makes his homecoming to Reliant Stadium Sunday as a member of the Bills, he will find he has not been missed much.
The 6-1 Texans rank second in the league in the Aikman Efficiency Ratings, third in yards allowed and seventh in sacks.
The Texans have survived the loss of Williams because their organization is so adept at keeping the pipeline full of young, talented players. General manager Rick Smith, head coach Gary Kubiak and their staffs keep growing new flowers as soon as the old ones are picked.
In addition to losing Williams, the Texans also lost five other starters last offseason—linebacker DeMeco Ryans, tackle Eric Winston, guard Mike Brisiel, wide receiver Jacoby Jones and tight end Joel Dreessen. The Texans were prepared for it.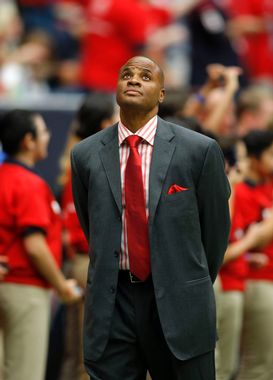 Texans GM Rick Smith is becoming known as one of the league's best drafters.
"You have to look at what you can absorb as far as losing players in terms of where your priorities are, where you are strong and weak," Smith told me. "We were in a situation where we had some guys in critical positions about to go into the last year of their deals. We had to look at it on a long term basis. We think we have a chance to be good for a couple of years, and we want to maintain that. You have to identify the core of the team. The core is a living breathing thing. You always need to evaluate it. We had to look at that group and say this is where we can allocate resources, this is where we can't. When that happens, you are going to lose some players who have been important to you. That happened."
Losing Dreessen was one thing. Losing Williams, the first pick of the 2006 draft and a two-time all pro, was something else. But Smith didn't flinch.
"I don't ever know if you are confident you can absorb the loss of a player as good as Mario," Smith said. "But obviously we had played a significant amount of the 2011 season when he was on injured reserve. From that standpoint, we knew we had some young players we had drafted."
Absorbing the loss of Williams was easier because the Texans had taken four front seven players in the first two rounds of the draft in 2009 (Brian Cushing and Connor Barwin) and 2011 (J.J. Watt and Brooks Reed). They added another in 2012 when they chose Whitney Mercilus in the first round. But when Smith was making those picks he wasn't necessarily preparing to lose Williams as much as he was following the board.
"Those guys are hard to find, so when you have them rated where we did, you better take them," Smith said. "But I don't draft for need. I think you make mistakes when you do that. If you are targeting draft picks for those types of reasons (replacing a potential free agent down the road), you run the risk of making mistakes. We try to value our board independent of what we need, or where the draft might be strong or weak."
Williams made it easier for the Texans to let him go when he missed the last 11 games of the 2011 season. That opened the door for Barwin and Reed to show their skills, and for the G.M. to get a look at the defense without him. It didn't look half bad. "The way we play defense it helped with that decision," Smith said. "Certainly the way we gelled as a group went into it."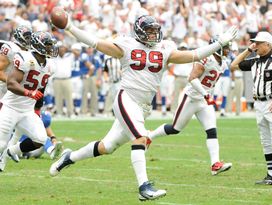 The way J.J. Watt plays made it easy to allow Mario Williams to leave.
The way Watt played as a rookie was a factor. Choosing Watt with the 11th overall pick last year has been Smith's best move yet, though even Smith acknowledges Watt has played beyond expectations.
"We always look for guys who make football important to them," Smith said. "Look across our defense—Connor Barwin, Brooks Reed, Brian Cushing, Antonio Smith. We're looking for guys who play with relentless effort. J.J. fit that mode. We knew he would fit in."
If picking Watt wasn't Smith's best move, then picking Duane Brown in 2008 was. The Texans originally held the 18th pick in the first round, but decided to move down to 28 to acquire an extra third rounder. They therefore bypassed Jeff Otah and Sam Baker and had to "settle" for the last of eight left tackles who were taken in that first round. In the years since, Brown arguably has become as good as any of them.
"We liked Duane based on fit for our scheme," Smith said. "Duane was a guy we targeted."
Knowing how players fit the scheme has been significant for the Texans. Smith has a deep understanding of what Kubiak wants because they have worked together for 16 years, and Smith's beginnings were as an assistant coach in Denver. "Having coached with Gary for so many years, understanding our offense and being able to communicate with him helps," Smith said.
He also said defensive coordinator Wade Phillips deserves credit for communicating what he is looking for, and for also being able to take a good football player and make the scheme fit him.
The Texans' personnel success goes beyond finding stars like Watt and Brown. They also have built depth well and found ways to hit on later picks. Fourteen of the 25 players chosen in the fourth through seventh rounds between 2007 and 2011 have started 183 games for the Texans. If you count undrafted players, that number of starts jumps to 217 games because of Arian Foster.
Despite the holes from the veteran losses in the offseason, the Texans put together such a strong roster that other teams have been feasting on their leftovers. Among the players the Texans have let go since September who have been picked up by others are offensive lineman Thomas Austin (Panthers), wide receiver Trindon Holliday (Broncos), offensive lineman Nate Menkin (Eagles), offensive lineman Shelley Smith (Rams) and offensive lineman Cody Wallace (Bucs).
Turns out Rick Smith is pretty good at replenishing a number of NFL rosters—not just the Texans'.
Things I Didn't Used To Know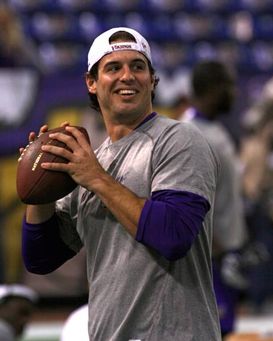 Christian Ponder needs to adjust to how defenses have adjusted to him.
*There is a reason Christian Ponder has not performed as well of late. Through the first three games of the season, the second year man had a 104.9 passer rating. But over the last five, his passer rating is 74.6. The difference? Teams have a good library of tape on Ponder now. One front office man said opponents are defending Ponder differently, giving him different coverage looks and different angles of pressure. Meanwhile, Ponder has responded by trying to do too much. The Vikings need to simplify things to get Ponder back on track.
*Jake Long has allowed three sacks this year, which is a lot for him, but that doesn't mean he is playing poorly. Dolphins coaches are happy with Long for the most part, and attribute two of the sacks to unusual circumstances. Long has been outstanding as a run blocker. The feeling in Miami is by the end of the year Long will have turned in another year worthy of his reputation.
My Sunday Best: Midseason All Pros
This is Week 9 of the NFL season—time to take a look at which players have stood out through the first half. Here are my Sunday best players at the midseason.
Quarterback—Peyton Manning, Broncos. He leads the league in passer rating, average per completion and, completions of 20 yards or more.
Running back—Adrian Peterson, Vikings. He has a 5.1 yard average and has rushed for 775 yards—and his knee isn't even 100 percent yet.
Fullback—Henry Hynoski, Giants. He has been one of the only constants in the Giants' run game. Honorable mention goes to the unsung Greg Jones of the Jaguars.
Wide Receiver—A.J. Green, Bengals. He can make big plays and he can move the chains. Green could be coming into his own as the next best receiver in the NFL.
Tight end—Rob Gronkowski, Patriots. Even though he was playing hurt through a stretch of the first half, he still easily has been the best tight end in football.
Offensive tackle—Ryan Clady, Broncos. He has adjusted to scheme changes and a new quarterback very well. Duane Brown of the Texans also gets consideration.
Guard—Mike Iupati, 49ers. He is the heart of the San Francisco offense. Their power run game wouldn't be anywhere near as effective without him.
Center—Mike Pouncey, Dolphins. Not many centers have his combination of athleticism and strength. He is a fine blocker on passes and runs.
Defensive end (4-3)—Cameron Wake, Dolphins. He is a down-in, down-out disrupter. His 7.5 sacks tell only part of the story.
Defensive end (3-4)—J.J. Watt, Texans. Justin Smith of the 49ers gets some consideration too, but Watt has been the most dominating defensive player in the NFL this season.
Defensive tackle (4-3)—Geno Atkins, Bengals. Interior pass rush is hard to find in today's NFL, but Atkins brings it consistently. Henry Melton of the Bears also has been very disruptive.
Defensive tackle (3-4)—Barry Cofield, Redskins. He gets it by default. With only ten teams playing a three man front most of the time, there really isn't a 3-4 nose tackle who clearly has blown away the competition.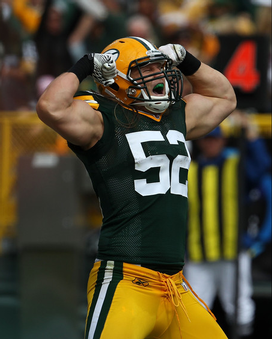 Clay Matthews has been striking more poses like this in 2012.
Outside linebacker (3-4)—Clay Matthews, Packers. He is playing like he played in 2010 when he was voted defensive player of the year. If offenses don't alter their blocking schemes for him, he will dominate.
Inside linebacker (3-4)—Sean Lee, Cowboys. Before he was injured, he was the most effective inside backer in the NFL. And there have been some other good ones, like San Francisco's Patrick Willis and Arizona's Daryl Washington.
Outside linebacker (4-3)—Lance Briggs, Bears. He has taken his game to another level at the age of 31. He is arguably the MVP of the best defense in the NFL for the first half. Von Miller of the Broncos deserves a spot too. He is more of a hybrid because he rushes the passer so much.
Middle linebacker (4-3)—Middle linebacker (4-3)—James Laurinaitis, Rams. This is a position in which nobody has really stood out. Three young guys—Bobby Wagner of the Seahawks, Luke Kuechly of the Panthers or Colin McCarthy of the Titans--could be in this spot next year. Other possibilities are DeMeco Ryans of the Eagles and Stephen Tulloch of the Lions.
Safety—Jarius Byrd, Bills. He could be the new Ed Reed. Byrd has three interceptions, three forced fumbles and 24 passes defended.
Cornerback—Richard Sherman, Seahawks. This big, physical corner has fared well against some of the NFL's best. He edges out Chicago's Charles Tillman and Tim Jennings and Minnesota's Antoine Winfield.
Kicker—Blair Walsh, Vikings. The rookie has a hit rate of .944 on his field goals with a long of 55 yards. Plus he has 31 touchbacks—tied for most in the NFL.
Punter—Thomas Morestead, Saints. He leads the NFL with a net average of 45.2, has dropped 11 inside the 20 and has put seven out of bounds.
Return man—Randall Cobb, Packers. He brought back a punt return for a touchdown and is averaging 10.3 per punt return. On kick returns, he is averaging 27.4 yards.
One Man Yelp: The Family Corleone
I am not a big reader of fiction, but I am a big Godfather fan. So I was very interested in The Family Corleone—Ed Falco's prequel to Mario Puzo's The Godfather, which was written some 43 years ago. The book is based on a screenplay Puzo had authored prior to his death in 1999, and written in Puzo's style. It is respectful to the Puzo legacy—filled with colorful scenery, aromas, sounds and textures--and characters you would want to know only in a book.
It's a page-turner that's difficult to put down. For those familiar with the movies (and who isn't?), this book fills in the gap between the flashback scenes in Godfather II and the beginning of The Godfather.
What was most interesting was the character development, particularly of Corleone family heavy Luca Brasi, Tom Hagen and Sonny Corleone. We find out what made Brasi so feared and troubled, why and how the Corleone family took in Hagen, and how Sonny got involved in the family business.
This book makes you yearn for another Godfather movie, even though the last, Godfather III, was a disappointment. The Family Corleone is a much better story than Godfather III.
The book concludes with an amusing Italian exclamations, curses, words and phrases. And I did not feel like a ciuccio after buying and reading this well done prequel.
Hot Reads
*Nice to see the NFL and NFLPA working together for Sandy relief.