February 03, 2013 -
Dan Pompei
NFP Sunday Blitz
Some things just don't seem fair.
The Baltimore Ravens might have the greatest general manager in the NFL in Ozzie Newsome. And they also might have the next greatest general manager in Eric DeCosta.
You don't have to take it from me. You can take it from one of the eight teams that reportedly have put in requests to interview him for general manager positions, or from a few of the others that discreetly put out feelers.
He is the No. 1 name every year on virtually every team's short list of general manager candidates. Among the competitors who have tried to interview DeCosta over the last few years, according to reports, have been the Jets, Chargers, Bears, Colts, Rams, Raiders, Seahawks and 49ers.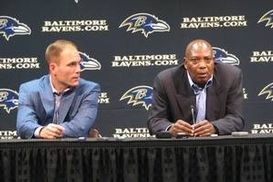 DeCosta and Newsome: the team within the team.
DeCosta has not interviewed for a single job. "If you agree to an interview you are saying you are open to working someplace else," the Ravens assistant general manager told me. "I really haven't been open to working someplace else. As long as this team wants me and I can work with Ozzie, I'll continue to do that."
The Ravens have promoted DeCosta and taken care of him. He is believed to be in line to be Newsome's eventual successor. But many can't understand why he has not made a grab for more money and power. They don't get how a 41 year old, father of three can be satisfied prioritizing relationships, both professional and personal.
"A lot of people think it's about being the guy who makes all the decisions or gets all the credit," he said. "I look at this profession as being about relationships and who you have next to you, the players in your locker room. I feel very strongly about the people I work with, the people I work for and the players in our locker room. If you have that, why do you want to try to recreate it somewhere else?
"I know I'll have an opportunity some day. But to show up at the castle every day and work with Ozzie and Pat Moriarty and George Kokinis, Joe Hortiz, Kevin Byrne, John Harbaugh, coaches like Clarence Brooks, Dean Pees, Jim Caldwell, the list goes on and on. Why would you want to leave that?
"There are 32 owners in the NFL. I've been fortunate to work for Art Modell and Steve Bisciotti. Both have done so much for Baltimore and for my family. I'm very loyal to them. Steve has got to be the best owner in the league. I cherish my time in this organization and I don't want it to end."
DeCosta has learned much from studying the master Newsome and he humbly gives Newsome much credit. But DeCosta also has contributed significantly to the roster of the last team standing from the AFC.
The Ravens are one of the most draft-centric teams in the league, and the draft is DeCosta's specialty. He knows it like few men, having ascended from scouting assistant to area scout to college scouting director to personnel director to assistant GM.
"We believe in the draft, going back to 1996 when Ozzie drafted Ray Lewis, Jonathan Ogden and Jermaine Lewis," he said. "That's just always been our way. We put a huge premium on that. Most of our scouting resources really focus on the draft. We are very proud of the job our scouts do. I think we have the best area scouts in the league. We have been able to build a system over 17 years that we feel is unique. We look at the draft as our Super Bowl every year. This year we get to play in two Super Bowls."
I asked DeCosta to reflect on some of the draft pick cornerstones the Ravens are built on.
On Terrell Suggs, the 10th pick of the 2003 draft: "We loved his ability to rush the passer regardless of the fact he didn't run a 4.6 40. He ran a 4.84, and when he fell to us, we couldn't believe it. We thought he was one of the best players in the whole draft. If we had the first pick in the draft we might have considered him because he was such a dynamic pass rusher. This year, his will to come back from that Achilles injury was inspiring to everybody. He has really matured, and become a tremendous leader for us."
On Marshal Yanda, the 86th player of the 2007 draft: "He was a scout favorite. How can you draft two guards with two of your first three picks? We did with Ben Grubbs and Yanda in third. That's Ozzie, drafting the best available. People scratch their heads, but if you are right you get good players. Marshal is a great player. He's tough, mean, smart, nasty, everything you want in an offensive lineman. He has provided leadership and mentality to the other guys on the offensive line."
On Joe Flacco, the 18th pick of the 2008 draft: "It was sort of an unconventional pick. I don't think many people would have taken him in the first round. Our area scouts had strong conviction and our coaches really felt it too. A lot of the credit goes to Cam Cameron and Hue Jackson, who was our quarterbacks coach, to our area scouts for evaluating all the quarterbacks that year, and to Ozzie for the work he was able to do in the interviews."
On Ray Rice, the 55th player of the 2008 draft. "There wasn't a lot of hype about him when I watched him. There were a lot of other running backs in that draft. After watching one game, I brought the tape down to Ozzie. I don't do that often but I wanted him to see him right away. We saw a guy we thought could be a special player for us. He could do a lot of things. He ran low to the ground, and had a competitive running style. He reminded me of Emmitt Smith in some ways. We were fortunate to have Craig Ver Steeg on staff who had been with him at Rutgers, so we knew a lot about the kid. A lot of people had a hard time judging his hands. We knew he had really good hands even though it didn't show up on tape because Craig had coached him. We knew he was going to be a dual threat."
DeCosta was an area scout with the Ravens the last time they made it to the Super Bowl at the end of the 2000 season. This is almost a completely different team, and he has a very different role.
"We've been in the playoffs five years in a row but we couldn't make that next step," he said. "We've had some heartbreak. It took a long time for most of us to get over that loss in the AFC championship game last year. So we're excited to be here. We didn't necessarily see it coming. Sometimes these things sneak up on you."
DeCosta isn't sneaking up on anyone. The whole league knows the value he brings to his team.
Things I Didn't Used To Know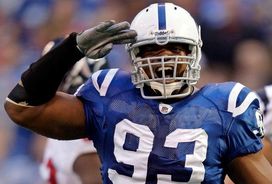 Will Dwight Freeney be saluting the Colts farewell?
*One year after letting their iconic offensive player walk, the Colts may be preparing to allow their iconic defensive player walk. Dwight Freeney is soon to be 33-years old, is coming off a five sack season, and his contract is up. But it's not like the Colts don't see value in Freeney. They believe he would have been much more productive if not for a high ankle sprain that bothered him for the first half of the season. And they also noticed their defense was significantly better when Freeney was on the field. So letting Freeney leave isn't as easy a decision as it may appear.
*Those who are familiar with new Seahawks defensive coordinator Dan Quinn are expecting a change in the Seattle defense—specifically, more blitzing. Last year under Gus Bradley, the lack of pressure on opposing quarterbacks becam e an issue. Bradley's game plans leaned toward the conservative side. Quinn is seen as more of a risk taker, and that could be just what the Seahawks need. Given the Seahawks have cornerbacks who can press and run in Richard Sherman and Brandon Browner, the Seahawks have the capability to be an effective pressure team.
My Sunday Best: 49ers Teams
Few franchises have as many great teams as the 49ers have had in their rich history. Here are my Sunday best 49ers teams.
1. 1984. In addition to winning 15 games, this team steamrolled the next two Super Bowl champions in the playoffs, beating the Giants and the Bears. This probably was the most complete 49ers team ever. The 49ers led the NFL in scoring defense and tamed Dan Marino in the Super Bowl, and the offense featured five Pro Bowlers. Jerry Rice didn't show up until the next year, but Freddie Solomon and Dwight Clark did just fine.
2. 1989. Repeating as champion is the most difficult thing to do in the NFL, and this has been the only 49er team to do it. They did it in grand style, winning 14 regular season games and then winning three postseason games by a combined 100 points. Joe Montana was at the height of his game, and he had arguably his best season ever. What's more, he had Steve Young playing lights out as a backup. They might have been even better if Bill Walsh had not walked away a year too soon and had stayed on to coach this team.
3. 1994. This was Steve Young's finest moment. In addition to winning his first Super Bowl as a starter, Young also never was more efficient. This team was so good, it was favored by 23 points over the Chargers in the Super Bowl. The defense was full of playmakers, including Deion Sanders, and he helped the 49ers beat his former team, the Cowboys, in the NFC championship game.
4. 1981. This was Bill Walsh's first great team, and it will forever be remembered by The Catch that helped the 49ers beat the Cowboys in the NFC Championship game, and by the goal line stand against Walsh's former team, the Bengals, in the Super Bowl. Fred Dean was brought in to spice up the pass rush, and Ronnie Lott and Eric Wright were drafted to redo the secondary.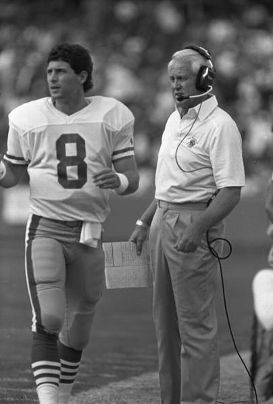 Bill Walsh and Steve Young on one of the great 49ers teams.
5. 1988. They were only 10-6 (they started 6-5), but they finished so strong and provided some indelible memories. I'll never forget the way this team came into Soldier Field in the NFC championship game and embarrassed the Bears 28-3 when the wind chill was 26 below. Their 20-16 victory over the Bengals in the Super Bowl will forever be remembered for the John Candy play.
6. 2013. The script has yet to reach its conclusion, but so far this team ranks with some of the finest. The current 49ers have had some rough patches and won only 11 regular season games. But when they are on, they are really on.
7. 1990. This team won 14 regular season games but doesn't get as much respect as many other 49ers teams because they lost in the NFC Championship game when Roger Craig fumbled late against the Giants in a 15-13 loss.
8. 1948. This 12-2 team had one of the most prolific offenses in history, averaging more than 35 points per game.
Hot Reads
*Congratulations to Larry Allen, Cris Carter, Curly Culp, Jonathan Ogden, Bill Parcells, Dave Robinson and Warren Sapp, one of the strongest hall of fame classes in memory. We left some outstanding names out of the hall of fame though.