February 13, 2011 -
Dan Pompei
NFP Sunday Blitz
During the Patriots' Super Bowl run, some people suspected that all of New England's team building success was the work of Bill Belichick.
The coach undoubtedly had a big hand in everything the Patriots did. But he apparently had some help.
Two of his disciples, Thomas Dimitroff and Scott Pioli, have impressed their peers. Last week Dimitroff, the Falcons general manager, won The Sporting News Executive of the Year Award, which was voted on by 47 front office men. Finishing second was Pioli, the Chiefs general manager.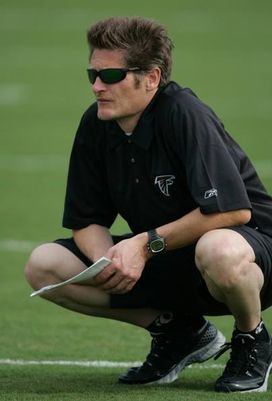 Falcons GM Thomas Dimitroff has a keen eye for talent, and a complete understanding of team building.
Between Dimitroff and Pioli, they now have won four of the last eight TSN Executive of the Year Awards. Dimitroff also won in 2008. So the formula they practiced in New England clearly is working in other places, even without that Belichick magic and that Tom Brady magic.
Belichick's fingerprints are on the Falcons, as well as the Chiefs. "No question, Bill's influence is present," Dimitroff told me. "Both Scott and I had a great opportunity to be around Bill, Scott at a greater level. I feel fortunate I was able to learn about the team being bigger than the I. That was the first time I saw that concept truly successful. That set the tone for this team."
Even though Pioli and Dimitroff have gone separate ways, they remain good friends and sometimes can be found together on the scouting trail. "Our personalities are different, but a lot of our core beliefs are the same," Dimitroff said. "We have discussed team building and philosophies at great lengths over the years on a number of levels. Our approach is very congruent as far as building teams with character guys who believe in the team concept."
Both men have made it a point to acquire players who have been leaders in college and/or in other NFL stops. That's how the Falcons ended up with Matt Ryan, Tony Gonzalez and Curtis Lofton. In fact, 13 of the 26 players Dimitroff has drafted were college captains.
The Falcons and Chiefs also have prioritized character, as the Patriots have. "All three teams are mindful of picking guys who might not necessarily be angelic, but they are not destructive to the team with things like suspensions and arrests," Dimitroff said.
The other common thread between the Patriots, Falcons and Chiefs is they have a system specific personnel philosophy. "We haven't wavered because of what other teams perceive to be a good fit, or how they rate players," Dimitroff said. "We've always tried to draft for our team, not the league. So sometimes you have to pass on a very talented football player. It's easier to put together a team when you just put talent together. There is a lot more thought and rumination that goes into to acquiring players who fit into your team and your philosophy."

Dimitroff doesn't do everything the way Belichick did it. He drafted a quarterback with the third overall pick in the draft, which seems to fly in the face of Belichick's quarterback philosophy. He also has been fairly active in the free agent market, signing Michael Turner and Dunta Robinson, among others. "I always wanted to do that," Dimitroff said. "It frees you up to be more creative in the draft."
In three years with the Falcons, Dimitroff has acquired 10 of the team's starters. The Falcons are 33-15 over that time period, the best three year record in their history. "I am humbled by the award considering there were some very accomplished performances by some excellent GMs like Scott, Kevin Colbert and Ted Thompson," Dimitroff said.
Dimitroff earned it. He also might be helping Nick Caserio get a general manager's job. Caserio is the Patriots director of player personnel, and the next in line to bring the Patriots' blueprint to another team.

Things I Didn't Used To Know
*Don't be surprised if Matt Flynn follows the path of Matt Hasselbeck, Aaron Brooks, Mark Brunell and Kurt Warner and leaves Green Bay to become a starting quarterback elsewhere. Teams in need of a quarterback are taking a good look at Flynn, who performed exceptionally well against the Patriots in New England in December. The Packers believe the fourth-year QB is ready to start, but of course he's not going to start in Green Bay. Flynn, who was a seventh round pick, has developed consistently under Mike McCarthy and Tom Clements. My people at Lambeau Field tell me Flynn is just a winner, whether he's playing pickup pick-up basketball, cards or football. That figures, because he won a national championship at LSU. The Packers might be able to get a second round pick in a trade for Flynn. They also probably will get a third rounder as a compensatory pick for losing Aaron Kampman in free agency. That would leave the Packers in great shape in April.
*If free agency ever happens, one player who could draw multiple suitors is Steelers cornerback Ike Taylor. He showed his consistency in the Steelers' playoff run, and big corners like Taylor are difficult to find. His old position coach Ray Horton now is running the Cardinals defense, so the cornerback-deficient Cardinals are a likely suitor.
*Making Bill Muir the Chiefs' offensive coordinator made sense from this perspective: head coach Todd Haley wants to run a meat and potatoes offense. He believes the Chiefs' offensive personnel is best suited to play smash mouth football. In fact, I've been told that was one of the sources of conflict between Haley and Charlie Weis, the former offensive coordinator. Weis wanted to use a lot of shotgun and spread formations while jazzing up the offense. Haley wanted to play it more conservatively.
*Hiring Keith Millard as co-defensive coordinator was a significant move for the Bucs because they are intent on maximizing the development of Gerald McCoy. If they didn't have one of the best young defensive tackles in the game, they might have left their defensive coaching staff as it was. But the team wanted to give McCoy every chance to excel, and they believe Millard's experience, both as a coach and player, will help to bring out the best in the second year DT.
*Vikings defensive tackle Pat Williams says he will no longer fight the Starcaps case. The bigger issue is whether or not he will be fighting offensive linemen in the fall. Scouts tell me Williams' play declined significantly in 2009, and that he no longer has the quickness that made him special. His strength is still there though, and it's difficult to find big bodies like him. So the Vikings may still stick with the 38-year old. Williams has one other thing in his favor: new coach Leslie Frazier is a big supporter. Frazier values Williams' leadership and locker room presence, and is likely to fight to retain the big man.
My Sunday Best: Soon-to-Be Eligible Hall of Famers
Over the next four years, a number of very strong candidates will become eligible for the hall of fame. Here are some of the best players who will be considered, starting in 2012.
Larry Allen. He was probably the best guard I've ever seen. Players with his kind of strength and athleticism usually don't end up playing guard. He becomes eligible in 2013.
Morten Anderson. There is only one other pure kicker in the hall of fame, and the statistics of modern day kickers can be misleading. But Anderson is the league's all-time leading scorer and a seven time Pro Bowler. He could be a special case. Anderson was on two all decade teams and is eligible in two years.
Derrick Brooks. An 11-time Pro Bowler, Brooks was arguably the best run and chase style outside linebacker since Jack Ham. He comes up in 2014.
Marvin Harrison. There has been a logjam at the wide receiver position, and it should be broken before Harrison becomes eligible. But Harrison likely will jump to the front of the class in 2014.
Offensive tackles. Three of the best tackles of a generation will become eligible over a three year stretch. First comes Jonathan Ogden in 2013, then come Walter Jones and Orlando Pace in 2015. And Willie Roaf already was a first time finalist this year.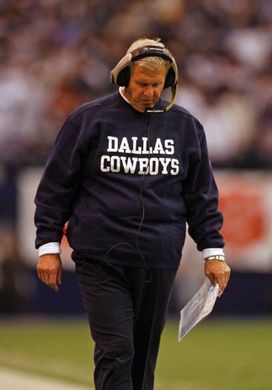 ICONWill Bill Parcells walk right into the Hall of Fame, or have to wait awhile?
Bill Parcells. There should be some interesting discussions when he becomes eligible next year. It seems inevitable he will get in, but some voters might not be comfortable putting him in until they are sure he will stay retired.
Warren Sapp. The only argument against one of the best pass rushing tackles ever is he wasn't exactly Mr. Congeniality. And that's a poor argument. He comes up in 2013.
Junior Seau. He played forever, and he played at a high level for a long period of time, making it to a dozen Pro Bowls. Seau shouldn't have to wait long to be inducted after he becomes eligible in 2015.
Will Shields. This is another 12-time Pro Bowler. The voting process can be tough on guards, but it will be tough to ignore Shields when he becomes eligible next year.
Michael Strahan. He's fifth all-time in sacks and had more sacks in a single season than any player. When he gets his chance in 2013, it won't hurt that he played in New York, or that he has a high profile network TV job.
Kurt Warner. The argument against him will be he didn't sustain success throughout his entire career. But when he was on his game, there were few better. He will get his first chance in 2015, along with former teammates Isaac Bruce, Torry Holt and Pace.
Scout Talk: 2011 Draft Class of Cornerbacks
It seems there rarely are enough good cornerbacks to keep pace with all the good receivers. But the coming draft offers a deep group of cover men. April will provide the opportunity for teams to stock up and build depth at the position. As many as 19 corners could carry grades that would justify them being picked in the first four rounds.
Scouts are in agreement Louisiana State's Patrick Peterson and Nebraska's Prince Amukamara are the top two, and that both are in the elite class. But I have heard some differences of opinion over which is the best prospect. Peterson is more physically gifted because he outweighs Amukamara by about 20 pounds. He also is a dynamic return man. But he is unusual. There really isn't another top NFL cornerback who is as big as he is. So there is a bit of a bust factor with him. Amukamara, meanwhile, might be more of a sure thing.
Three other corners could be first round picks, though it is unlikely all three will be. They are Miami's Brandon Harris (he has excellent coverage skills and quickness for a man-to-man scheme), Colorado's Jimmy Smith (nice combination of size and athleticism) and Texas' Aaron Williams (he may be the most athletic corner in the draft, but he has not been consistent).
The next tier of corners, all of whom figure to be off the board by the end of round three, includes Utah's Brandon Burton (the junior could have benefited from another year in college, but he has size and speed), Virginia's Ras-I Dowling (he had great tape in 2009, but injuries set him back in 2010), Louisville's Johnny Patrick (he could be a little underrated), Colorado's Jalil Brown (this is a physical corner who will flourish in a zone scheme), Virginia Tech's Rashas Carmichael (he has ball skills), Southern Cal's Shareece Wright (he could excel over the slot) and North Carolina's Kendric Burney (his size isn't ideal, but he competes).
The best of the rest: West Virginia's Brandon Hogan, Michigan State's Chris L. Rucker, New Mexico state's Davon House, Boise State's Brandyn Thompson, Utah State's Curtis Marsh, Bufalo's Josh Thomas and Texas' Chike Brown.
One Man Yelp: The Fridge
I've known for awhile that William Perry was in a bad way, but I didn't know how bad until I read this outstanding story by Tom Friend. If there is much hope for Perry getting healthy and living a normal lifestyle, I couldn't find it in these 6,000-plus words.
The Perry that Friend writes about is not the Perry I've known since his rookie year in 1985. It's difficult for me to envision Perry without a big smile on his face. I saw him get angry a few times, and he got crankier as he got older, but as a rule he was a happy-go lucky guy. Especially early on. His teammates liked to give it to the Fridge, and he liked to give it back.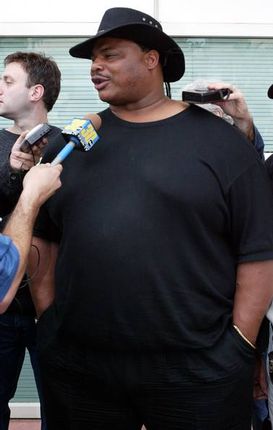 The Fridge during happier days.
The Fridge I remember thought he was bullet proof. He didn't think any opponent could stop him. He didn't think he would ever get caught when he was sneaking those buckets of Kentucky Fried Chicken into the Governor Dodge Hotel in Platteville, Wisconsin, during training camp, where his wife kept a room. He didn't think he could get too fat, but he did. He ruined what could have been a great career with overindulgence.
It's ironic that Perry's fortunes began to change when his appearance did. He had new teeth put in, replacing the gap-toothed grin that made him famous, and a subsequent infection seemed to put him in a tailspin. He exacerbated his problems with alcohol abuse, and by not listening to sound advice.
I know the Fridge has a lot of people pulling for him.
I'm one of them.
Hot Reads
*Cam Newton's dog and pony show isn't going to move him up on any draft boards. But it has generated some positive buzz. And that's a good thing for the Auburn QB.
*I liked the way the Titans coaching staff looked a lot better at the end of the season than the way it looks now.
*I can't blame Saints fans for wanting Sean Payton to live among them. I can't blame Payton for wanting his family to live elsewhere.
*If Brett Favre still is light on his feet enough to win, he should be dancing in the pocket, not dancing with the stars.
Interested in knowing more about the business of sports? Check this out.
Dan Pompei covers pro football for the Chicago Tribune at chicagotribune.com.