October 31, 2010 -
Dan Pompei
NFP Sunday Blitz
Chiefs coach Todd Haley and Bills coach Chan Gailey will oppose each other today at Arrowhead Stadium. But last training camp, they were opposing each other as coaches on the same staff.
When the Kansas City offense sputtered in preseason, Gailey, then Haley's offensive coordinator, wanted to use more of the spread offense he ran at Georgia Tech. He is sure to try to show Haley how effective it can be today. But Haley wanted nothing to do with it. He decided to make a change and become his own offensive coordinator for a year.
In firing Gailey, he took a huge step in the turnaround of the Chiefs.
"When I made the Chan change when I did, it wasn't the best Todd Haley decision," Haley told me. "The easy thing would have been to get through last year like I did in a number of other areas, knowing it was a two-year process of getting all the kinds of coaches I wanted. But it was critical for us to get a foundation laid last year across the board offensively that that change be made."
Firing Gailey when Haley did was taking one step backward to take two forward. It enabled the Chiefs to get a jump start on 2010, because the offensive system and style Haley used last year is the one he knew he wanted to use going forward. Hence, his hiring of Charlie Weis to run the offense this year. Weis and Haley worked together on the Jets from 1997-99, even sharing an office.
"What was critical coming into this year is we were able to continue building on the foundation we put down last year," Haley said. "That's where the Charlie factor came in because he and I still use the same terminology. We didn't have to change again. Changing after the third preseason game last year was difficult enough. For Charlie to be available was a big item."
The presence of Weis and newly hired defensive coordinator Romeo Crennel changed the dynamic for Haley in another way this year. He doesn't have to run the offense or worry about the defense so much anymore. Now he can run the team — oversee all areas, and focus on game management and big-picture issues.
"Where it's helped me the most is I wanted to be the head coach," Haley said. "I did not want to be the coordinator. Working for Bill [Parcells] all those years and all the different people I've worked with, I had a certain vision of the way I wanted to do it if I ever got the opportunity, and that was to coach the team — the offense, defense, special teams and coach the coaches. This has allowed me to do that faster than any other situation would have because these are experienced guys who have been in the NFL, have had success, but more importantly they've been in a system that I've been a big part of where the head coach was the head coach.
"Having the past relationships with them has been huge because obviously I'm opinionated and am not afraid to let my opinion be known. They've both been great, as has [special teams coach] Steve Hoffman, about assimilating my ideas when they're good ones, and not been afraid to tell me when they don't think they are good ideas."
After going 4-12 in his first season, Haley has the Chiefs sitting pretty in the AFC West with a 4-2 record in his second season. But they probably wouldn't be where they are if Gailey hadn't been fired when he was.
Things I didn't used to know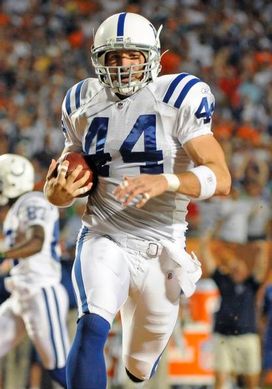 ICONReplacing Dallas Clark won't be easy for the Colts, but they believe they have a player who is cut from the same cloth in Jacob Tamme.
*The Colts don't plan on making many concessions in their offense despite the loss of tight end Dallas Clark. The reason is they believe Jacob Tamme is a very similar player to Clark. Obviously, the 2008 fourth-round pick is not as talented as Clark. He isn't quite as fast, and he isn't quite as powerful a blocker. But he can be used in a like manner. "He is similar in style," Colts president Bill Polian told me. "We drafted him specifically to be Dallas' backup. He can do similar things. I've said you're never going to find another Dallas Clark. He's a once in a career player. He's right up there with [Antonio] Gates and [Tony] Gonzalez in my opinion. Those guys are rare. But Jacob is similar in style, so we won't have much of an adjustment to make."
*Not everyone is convinced the Texans are doing the right thing by moving Brian Cushing to Mike linebacker from Sam. One coach said he thought they might miss his speed off the edge. Cushing likely will still be blitzing up the middle, but as the coach said, it's easier to pick up and neutralize an inside blitz than it is an outside blitz.
*Something happened to Albert Haynesworth in his two-game absence. One opposing coach who studied the Redskins DT said Haynesworth made four "wow" plays against the Bears after making one previously all season long. Part of it is that Redskins coach Jim Haslett is aligning him differently and trying to take advantage of what Haynesworth does best. But the bigger part is Haynesworth looks like he wants to play again, perhaps because he realizes the trade deadline has passed and he isn't going anywhere.
*Pete Carroll has been very hands-on with the Seahawks defense, and his impact has been noticeable. He has concocted a number of creative packages and found ways to utilize almost every player at his disposal.
*Also on the subject of the Seahawks defense, Earl Thomas is a legitimate candidate for defensive rookie of the year. He has four interceptions, more than any Seahawks safety has had since 2004. Some teams thought Thomas should be a cornerback because he isn't a physical tackler. But the Seahawks prefer him at free safety because he's a ballhawk. My Seattle peeps tell me Thomas sees the field well, is sudden out of his plant, has great range and solid hands. That explains his interception total.
*There are a number of reasons Chris Johnson's average per carry has gone from 5.6 last year to 4.1 this year. One is that the Titans have expanded his role so he's getting short-yardage carries now. Another is that the Titans blockers, including their wide receivers, haven't always helped him get to the second level. Yet another is the Titans have played against three 3-4 teams already. It's more difficult to get a runner on the edge against a three man front. And the final factor is Johnson sometimes gets impatient. He's one of those runners who always is looking for the home run, and as a result he sometimes gets 1 yard when he could have gotten four or five.
My Sunday Best: All-time wide receivers
At 33 and with 13-plus NFL seasons behind him, Randy Moss makes his return to Gillette Stadium today with his place secure as one of the all-time great wide receivers. Here are my best seven wide receivers in history (in alphabetical order). Any disagreements?
Lance Alworth. Here are some incredible facts about Bambi. The former Charger and Cowboy averaged more than 1,000 receiving yards per year over his nine-year career back when they were playing 14-game seasons. He averaged more than 100 yards per game for three straight seasons. And he had five games with more than 200 receiving yards — still an NFL record.
Don Hutson. The greatest ever in my book, Hutson is credited with being the first receiver to run several modern routes and thus "inventing" the modern passing game. He was ridiculously productive in an era that did not support throwing the football. He had 488 career receptions, which at the time of his retirement was 200 more than the next closest receiver. He led the NFL in receiving in eight of his 11 seasons and retired with 18 major records.
Michael Irvin. He was part of a new breed of receiver — big, physical and fast. He could beat a cornerback in many ways, and often did. Irvin forced the league to tweak its rules so receivers couldn't push around defenders. He also was a tremendous clutch performer whose will lifted the Cowboys to many, many victories.
Dante Lavelli. He benefitted from catching passes from Otto Graham, perhaps the best quarterback ever, but Lavelli also made Graham better. "Gluefingers" had some of the best hands in football history, and he attacked every ball as if it belonged to him.
Randy Moss. His combination of size, speed, ability to extend and coordination make him probably the best deep threat ever. He has been his own worst enemy at times, but there is no disputing his ability or the impact he has had on games.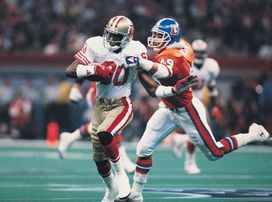 ICONJerry Rice was the best at getting away from defenders.
Jerry Rice. The best all-around receiver of the modern era, Rice was the best at creating separation to get open and creating separation after the catch. Rice was a thorough professional, and it showed in his every route. Think about this: he played in 13 Pro Bowls. Wow.
Numbers Games: Moss' allegiance
When Randy Moss walks out on the field at Gillette Stadium today, he may have mixed feelings. Part of his legacy was written as a Patriot. And part was written and is being written as a Viking. His most enduring achievement — catching an NFL-record 23 touchdowns in a single season — was accomplished in New England. But his production as a Viking dwarfs his production as a Patriot.
He has caught 327 more passes for 5,404 more yards, and scored 42 more touchdowns as a Viking. But most of that was because he was a Viking for so much longer than he was a Patriot. Moss has played 60 more games for the Vikings. His average per catch as a Viking is 15.8 compared to 15.07 for the Patriots.
Moss has made the Pro Bowl five times as a Viking and two times as a Patriot. He never made it as a Raider.
His all-time favorite quarterback should be Tom Brady though. Moss caught a touchdown pass from Brady once every 4.8 throws, compared to once every 6.6 throws from Daunte Culpepper.
Scout Talk: TE Class of 2011
Teams in need of a tight end next year had better hope they can get one in free agency, because the draft crop of tight ends does not look very promising. It's possible a few underclassmen could spice up the position, but the senior group is well below average. From the way it looks now, it could be the first year since 1999 that a tight end is not taken in the first round.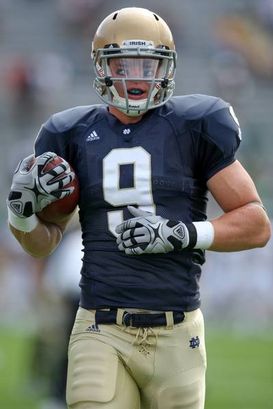 ICONNotre Dame's Kyle Rudolph could improve the tight end class.
Some scouts were hoping Notre Dame underclassman Kyle Rudolph would enter the draft after the season, but a torn hamstring has clouded his future. He still probably will rank higher than any of the seniors should he decide to declare for the draft. But Rudolph isn't the kind of freakish athlete or field stretcher that usually is taken in the first round. He is more of a tough, all-around tight end with good hands.
One player who has come on is Miami's Richard Gordon. He has the size, speed and ability to get down the seam and make big plays in the pros, but is more of a receiving tight end.
Former wide receiver Lance Kendricks is an interesting prospect from Wisconsin. He's been a very productive pass catcher, but doesn't have ideal size. He won't fit every system, but some teams will love him. Arkansas D.J. Williams is built similarly. He's been wildly productive, but he's too small for some teams. Both players could be considered H-backs.
Tennessee's Luke Stocker has the frame and hands, but he doesn't play with the kind of sizzle that will excite offensive coordinators. He hasn't been overly productive in college, and his speed is nothing special.
One Man Yelp: NFL Matchup
This Wall Street Journal article reminded me why I usually don't watch network pregame shows. If I want to watch a variety show, I'll borrow my father's Dean Martin DVDs.
But if I want to watch a football show, NFL Matchup on ESPN is the best there is, and it has been since it was conceived by Steve Sabol of NFL Films in 1984. Ron Jaworski and Merrill Hoge, with help from host Sal Paolantonio and producer Greg Cosell, break down game tape and uncover things you can't find anywhere else (except maybe in Matt Bowen's columns here at the Post). This isn't just three guys talking off the tops of their heads. Everything they present has been meticulously researched.
This is pure football. They don't just talk about trends, they show you trends. They give you visual evidence as to why a player might have trouble against a certain scheme. They allow the tape to demonstrate why a player is suddenly excelling, or why a coach is having success with a particular attack.
The only thing I don't like about this show is the time slot—Sunday morning at 8:30 eastern. This should be what all pregame shows are like.
*Check out this article on rapper Jay Z. It's a fascinating story about an entrepreneur who has taken the road less traveled. Now here is a guy I would like to see own an NFL team—an out of the box thinker who sees the big picture.
Hot Reads
*Raheem Morris says the Bucs are the best team in the NFC. Antrel Rolle claims it's the Giants. Tony Dungy vouches for the Seahawks. The truth? There is no best team in the NFC. Not yet, anyway.
*The 49ers officially enter desperation mode in London today with Troy Smith as their starting quarterback. This does not bode well for the futures of Mike Singletary, Alex Smith, or the Niners.
*You can talk about a London franchise all you want, but unless travel somehow dramatically changes in the future, there is no way an overseas team could compete with the rest of the NFL on an even playing field.
*What would the week be like without a little Brett Favre drama, anyway?
Dan Pompei covers pro football for the Chicago Tribune at chicagotribune.com.