February 17, 2013 -
Dan Pompei
NFP Sunday Blitz
The "next man up" rallying cry has become popular as it pertains to injured players. But it also can pertain to assistant coaches.
Some of the smartest head coaches have long term contingency plans in place so that if they lose a coordinator, they will have an able replacement waiting.
It was that sort of thinking that set the table for the Ravens to win the Super Bowl. If Jim Caldwell had not been hired as quarterbacks coach last offseason, who knows what John Harbaugh would have done and how the Ravens would have finished when Harbaugh became disenchanted with the job Cam Cameron was doing as offensive coordinator?
John Fox didn't sweat when he lost Mike McCoy to the Chargers last month because he had quarterbacks coach Adam Gase in place. It might not have been a slam dunk to promote Gase. There was talk of Tom Moore and Clyde Christensen, and the team even consulted with Peyton Manning. But Gase gave Fox a comfort level because Gase knew the offense and the personnel, and he knew what Fox' expectations were.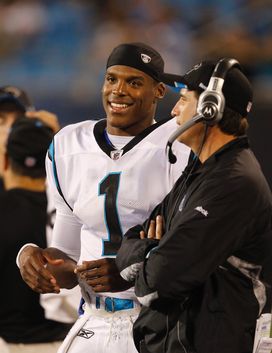 Mike Shula's work with Cam Newton made him the perfect choice to replace Rob Chudzinski as Panthers' OC.
"You look at your staff and try to figure who can ascend and who can step in," said Panthers coach Ron Rivera, who promoted Mike Shula to offensive coordinator after Rob Chudzinski became head coach of the Browns. "It starts with the quality control coaches and goes all the way up. It's who is the next guy up?"
A lot of head coaches don't have an answer, or at least a viable one, when they lose a coordinator. Then the scramble begins, and they have to compete with other teams for the best available assistants. It has been the downfall of some head coaches.
Rivera identified Shula as a potential future offensive coordinator when he hired him to be his quarterbacks coach in 2011. He became more impressed while watching him coach Cam Newton to unprecedented success over Newton's first two years in the league. In fact, he started to become concerned Shula would attract interest from other teams looking for a coordinator.
Still, Rivera did not make Shula's promotion automatic last month. He also interviewed Pat Shurmur and Hue Jackson for the job. "We wanted to approach it with an open mind," Rivera said.
But Shula offered benefits the others could not match. "It is an easy transition," Rivera said. "He knows our players, our offense and our offensive coaches. The familiarity was an advantage. I heard that from players and coaches when we were going through the process."
Mike McCarthy of the Packers has been among the most aggressive coaches in setting up his staff for advancement. "I'm always looking to grow different guys, and for opportunities to develop coaches from within your staff," McCarthy said. "If coaches want to learn different positions and broaden their horizons, there is no better way to do it within our offense, which is a damn good system."
When offensive coordinator Joe Philbin left to coach the Dolphins one year ago, McCarthy promoted Tom Clements from quarterbacks coach to replace him. And if he loses Clements any time soon (he interviewed for the head coaching job in Chicago in January), McCarthy has at least two more assistants who clearly are being groomed for advancement.
McCarthy hired Ben McAdoo to coach tight ends in 2006. When Clements moved up to replace Philbin, McAdoo moved to quarterbacks to replace Clements. McAdoo could be on a similar path that was taken by Philbin (tight ends coach to offensive line coach to offensive coordinator) or Andy Reid (offensive assistant to offensive line coach to quarterbacks coach) in Green Bay. "We had been working towards Ben moving to the quarterback position for a while," McCarthy said. "We had the conversation for two or three years. We involved Ben in our quarterbacks school in the offseason when he was the tight ends coach. And a couple of years ago, he went to some [draft] quarterback workouts."
If McAdoo isn't the Packers' next offensive coordinator, Jerry Fontenot could be. He went from coaching intern to offensive line assistant to running backs coach to tight ends coach. Fontenot's familiarity with so many aspects of the offense should prepare him well to eventually run it.
McCarthy likes his assistants to have a grasp on the bigger picture. Moving them to different positions promotes that type of understanding. It makes them better coaches, which ultimately is what leads to promotions.
When Philbin was the Packers' offensive coordinator, McCarthy carved out time in the schedule for Philbin to spend with defensive coordinator Dom Capers. An exchange of ideas benefitted both men. He has done the same with offensive line coach James Campen and outside linebackers coach Kevin Greene.
"It's so easy to wear blinders in our league and coach in your box," McCarthy said. "You have to have box coaches who are great experts at their position. But it's like with players, you want a four down player, and you want a coach who can do more than just specialize in one area."
An assistant who has an understanding of more than just his area can help a team down the road as well as in the present.
My Sunday Best: Promotions To Coordinator
Seeing a position coach such as Denver's Adam Gase promoted to coordinator on the own team is not uncommon. Head coaches such as Bill Belichick, Andy Reid and John Harbaugh have made similar moves repeatedly. Here are my Sunday best promotions to coordinator in the last ten years.
2005—Eric Mangini, Patriots. When Romeo Crennel left New England to be head coach of the Browns, he tried to hire Mangini as his coordinator. The Dolphins and Raiders also wanted him that year. But he stayed in New England, where he was an assistant, and took a promotion to defensive coordinator. Mangini had been groomed to be Bill Belichick's defensive coordinator almost from the time he was a ball boy for Belichick's Browns. Mangini was promoted to public relations intern by Belichick, and then got his coaching break when the Browns became the Ravens and Ted Marchibroda made him an offensive assistant. Belichick hired him to come to the Jets as a defensive assistant, and then Mangini followed Belichick to New England as a defensive backs coach.
2005--Rex Ryan, Ravens. Going from Mike Nolan to Ryan was a seamless transition for the Ravens. Ryan, who had been the defensive line coach, proved to be an outstanding schemer as a coordinator. Ryan lasted in the position four years and his defense never ranked lower than sixth in the NFL. He survived the change from Brian Billick to John Harbaugh before becoming head coach of the Jets.
2006—Marty Mornhinweg, Eagles. After Brad Childress left Philly to become head coach of the Vikings, Mornhinweg was moved from assistant head coach to offensive coordinator. The Eagles went from 6-10 and 18th in the league in scoring to 10-6 and sixth in scoring.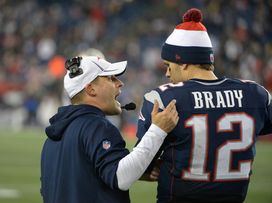 Josh McDaniels found a way to get the best out of Tom Brady.
2006--Josh McDaniels, Patriots. He had an interesting, Belichickian path, going from personnel assistant to defensive assistant to defensive backs coach. In 2004, McDaniels finally moved to offense and became the Patriots' quarterbacks coach. The next year, Charlie Weis left for Notre Dame, leaving the Patriots without a coordinator. McDaniels was the de facto coordin ator, calling plays and doing most of the things a coordinator would do during the week. In 2006, at the tender age of 30, he was given the title. In McDaniels' second year on the job, the Patriots set NFL records for points scored and yards.
2006—Dean Pees, Patriots. After Mangini left, Pees was bumped up from linebackers coach. The Patriots ranked 26th in defense in 2005. In Pees' first year as DC, they ranked sixth. In his three subsequent years in charge, they ranked fourth, tenth and 11th.
2007—Bruce Arians, Steelers. After Bill Cowher retired and offensive coordinator Ken Whisenhunt took the Cardinals head coaching job, new head coach Mike Tomlin decided to promote his receivers coach to offensive coordinator. With Arians as the Steelers' OC for the next five years, the Steelers' winning percentage was .687, they were Super Bowl champions in 2008 and Ben Roethlisberger had the most productive years of his career.
2011—Chuck Pagano, Ravens. After taking over for departing Greg Mattison, Pagano, the former DBs coach, took the Ravens from the tenth ranked defensive in the league to the third ranked defense. Terrell Suggs had a career year under Pagano, but he only lasted in the position for one year before the Colts swooped in and hired him to be their head coach.
2012—Dean Pees, Ravens. Pees makes the list for a second time. He had big shoes to fill when the beloved Pagano left, but Pees transitioned from linebackers coach to defensive coordinator easily as the Ravens won the Super Bowl.
Things I Didn't Used To Know
*Brad Childress still is expected to join Andy Reid's staff in Kansas City as a senior assistant. What's the holdup? He still has not been fired as offensive coordinator of the Browns. But he isn't working for them, either. Seems to be just a matter of time. Perhaps a little byplay between Joe Banner and Reid is at work.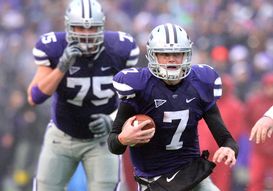 US PRESSWIREAs a quarterback prospect, Collin Klein looks like he'd make a great tight end.
*There are teams that want to see Kansas State quarterback and Heisman finalist Collin Klein work out as a tight end at the combine and be open to a position switch in the pros. But so far Klein is having none of it. He is telling teams he wants to be considered strictly as a quarterback. After Klein performed poorly at the East-West Shrine game, his draft stock as a quarterback is considerably lower than his draft stock as a tight end could be. As a quarterback, he is a late round pick at best.
*Knowshon Moreno, the 12th pick of the 2009 draft, may be a former Bronco before long. Moreno never has performed up to where he was chosen in the draft, and he has a cap number of $3.28 million in 2013. Moreno impressed coaches in 2012 by coming on strong late with two 100 yard rushing games in December and even was voted AFC offensive player of the week, but his tenure in Denver mostly is notable for injuries and fumbles. Some question if he always has worked as hard as he should have.
One Man Yelp: Django Unchained
Now that we don't have football on weekends, I have a chance to catch up on some movies. A few thoughts on Django Unchained: Disturbing. Absurd. Weird. Humorous. Entertaining. Pretty much pure Quentin Tarantino.
Between the atrocities of slavery depicted and the corny, cartoonish, spaghetti Western feel, I didn't know how to feel while watching it. It was nearly three hours of going from gasps to giggles and back. Which is the reaction Tarantino wanted, no doubt.
It's all so over the top--the gore, the cruelty, the plot, the theme song—that it actually works. Not a bad way to spend a football-less afternoon.
Hot Reads
*There were a number of hires in the NFL over the past month or so that made people scratch their heads, but not this one. Tom Gamble is the perfect fit in the Eagles' front office.
*Dwight Freeney and Charles Woodson may be moving on, but something tells me these vets are going to being helping contenders in 2013.
*It's cold in Minneapolis, but the steam coming off the head of Leslie Frazier would be visible if it were 72 degrees. He deserved a contract extension.
*If the worst thing Rob Gronkowski is doing is taking his shirt off in public, perhaps we should hold off on the waterboarding.
*Between defensive coordinators and wide receivers, it's a good thing the entrance to Rams Park is a revolving door.
*Browns fans shouldn't get too upset over Jimmy Haslam returning to his other company, Pilot Flying J, in Knoxville. Most NFL fans prefer their owners far, far away.
Dan Pompei covers pro football for the Chicago Tribune at chicagotribune.com.