November 03, 2013 -
Dan Pompei
NFP Sunday Blitz
Last week wasn't exactly a good time to be a former Atlanta quarterback. Of course, some would suggest that for current Falcons quarterback Matt Ryan, coming off a loss at Arizona and suffering through what some statistical services have assessed as the worst 300-yard game ever played (four interceptions, four sacks absorbed and an anemic 4.93 yards per attempt), it wasn't particularly good, either.
But at least Ryan, the face of the Atlanta franchise, will have a job in 2014. The same type of vocational security isn't assured for former Atlanta signal-callers Michael Vick of Philadelphia and his onetime backup, Houston's Matt Schaub.
At least for one more week, Schaub will sit behind Case Keenum, a onetime undrafted free agent, whom coach Gary Kubiak chose to be the starter against the Indianapolis Colts. That despite the fact Schaub insists he is healthy again after missing a week to an ankle injury. Given his disappointing season, along with that of the Texans, and the growing sentiment that Schaub is a "systems" quarterback who has trouble succeeding when the blueprint breaks down, one has to wonder about his long-term viability with the franchise that signed him to a $62 million contract extension in 2012.
But back to Vick for a minute: It sure looks like Philadelphia made a prudent offseason move in restructuring the contract of Vick, who, from the remarks made by Eagles owner Jeff Lurie last week, clearly won't be back in 2014. Lurie suggested last week that the club's "No. 1 (offseason) priority" would be to find a franchise quarterback. And he mentioned "health" as a prerequisite, which might not have been an intentional and well-aimed volley at Vick – who hasn't played in 16 games since 2006, an eon ago in NFL years – but certainly hit close to home.
Back in February, with the situation still unsettled because no one seemed to know exactly what new coach Chip Kelly was seeking in a quarterback, the Eagles revisited Vick's contract, essentially reducing it to a one-year, incentive-laden deal worth roughly $10 million-$11 million, but also voiding the final two years, the 2014 and 2015 seasons. The maneuver saddled the Eagles with about $8 million in "dead money" for this season, but took them off the hook for future years. So, basically, Philadelphia can walk away from Vick after the season, when he will be an unrestricted free agent, and suffer no penalties moving forward.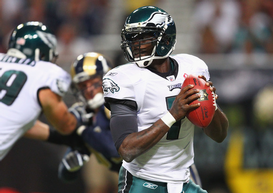 Vick has appeared in just six games for the Eagles this season, with a QB rating of 86.5.
One doesn't have to read between the lines very much, or be a master cryptographer, to decipher Lurie's remarks and conclude that's exactly what the club plans to do. From Vick's standpoint, his camp told NFP that the quarterback, who will be 34 years old in June, hasn't even remotely begun to think about the future. One would have to assume, though, that the big paydays are over. The Eagles, by the way, haven't chosen a quarterback in the first round since grabbing Donovan McNabb with the second overall pick in 1999.
As for Schaub, well, as the NFP's Joel Corry pointed out in an NFL column Oct. 7, his deal provides the Texans with some degree of relief if they choose to take it. If they make Schaub a post-June 1 cut in 2014, the Texans can avoid nearly $37 million in base salaries for 2014-2017. There will be some "dead money" accrued – about $3.5 million in '14 and $7 million in '15 – and that would be a tough swallow. But it's a hard pill, as well, to stick with a quarterback in whom a franchise doesn't believe any longer.
There figure to be some hard swallows, too, in precincts such as Cleveland, Minnesota and Jacksonville, all of whom chose first-round quarterbacks in recent drafts. Those teams selected the quarterbacks thinking they offered a long-term solution. Now they're all likely to be back at the drafting board again, choosing another passer in the first round, and hoping for better results. The situations aren't quite the same in Chicago or Arizona, but both franchises could be in need of a new starter, if the Bears permit Jay Cutler to go into free agency and the Cardinals decide that mistake-prone Carson Palmer isn't their answer.
It figures to be another topsy-turvy offseason for quarterback depth charts – something few might have predicted a year or two ago – and it extends beyond just guys who once played in an Atlanta uniform. But for Vick and Schaub, the future looks especially murky.
+AROUND THE LEAGUE
*To be clear, there were no hard-and-fast promises made to Osi Umenyiora when the veteran defensive end signed with Atlanta in March as essentially the designated pass-rush replacement for the jettisoned John Abraham. But people close to Umenyiora, who prefaced their remarks by insisting they are not making excuses for the play of the 11-year pro (and we believe them), tell us there were implicit suggestions that the team would try to add another big piece to the defensive line puzzle. And that the name of free agent Richard Seymour was kicked around, which makes some sense.
Seymour, who played at the University of Georgia, resides in the Atlanta area, has a son who plays high school football there and will end up in Athens once he gets his academics worked out, and wanted to finish his career with the Falcons. Makes sense, too, since most of Umenyiora's best seasons with the New York Giants came when he had a big, space-eating tackle playing inside him. And definitely when he wasn't the lone sack threat, as he's been in Atlanta, where he has only four sacks in seven games.
In the three seasons in New York in which Umenyiora registered double-digit sacks, the Giants always had another defender with 10-plus sacks. When Umenyiora posted 11.5 sacks in 2010, Justin Tuck matched that total. Umenyiora had 13 sacks in 2007, and Tuck had 10. And in 2005, when Umenyiora had a career-high 14.5 sacks, the rush was supplemented by Michael Strahan, with 11.5 sacks. There is no doubt Umenyiora, 31, is a class act and still has a little gas left in the tank. But he is not, by nature, a take-charge locker-room presence, the kind of veteran who will call teammates out in private. The Falcons, who lack some toughness, may need some of that. As history has indicated, Umenyiora also hasn't been the kind of player who's posted strong sack numbers without some help. To their credit, the Falcons may have assessed Seymour correctly, since no one ever signed the seven-time Pro Bowl lineman. What they didn't gauge nearly as accurately was how much help Umenyiora would need to be a viable force.
*Of the three rookies recently waived by Houston for an unspecified infraction of team rules (reported in some media outlets as alleged marijuana use), the player who is most tempting to league personnel men is former LSU defensive end Sam Montgomery. A third-round pick, Montgomery has already visited with a couple clubs, and at least three or four more have inquired about him, but there is a definite "caveat emptor" sense about the talented but enigmatic defender.
Montgomery, who never played a single regular-season snap for the Texans, was probably drafted a round below where ma ny teams had him rated a month or two before the lottery. Part of that was because it was hard to project Montgomery into a clear position, either end or linebacker. At 6-feet-3 1/8, 262 pounds, and timed at 4.81 at the combine, he could fit either slot. But Montgomery was a little stiff-hipped during workouts and that didn't help his case. Neither was he aided by the fact he turned off some NFL scouts, one of whom termed him "a different dude," in interviews. Someone who believes in reclamation projects (Oakland?) may take a chance on Montgomery, because he has talent, even if he could be an underachiever who never quite understands what it takes to play in the league.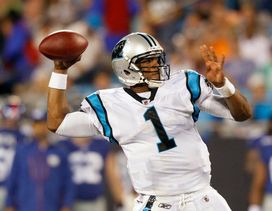 Cam Newton and the Panthers look to put the nail in Atlanta's coffin this weekend.
*It might not get too much attention on Sunday, since one of the teams ranks as among the league's biggest disappointments at the midway point of the season, but the Carolina-Atlanta game in Charlotte could be worth watching. At this point of the year, the franchises are headed in opposite directions. But there are definitely hard feelings between the two teams, even if players attempted to downplay them during the week leading up to the contest.
The two franchises have never really liked each other very much, even though the "I-85 Feud" the league envisioned when it placed an expansion franchise in Charlotte, only three and a half hours from Atlanta, hasn't developed quite as planned. But the bile peaked last year when, after a 30-28 comeback win at the Georgia Dome, fashioned by one of those improbably Matt Ryan-led, last-minute comebacks, the Falcons quarterback woofed openly at Panthers players and told them to "get the (expletive) off my field."
Carolina players used that as a rallying point in the second meeting, beating the Falcons 30-20 in Charlotte 10 weeks later, and defensive end Greg Hardy screamed for Atlanta to get off his field as well. Kicker Matt Bryant responded to Hardy that the Panthers could have fun watching the Falcons in the playoffs. Again, players from both teams rebuffed talk about the bad blood in speaking to NFP last week, but it definitely exists, and figures to be pretty obvious on Sunday afternoon. The Falcons are down at 2-5, and the Panthers would take great pleasure in helping dig the hole a bit deeper.
*The first-year player arguably commanding the most attention in Arizona last week was third-round cornerback Tyrann "Honey Badger" Mathieu, who was chosen as the NFC's defensive rookie of the month. But the other rookie a lot of people were talking up, in the wake of his huge game against Atlanta, was tailback Andre Ellington, who came up big in his first start, including an 80-yard touchdown run.
The Cardinals privately feel they might have hit a home run with the former Clemson star, who is averaging 7.7 yards per carry. Some have compared the undersized Ellington to New Orleans' Darren Sproles, but Arizona coaches told NFP that Ellington probably has better "long speed" and "instant explosiveness," and is a little different kind of player than the Saints' do-it-all star. Ellington almost certainly can't be a workhorse because of his size, but he's a player, like Sproles, who can get 12-15 touches per game, and make something happen.
"We want to get him the ball in space, let him do his thing, and we're looking for more opportunities," first-year coach Bruce Arians said. Getting the "Honey Badger" in the third round – where he fell because of off-field concerns – was probably a steal. Landing Ellington in the sixth round might have been a heist. The Cards are (as it seems they have been for years) still looking for a heavy-duty back, and it looks like the experiment with former Pittsburgh starter Rashard Mendenhall, brought in because he knew Arians and his offense, won't last into 2014. But Ellington can be an intriguing change of pace runner and provides a nice piece of the puzzle. And the Cardinals, by the way, also feel that fifth-round rookie back Stepfan Taylor of Stanford can be a quality runner in time.
*New England, which has experienced more than its share of problems with dropped passes this season (see the "Short Yardage" item below), will get a good look at a player who might have helped assuage that shortcoming on Sunday, when the Pats host the Pittsburgh Steelers. Remember, the Patriots signed then-restricted free agent wide receiver Emmanuel Sanders to a one-year offer sheet worth $2.5 million last spring – a move that could have cost the team a third-round draft choice as compensation—but Pittsburgh matched the offer and retained the wideout.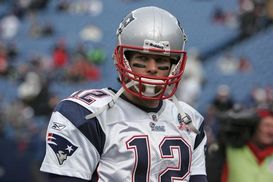 ICONBrady's Patriots currently rank second in the NFL in dropped passes.
Sanders has 31 catches for 396 yards in his first season as a full-time starter, and has only two drops. After battling foot injuries the first three years of his career, it appears Sanders is over the chronic condition. League sources said they are uncertain if the Pats, who have basically cast their lot with younger receivers after not landing Sanders, will pursue him as a free agent next spring. That could be determined by how well the young guys such as Kenbrell Thompkins and Aaron Dobson perform over the second half of the campaign. In a sense, though, Sanders will be auditioning in front of New England personnel men. By the way, the player the Patriots chose in the third round with the pick they would have forfeited to the Steelers had Pittsburgh not matched the restricted free agent offer sheet, is safety Logan Ryan. The former Rutgers standout has played in all eight games, started two, and become an increasing presence in nickel situations. He has 12 tackles, 1.5 sacks, two passes defensed and an interception returned for a touchdown.
*Some things you don't forget, even if you sometimes forget to write them on time. But better late than never, right? The 13th anniversary of the Oct. 24, 2000, death of longtime NFL writer Steve Schoenfeld, a good friend to many of us old-timers still in the business, recently passed. "Schoney" was one of a kind, a gadfly, for sure, but a guy who cared about getting things right, a good and dogged reporter who sweated the details, who treated people fairly and valued relationships, both personal and professional. Anyone who knew Steve—killed at just 45 by a hit-and-run driver as he crossed a Tempe, Ariz., street, after attending a lecture by former White House reporter Helen Thomas – fondly recalls him forever flitting around and kibitzing in press boxes and media work rooms, a personality like no other. He and his wife Robin, since remarried, are still in the thoughts of a lot of people.
*In case anyone is wondering, the overtime sack Cameron Wake had on Thursday night to win the game over Cincinnati, 22-20, was the third game-ending safety in NFL history, but really the first time one occurred on which a quarterback was actually sacked for the two points. The first overtime safety was in Minnesota's 19-17 win over the Los Angeles Rams on Nov. 5, 1989. In that game, Vikings linebacker Mike Merriweather blocked a Dale Hatcher punt out of the end zone for the safety. In the other, Chicago's 23-21 victory over Tennessee on Nov. 14, 2004, the play was a bit stranger. On a third-and-14 fro m the Tennessee five-yard line, Bears' defensive linemen Alex Brown and Adewale Ogunleye combined to sack Tennessee quarterback Billy Volek, who fumbled into the end zone. The fumble was recovered by Chicago tackle Fred Miller, who was tackled by Ogunleye for the safety.
*There have been a lot of unsung heroes for the undefeated Kansas City Chiefs this season, but one of the guys who probably doesn't get enough credit, particularly given the way the team plays, is punter Dustin Colquitt. The nine-year veteran is key to the team's methodology – play a conventional game based, in part, on field position, turnovers, takeaways and the running game – and is having a standout season. Despite the Chiefs' unbeaten status, Colquitt remarkably leads the NFL in punts (49) and, while he ranks low in net average, he is No. 1 in punts inside the 20-yard line, while only four punters have forced more fair catches. Maybe outside the Kansas City locker room, Colquitt hasn't gotten much attention, but he certainly is appreciated by his teammates.
+SHORT YARDAGE
*It might be easy to look at his 4.5 sacks and conclude that Houston defensive lineman J.J. Watt isn't having the kind of season he did in 2012, when he notched 20.5 sacks. But the pro scouts who have watched Watt say he's every bit as good, and certainly just as intense, as a year ago. . . . A lot of league observers are surprised that New England ranks second in the league in most passes dropped, with 24. But the Patriots have been among the top 10 "dropsy" offenses in three of the past four seasons and in the top 12 in four out of five. They had 41 drops a year ago, according to Stats. Inc., and other statistical services. New England has three wide receivers with at least five drops each – Thompkins (seven, tied for the league lead), Dobson (six) and Julian Edelman (five) – and is on pace for the worst season since Stats, Inc., began maintaining "drops" statistics in 1992. . . . There are only five current NFL coaches who have been with their present franchise for five seasons or more and have yet to go to a Pro Bowl: Marvin Lewis of Cincinnati (11th season), Gary Kubiak of Houston (eighth), Atlanta's Mike Smith (sixth), the New York Jets' Rex Ryan (fifth) and Jim Schwartz of Detroit (fifth). . . . The first Hall of Fame ballots, reducing the preliminary list from 126 nominees to 25 semifinalists, were due in Canton on Friday, and once again some choices were difficult. Selectors likely found that some positions – such as wide receiver, offensive line and defensive back – were top-heavy with possibilities. On the other hand, it figures to be another year in which there are no quarterbacks among the semi-finalists. . . . With just nine sacks so far this season – only Chicago has fewer – the Steelers are considering bringing in a pass-rush tutor to work with players, especially "edge" defenders, in the offseason. Club officials, including coach Mike Tomlin, who realizes that the lack of pressure has resulted in a dearth of takeaways, recently spoke to a pass rush "mentor" about working with some of the team's defenders. . . . The aforementioned Hardy and bookend partner Charles Johnson could wreak all kinds of havoc on the Atlanta offensive line Sunday, but the Falcons privately fear that Carolina first-round tackle Star Lotulelei, who's been up and down so far in 2013, could be trouble for their inside linemen. . . . Among the most disappointing units in the league has to be the Dallas secondary, an area of priority for the club in the offseason, but one where poor play and injuries have the Cowboys ranked dead-last against the pass, the lone club in NFL history to have surrendered four 400-yard games (already). The breakdowns have been across the board, basically at every position, although in Sean Lee, the Cowboys do have one key component of a Monte Kiffin "cover two" scheme, a linebacker who can run deep to the middle and cover. . . . On the flipside, the Cowboys and line coach Rod Marinelli haven't gotten enough credit for resurrecting the career of end George Selvie, a former seventh-round pick (St. Louis in 2010), who had been released by three teams before Dallas plucked him off the scrap heap in the offseason. Selvie has five sacks, after notching only three in his first three seasons, and has given Dallas a presence off the edge that's been missing some because of the injury to sack star DeMarcus Ware. Marinelli also deserves credit for the play of tackle Jason Hatcher, who leads all interior linemen with a career-best seven sacks. . . . Signed to be the replacement for the released Michael Turner, tailback Steven Jackson has been a disappointment so far in Atlanta, both in terms of production and an inability to stay on the field. But the Falcons' coaches haven't lost faith in the former St. Louis standout, and seem to assign more of the blame for the team's running woes (ranked last in the NFL in rushing offense) on a line that can't seem to move anyone. Jackson hasn't looked as plodding as Turner did last year – anyone notice that no one signed Turner after the Falcons released him? – but the fact remains that, aside from a 50-yard breakout run in the season opener at New Orleans, he is averaging 4.3 feet (that's right, feet) per attempt, and that 15 of his 23 runs have been for one yard or less. . . . With the season-ending ACL injury to defensive tackle Geno Atkins on Thursday night, Cincinnati coordinator Mike Zimmer may be forced to change some of the Bengals' pass-rush schemes, since he won't have such an inside presence. One possibility is using more of his "speed" guys at the same time, instead of rotating them. Zimmer likely won't go to the so-called "NASCAR" rush used by some clubs in the past, featuring four ends on the field at the same time on third down, but he'll make some adjustments. . . . In a statistical rarity, three of the defenders tied for the lead with four interceptions are linebackers – Kiko Alonso (Buffalo), Sean Lee (Dallas) and DeAndre Levy (Detroit).
+BY THE NUMBERS
*For six seasons, Atlanta coach Mike Smith has preached a "start fast" gospel, and the good news for the Falcons is that, for the most part, they have heeded that message. In only one of Smith's first five seasons with the franchise, 2010 (and then only by six points), was Atlanta outscored by its opponents in the first quarter. Over that five-year stretch, the Falcons held a plus-38.8 advantage over their opponents in the opening quarter. This season, the Falcons have again outscored opponents in the first quarter, 44-3. That 41-point edge is the largest disparity in the NFL in the opening quarter, even more than that rung up by the prolific Denver Broncos (plus-22). Yet the Falcons are 2-5 entering Sunday's game at Carolina largely because they've been outscored in each of the other three quarters – 50-81 in the second, 21-40 in the third and 51-60 for the fourth. The Falcons have been so dominant in the first quarter that they've allowed opponents only a dozen possessions. Eight ended on punts, two on turnovers, and one on downs. The lone first-quarter points against Atlanta came on a 22-yard field goal by Nick Folk of the New York Jets on Oct. 7, in the fifth game of the season.