February 26, 2012 -
Dan Pompei
NFP Sunday Blitz
If duck hunting season doesn't open for three weeks, is it a problem that guys are walking around Indy this weekend wearing ghillie suits, carrying rifles and being followed by golden retrievers?
It's true that many teams are positioning themselves for a good shot at a free agent duck. But it's really not Armageddon.
Technically, what's happening all over Indianapolis these days is tampering. And it is a violation of NFL rules.
But those rules are virtually impossible to enforce, and breaking them isn't much more serious than jaywalking. Three club executives told me tampering is not a major concern to them.
No one on either side of the negotiating table can deny it goes on though.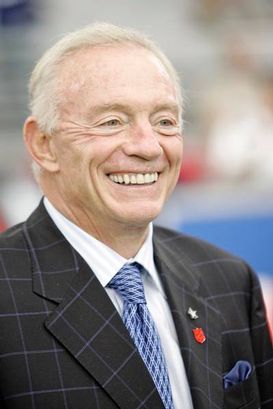 ICONJerry Jones knows what goes on between teams and agents of free agents to be at the combine.
Recent comments by Cowboys owner Jerry Jones, Lions defensive end Cliff Avril and agent Tom Condon have put the focus on tampering again. Avril, whose contract is expiring, said in an interview that a few teams had called about his services. After the ensuing storm, he backed off, indicating players or people in unofficial capacities have expressed interest.
Really, the most common form of tampering is player to player, according to one veteran agent. The former teammate or friend can act as an unofficial recruiter without breaking any rules.
Having friends bat eyelashes and whisper sweet nothings to players with expiring contracts causes no problems. What can cause problems is when deals are negotiated prior to the start of free agency. The player's original team is supposed to have first crack at a free agent to be until he becomes a free agent.
"The overriding issue here is the free agency date is set by agreement by both parties, the union and management council, because the original premise is the old club would have a reasonable period of time to decide what to do and have a period of time that amounted to an exclusive negotiating period with the player," said former Colts general manager Bill Polian, a longtime member of the competition committee. "The old club wanted to have the right to make an offer free of interference from other clubs."
That may be an antiquated premise. If a team is not kicking tires on potential free agents, it is losing a competitive advantage. If an agent is not hawking his free agent client to other teams at the combine, he is doing him a disservice.
And so the rule is ignored. One front office man told me a story. He and some other executives from his team (Team A, we'll call them) were out to dinner in Indianapolis during the combine. One of their cell phones rang. He answered. It was an agent for one of their team's clients, a free agent to be. The agent had mistakenly dialed the wrong number. He intended to call a contract negotiator for another team (Team B). Not realizing he called the wrong number and thinking he was talking to Team B, he started talking about arranging a meeting to discuss contract numbers for Team A's client. Oops.
If Team A wanted to turn Team B in for tampering, it probably would have had a solid case. But there were friendships involved, so the league office never found out. Some club executives also are wary of incriminating agents in tampering cases, because they know they'll have to deal with them in the future and want to have good relationships when possible.
Most teams ignore tampering, and when they don't, hard feelings usually follow. Remember Lions general manager Martin Mayhew's postgame handshake snub of Chiefs general manager Scott Pioli? That was about a tampering charge. Last year the Lions lost a seventh round pick and had to swap fifth round picks with the Chiefs because it was ruled they tampered with safety Jarrad Page.
The 49ers were docked a fifth round pick and forced to swap third round picks with the Bears in 2007 for tampering with linebacker Lance Briggs.
The Dolphins raised eyebrows in 2008 when they signed guard Justin Smiley 17 minutes after the start of free agency. But they were not punished by the league.
The competition committee has considered recommending a bylaw change regarding tampering the last couple of years. Because of safety concerns and labor issues, nothing has been done. But a good chance exists the committee will address tampering this year.
What is being discussed is instituting a window of time, say seven to 10 days before the start of free agency, when teams would be allowed to talk with, but not sign, free agents to be. The hope is that window would discourage tampering prior to that period.
Ultimately, that won't prevent all tampering though. There is only one way for teams to insure their player won't be tampered with—sign him early.
"The way I look at it is if you wait this long to sign a player, you take that risk," one general manager said. "If you want to avoid the risk, sign him before the season or during the season."
Otherwise, expect to be tampered with.
Things I Didn't Used To Know
*Hue Jackson is supposed to be an assistant defensive backs and special teams coach with the Bengals, but what he really is, according to those who should know, is the team's offensive coordinator in waiting. Jackson is insurance in case Jay Gruden lands a head coaching job next year. Gruden was a head coaching commodity this year after only one year as a coordinator. The Colts in particular were very interested in hiring him. Gruden wanted to give it another year before making the jump.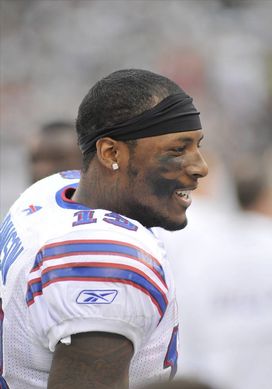 Stevie Johnson could be a popular free agent.
*If Bills receiver Steve Johnson makes it to free agency, teams will have to decipher if he is a character risk, given his issues with touchdown celebrations and controversial tweets. But those who know him say Johnson has a strong work ethic and is a great team guy. Johnson will likely have to convince potential new employers of that during interviews. He will have multiple suitors if the Bills let him go because he has been so productive despite playing for mediocre teams with inconsistent quarterbacking and in all kinds of weather.
*Cornerback-needy teams shouldn't get too set on the notion of landing Brent Grimes. The Falcons have every intention of making sure he goes nowhere, and are likely to do whatever is necessary (read: franchise tag) to make that happen. But if Cortland Finnegan floats your boat, he should be there for the taking. The Titans likely will let him walk.
*Ray Rice and Joe Flacco aren't the only players the Ravens are intent on signing to new long-term contracts. The team also is pushing hard to get restricted free agent Ladarius Webb new paper. Last year the cornerback proved he was fully recovered from his torn ACL and had a breakout season with five interceptions. He played at a Pro Bowl caliber, according to those who studied him, and was particularly effective down the stretch. Webb has a bright future, and chances are it's going to be in Baltimore.
*Anthony Spencer's best leverage with the Cowboys may be the team doesn't have a good option to replace him. There isn't a candidate on the roster who could effectively step into Spencer's outside linebacker role, and if Spencer is allowed to sign with another team the Cowboys would have to sign a free agent or draft a replacement. Spencer never has had more than six sacks in a season, but the team believes he is a good all-around footb all player, and he had a lot of pressures (35 according to Pro Football Focus). As free agency approached, the team was studying Spencer to see if there are technique adjustments that could be made that will improve his ability to get to the quarterback. The franchise tag remains possible.
My Sunday Best: NFL athletes
This week we will be marveling at the athletic prowess of the prospects who have been invited to the combine. With that in mind, this is a good time to look at who the best athletes in the NFL are. This isn't a list of the best players mind you, but the best athletes. Players are in alphabetical order.
Vernon Davis, 49ers TE—He is one of the all-time combine stars. At 6-3, 254, he ran a 4.38 40 yard dash, vertical jumped 42 inches and broad jumped 10-8, nearly a foot farther than the next best tight end. In high school, he played tight end, safety, wide receiver, defensive end, linebacker and kick returner.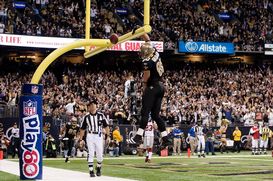 Jimmy Graham, Saints TE—At 6-6 with 35 inch arms and 10.6 inch hands and incredible ability to adjust his body, Graham is unique. He was a basketball player first, starting 39 games at the University of Miami. Graham blocked 104 shots, which was eighth best in school history when he finished his career.
Maurice Jones-Drew, Jaguars RB—His type of athleticism probably would not translate to other endeavors as easily as some of the other players on this list, but Jones-Drew has unusual ability to stop and start and change directions. His shiftiness is something that can't be measured.
LaRon Landry, Redskins S—In high school, he played quarterback as well as safety, and could throw it or run it. Landry was one of the most coveted recruits in the nation when he went to LSU. Landry ran a 4.35 40 yard dash at the combine, and the dude is absolutely rocked up.
Devin Hester, Bears WR—He is so athletic, he has confused his coaches at every level. They still are figuring out how to best use him six years into his pro career in Chicago. Hester was a three-way player at Miami. In his youth, he also played running back and soccer. He is arguably the best open field runner in the NFL.
Cam Newton, Panthers QB—For a player who is 6-5, 250 to be able to move and throw like Newton can may be unprecedented. Newton's level of athleticism usually is associated with much smaller men. He is a quarterback in the body of a defensive end. He played basketball as a youth, and may have been able to excel at that sport as well.
Jason Pierre-Paul, Giants DE—At 6-5 and 280 pounds, his bendability and flexibility is astounding. Pierre-Paul played basketball first, and probably could have been a hoops star too.
Darrelle Revis, Jets CB—His foot quickness and ability to adjust to receivers' movements makes him stand alone as a cover man. He was an outstanding prep basketball player and track man, and he also played three ways in high school, also getting time at QB, WR and KR.
Ndamukong Suh, Lions DT—This former soccer player has unusual agility and burst for a man his size. His footwork separates him from every other defensive tackle in football, and almost every other person who is as large as he is.
Michael Vick, Eagles QB—His combination of speed (he once ran a 4.33 40 yard dash), elusivenss and arm strength makes him one of a kind. There are some who will tell you he is so athletic that it has prevented him from being a better quarterback.
I would give honorable mention to DeSean Jackson, Calvin Johnson, Julio Jones, Von Miller, Julius Peppers, Troy Polamalu, Mario Williams and Vince Young. Who would you add to the list?
Scout Talk: Body Types
At the combine, draft prospects can make an impression with their speed, strength, agility, explosiveness, ability to articulate, psychological makeup and health. And they also can make an impression by just standing there in shorts.
Each prospect stands before the eyes of the NFL in nothing but a pair of shorts. A camera snaps, and each team has a set of photos on each player.
Some players are body beautifuls. Others would be best observed with a few layers of clothing.
Among those who have impressed at the combine this year have been Baylor quarterback Robert Griffin, Louisiana State defensive tackle Michael Brockers and Illinois defensive end Whitney Mercilus. Among those who have not impressed have been South Carolina wide receiver Alshon Jeffery, despite his weight loss.
Some scouts value the chance to see players in shorts. Others have no use for it. There is no consensus. The Bill Belichick tree sees value in body typing.
One respected player personnel director told me he gets a lot out of body typing. "If you look at the best players in the league, they usually have a certain body type," he said. "To me it's invaluable. You look at lower body development, shoulder width, proportionate arm length, hand size. If you ask me who the top 75 players are, I could tell you 50 of them just from their body types. I grade body types."
Another veteran general manager said he gets nothing out of body typing, but he found ownership liked to look at the pictures. "If you took the combine pictures of all the defensive tackles, I promise it wouldn't be pretty," he said.
A third front office man said if you couldn't see players in shorts, it wouldn't hurt the evaluation process. "It can be misleading," he said. "Sometimes when people say we shouldn't take a guy who has a bad body, I'll pull out a picture of a bad body who ended up playing really well. You can't rule out a guy because he has a bad body. A good body or fudgy body doesn't translate into production. We've seen some Zeuses who can't play, and some fudgy bodies who can play."
Regardless of how much stock individual talent evaluators put in body typing, no one can completely ignore it. At the very least, it's another piece of a complicated puzzle.
Hot Reads
*The combine is becoming a television show instead of an evaluative tool. Roll over, George Young.
*So many big names are taking a pass on the combine timing, stations and skill drills you'd swear this was the Pro Bowl.
*If Jim Harbaugh picks up chairs and hands out towels the way he coaches,