November 25, 2012 -
Dan Pompei
NFP Sunday Blitz
With a young team, there will be ups and downs.
Taking care of business against RGIII and Russell Wilson. A blowout loss to the Patriots. A tie in San Francisco against the 49ers. An upset loss to the Jets.
A run up the stadium steps to the concourse at Candlestick Park. And a run back down.
This is life for Jeff Fisher and the 2012 Rams, football's youngest team. "I haven't had a team this young in awhile, and it's fun," Fisher told me. "You don't treat rookies like rookies or expect them to act like rookies. You have high expectations and coach them up."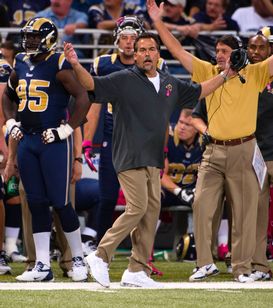 Not everything has gone Jeff Fisher's way this season, but he rolls with it.
So Fisher, in his 18th year as an NFL head coach and his first year in St. Louis, believes he is in a very good place, despite the roller coaster ride. "We're having fun and getting better," he said. "It's a fun team. They love to play. We had a ball out there in San Francisco. They are fun to coach. There is a good dynamic. Good chemistry. Good personalities. I'm really, really happy with the staff. It's going to take us some time, but that's OK. There is no one they don't think they're good enough to play against, which is good."
Fisher is excited about the futures of many of his young players. He mentions defensive tackle Michael Brockers, defensive end Robert Quinn, cornerbacks Janoris Jenkins and Trumaine Johnson, running backs Daryl Richardson and Isaiah Pead, kicker Greg Zuerlein and punter Johnny Hekker.
And quarterback Sam Bradford still is a young player at 25. "He's going to be outstanding," Fisher said. "He's improved weekly. His accuracy, his deep balls, what he's doing on the line of scrimmage, his relationship with [offensive coordinator] Brian [Schottenheimer], it's all coming along. This offense is going to take off in the future with him."
With Fisher's Rams this year, the big picture is of utmost importance. Fisher talks about big picture experiences like having the team bond in London for a week prior to the Patriots game and building character by coming out of San Fran with a tie.
Having Jenkins and receiver Chris Givens run the steps at Candlestick Park after a reported curfew violation also was a big picture move. Fisher said he never has made players run stadium steps before, but he thought it was the right thing to do because he is trying to establish his program.
Some coaches might have hesitated to bench a player as valuable as Jenkins, but Fisher didn't. Not in this situation. "It wasn't hard, considering the circumstances," he said. "It's not hard when you have young players behind them that will get opportunities and step up. Trumaine Johnson played well for Janoris. As you build a team, you want to know that. He played hard, played well. Now you know you have somebody who can come off the bench and play."
Ideally, Fisher, Jenkins and Johnson all benefited from the situation. Fisher knows more about his team. Jenkins knows more about his boundaries. And Johnson knows more about playing in the NFL.
Peaks and valleys are part of the terrain for a young team. Fisher is enjoying the ride.
Things I Didn't Used To Know
*Defensive player of the year candidate Von Miller has drawn attention for his flashy pass rush and AFC-leading 13 sacks, but Broncos coaches have noticed something else about Miller: he has improved in his run defense and his pass drops. Miller had to learn to play the outside linebacker position after the Broncos drafted him, and he was up and down a little in his rookie season. But he's concentrated on it and is developing into an all-around player.
*One of the secrets to Adrian Peterson's success this year is the Vikings are using a lead blocker more. They have played bruising fullback Jerome Felton on 35 percent of the snaps. Last year they used a fullback on only 15 percent of the snaps. One front office man pointed to three games in which Felton really helped Peterson. The first was the victory over the 49ers, in which Felton "softened" linebackers Patrick Willis and NaVorro Bowman. The second was the Seahawks game, in which Felton knocked out starting Will linebacker K.J. Wright early in the game. The third against the Lions when his block on Lions safety Erik Coleman sprung Peterson for a fourth quarter, 61-yard touchdown run.
My Sunday Best: Quarterback Rotations
The possibility has been raised that the 49ers could play both Colin Kaepernick and Alex Smtih against the Saints Sunday. If Jim Harbaugh goes down that path, he will not be the first head coach to do so. Here are my Sunday best quarterback rotations.
Norm Van Brocklin and Bob Waterfield, Rams. This was the best rotation ever. Coach Joe Stydahar finished first in the NFL National Division in 1950 and 1951 by alternating these two players. In 1950, they set an NFL record by averaging 38.8 points per game. It was a rare mix because both were future hall of famers.
David Woodley and Don Strock, Dolphins. They were so good together in 1981 they had a nickname: "Woodstrock." Woodley started 15 games but Strock took 26 percent of the throws. After Woodley was ineffective early in a playoff game against the Chargers, Strock rallied the Dolphins into overtime, but the Dolphins still lost.
Roger Staubach and Craig Morton, Cowboys. In 1971, rookie Staubach impressed Tom Landry enough that Landry wanted to play both Staubach and incumbent Morton. Through six weeks, each had three starts. Then in the seventh game, Landry alternated the quarterbacks every play. The next week he names Staubach the permanent starter.
Neil O'Donnell/Mike Tomczak and Kordell Stewart, Steelers. This wasn't a true rotation because Stewart, nicknamed "Slash," was used more in a utility role between 1995 and '96. What the Steelers did was a little like what the Jets are doing now with Mark Sanchez and Tim Tebow.
Joe Montana and Steve DeBerg, 49ers. In 1980, the 49ers were a 6-10 team that was transitioning to the Bill Walsh way. DeBerg was the established quarterback and Montana was the rookie. Walsh slowly worked Montana in over the course of the season while phasing out DeBerg.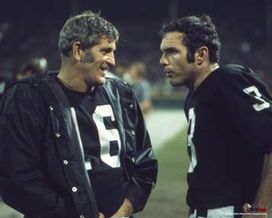 George Blanda and Daryle Lamonica were quite a duo.
Daryle LaMonica and George Blanda, Raiders. Blanda was the Raiders' 43-year old kicker and backup quarterback in 1970. When LaMonica was banged up or struggling, Blanda would go in at QB and frequently gave his team a spark. In a five game span, he helped the Raiders win four and tie one.
Matt Leinart and Kurt Warner, Cardinals. Leinart was the starter at the beginning of the 2007 season, but when the offense struggled, coach Ken Whisenhunt decided to use Warner situationally, including in the red zone. The arrangement was short-lived because Leinart fractured his collarbone and Warner took over.
One Man Yelp: Undefeated
If you appreciate excellence, or are a Dolphins fan, you will enjoy Mike Freeman's book Undefeated: Inside the 1972 Miami Dolphins' Perfect Season. The book examines the ingredients that went into the only perfect season in NFL history as we approach its 40th anniversary.
Much of this book is about Don Shula, and how his will transformed the Dolphins from an inept afterthought to a team that would achieve perhaps th e single greatest collective accomplishment in the history of sports. But there also is some very interesting background on Mercury Morris, Joe Robbie, Larry Csonka, Jake Scott and others. The book, or at least the best of it, is more about the people who made the season than it is about the actual season.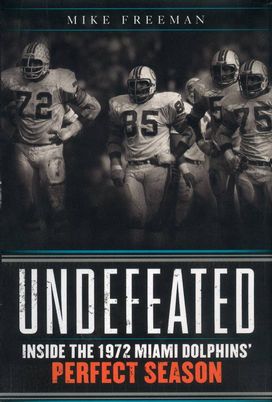 Csonka remembers Shula's post-game speech after the Dolphins lost to the Cowboys in the 1971 Super Bowl. "…he actually said in the locker room then, 'We're going to go one game at a time and win every damn game.'"
I wonder what today's NFLPA leaders would think of this: the Dolphins practiced four times a day in camp, with the first practice at 7 a.m. and the last at 7:30 p.m. Shula made the practices so they became incrementally tougher as the temperature rose during the day. His motivation: to weed out the soft.
I'm not sure I buy the author's contention that this team would have been the best in any era, but I appreciate his passion for the '72 Dolphins, and you have to give that team full credit for being better that year than any other team has been in any other year.
Freeman, who covers the NFL for CBSsports.com weaves in interesting cultural references, tales of drugs, race, entertainment and politics. Freeman did impressive research, and added to it with excellent reporting. His book is well written too, entertaining and breezy. This is a book that belongs in any good football library.
Hot Reads
*Did you know Ndamukong Suh used to be a kicker?
*The next time Mike Shanahan wants to compare RGIII to a movie character,