December 08, 2013 -
Dan Pompei
NFP Sunday Blitz
Poor Wade Phillips, named on Friday as the interim head coach of the Houston Texans for the final three games of the 2013 season, after owner Bob McNair canned Gary Kubiak following Thursday night's embarrassing loss at Jacksonville.
Remarkably, this marks Phillips' third appointment as an interim head coach, which must be some kind of record. He led the New Orleans Saints to a 1-3 mark in 1985 after taking over for his father, the late Bum Phillips. In 2003, when Dan Reeves resigned in Atlanta, Phillips was 2-1 as interim head coach of the Falcons. So that's a 3-4 record in his two interim positions, which, honestly, isn't all that bad.
Being an interim head coach in the NFL, after all, has historically been a pretty thankless job. And one where success is difficult to achieve in the short tenure most interim coaches enjoy. So while Phillips wouldn't want anyone to feel sorry for him as he takes over the disappointing Texans, he's stepping into a dicey situation.
"You take over a sinking ship and it's like trying to bale out water with a thimble," longtime NFL defensive coordinator Rick Venturi, who was 2-17 in two stints as an interim coach, with Indianapolis in 1991 and New Orleans in 1996, described the job to NFP a few years ago. "It's really a no-win situation, but you do it out of loyalty to the franchise and because in the back of your mind, you're thinking, 'Well, if I can show them some progress, then maybe they'll keep me.' But it's pretty much a 'Mission Impossible' kind of situation ... and it seems like the owners realize that more now."
There are indications that the widely respected Phillips, who has also been a full-time coach on three occasions, will be considered for the permanent gig by McNair and general manager Rick Smith. He met with McNair on Friday in a sort of quasi-interview. But even if that session went well – and what more could McNair have gleaned from huddling with a guy he already knew well? – Phillips will beat some long odds if he returns full-time in 2014. And he'll beat equally long odds if he can squeeze a win or two out of the Texans and begin to reverse the team's fortunes in its three remaining games.
Make no mistake, success as an interim coach is the exception, not the norm, as is keeping the job beyond the fill-in period.
Consider: Of the 64 interim coaches since 1970, only slightly more than one-third, 22 of them, kept the top job for the following season. And the cumulative winning mark of the coaches who inherited a team during the season is just about .325, not much better than the men they replaced in-season. That's a winning percentage of less than one-third. So if history holds, Phillips may get one win from a Houston team that finishes with games against the Colts, Broncos and Titans.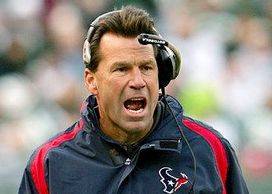 Kubiak was dismissed following his 14th regular season loss in 17 games.
Few in-season head coach changes, even those as predictable as Kubiak's ouster, are made so late in any year. And there is a simple reason: In-season coaching changes, no matter when they are orchestrated, rarely reverse a team's fortunes. At least not significantly, it seems.
Indeed, the shoddy record of the interim head coaches is hardly a reflection of their abilities in most cases; many, like Phillips, possess head coach-level credentials and have gone on to become sideline bosses at other spots. The collective failure is more an element of the difficult circumstances into which they enter. The NFL season is a relatively short one compared to other sports, and so a turnaround is exponentially tougher. That reality seems to have settled in on owners.
In the 13 seasons 2000-2012, there were only 16 in-season moves (not counting the two coaches, Aaron Kromer and Joe Vitt, who took over for the suspended Sean Payton in New Orleans last season), an indication that normally impatient owners have been slower to squeeze the trigger, and that they are more willing to ride out the storm until the end of a dismal year before enacting a change.
Unlike in some professional sports, a coaching change simply for the sake of change rarely proves to be an elixir. Baseball is a sport where in-season changes have made differences with some franchises. In the NFL, though, bringing in a new coach, or elevating someone from the current staff, doesn't generally reverse longstanding problems. Which is why so many league owners are reluctant to make in-season changes anymore. Given the collapse of the Texans, who were two-time defending champions in the AFC South and expected by many to challenge for a Super Bowl XLVIII berth in 2013, firing Kubiak probably couldn't be avoided. McNair, who made the decision to enact a change on the flight back from Jacksonville, can at least begin now to investigate and evaluate potential candidates.
Still, the mindset of many owners now, even though it runs counter to the 'quick results' nature of the business, is to play out the hand, no matter how poor the cards, and then make a coaching switch in the offseason, when transition is far easier. Given the spotty results of the in-season changes, no one can blame NFL owners for feeling that way.
There is no denying that impatient owners, who are inclined to be instant-gratification types, have reduced the shelf-life of head coaches in general. And since the trend the past few years has been to sign coaches to contracts with shorter terms and smaller salaries than their predecessors, it might make them easier to fire. But most owners have held back.
"It really is a tough gig," Venturi said. "It's miserable, really, because the momentum is going one way, and it's so hard to reverse it."
How hard is it?
True story: In 1989, then-Atlanta offensive line coach Jim Hanifan originally declined to accept the interim job with the Falcons after Marion Campbell resigned 12 games into the year with a 3-9 record. Hanifan knew the final four games would be a nightmare, were essentially unwinnable and he didn't want four defeats posted on his head coaching mark previously forged in St. Louis earlier in the decade.
Only after Falcons president Taylor Smith told Hanifan he had struck an arrangement with the league for the games not to count on Hanifan's career head coaching record did the longtime assistant accept the job. Of course, as Hanifan feared, the Falcons lost all four games. And because there was no such deal with the league, the losses were recorded in Hanifan's ledger book.
Said Hanifan: "The odds are against you."
Of the 64 men elevated to the head coaching position in-season since 1970, only 14 posted winning marks in their interim terms, and that included six who served three games or fewer as head coach. There have been 28 interim coaches who took over teams with at least a half-season remaining on the schedule, and only five registered winning records.
Said longtime NFL assistant Terry Robiskie, who had stints in Washington (2000) and Cleveland (2004) as an interim head coach, and who compiled a 2-6 record in those two spots: "The players know you're probably a short-timer. It's a little like you're the substitute teacher or something."
+AROUND THE LEAGUE
*In announcing Kubiak's dismissal, McNair described the Thursday night loss at Jacksonville, the Texans' second defeat to a lesser-talented Jaguars team in 11 days, as "the last straw." But two team sources who spoke to NFP Friday evening on condition of anonymity, said things had been unraveling for a while.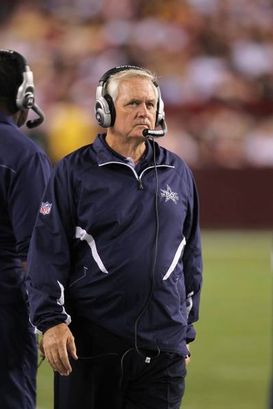 ICONFormer Dallas boss Wade Phillips now has the unenviable task of trying to turn the Texans around.
"Going back to (the end of last season)," one of the team insiders said, "we'd lost 14 of 17 regular-season games. And we couldn't get over the hump in the playoffs. (McNair) felt this was a talented team. Not just more talented than (Jacksonville), which he noted, but better than most teams in the league. I don't know if he was thinking Super Bowl or not, but he was expecting a lot this year."
The other source said that perhaps most troubling was the "lack of discipline and 'smarts' on the team," and alluded to the 14 penalties at Jacksonville on Thursday evening. No one to whom NFP spoke suggested that Kubiak, regarded as a good man, had lost control of his locker room. But neither did anyone blame injuries and the sudden plummet of quarterback Matt Schaub for the downfall. "We just played poorly, one thing led to another, and it kind of (culminated) with this," one said. Although there has already been speculation about a successor, one team executive said that there has been "zero discussion" yet about potential candidates, although he expects the process of identifying possible new coaches to commence very soon, possibly over the weekend. Obviously, since McNair mentioned former Chicago coach and Texas native Lovie Smith as a man in whom the Texans might be interested, he could be strongly considered. McNair cited experience as a primary attribute, but team executives suggested the Texans will not strictly limit their search to men who have previously been NFL head coaches.
*Fresno State quarterback Derek Carr should be a happy guy right now. Even before the last couple weeks, when the quarterback depth at the top of the 2014 draft was severely depleted, Carr, the younger brother of 2002 No. 1 overall choice David Carr, was on the rise in the estimation of scouts. Now, with recent events, he is probably the second quarterback prospect on most boards – at least pending Johnny Manziel's decision about his future, which will come after a bowl game – and could be chosen in the top 10, given the number of clubs seeking quarterbacks.
Aaron Murray of Georgia and LSU's Zach Mettenberger both suffered ACL injuries that will keep them from working out at the combine and certainly limit what they will be able to do for scouts before the draft. Then, Marcus Mariota of Oregon and Bryce Petty of Baylor announced they will remain in school. Brett Hundley of UCLA has sent mixed signals about his intentions. Mariota and Mettenberger were regarded as sure first-round picks and Hundley was seen as a potential No. 1 as well. Murray and Petty had a shot to go in the second round. So the quarterback crop has been drastically thinned out.
After Louisville's Teddy Bridgewater, there's a question mark. In fact, scouts are beginning to take a closer look at Bridgewater's reedy frame and arm strength as the evaluation process swings into high gear. Add to all of that the fact that Tajh Boyd of Clemson and A.J. McCarron of Alabama have started to slip a bit, and Carr's name is the one that is getting plenty of mention right now. The position probably won't be as sparse as in 2013, when E.J. Manuel was the lone prospect chosen in the first round, but not until Buffalo tabbed him in the 16th overall slot. Then again, quarterback doesn't figure to be as popular a position as it was in 2012 and 2011, when four passers were chosen in the first round of each of those lotteries. There were three top 10 quarterbacks in both those years.
This season, Carr has completed 70.3 percent of his attempts, thrown for 4,462 yards and tossed 45 touchdown passes, with only four interceptions. Carr, who has thrown touchdown passes in 31 straight games, has six games of four or more TD passes in 2013. He has improved his decision-making, his awareness in the pocket, and his speed. Although he operates out of a "spread" offense, Carr isn't a zone-read option quarterback, but still expects to run in the 4.65-4.8 range at the combine. Beyond his accuracy – Carr has thrown only 21 interceptions the past three years, while tossing 108 touchdown passes – most notable to league scouts is that he has been sacked only eight times after taking 47 sacks in 2011-2012.
"His feel (for the pocket) is excellent," one NFC area scout, who principally looks at West Coast prospects, told NFP. "That and his accuracy are the biggest things." The negatives: Because he has essentially operated out of the "spread" his entire career, Carr will have to demonstrate that he can work behind center as well. And with the Fresno State passing design emphasizing short and intermediate routes, his arm strength will be scrutinized. But there is little doubt that Carr is on the rise.
*When the Jacksonville Jaguars selected Ace Sanders in the fourth round in April, they envisioned the former South Carolina wide receiver and return specialist adding a big-play dimension to their offense. So far, that hasn't happened, as he has only one reception of more than 40 yards, and one return of more than 30 yards.
But despite not starting a game since Oct. 6 or scoring his first NFL touchdown, Sanders has begun to play an expanded role, and the results are paying off for the team. Coming off the bench as a situational player in the past four games, three of which the Jags won, Sanders has posted 23 catches for 215 yards. The 9.3-yard average for the four-game stretch, and his 10.2-yard average on his 39 catches for the year, don't exactly portend of a guy who is going to be able to stretch the field and strike fear in opposition secondaries. But the Jacksonville coaches seem excited by the progress of Sanders and offensive coordinator Jedd Fisch and receivers coach Jerry Sullivan have acknowledged that the best is yet to come.
Said Sanders: "I think every wide receiver, no matter where he's picked, feels like he can come in and do some things right away. But it takes time." Sanders' time, has apparently come.
*In the minds of the Atlanta offensive staff there is no controversy about the club's tailback position. Despite a disappointing year in which he missed time to injury, is averaging a career-low 3.5 yards per carry and hasn't had more than 83 yards in a game, veteran Steven Jackson remains the starter. But there is a feeling among fans and even players that the club needs to find some carries for four-year veteran Antone Smith, even though he is listed fourth on the depth chart, behind Jackson, Jacquizz Rodgers and Jason Snelling.
Smith, 28, has carried only five times this season, never more than twice in a game. But his shortest gain of the season was for eight yards. He's had runs of 8, 11, 38, 38 and 50 yards, including two long runs for touchdowns. Originally signed as an undrafted free agent by Detroit in 2009, the former Florida State standout was released twice (by the Lions and the Vikings) as a rookie, before catching on with the Houston practice squad. He eventually signed with Atlanta, and developed into a terrific special teams player, and had just one rush in his career until this season. Now he's kind of a cult figure in Atlanta be cause of his ability to break the big play.
"He's a talented player and a hard worker in everything he does," coach Mike Smith said. "We got to get him more involved." But the Falcons haven't and with the team already eliminated from the playoffs at 3-9, and the return of Jackson in 2014 still uncertain, there are plenty of questions about why Smith isn't getting more playing time. There's some feeling that Mike Smith's ego is in the way, that he wants to win as many games as possible after taking the Falcons to the postseason in four of his first five years, but that defies his makeup. Still, Atlanta has nothing to lose by playing Antone Smith and might uncover a gem. Granted, Smith can't keep up the pace he set with his five carries, but until the Falcons give him more touches in the final month of the season, it's going to be hard to evaluate him even as a No. 2 back.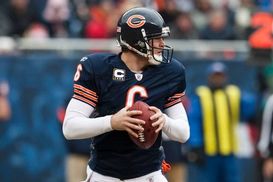 ICONWhat are the chances Cutler returns to Chicago in 2014?
*With last week's suggestion by Chicago general manager Phil Emery that he might not employ a franchise designation to retain starter Jay Cutler for another season, the comment at least prompted some speculation that the eight-year veteran could play elsewhere in '14. And it certainly fueled the possibility that Chicago, which could allow Cutler to depart as an unrestricted free agent next spring, might be looking elsewhere for a quarterback as well. The Bears haven't drafted a quarterback of any kind since 2011.
Since taking Rex Grossman in the first round in 2003, Chicago hasn't selected a signal-caller above the fourth round. That could end – in fact, it might have to end, really – in the 2014 draft. The Bears' stance on Cutler is a curious one, for sure. He is in the final season of a five-year, $50.4 million contract, earning about $9 million for 2013 in base salary and a workout bonus. His salary cap charge for the season is $10.37 million. The franchise number for a quarterback in 2014 is likely to be just north of $16 million. And so slapping the franchise tag on Cutler, as Emery noted, would account for a big share of the Bears' 2014 cap. But, minus a long-term deal – and Chicago execs have not approached agent Bus Cook about an extension and won't until after the season ends – the Bears don't seem to have many options beyond the franchise tag.
The 30-year-old Cutler can be a difficult, petulant player at times, but is said to have gained much maturity this season. Plus, he seems to have meshed well with first-year coach Marc Trestman. He's brought a modicum of stability to the team, starting 64 of a possible 76 games, even with his current injury. And there is no denying his physical tools. Even given all his warts, there's no doubt that Cutler would command multiple suitors if the Bears allowed him to get to free agency.
Already there are rumors that, should the Texans hire Lovie Smith to succeed Kubiak, the former Bears coach might try to reunite with Cutler in Houston. Josh McCown, who has been starting for the injured Cutler, is also slated for free agency. Plus, even if the Bears convinced McCown to stick around, with the promise of competing for the starting job next season, he's still just a journeyman. Chicago, should it allow Cutler to defect, will need a young quarterback for the future. The Bears currently have the 18th slot in the draft, and the top quarterback prospects are dwindling. But the Bears might not be able to ignore the position in the draft.
*Texas A&M coach Kevin Sumlin, a guy hyped several times in the Sunday Blitz during the season, was awarded a six-year contract extension (through 2019) by the university last week. The deal ties Sumlin to the Aggies until the school completes a renovation to Kyle Field, which likely will be in 2015. So if the deal is solid – and it's believed to be, even though many coaching contracts through the years have proven to be worth less than the paper on which they're written – the earliest Sumlin could bolt to the NFL will be 2016. That said, NFL scouts and executives are going to have lots of opportunities in coming months to better familiarize themselves with Sumlin, who has indicated he would consider coaching in the professional ranks at some point down the road.
Why so much attention to a coach who probably won't be available for three years? Because Texas A&M could have as many as four prospects—quarterback and Heisman Trophy winner Johnny Manziel, offensive tackles Jake Matthews and Cedric Ogbuehi and wide receiver Mike Evans—chosen in the first round of the 2014 draft. And the 49-year-old Sumlin is going to get much of the credit for that. All of the players except Matthews are underclassmen, and so their eligibility for the 2014 draft depends on their individual decisions about whether to stay in school or depart for the pros.
It's believed that Evans, Manziel and Ogbuehi all will opt to begin their professional careers, with the formal announcements coming sometime after the Aggies' bowl game. Three members of the group – Matthews, Manziel and Evans – are potential top-10 picks. Matthews might still be a candidate for the top spot, depending on who owns the choice. The University of Miami had the most players ever chosen in the first round of a single draft, with six in 2004. Texas A&M won't challenge that, but the program has never had such a first-round draft haul. Only once since the combined draft began in 1967 has the school produced more than two first-round selections; that was in 2003. Texas A&M had more than one first-rounder just five times since '67.
Beyond the four likely first-rounders, the Aggies have a few other possible draft candidates. Before the season, both combine services to which most NFL teams subscribe identified three senior players as "draftable" – defensive tackle Ennis Kirby, running back Ben Malena and wide receiver Derel Walker. So it could be a huge draft weekend for the Aggies.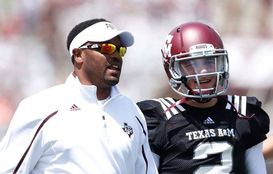 Sumlin is one of the hottest coaches in college football.
Here's where the Sumlin angle figures into the equation: With such a draft windfall, scouts and general managers are going to be spending considerable time in College Station, Tex., in the next few months. The school's pro day workouts are certain to draw a crowd, and some of the visitors will be general managers. Sumlin, whether visiting with team representatives in person or by phone, is going to be a very popular coach. A recently appointed NFL advisory group, formed for the purpose of identifying and recommending minority candidates for consideration, forwarded the names of Louisville's Charlie Strong and David Shaw to the league. Sumlin can't have been far behind on the list. But none of the three men should be considered only because they are African-American. All are excellent coaches, and race has nothing to do with their excellence. All figure to be on the radar screens of franchises seeking new coaches in the next few seasons. Overtures to Sumlin might be a few seasons removed, especially if his contract ties him to the Aggies though 2015. But the draft talent at the school is going to further familiarize him to the NFL in coming months.
*Because of the "three-year rule," the earliest that Florida State quarterback Jameis Winston can be eligible for the NFL draft is the 2015 lottery. But make no mistake, many NFL scouts breathed a collective sigh of relief when state attorneys opted not to file any charges against the Florida State quarterback that involved sexual assault allegations. The team that selects Winston in 2015, assuming he is in that draft, will probably catch grief from some women's groups, and we can't criticize that. But the personnel director for one team acknowledged to NFP on Friday that "a headache like that might have been a hard deal to get beyond" had the FSU star been charged. As it is, Winston certainly will confront a lot of questions from league scouts about the incident no matter when he enters the draft. There is no statute of limitations for the curiosity teams demonstrate when investing a draft choice and millions of dollars in a player.
*Is the famed Lambeau Field "mystique" a thing of the past? Probably not. But the Packers, still without quarterback Aaron Rodgers for at least another week, are just 3-2-1 at home in 2013. In Green Bay's last three home games, it has lost twice and tied once, and the Packers haven't won at Lambeau since defeating Cleveland on Oct. 20, six weeks ago.
Suggested one player from Atlanta, which travels to Green Bay for a Sunday matchup, to NFP: "Without (Rodgers), they don't have the same swagger in general. You're not as afraid of them overall, not even (in Lambeau Field)." Even with a win Sunday, and a victory over Pittsburgh on Dec. 22, the most home games the Packers will win in '13 is five. They haven't won fewer than six since 2008, when they were just 4-4.
+SHORT YARDAGE
*The recent success of Arizona wide receiver Michael Floyd, who suddenly is playing up to his former first-round status, hasn't made the Cardinals more likely to deal Larry Fitzgerald, as some have suggested. Despite looming cap problems with Fitzgerald, the Cardinals prefer to work out a way to retain him, team sources tell NFP, and part of the reason is the influence he's had on Floyd. "A class act all the way," one team executive described Fitzgerald. . . . It's probably just coincidence, but on the same day Kubiak was fired, Auburn awarded coach Gus Malzahn a new six-year contract and $1.5 million-a-year raise. The deal likely had been in the works for weeks, and the school probably wanted to make a splash on the eve of the SEC title game, but it's notable that Malzahn's name had been raised in speculation about possible NFL candidates in the offseason. . . . League scouts are keeping close tabs on when South Carolina defensive end Jadeveon Clowney has surgery to remove bothersome bone fragments in his ankle. The surgery could affect his offseason workout schedule, for sure. Then again, teams are just as anxious to get in front of Clowney in an interview and hear his explanation for a disappointing season in which a lot of people felt his effort and attitude were substandard. To be frank, many observers felt Clowney was simply saving himself for the NFL. . . . On the subject of the "Lambeau Mystique," cited earlier: The Falcons won there in 2008, when Matt Ryan was a rookie, so many people feel that provides Atlanta an edge. But only four of the Falcons' 22 starters from the 2008 game, and eight of the players who dressed for the game, remain with the team. Ryan termed the game "ancient history." . . . Dallas quarterback Tony Romo, who plays at Chicago on Monday night, is just 11-15 in December as a starter. Little wonder owner Jerry Jones, who has vociferously defended his quarterback at times, conceded last week that Romo has to play better in the season's final month. . . . Besides firing Kubiak, the Texans also canned longtime special teams coach Joe Marciano on Friday in what many felt was a bit of a head-scratcher. . . . Baltimore is 14-2 in its last 16 home games that started with the temperature 40 degrees or below. . . . Two guys who could affect the big San Francisco-Seattle game have had opposite levels of success against their NFC West rival. Seahawks tailback Marshawn Lynch has been in "beast mode" against the 49ers, averaging nearly 105 yards against them over the past five games. On the slip side, 49ers quarterback Colin Kaepernick has struggled in his last two games against the Seahawks, with one touchdown pass and four interceptions.
+BY THE NUMBERS
*With his 21-yard scoring pass to Jordan Todman in the third quarter of Thursday night's victory, Jaguars' wide receiver Ace Sanders now joins tailback Maurice Jones-Drew with one touchdown pass each in 2013. What's so notable about that? Quarterback Blaine Gabbert, chosen by Jacksonville with the 10th overall pick in the 2011 draft, also has just one touchdown pass this year. There have been five touchdowns passes this season by non-quarterbacks, and the Jaguars are the lone franchise with more than one. The other TD passes were by tailbacks Darren McFadden (Oakland) and Mike James (Tampa Bay), and punter Spencer Lanning (Cleveland).