January 08, 2012 -
Dan Pompei
NFP Sunday Blitz
Victor Cruz is having one of the best big play seasons in NFL history, putting him in the same sentences as players like Otis Taylor and Elroy "Crazy Legs" Hirsch.
But what he is accomplishing isn't about running faster than the competition. It is about wanting it more.
When the Giants take the field against the Falcons Sunday in the wildcard round of the NFC divisional playoffs, you can safely bet that no player in MetLife Stadium will want it more than Cruz.
"You can measure a 40 time, you can measure a vertical," said Giants receivers coach Sean Ryan. "What you can't measure is a kid's desire and the heart, and even the mental toughness that has to come with it where you have to fight through some adversity. This [success] is the combination of all the things Victor brought, and then finding a spot in the offense where it worked with his skill set."
Cruz ran the 40 yard dash in the high 4.5s. He is not gifted the way Julio Jones is gifted. Nowhere near. He is not even gifted the way Mario Manningham is gifted.
Good luck catching Victor Cruz.
There were 27 wide receivers taken in the 2010 draft. Cruz was not one of them. Only one team, the Giants, offered him a free agent contract. And they weren't so hot on him either. Giants general manager Jerry Reese once told me the team ranked him as a "local" free agent, meaning if he would have been from California they would not have been interested in paying his airline ticket. The fact that Cruz was a Jersey kid got his foot in the door.
"You get stupid lucky sometimes," is what Reese said about it.
No one could have foreseen Cruz, in his second NFL season, becoming the game's best big play threat. He finished third in the NFL in receiving yards (1,536 yards) and first in average per catch (18.7 yards) among players who had at least 50 receptions.
His success is a testament to Cruz' hard work and the coaching of Ryan. Kevin Gilbride's offensive scheming and Eli Manning's passing also deserve credit in this story.
Ryan said Cruz has taken advantage of every opportunity he's had. When he was given a chance to play more early this season, Cruz was ready because he had been working with Manning through the lockout and studying tape religiously. "The biggest growth has come in his understanding of concepts, what we're trying to get done, how we are attacking certain defenses, and what his role in that is," Ryan told me. "He's seeing things now pretty good. When he comes off the field, you ask him what happened, he nails it. He's seeing safety rotations, coverages, he knows the appropriate reaction to get open."
Of course, Giants coach Tom Coughlin understands the concepts too. But the 65-year old couldn't get open very easily. Cruz is blessed with football ability not easily measured off the field.
Pads don't slow him down as much as they slow down some players. "We're not running track on Sundays, and he's football fast," Ryan said.
Cruz has rare short area burst and cutting ability. That makes him an ideal fit as the Giants' "Z" receiver, who mostly plays in the slot and as the flanker in pro sets. He excels at inbreaking routes and outbreaking routes, and is deadly at the top of his route. "He has a tremendous amount of suddenness to his routes," Ryan said. "When he sticks his foot in the ground, he's gone. He breaks one way or the other and the defender has no time to react to it. That surprises people. And he can go vertical too. He can run by people."
And once the ball is in the air, it belongs to Cruz. He has excelled at jump balls and contested throws. "He's a fighter," Ryan said. "He wants that ball. That's a huge part of it. It's an underlying theme in every facet of his success. He wants to be good. He wants the ball. He has a great desire to go get it."
Cruz plays the game with the mentality of a player who was not drafted. If he played it any other way, we wouldn't be excited to watch him Sunday.
Things I Didn't Used To Know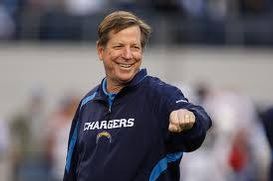 Dean Spanos gave Norv Turner a figurative fist bump.
*Before deciding to keep A.J. Smith and Norv Turner, Chargers owner Dean Spanos did a lot of research and kicked a lot of tires around the league. He decided to maintain the status quo for a variety of reasons. The Chargers believe they have one more good year left with their core group of players. It made sense, in terms of maximizing opportunity, to keep that core group with the general manager and coach who have a vested interest in them. This also is a big year for the Chargers in their stadium quest, and Spanos wants to be able to focus on that as much as need be. Starting over with a new GM and head coach might have pulled him in too many directions. Philip Rivers' endorsement of Turner also carried some weight. Finally, Spanos' friendship with Turner played a part.
*After Bills coach Chan Gailey named assistant head coach Dave Wannstedt his new defensive coordinator, the team flew Wannstedt to Detroit to meet with team owner Ralph Wilson late last week for a session to get better acquainted. Accompanying Wannstedt on the trip were Gailey, general manager Buddy Nix and vice president Jim Overdorf.
*A trend is emerging among NFL teams in that they are seeking young, flexible general managers with strong personnel backgrounds. They want men like Falcons general manager Thomas Dimitroff and who understand the big picture, are unafraid to make bold moves and are willing and able to deal with media and sponsors as well as agents and coaches. That's why Eric DeCosta, Les Snead, Marc Ross, Tom Telesco, Ryan Grigson, Jason Licht and their ilk have been popular candidates for openings.
*Falcons college scouting director Dave Caldwell may be more than a dark horse candidate for the Colts general manager position. He worked for the Colts for 10 years and has established relationships in the building. But more importantly, he has been a part of some outstanding drafts and is the only front office man in the business who is well versed in the scouting systems that have been deployed by both the Colts and Patriots. Caldwell learned the Colts system under Bill Polian and Dom Anile, and he learned the Patriots system from Dimitroff, who worked for Bill Belichick in New England.
*Aldon Smith's sudden success hasn't just surprised 49ers opponents—it's also surprised the 49ers. General manager Trent Baalke loved everything about Smith when he made him the seventh pick in the draft. But he figured the underclassman would take a little time to develop, and wasn't counting on 14 sacks from the rookie. One of the secrets behind Smith's quick adaptation is the players around him. The 49ers' front seven, especially players like Justin Smith, Ray McDonald and Patrick Willis, have shown Aldon Smith how hard he needs to work. Smith learned to be a pro quickly by following their lead.
My Sunday Best: Wild Card games
Wild Card weekend often is referred to as the best weekend in football because it seems like there often are unpredictable, fiercely contested games between evenly matched teams. In fact, many Wild Card games from the past have become legendary. Here are my five best wildcard games. Which ones would you include in your list?
5. Cowboys-Seahawks, 2007. The Cowboys, trailing 21-20, set up for what should have been with game winning 19-yard field goal with 1:19 left. Tony Romo was the holder, and he mishandled a clean snap and the Cowboys never got the kick off, and the Seahawks hung on for the upset.
4. Vikings-Giants, 1997. The Giants had leads of 13-0, 19-3 and 22-13, but Randall Cunningham led the Vikings to score 10 points in the final 90 seconds to upset the Giants in New York by a 23-22 score.
3. Packers-Seahawks, 2003. The game was tied at 27 at the end of regulation, and the overtime coin toss was won by Seattle. The referee asked Seahawks captain Matt Hasselbeck what they wanted to do, and he responded, "We want the ball and we're going to score." His words were captured by microphones for all to hear. In overtime, Hasselbeck threw a ball that was intercepted by Al Harris, who ran it back 52 yards for a touchdown and a 33-27 Green Bay victory.
2. Packers-Cardinals, 2009. With a 51-45 final, this was the highest scoring playoff game ever. There were 1,024 yards and 12 offensive touchdowns in the shootout between Kurt Warner and Aaron Rodgers. The Cardinals won in overtime when Rodgers fumbled after being hit and Karlos Dansby recovered and ran it in for the score.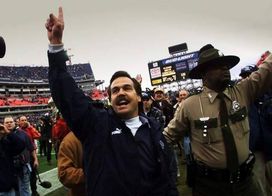 Jeff Fisher celebrates The Music City Miracle.
1. Bills-Titans 2000. This was the Music City Miracle. The Bills had a rousing comeback and took a one point lead with 16 seconds left. The Titans appeared done. Lorenzo Neil fielded the ensuing kickoff for the Titans, then handed off to Frank Wycheck. He threw it across the field to Kevin Dyson, who ran the ball 75 yards for the touchdown with no time remaining on a play called "Home Run Throwback." The Titans took the momentum of the game all the way to the Super Bowl. I was at the game in Nashville and still have vivid memories. The Bills were crushed by the loss. Then Bills general manager John Butler was one of the greatest guys in the business before his passing. Always had a smile on his face when you saw him. But the day after this game, I made the not so smart move of calling him. I'll never forget how he answered the phone. "What the hell do you want?" We had a good laugh about it a couple years later.
Scout Talk: Outside Linebackers in the 2012 Draft
There does not appear to be a top of the draft outside linebacker this year. Bruce Irvin of West Virginia carried high grades early, but his stock has fallen according to a few scouts I've spoken with. He still is an attractive candidate for 3-4 teams because of his explosive first step, but Irvin can't do much beside pass rush, and some scouts question his intangibles. He could be taken off some draft boards, and isn't likely to be taken before the second round.
It's possible four outside linebackers—Zach Brown of North Carolina, Keenan Robinson of Texas, Danny Trevathan of Kentucky and Lavonte David of Nebraska--could be chosen ahead of Irvin.
Brown, who has excellent size and athleticism to make plays sideline to sideline, might be the only slam dunk first rounder. Teams with four man fronts will like him a lot better than teams with three man fronts.
Robinson had a good season and is athletic and physical. Trevathan is a little undersized but his movement skills will fit great in some 4-3 schemes. David scores high with instincts and toughness, but isn't quite as big as you'd like.
Two backers who could be third round considerations are Notre Dame's Darius Fleming (he'll be coveted by 3-4 teams for his pass rush) and Oklahoma's Travis Lewis (his 2012 season didn't live up to the hype, but he still has potential).
Others to keep an eye on include Brandon Lindsey of Pittsburgh, Brandon Marshall of Nevada-Reno, Sean Spence of Miami and Nigel Bradham of Florida State.
One Man Yelp: Through My Eyes
Books by 24-year olds usually aren't substantive enough. Most 24-year olds haven't lived enough to fill up an interesting 300 pages or so. Tim Tebow, as we all know, is different in a lot of respects.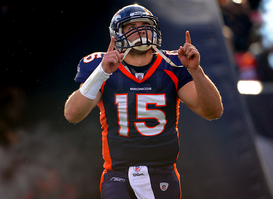 Tim Tebow's new book reveals a lot about the Denver QB.
His book, Through My Eyes, written with Nathan Whitaker, has some filler in it. But it also has quite a bit of information that helps the reader understand who Tebow is and why he is who he is. As someone who admires Tebow, I enjoyed the book, which is dedicated "those who have been told they couldn't achieve their dreams." If you are Bill Maher, or share his views on Tebow, you won't enjoy the book.
Here were some of the highlights for me.
*The three Tebow boys were prohibited by the parents from talking about their own accomplishments unless they were asked by someone. However, if someone else complimented one of the boys on their character to their parents, the kid was give a dollar. Tebow credits this with helping develop humility and perspective. Interesting parenting lesson.
*Tebow decided he was ready to "accept Jesus into my heart," at the ripe old age of six years old. He was concerned at that age about going to heaven if he died suddenly.
*Tebow has dyslexia and is a kinesthetic of tactile learner. That means the Broncos undoubtedly have to make adjustments in how they present him with playbook and game plan information. Through the help of his mother, who home schooled him, Tebow said he never felt as if he had a disability, just a difference.
*When he was heading into high school, he went on a "Burly Man retreat" in which one of the competitions was to see how many times each contestant could curl 55 pounds. Tebow slid to the back of the line because he wanted to know what number he had to beat. But there was one boy in back of him, so he wanted to put up a number that could not be beaten. He wrote that the kid with the most reps before him had 55. He beat the number, and kept going. He said at 175 reps, his arms were really hurting. By 225 reps, the pain was replaced by numbness. He finally quit at 315 reps, and couldn't straighten his arms for two days after.
Hot Reads
*If lightning bolts make you nervous, do not stand near Terrell Suggs during the Ravens next game.
*The problem is not having captains, Rex Ryan.