July 14, 2013 -
Dan Pompei
NFP Sunday Blitz
When it comes to which player will top all rookies in sacks in 2013, there definitely are ample candidates. For sure, proven college-level pass rushers such as Ziggy Ansah (Detroit), Barkevious Mingo (Cleveland), and Jarvis Jones (Pittsburgh) come to mind.
But at least one talent evaluator of sorts includes a dark-horse candidate for inclusion in the presumptive group of sack men. The best potential pass-rusher from the rookie crop might well be Green Bay first-rounder Datone Jones, former NFL end Chuck Smith feels.
Smith, who played most of his career in Atlanta, spends much of the offseason working with rookie and veteran defensive linemen, fine-tuning their pass-rush technique. His verdict from among the first-year players he tutored this spring? "Datone Jones is the most explosive guy of the bunch, (and he) really comes hard with that first blast and has natural (sack) instincts," assessed Smith, who has been a defensive line coach with two NFL teams and also at the University of Tennessee. "I think he's the best rusher. He uses his hands really well, and uses his length to kind of create leverage. I'm really high on the guy."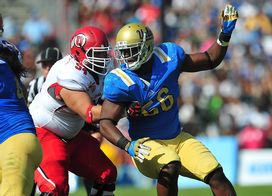 Jones recorded 6.5 sacks with the Bruins in 2012.
The former NFL standout, who emphasizes "two-foot(ed) explosiveness," worked several days with Datone Jones and feels the Green Bay first-rounder possesses more raw pass-rush potential than many scouts projected.
The Packers, who chose Jones with the 26th overall selection 2 1/2 months ago, didn't necessarily tab the former UCLA star because of his pass-rush skills. He should be a "base" player in their 3-4 front – probably at right end, where the club deployed three different starters last year in games where it didn't open in a "nickel" look – and could give the team a strong three-technique end versus the run. But he could also provide enough pocket pressure to move inside on some passing downs, and contribute in "sub" situations.
That would be a bonus, but it's one the Packers, who have relied principally on Clay Matthews to provide the rush, will gladly take. A return to health by 2012 first-rounder Nick Perry, limited to six games and two sacks as a rookie by a wrist injury, would be a good start. But getting more push upfront, possibly from Jones, would also be a big boost.
Datone Jones had a modest 13.5 career sacks at UCLA, with a high of 6.5 in 2012. Jarvis Jones, by comparison, had more than that just in his final season at Georgia, and he should benefit immensely from a Steelers' scheme in which the outside linebackers are the primary edge rushers. Datone Jones won't get nearly as many opportunities to collapse the pocket. Playing in a 3-4 scheme, and given that run-anchoring duties will be so prominent, the Green Bay rookie generally isn't included when any kind of discussion turns to solid pass-rushers in the '13 rookie class.
"But he's just starting to scratch the surface (as a rusher)," Smith, a pass-rush student who owns an extensive video library of some of the game's great sackers in history, told NFP. Some scouts before the draft cited Datone Jones' relatively short arms and wingspan as a negative. But Smith doesn't view it as an issue. "He's just got the tools and the feel," Smith said.
Green Bay linemen produced only 11.5 of the team's 46 sacks in 2012. The group's top sacker was reserve Mike Neal, with 4.5. Since Dom Capers introduced the 3-4 in 2009, the Packers have had only two linemen with more than five sacks in a season, and both of those – the departed Cullen Jenkins (7) and B.J. Raji (6.5) – were in 2010. Green Bay coaches will be more than thrilled if Datone Jones produces that type of production as a rookie. At least one man, Smith, thinks he could.
+AROUND THE LEAGUE
*After two seasons in a 4-3 front under former coordinator Dick Jauron, the Cleveland Browns will switch back to a 3-4 for 2013, now that Ray Horton is designing the scheme. The transition to the 3-4, which the Browns last played in 2010 under Rob Ryan, won't come without some hiccups, although Cleveland coaches feel it's going well so far. One component that could aid in the switch is the flexibility that Horton and defensive line assistant Joe Cullen should get from Phil Taylor and Ahtyba Rubin.
"I think" said Taylor, who played some nose tackle in college at Baylor, "that we (he and Rubin) can play anywhere. We're comfortable with each other, and really like what the (new) defense offers us."
The titular starter at the key nose tackle spot figures to be Taylor, who has played two seasons in the 4-3, but who many scouts felt was the top 3-4 nose candidate when the Browns took him in the first round in 2011. Rubin, who was a standout in the 3-4 a few years ago – some personnel people thought he was among the best young, emerging nose tackles in the league at the time – will be the left end. But Horton and Cullen figure to flip the two linemen from time to time, much as Capers did with Raji and Ryan Pickett in Green Bay last season. Pickett started only one game at nose tackle in a "base" 3-4, but often moved inside during games, with Raji switching to the outside, to create better matchups.
The Browns, because of the position flexibility Rubin and Taylor afford them, likely will do some of the same. "We're not necessarily going to pigeonhole people," Horton promised. Taylor likes the maneuverability that the 3-4 affords him and the rest of the defenders. "We can mix and match," he said. "And we'll be able to mix it up with offenses." The Browns' defense ranked 23rd statistically in the two seasons it was in the 4-3. Even though Taylor wasn't around for the 3-4 in 2010, when it rated 11th in the league, he and others feel the conversion will afford the unit a lot more aggressiveness.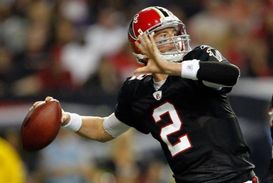 With Matthew Stafford locked up through 2017, Matt Ryan now becomes the next QB in line for a fat new contract.
*An Atlanta Falcons official said this week that the three-year, $43 million contract extension for Detroit's Matthew Stafford – which essentially created a five-year, $76.5 million deal, since he had two years remaining on his original contract – "won't seriously affect" ongoing negotiations on an extension for quarterback Matt Ryan. "It's another piece of the puzzle, more information, but . . . we kind of all have a feel for where we have to be," said the official. Ryan is entering the final season of his rookie contract, signed in 2008, but the discussions between the Falcons and agent Tom Condon haven't been contentious (at least publicly), and there doesn't seem to be any reason a deal won't get done. Most observers expect Ryan to be the league's next $20 million-a-year player, probably before the season starts.
*It will be interesting to see if Monday's deadline for signing "franchise" players to long-term extensions – players who don't sign long-term deals by the end of league business July 15 can't do so until the end of the season – produces any action. Six of th e eight designated "franchise" players have signed their one-year tenders, and there doesn't seem to be much impetus on longer-term contracts for them. Perhaps the most high-profile talks are between the Broncos and left tackle Ryan Clady, one of the two "franchise" players yet to sign his one-year tender. We've long felt that Clady, who has started every game in five seasons in the league (including in 2010, when he suffered a patella tendon tear in April of the offseason), and who has made three Pro Bowl appearances, would become even more valuable after Denver signed Peyton Manning last year. And that seems to be the case. Broncos' officials will privately concede that they rank the former first-rounder among the top four left tackles in the league – along with Jason Peters of Philadelphia, Cleveland's Joe Thomas, and Jake Long of St. Louis – and they'll have to pay him as such to complete a long-term agreement.
*Encouraging to see the reports this week that San Francisco, which apparently auditioned Austin Collie last month, has some interest in the former Indianapolis wide receiver, whose promising career has been curtailed by multiple concussions. Peyton Manning, who connected with Collie on 15 touchdown passes in the receiver's first two seasons in the league, will attest to the work ethic, smarts and toughness out of the slot of the 27-year-old pass-catcher. But, given the NFL's emphasis on safety and concussion protocols the past few seasons, it will be interesting to see if anyone takes a chance on Collie, who has worked out for at least one other team (New England) in the offseason. Collie, who ironically missed all but one game in 2012 because of a patella tendon injury, has publicly stated he will sign a waiver that will eliminate liability for teams in the event of an injury. But executives from several franchises who are intrigued by Collie, and his potential value as a slot receiver, have privately suggested they're reluctant, not just because of his history, but also because of the league's very conspicuous concussion initiatives. "He's not an untouchable . . . but, with all the attention (concussions) have gotten the past few years, and all the litigation and stuff, it would be hard (to sign him)," one personnel director acknowledged.
*There are only three players in the league who have registered 11 or more sacks in each of the past three seasons. We'll give you the first two: Jared Allen and DeMarcus Ware. Want to guess the third? Well, if you said Seattle defensive end Chris Clemons, you're a pretty astute student of the game. We note Clemons because he seems to be recovering fairly well from the ACL injury he suffered in the wild card round against Washington six months ago and, while the Seahawks will take things deliberately with his rehab, there is a chance he could be ready for camp and to start the season. For now, at least, the Seahawks are considering the PUP list as only a remote possibility. Clemons has never missed a regular-season start in his three seasons with the Seahawks, after the team acquired him from Philadelphia in one of the best under-the-radar heists in recent history. Clemons had started only three games in his career before moving to Seattle and, despite being regarded as a pass-rush specialist, had only 20 sacks in six seasons. But he's found a home in Seattle, and in opponents' backfields, the past three years. The team has bolstered its rush this offseason with the additions of ends Cliff Avril and Michael Bennett, and, if Clemons is healthy, that should give him some help off the edge.
*Funny what a couple of seasons away from the league will do a player's ego and sense of self-worth, right? Witness the case of Pat White, the onetime West Virginia star quarterback drafted by Miami in the second round in 2009, who has been out of the NFL since 2010, and was even released by a UFL franchise. White acknowledged last week that he is willing to play a position other than quarterback if it affords him a chance to make the Washington roster. If White had similar thoughts four years ago, he might not have suffered his ignominious hiatus from the league. A number of league personnel people, two of whom spoke to NFP last week, contended that, in the spring of 2009, they advised White to work out for prospective suitors at positions (wide receiver, perhaps safety) other than quarterback, and that the player and his family refused. "I remember telling his father, 'It can't hurt him. If people still think he can play quarterback, fine, but show them everything,' " one personnel chief, looking back through his '09 pre-draft notes on White, recalled. "But they would have none of it."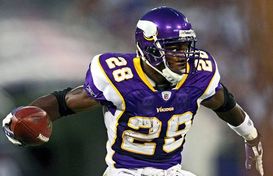 Can Adrian Peterson become the first player in league history to post back-to-back 2,000 yard seasons?
*Adrian Peterson bucked incredibly long odds when he rehabilitated from the left knee injury (torn ACL and MCL) sustained on Christmas Eve 2011, in the next-to-last game of that season, to start in the 2012 opener. In becoming the seventh player to go for 2,000 yards, Peterson registered 2,097 yards, second most in NFL history. But to become the first player in NFL history to twice rush for 2,000 yards in a season, the Minnesota star tailback, arguably the premier runner in the game, will next have to overcome history. There were six 2,000-yard rushers prior to Peterson last year. Excluding Terrell Davis, who was sidelined by injury for all but four games in 1999, the other players each started at least a dozen contests in the season following their 2,000-yard performance. But none came close to 2,000 yards. In fact, in terms of percentage, their rushing totals dropped by between 27-51 percent. The average decrease was actually just shy of 40 percent. Their yardage slipped by between 562-1,060 yards. Only one of the players, Barry Sanders in 1998, went over 1,400 yards in the year following his 2,000-yard campaign. And none averaged more than 4.3 yards per carry, after all averaged 5.3 yards per attempt or better in their 2,000-yard seasons. Despite all those numbers, no one is betting against Peterson, 28, defying both the odds and the history.
*Regular "Sunday Blitz" writer Dan Pompei typically includes his "Sunday Best" in his column and it's always a good and provocative read. Since that's Danny's gig, and he does it best, we certainly don't want to infringe. But in light of the NFL's annual supplemental draft passing Thursday with none of the six eligible players being chosen, NFP polled four personnel men (who actually weren't on vacation) during the week, to solicit their reads on supplemental players from the past. So here's their "Sunday Best" quintet of players who entered the league via the supplemental draft:
1. Cris Carter, wide receiver (Philadelphia, fourth round, 1987)
2. Bernie Kosar, quarterback (Cleveland, first round, 1985)
3. Jamal Williams, defensive tackle (San Diego, second round, 1998)
4. Rob Moore, wide receiver (New York Jets, first round, 1990)
5. Mike Wahle, offensive guard (Green Bay, second round, 1998)
Carter, of course, is the lone player chosen in the supplemental draft to be voted into the Hall of Fame. A few other guys – like RB Bobby Humphrey, QBs Steve Walsh and Dave Brown, LB Ahmad Brooks, and OT Jared Gaither, also were mentioned.
*With the second preliminary list of Hall of Fame candidates for the Class of 2014 likely to be distributed to selectors in the next few weeks, it's notable that, while there are 31 quarterbacks with busts in Canton, none have been added since the Class of 2006, when Troy Aikman and Warren Moon were enshrined. That's a record seven straight HOF classes – the previous record was six straight (the 1994 through '99 classes) – without a quarterback being named. A fairly long time without a player from the game's most high-profile position, right? Perusing the potential quarterback candidates from the first confidential list for the Class of '14, the drought will almost certainly stretch for another year. There hasn't been a quarterback finalist since Aikman/Moon, not even been a semifinalist since Ken Stabler in 2009. Unless the seniors committee comes up with a candidate, the likely next quarterback to have a viable chance to end the streak is Kurt Warner, who will be eligible for the 2015 group. After that, Brett Favre, barring any kind of incredible set of circumstances, is a lock for the Class of 2016.
*In last week's "Sunday Blitz" we made an egregious error in delineating some statistics from the career of legendary defensive coordinator Monte Kiffin, now with the Dallas Cowboys, after four seasons away from the league. No excuses. The mistake was on me. We apologized to the readers, and to Kiffin, in the comments section following the column, but this further apology is certainly in order. A "one-man yelp," as Dan Pompei would regularly write, became one man's "yikes!" So, again, our apologies.
SHORT YARDAGE
*Expect the NFL to handle Denver personnel executives Matt Russell and Tom Heckert, both recently charged with DUI infractions, in a similar fashion to how the league sanctioned Lions president Tom Lewand following a 2010 DUI. Lewand was suspended for 30 days and fined $100,000. . . . Ironic that many of the players who felt the league was slow to adopt standards toward improved safety are some of the same ones griping about the league's emphasis that all players wear thigh and knee pads in games. . . . The Falcons signed free agent tailback Steven Jackson ostensibly to replace the deposed Michael Turner as the starter on the field. But the Atlanta brass also felt that Jackson would provide leadership and, in that regard, the Falcons' brass hasn't been at all disappointed by the nine-year veteran. The team lost a major locker room presence when center Todd McClure retired after 14 seasons. So far, Jackson has nicely filled the void. . . . With the aforementioned switch of the Browns to a 3-4, third-year veteran Jabaal Sheard will move from end to right outside linebacker. Sheard, who had 15.5 sacks in two seasons in the 4-3, is said to have taken well to the transition. "He's been sharp both mentally and physically," Horton said. . . . On the subject of switches, the Seahawks plan to move second-year defender Bruce Irvin from end to linebacker this season. Irvin, who led all rookies in sacks in 2012 (8), will miss the first four games of the season because of a league suspension for testing positive for performance enhancing drugs. But the Seahawks point out that Irvin, a first-round choice in 2012, will participate in training camp and the preseason, before the suspension kicks in, and that he should be able to get through most of the rough areas. . . . It would be hyperbole to assign the term "alarmed," but Green Bay officials and coaches were less than pleased that several of the club's defensive linemen reported in less than optimum shape for minicamp work. . . . Stafford's extension actually reduced his '13 salary cap hit by more than $3 million and should save the Lions more than $6 million in 2013-2014. . . . Veteran Lions' defensive coordinator Gunther Cunningham, one of the best in the league for a long time, recently noted that read-option quarterbacks could eventually become an endangered species. But that hasn't stopped at least four teams from either meeting with, or discussing at length, with college cohorts, the methods for defending the read-option. His assessment aside, Cunningham allowed that the read-option quarterbacks do present some problems in spreading out a defense and requiring more run support from cornerbacks. . . . Chuck Smith, cited earlier, lists Cincinnati tackle Geno Atkins as the most explosive interior defender with whom he has worked in recent years. A three-year veteran, Atkins is an emerging star, posted 12.5 sacks in 2012 (the best in the NFL for inside players, has 20 sacks the past two years, and has made a couple Pro Bowl appearances. . . . Arizona coaches and players insist that the alleged demise of quarterback Carson Palmer's arm strength simply isn't true. Palmer, they say, can still make every throw, and has demonstrated not only arm strength, but also touch, on the deep ball. . . . Tampa Bay coaches feel that second-year strong safety Mark Barron, who started all 16 games in 2012 but had only one interception, will make a big leap in 2013, given the presence of free agent safety Dashon Goldson, the revamping of the secondary in general, and the experience with which the former Alabama star will enter the campaign. The Bucs were far from disappointed in Barron last year, but feel that he will become an even more accomplished big-play defender in his second go-around. . . . Kudos to Hall of Fame guard Joe DeLamielleuere, who is walking from Buffalo to Canton to raise funds for and awareness of Grace's Lamp, an organization that addresses the needs of children who have outgrown their prosthetics and can't afford new ones.
BY THE NUMBERS
*Even though wide receiver Josh Gordon enjoyed an excellent rookie season for Cleveland as a supplemental choice in 2012 – 50 receptions, 805 yards and five touchdowns, although he has been suspended for the first two games in 2013, for a violation of the NFL's substance abuse policy – there's a reason that every club passed on the six players who were eligible for this year's special-cases draft. Ten of the 42 players chosen in the supplemental draft since its inception in 1977, when the Seattle Seahawks tabbed Notre Dame running back Al Hunter with a fourth-round choice, never played even one regular-season snap. Nineteen either never did (before their retirements) or never have started in a regular-season contest. The average player from the supplemental drafts has logged 43.1 appearances and 27.5 starts. Even eliminating the prospects chosen since 1999, to make the games-played numbers a bit more relevant, the averages are only 46.3 appearances and 30.6 starts. Thursday marked the 10th time in 37 years that no players were chosen in the supplemental draft.