March 25, 2012 -
Dan Pompei
NFP Sunday Blitz
As you read this, the Denver offense is changing like a teenager who just hit puberty. You might not recognize it by the morning.
Any coach would have to make significant changes going from Tim Tebow to Peyton Manning. Some, however, would be more resistant to it than others. Most coaches talk a good game about bending their systems to suit their players, but very few do it as well as Mike McCoy.
The Broncos offensive coordinator is the perfect coach to oversee the second act of Manning's career. As coaches go, he's a pipe cleaner man, willing and capable of being bent and shaped to best suit his players, and especially his quarterback.
McCoy talks excitedly about adapting to Manning's strengths. He wants the Broncos offense to be what Manning wants it to be. He learned from Dan Henning about the importance making the quarterback comfortable.
"You have to utilize your players' talents to the best of their ability, and it all starts with the quarterback," McCoy told me. "I always say I don't care what we want to do, but what can our players do well? That's where it all starts."
Why should Broncos fans believe McCoy? Because he has a history of malleability.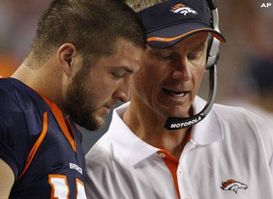 Mike McCoy works with Tim Tebow.
Last season the offense the Broncos had installed and practiced through training camp was designed from Kyle Orton and a classic dropback passer. Then Tebow became the starter. Tebow threw 27 and 39 times in his first two starts, and then McCoy and the Broncos coaches decided to start changing the offense on the fly. It was a progressive change because it involved every man on offense, but McCoy kept expanding the offense week to week.
"It goes back to good players make good coaches," he said. "So if I was going to force feed him with things he didn't do well, then we're not very smart as a staff. It's our job to adjust."
Now along comes Manning, who is about as far from Tebow as possible in terms of experience, accuracy and mobility. The fact that Manning has played in 208 games and thrown 7,210 passes will open up a world of possibilities for McCoy and the Denver offense.
Change is foreign to Manning, however. He has spent all 14 years in one system. Thirteen of those years were with the same offensive coordinator, Tom Moore. Manning's work ethic and McCoy's flexibility should help ease him into a new offense.
McCoy said he plans on carrying over some of the principles he is a firm believer in, especially in the running game. As for the passing game, McCoy has spent quite a bit of time recently studying Colts tape and he plans on incorporating some of what Manning did in Indianapolis. "It will be trial and error," said McCoy, who likely will be a head coach soon. "That's why you have OTAs and training camp."
McCoy even plans on changing some of the verbiage so Broncos are talking like Colts. "He's the guy pulling the trigger," McCoy said. "He's the guy who has to play fast, direct traffic. So we'll change some things."
McCoy also will allow Manning plenty of flexibility at the line of scrimmage, given the success he has had choosing plays. He said in the past, McCoy has given quarterbacks the option selecting from two plays at the line, but he's never given quarterbacks the option of choosing from three plays, which Manning is known for. "When you have quarterbacks like this you have the flexibility to do that," he said. "As a coach you love it because you may call a bad play but he can put you in a better situation."
McCoy said it will be "an honor and privilege" to coach Manning. My bet is Manning is going to be quite happy playing for McCoy, too.
Things I Didn't Used To Know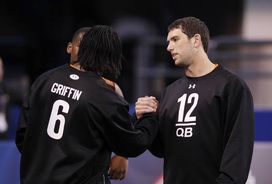 Andrew Luck still is No. 1 in the eyes of many.
*The buzz about Robert Griffin being chosen ahead of Andrew Luck doesn't fly with a lot of astute NFL front office men. It's common for a player who has been No. 1 for a long time to start getting knocked close to the draft, however. Why do a good portion of talent evaluators like Luck more? He has performed at a high level for four years compared to one for RGIII and is further along. He played a pro style offense whereas RGIII played in an unconventional offense. He shows better ball placement. He is better at avoiding pressure in the pocket, working through progressions and finding open men. He is stronger and sturdier. The argument for RGII is that he has better arm strength and might have a higher ceiling. But many NFL men think Luck remains the surest bet in the draft, and that matters when the player goes No. 1 overall.
*By signing Vincent Jackson, Carl Nicks and Eric Wright, the Bucs also enticed Ronde Barber to return for his 16th NFL season. The Bucs tried to get Barber back before free agency started, but Barber told the team he wanted to wait and see if the team did anything in free agency. The soon to be 37-year old was excited by the moves. The next move will be determining where Barber fits in Bill Sheridan's new defense. Barber knows it will be open competition. It is possible he will remain a starter, or he could be a nickel player, or even a dime player. The team has not even ruled out a move to safety.
*The Seahawks were the right place for Matt Flynn for a couple reasons. He isn't being counted on to play like he did in the regular season finale for the Packers. In fact, he might not even be counted on to start. My Seahawks sources wouldn't be surprised if Tarvaris Jackson beat him out, given that Jackson played pretty well the second half of the season. And the Seahawks still are looking at QBs in the draft. The other factor is Seahawks general manager John Schneider had special insight into Flynn. He was part of the Packers crew that drafted him, and he also is one of Mike McCarthy's best friends in the business. After visiting with Flynn, Schneider told associates he was impressed with how Flynn had matured and how his leadership and confidence had grown since they were last together two years ago.
*The Bengals' backfield makeover isn't about dissatisfaction with Cedric Benson as much as it is about molding the offense to suit Jay Gruden's offense. BenJarvus Green-Ellis, who signed with the team last week, is a similar style player to Benson (except for the fact that Benson has fumbled once every 49 carries over the last two years and Green-Ellis never has fumbled in his career). But the team intends on using more of a running back by committee approach than it did in the past. The Bengals are looking at backs with speed, receiving skills, and the ability to pass protect. It's possible Bernard Scott Brian Leonard will have enhanced roles next season, and it's also possible the team will add more to the backfield.
My Sunday Best: Broncos Who Were Not Home Grown
Peyton Manning will be in good company as a Denver Bronco who was not drafted by the team. A number of great players joined the Broncos after starting out elsewhere. Here is a list of my best players who spent time in Denver but were not home grown.
Champ Bailey—He already was the best cornerback in the game when he came over from Washington in the Clinton Portis trade, and Bailey has maintained a high level of play. He has been voted to the Pro Bowl in seven of his eight seasons as a Bronco.
Tony Dorsett—The Cowboys traded a 34-year old Do rsett for a fifth round pick. He lasted one season in Denver.
Cookie Gilchrist—After starting his AFL career with the Bills, this fullback was voted to the last of his four Pro Bowls with the Broncos after a 954 yard rushing season in 1965.
Tombstone Jackson—After starting out with the Raiders, Jackson spent five seasons with the Broncos. He was all-AFL or all pro in three of them. Legendary football writer Paul Zimmerman of Sports Illustrated thought Jackson, who was known for his head slap, may have been the best pass rusher he ever saw.
Craig Morton—Roger Staubach beat him out with the Cowboys in 1974 after Morton had been in Dallas for a decade. From there, it was three years with the Giants and seven with the Broncos, for whom he played some of his best football.
Haven Moses—The Broncos traded for this fine wide receiver five years into his career, and Moses played nine pretty productive seasons for his new team, even making a Pro Bowl.
John Lynch—He is remembered mostly for 11 fine seasons as a Buccaneer. But he finished strong in Denver after getting cut by the Bucs, making it to four straight Pro Bowls.
Neil Smith—After nine years in Kansas City, he played three years in Denver when his best days were behind him.
Bill Romanowski—After stints with the 49ers and Eagles, this linebacker made it to two Pro Bowls and two Super Bowls with the Broncos.
Jim Turner—This onetime Jet was the Broncos kicker for nine seasons, including in 1977 when the Broncos made it to the Super Bowl.
Lionel Taylor—He jumped from the NFL Bears to the AFL Broncos in 1960, and went from playing linebacker to wide receiver. It was a great move, as Taylor was a four time AFL all pro in Denver.
Gary Zimmerman—He was a rarity because it isn't often you see a premier left tackle jumping teams mid career. Zimmerman was traded to the Broncos after seven strong seasons for Vance Johnson and first, second and sixth round picks. He continued to dominate for another five years before retiring.
Scout Talk: Outside Linebacker Projections
This draft class features a healthy group of players who could be considered as 4-3 defensive ends or 3-4 outside linebackers. The tricky part is identifying which players suit which defenses best. I asked several front office men about the players who are strong possibilities for both positions. Here are some of their thoughts.
Andre Branch, Clemson. At 6-4, 259, Branch has the athleticism to stand up. He can bend, turn and burst to get to the passer. He is similar to Whitney Mercilus, except not quite as dynamic. However, instincts could hold him back at OLB, according to one front office man.
Vinny Curry, Marshall—Physically, there is no doubt the 6-3, 266 pounder can play linebacker in a 3-4. He explodes off the edge and can get under blocks. Curry has speed and is a natural pass rusher. The only issue, according to multiple scouts, is whether or not he can learn a new position and master it.
Melvin Ingram, South Carolina—He moved around a lot in college and has experience playing OLB, but NFL teams have struggled finding a position for him in the pros. At 6-1, 264, Ingram may be too short and compact for outside linebacker. He has 31