September 04, 2011 -
Barry Dorey
NFP Sunday Blitz
So I'm talking to a front office guy awhile back. We get on the topic of Aaron Rodgers. "He looks like a completely different player from when I studied him at Cal," he tells me.
So on a recent trip to Green Bay, I did a little research on the quarterback who will lead the defending world champions against the Saints on Thursday night.
The short answer is this: the changes in Rodgers since he was drafted in 2005 have been less dramatic than you might think. But little changes have made a big difference.
The first change is Rodgers moves better. There is no doubt about it. He appears more athletic, and is a bigger threat to gain yards with his feet.
What can we attribute this to? Rodgers is in better shape, and he has worked at his movement skills. "His body looks a little different than five years ago," Packers coach Mike McCarthy told me. "He probably was thicker in his legs back then. Now he's more proportioned, a lot leaner."
Just this past offseason, Rodgers told me, he lost five pounds. He's down to 220, with a lower body fat percentage.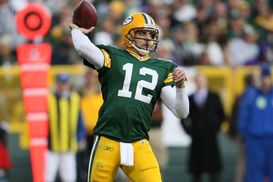 ICONPackers QB Aaron Rodgers just keeps getting better and better.
A more athletic Rodgers has become a more difficult Rodgers to corner in the pocket. "It's not that he couldn't move in college, but he didn't play that way back then," McCarthy said. "We work on scramble drill every day."
That's not all the Packers work on. Twenty minutes before practice begins every day, McCarthy has the quarterbacks work on footwork. They jump rope, they do a box drill, bag drills, a pocket drill. They work on agility and transfer of weight. So if Rodgers is moving better, it's because he's worked at moving better.
Rodgers, though, probably has more natural athleticism than anyone gave him credit for back in 2005.
McCarthy went down to the team cafeteria for a cup of coffee earlier this month and bumped into Rodgers. With soccer highlights on TV, Rodgers told McCarthy he played soccer as a kid. He also told him when he was a young teenager, he could run five miles and do 50 pushups. "I told him I didn't have him graded high enough athletically,'" he said. "If I had some of that information, I probably would have graded him higher."
McCarthy, who is a quarterbacks coach first and foremost, and Tom Clements, who is the Packers titular quarterbacks coach, also have emphasized Rodgers' footwork with how it relates to throwing. They have gotten him to throw using his feet. Rodgers believes this has made him a better on the long balls. "I became more efficient with my ground up throwing," he said. "I became a better deep ball thrower. It's having my feet in better position, my body positioned better and being able to be more accurate."
It is a concept that was passed on to McCarthy from Paul Hackett when they worked together at the University of Pittsburgh. Hackett knew how important footwork was to Joe Montana, and McCarthy now believes the key to a quarterback is his feet.
Rodgers arm strength never has been questioned. Though McCarthy had Alex Smith rated ahead of Rodgers in the 2005 draft, he thought Rodgers clearly had the best arm strength of any QB in the draft. "When I went to his [pro day] workout, to this day it was the best one I've ever been to," McCarthy said. "He threw the ball all over the place that day. I didn't expect that. I still remember a couple rolling to his right, throwing back to his left. You saw the 65 yard throws."
McCarthy and Clements did not have to mess with Rodgers' throwing motion at all. Rodgers takes exception to the notion that he throws differently now. "To set the record straight, the book that was written about myself after the Super Bowl [Aaron Rodgers: Leader of the Pack], it was 100 percent incorrect when he said that any coaching staff ever said anything to me about my throwing style. There was never anything once mentioned about me needed to make changes."
What was changed was Rodgers' ball carriage. Like all Jeff Tedford quarterbacks, Rodgers had been schooled to hold the ball above his shoulders, at ear-height. The Packers brought the ball down to shoulder height.
"Mechanically, he had very good throwing fundamentals before I got here," McCarthy said. We just took the ball carriage and made it more natural. I want my guy to play in controlled rhythm. When he transitions in and out of the pocket, it's all part of the motion. That has gotten him to play more naturally. If your arms are up like this, it's different. That's a locked position."
Initially, it was a bit of a shock to Rodgers. But eventually, he found a groove--an incredible groove that has made him one of football's finest players.
Said Rodgers, "It was the best thing for me."
Things I Didn't Used To Know
*Nnamdi Asomugha wants to expand his game from what it was when he was in Oakland. Before he signed with the Eagles, he told coach Andy Reid that even though he has been a man-press corner his whole career, he would embrace the opportunity to use other techniques. The Eagles subsequently have worked their corners quite a bit in off coverage concepts. Asomugha also volunteered to play over the slot in nickel, and the Eagles have used him in that role. Eagles coaches tell me Asomugha has been doing it all well, and they play on being diverse in coverage but they don't want to take away what Asomugha does best.
*Ricky Williams has found a home in Baltimore. The coaches there love him because he's been very professional and quiet. He's been the first player out at practice every day, and he came to work in fantastic shape. What's more—his pass protection has been outstanding. Williams looks like an ideal role player who can get five to 10 carries a game, including some short yardage work. Eventually, though, he could be pushed by promising rookie Anthony Allen.
*The Saints have more talent at defensive tackle than they thought they could have. Their original plan was to try to bring back Remi Ayodele, but the Vikings paid him more than the Saints thought he was worth. They didn't think they could afford Aubrayo Franklin, who had been a franchise player for the 49ers on eyear ago. As it turned out, the market dried up on Franklin even though he is regarded an outstanding run player. He signed a one year, $4 million deal with New Orleans, adding to a tackle group that already included Sedrick Ellis and Shaun Rodgers. The plan now is to play Franklin at nose tackle only, with Rodgers being mostly a nose who also can bounce to three technique, and with Ellis being mostly a three technique who can bounce to nose tackle.
*You can't blame Bucs cornerback Ronde Barber if he's rooting against Peyton Manning being able to start the season. Manning has started 227 straight games, the longest streak in the NFL. If he misses and Barber plays, Barber will have the longest consecutive start streak at 184 straight games. Barber already has started more straight games than any player at his position in history, something Manning has not done. And Barber has another reason to hope Manning is sidelined awhile. The Bucs host the Colts on Oct. 3.
*The Texans believe they can get more out of safety Danieal Manning than the Bears did. Their plan is to play him closer to the line than the Bears did with their Tampa 2 scheme. Texans coaches believe Manning is more valuable around the ball. They are high on his toughness, talent and work ethic.
*The Vikings are hoping Kyle Rudolph can make significant contributions as a rookie. Rudolph left Notre Dame early and didn't have the benefit of a regular offseason, but he flashed in training camp. Their coaches are considering using more two tight end sets with Rudolph and Visanthe Shiancoe on the field together. It's also worth noting that the second round pick appears to be developing chemistry with first rounder Christian Ponder, which bodes well for the long term future of the tight end.
My Sunday Best: Preseason all stars
Nobody makes the Super Bowl or the Pro Bowl based on what they do in August, but if we were handing out individual honors for preseason play, these players would receive some. Here are some of the best preseason players this year. Who would you add to the list?
QB—Matthew Stafford, Lions. This guy has done everything well and looks like he is ready to fly. He gets the edge over Colt McCoy.
RB—Joique Bell, Saints. There was some stiff competition here, with Jamie Harper, Tim Hightower, Kendall Hunter, Ryan Matthews, Stevan Ridley, Armond Smith, Ben Tate and others tearing it up this season. But Bell is used to stiff competition. He stood out in a backfield that included Mark Ingram, Pierre Thomas, Chris Ivory and Darren Sproles.
WR-- Antonio Brown Steelers. He led the league in preseason receiving yards, and his playmaking ability and speed should show up in the regular season, too.
TE—Lance Kendricks, Rams. Injuries gave this rookie extra opportunities, and he's made the most of them. Put an asterisk next to his name on your fantasy football draft list.
OT—Gabe Carimi, Bears. He may not have been the most dominating blocker in the NFL, but given what the Bears have been working with at tackle, Carimi looks like a godsend.
G—Wade Smith, Texans. He's been a key piece of a very effective unit.
C—Phil Costa, Cowboys. Beating out Andre Gurode merits a tip of the cap.
DE—Ryan Kerrigan, Redskins. It looks like his hard-charging style will enable him to make a quick impact playing opposite Brian Orakpo.
DT—Vaughn Martin, Chargers. This Jamaican came to the Chargers by way of Canada and has been considered somewhat of a developmental project. Based on his three preseason sacks, it looks like Martin might be ready for prime time.
OLB—Shawne Merriman, Bills. He only played a very limited amount, but that's all he needed to do to leave an impression. If Merriman is healthy, look out.
ILB—Bobby Carpenter, Lions. This former first round pick has been a tackle machine.
S—Jim Leonhard, Jets. Coming back from a broken leg, he picked off two preseason passes.
CB--Brent Grimes, Falcons. The Pro Bowler has made a lot of plays on the ball, and could be taking his game to a higher level.
One Man Yelp: Football Outsiders Almanac 2011
I always look forward to reading the insights of Aaron Schatz in his yearly Football Outsiders Almanac. He and his team of researcher/writers come up with some unconventional statistical ways of evaluating performances and identifying trends. His latest effort did not disappoint.
Here are some of my favorite tidbits from the book.
*Jamaal Charles' 2010 season was one for the ages. His 6.38 average per carry was the best single-year mark by nearly a quarter yard—of any back with at least 100 carries since the late 70s. But his chances of getting near that average again are not good, based on the history of what other backs have done. Only one running back has averaged 5.5 yards per carry or better in two straight years. Charles, interestingly, has struggled in the preseason.
*The Patriots used two tight ends an NFL-high 57 percent of the time last year. No other offense was above 40 percent. This is a great example of how Bill Belichick adjusts to his personnel better than the large majority of coaches. In 2010, he had Aaron Hernandez and Rob Gronkowski. The year before, when he had Ben Watson and Chris Baker, the Patriots used two tights on 34 percent of plays.
*Even though Cardinals coach Ken Whisenhunt is a former tight end, his team ignores the position more than any other. They went without a tight end on 36 percent of offensive plays in 2010, and no other team as above 25 percent.
*The average age of the Steelers defensive starters is 31.5. Only Lawrence Timmons and LaMarr Woodley are under the age of 30 if Ziggy Hood is a reserve. This likely will be the oldest defense of the century by more than one year.
*Chris Long had a better year than a lot of us realized. The second pick of the 2008 draft had an NFL-best 42.5 quarterback hurries to go along with his 8.5 sacks.
*The Packers used an empty backfield on a league-high 11 percent of their plays last year. Now that the Packers have some depth at the running back position with James Starks having established himself and Ryan Grant coming back from injury, it will be interesting to see if they reverse that trend.
*Scott Linehan loves the shotgun. The Lions used it on 64 percent of their snaps last year, which was the highest rate in the league and possibly the highest rate in history. The Lions averaged 5.7 yards per pass play in the gun and 4.2 yards per pass play when the QB was under center.
Hot Reads
*Nice