October 06, 2013 -
Dan Pompei
NFP Sunday Blitz
In the 2009 draft, the Jacksonville Jaguars selected offensive left tackle Eugene Monroe with the eighth overall pick, then chose right tackle Eben Britton early in the second round. The back-to-back choices, rationalized Jacksonville officials at the time, was aimed at setting up the franchise for the foreseeable future at what has become one of the game's most critical positions.
Just a little more than four years later, Monroe is gone, traded to Baltimore last week because he never quite lived up to expectations, and the Jaguars also wanted to make room for 2013 first-rounder Luke Joeckel to move from the right to the left side. Britton? He's gone as well, having been permitted to depart as a free agent, after having been switched to guard last season. The one-time second-round choice is now a Chicago Bears' backup.
The Jaguars are hardly the only team in the league to strike out with high-round tackles, as the past week certainly demonstrated, but they are reflective of the hit-or-miss component of choosing a premium player at the position. It used to be that quarterback was the most conspicuous position with a relatively high failure rate. And with quarterbacks, where beauty is often in the eye of the beholder, there is still a "boom or bust" element. But the offensive tackle slot, which in recent drafts has become so prominent, might be closing the gap.
"The game is so different now in college, with all the 'spread' formations and things like that . . . that it's become more difficult to project how (tackles) are going to be in our league," one general manager whose team took a high-round bust at tackle in the last few years told the National Football Post. "You always worried about the speed of the game, the fact that there were so many great (pass-rushers) in our league, and how (tackles) would be able to handle that. But it's gotten worse. We're seeing so many more guys wash out now (at tackle). It's a concern, and the first part of this season shows that, right?"
Indeed, the Pittsburgh Steelers were forced to trade last week for former Arizona first-round pick Levi Brown, a disappointment in his own right, because of the poor play of Mike Adams (2012) and Marcus Gilbert (2011), two former second-round selections who were supposed to buttress the position. In the past week alone, Brown and Monroe were both dealt. The Baltimore Ravens shipped a pair of middle-round picks, believed to be fourth- and fifth-round selections, to Jacksonville to replace Bryant McKinnie. Himself a former first-rounder, and arguably the unsung hero of the Ravens' Super Bowl run last season when he solidified the left tackle spot in the playoffs, McKinnie had not played well the first four games.
But McKinnie, a first-rounder way back in 2002 with Minnesota, and a guy that the Ravens are reportedly open to dealing now that they have Monroe onboard, is not alone as a high-round tackle who hasn't worked out. Heck, at least McKinnie has a Pro Bowl appearance and a Super Bowl ring on his resume. There are a lot of teams that have used high-round picks on tackles who can only wish the guys they drafted had emulated that kind of relatively modest success.
Said Kansas City coach Andy Reid in the spring, after the Chiefs selected tackle Eric Fisher with the draft's top overall pick: "It's become a little bit of a risk position, I guess, anymore. But you've got to have them."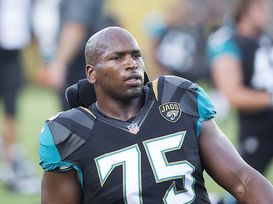 Monroe was shipped to Baltimore after 4+ unimpressive seasons with the Jaguars.
Over the past 10 drafts, in fact, teams have taken 37 tackles in the first round. Some have worked out and others have busted out. Consider a first-round as recent as the 2011 draft: Tyron Smith of Dallas has been solid. New England's Nate Solder has been a good player since supplanting longtime left tackle Matt Light. The Colts feel that Anthony Castonzo is growing into the position. But in Seattle, James Carpenter was limited by injuries to 16 games his first two seasons, and finally switched to guard. Even a spate of recent injuries couldn't prompt the Seattle coaches to move him back outside. Green Bay's Derek Sherrod hasn't played in a game since his rookie season, the victim of a gruesome leg injury. Chicago gave up on Gabe Carimi and dealt him to Tampa Bay.
To be fair, some of the shortcomings of the tackles, as in the case of Sherrod and a few others, were the result of injury. Nobody, obviously, can predict such setbacks. But some high-round tackles have just been bad, period.
Guys such as Jammal Brown and Alex Barron, both first-round picks in 2005, are out of the league entirely. True enough, the two both would be in their ninth seasons in the NFL if they were still playing; but tackle has historically been a position with a long shelf-life, so it's fair to assume both would still be productive under normal circumstances. There have been tackles, though, who have been abnormally bad. Jason Smith, the second overall choice in 2009, bombed with both St. Louis and the New York Jets, and isn't playing. Chicago first-rounder Chris Williams (2008) could never really cement the Bears' offensive line the way he was supposed to, bounced between tackle and guard, and is basically now just a journeyman. Fellow 2008 first-rounder Jeff Otah was a Pro Bowl-caliber player, but knee injuries did him in. Robert Gallery and Shawn Andrews, No. 1 choices in 2004, never lived up to their college reputations, and both ended up playing at guard. Given his lingering injuries and continuing inconsistency, one has to wonder if Atlanta is second-guessing itself on the fat extension it gave 2008 first-rounder Sam Baker in the offseason.
Even this season, while the sample size is admittedly a small one, the first-round tackles (there were five of them, all among the top 20 choices, including three of the first four picks) have struggled. "The transition," allowed Detroit 2012 first-round tackle Riley Reiff, who has become a full-time starter in his second season, "really is more difficult than a lot of guys expect. I mean, it's hard."
Hard, too, for the teams forced to deal with tackle wash-outs. And for the clubs, like Pittsburgh or Arizona or, yeah, Jacksonville, who have to compensate when high-round choices at the position don't work out.
+AROUND THE LEAGUE
*He is almost as bodacious as his more famous twin brother, but New Orleans first-year defensive coordinator Rob Ryan has made an incredible difference in the first four weeks of the season in a Saints unit that was, at least statistically, the worst in NFL history only a year ago. "He's been a blessing, really," said "edge" defender Junior Galette of the club's new coordinator. "Just the kind of character that he is, the (enthusiasm) for the job that he presents, it's great. Plus the scheme is better than what we were doing."
Most of the attention in the Saints' 4-0 start has gone to the return of head coach Sean Payton after his one-year banishment/hiatus from the NFL in the wake of the "Bountygate" scandal. And deservedly so, since the Saints, particularly on the offensive side, are a different team with him around. But the presence of Ryan has been a sort of under-the-radar factor, at least among national media, that's had a huge impact. Dead-last in the league in statistical defense in 2012, a nd 31st in points allowed, New Orleans ranks No. 6 and No. 5, respectively, right now in those two categories. Ryan is the third defensive coordinator that New Orleans has experienced the past three seasons, following Gregg Williams and Steve Spagnuolo. For Ryan himself, the New Orleans gig is actually his fourth different job in six seasons. But he seems to have found a home.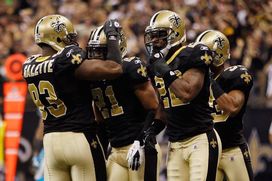 The New Orleans defense has undergone a significant transformation thanks to new coordinator Rob Ryan.
*On the team-operated website, the New Orleans depth chart is listed as "unofficial." The handle is certainly appropriate because, although the Saints and virtually every other media outlet that posts a New Orleans depth chart indicates the defense as a "base" 3-4 alignment, the unit has played a four-man front just about as often in 2013. In fact, because of knee injuries to Jonathan Vilma, Will Smith (who was to have been converted from his career-long end spot) and Victor Butler (who had played for Ryan in Dallas and was signed as a free agent in part to make the transition from a 4-3 easier), the focus hasn't been nearly as much on the linebacker contingent as it was originally projected to be. That's not to suggest the linebacker unit hasn't played well, but the Saints have gotten quality performances from a seven-man line group that features only one player (tackle Brodrick Bunkley) with more than three seasons of experience, and a refashioned secondary.
"It's been an overall effort," said erstwhile linebacker Galette, who has probably logged more time at his original NFL position, end, and who has five sacks in four games. "And it's been a matter of being flexible, from both a player and a scheme (standpoint). I know that, because of (Ryan's) background, people kind of 'typed' us as a 3-4 coming into the season. I'm not sure they'd do that anymore. We play whatever it takes to win, and so far, it's working."
*Former Tampa Bay starter Josh Freeman, whose fall from grace and decline in performance over the last couple seasons is one of the real head-scratchers around the league, got his wish when the Bucs released him last week. As noted in this space last week, Freeman preferred not to be traded. Of course, as also noted here, a deal was no more than a long shot, since Freeman had more than $6 million remaining on his contract for 2013, was in the final season of his deal, and could be eligible for unrestricted free agency next spring. That could potentially have made the former first-round draft pick a three-month "rental" player. Last week, we suggested that Freeman might prefer to stick in Tampa Bay for the remainder of the season, so that he could collect his entire salary (which he can still do by filing for the veterans' one-time severance package after the season), and then hit the open market after the season. But that changed, people close to Freeman acknowledged, after the Bucs' brain trust demoted Freeman all the way to third on the depth chart and made him inactive for last week's contest. As of this writing, the future for Freeman was still uncertain, but several teams were poring over video, to determine whether his recent problems were more physical or mental. Suffice it to say that, while the Bucs have given up on Freeman, whose situation still evokes some sympathy from a few of the players in the Tampa Bay locker room, the rest of the NFL isn't quite ready yet to write the onetime Kansas State star off completely.
*The acquisition of three-time Pro Bowl defender Jon Beason last week is the third time in less than three years that the New York Giants have gambled on a former first-round draft choice to potentially turn around an inconsistent unit. Even given an injury history (knee and Achilles) that limited him to just eight appearances and seven starts the past two-plus seasons, Beason can still be a good player if he even approximates the performance of his early career. Beason met with Carolina coach Ron Rivera earlier in the week, to discuss his playing time and his future with the Panthers, and, while there wasn't quite a meeting (or a parting) of the minds, the confab basically laid the groundwork for the deal, in which the Giants will give up a late-round pick, probably a No. 7 choice. Beason is still only 28 years old, but it's still too early to say the seventh-year veteran is only a shadow of himself.
Said one New York front office person: "OK, he's not the same player, but we really feel that, if he's healthy, he can be a solid enough guy for us." Beason was a durable player early in his career, starting all 16 games in each of his first four years in the league. In his first four seasons, Beason averaged 135.0 tackles and had eight interceptions, and truly was an impact player. The Giants won't expect him to be that again, but they hope to get more out of Beason than did the Panthers, who signed Beason to a $50 million contract extension in 2011, of late.
*Indianapolis officials insist it wasn't really a "decision" in opting to retain defensive end Robert Mathis in 2012 with a four-year, $36 million extension, and then allowing bookend partner Dwight Freeney to become an unrestricted free agent a year later. But with the team converting to a 3-4 front under then-rookie coach Chuck Pagano in '12, there was plenty of discussion and lots of study about how the two players, who had aligned at end for all of their respective careers, might fare in the new look.
Looking back, it appears that Colts' officials, who spent considerable time scrutinizing the two "edge" players, from what one team executive told NFP recently, made the right call. In fact, it looks, in retrospect, like a masterstroke. As is always the case in the NFL anymore, economics played a part. But it was more than that, too; it was primarily a football choice. Mathis has adapted even better than everyone expected, with eight sacks in 2012 and almost as many (7.5) already in four games this season. There was "more than a feeling, some really good (analytics), too, that indicated he would be productive in the (3-4) defense," said the executive of Mathis. Last season, Freeney, who's only a year older than Mathis, had just five sacks with the Colts, before moving on to San Diego on a two-year contract this summer. Last week, Freeney sustained a quadriceps injury that prematurely ended his season after only a half-sack.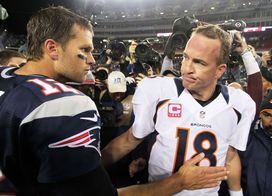 US PresswireThrough four games, Manning finds himself chasing one of Brady's impressive records.
*With 201 straight pass attempts without an interception, Peyton Manning still has a long way to go to reach Tom Brady's league record of 358, set in 2010-2011. But the fact he has played the first four regular-season games without a "pick" is fairly significant in his brilliant career. In his previous 14 seasons (not counting the 2011 campaign that he missed), Manning had never before gone more than three games at the start of the regular season without an interception. That three-game stretch was in 2010, and actually was the only year in which Ma nning went more than one game at the start of a season without an interception. In the 13 other years, Manning threw his first interception of the season in the opener eight times, and five times he threw it in the second game. Before this season, Manning had averaged 3.9 pickoffs in his first four games. In addition, the four straight games minus an interception equal a career-best for Manning. In the final four outings of 2008, he played the final four games without an interception, the only other time in his career that he went more than three games.
"The guy's accuracy is incredible," acknowledged wide receiver Demaryius Thomas. "And I said a few weeks ago that his arm strength is noticeably better than a year ago, which makes his accuracy that much better."
*Not to overdose too much on the Saints/Ryan tangent in this edition of the "Sunday Blitz," but credit the New Orleans coordinator as well for figuring out a way to utilize veteran Roman Harper. The team's starting strong safety for six of his seven seasons (2007-2012) with the franchise, Harper was thought by many to be on his way out when the Saints chose Kenny Vaccaro in the first round. Indeed, the 15thoverall pick in the draft has started all four games alongside free safety Malcolm Jenkins, and the pair has been on the field for all 224 defensive snaps. But until a knee injury sidelined him for the past two games, Harper had also averaged 45 snaps per game as, was noted above, Ryan relied quite a bit on a 4-2-5 scheme that featured three safeties. Regarded as a liability in coverage, Harper has always been a good tackler and effective blitzer who registered 7.5 sacks under then-coordinator Williams in 2011. Although Harper hasn't had a sack since Williams departed, Ryan conjured up a role that played to his strengths and provided him a major role.
*As noted by the broadcast crew in last Sunday's Houston overtime defeat to Seattle, Texans quarterback Matt Schaub simply isn't the same player when opponents force him to move his feet. Schaub is a rhythm thrower, one who has played in an offense that's historically been plagued by turnovers, and he's now thrown "pick six" interceptions in three straight outings, including a terrible decision last week that was run back by the Seahawks' Richard Sherman late-game that salvaged what should have been a loss and sent it into overtime. Teams have long known that Schaub is prone to dubious decisions, and, thus, bad throws, when forced out of his comfort zone. But the recent "pick six" streak has really caught the attention of defensive coordinators who spoke to NFL last week.
"The guy is a 10-year vet," one said. "You shouldn't be able to rattle him. But he seems a little 'hinky' when teams come after him and get him moving around some."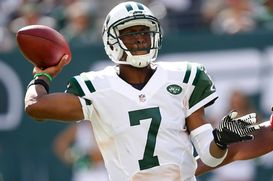 Despite the team's 2-2 record, there is plenty of room for improvement when it comes to quarterback Geno Smith.
*The (relatively) good news for New York Jets' rookie quarterback Geno Smith is that he can throw the deep ball fairly well, as evidenced by his four completions of 40 yards or more, tied for the most in the league. And Atlanta, the team he faces Monday night, has surrendered four passes of 40-plus yards, the second most in the league. The bad news is that Smith's rating (68.6) is the worst in the NFL for any quarterback who started the first four games, he has the second-most turnovers in the league (11), and has been sacked 14 times. The worse news: The Falcons are 11-1 against rookie quarterbacks since Mike Smith became head coach in 2008. In those 12 games, Atlanta has surrendered a passer rating of just 72.6, rookie quarterbacks have thrown more interceptions (14) than touchdown passes (12), and have been sacked 29 times.
"Right now," said Atlanta free safety Thomas DeCoud, "we just need a win . . . against a rookie, a 10-year veteran, whatever. But it will be good not to have to face a Hall-of-Famer (two of the Falcons' three losses have been to Drew Brees and Tom Brady) for a change."
+SHORT YARDAGE
*Granted, it was a small draft class, with only six members. But the Thursday release of Freeman left Tampa Bay with zero players from the '09 lottery, the first for good-guy general manager Mark Dominik. Only two players from the Bucs' 2009 draft class, defensive tackle Roy Miller (Jacksonville) and cornerback E.J. Biggers (Washington), were still in the league as of Friday morning. . . . On the subject of the 2009 draft, five first-rounders (temporarily counting Freeman) were out of the NFL altogether on Friday morning. In addition to Freeman, they were tackle Jason Smith (No. 2 overall), linebacker Aaron Curry (No. 4), linebacker Aaron Maybin (No. 11), and tailback Beanie Wells (No. 31). Four others – tackle Eugene Monroe, wide receiver Darrius Heyward-Bey, wide receiver Percy Harvin, and cornerback Vontae Davis – were with franchises other than the ones that chose them. Mark Sanchez and Jeremy Maclin were on season-ending injured reserve and Harvin and Michael Crabtree were on short-term I.R. . . . New England rookie wide receiver Kenbrell Thompkins took a big step forward last Sunday night, several Patriots veterans told NFP after last week's win at the Georgia Dome. But Thompkins, who had six catches for 127 yards and a touchdown, still had one drop and another pass on which it appeared he ran a lazy route. "In this league," said Thompkins, a former undrafted free agent, "you can't have any concentration (lapses) at all. That's something I've got to remember every play." . . . Latest example that one man's injury can be another player's incentive: The aforementioned quadriceps tear to Freeney will provide former first-rounder Larry English an opportunity to make plays and make money. Largely a disappointment since the Chargers made him the 16th player chosen overall in 2009, English has just four starts in four-plus seasons and only 9.5 sacks, with never more than three sacks in a season. But now he'll get a chance to start, to rush the passer, and to possibly demonstrate to 3-4 teams he can be an upfield force. Notably, he's in the final season of his contract and will be a free agent next spring. . . . Before last Sunday night's victory over Atlanta at the Georgia Dome, the Patriots had played 40 consecutive regular-season contests outdoors. Their last regular-season "dome" game before Sunday was a 45-24 win at Detroit on Nov. 25, 2010. . . . By the way, Mathis' next sack will be the 100th of his NFL career. . . . An already-thin Giants offensive line is now even weaker, as guard Chris Snee is headed to season-ending I.R. because of a lingering hip injury from last season. . . . As reported by several media outlets, the Saints have begun to explore a contract extension for standout tight end Jimmy Graham, who will earn a little over $1.3 million this season in the final year of his rookie contract. The talks, though, are progressing (using that term generously) very slowly. What could be interesting, if there is no extension and the Saints are forced to use a "franchise" tag on Graham. There is some thought that agent Jimmy Sexton, citing the frequency with which Graham is "flexed" off the line, will attempt to argue that his client should receive a franchise tender at the wide receiver level. That has not yet been an element of any contract talks. . . . Since being signed by Denver after Houston waived him, return specia list Trindon Holliday has scored four regular-season touchdowns on punt and kickoff runbacks, two each. The Texans have scored none. The Houston return men since Holliday's exit have averaged 9.8 yards on punt returns and 24.1 yards on kickoff returns, both respectable marks. But Holliday has averaged 11.7 yards and 35.5 yards, respectively. . . . Including his 60-yard score against the Steelers last week in London, Minnesota tailback Adrian Peterson has scored 12 touchdowns of 60 yards or more in his career. That's the most for any runner since at least 1940. Second on the list is Jim Brown, with nine. . . . We've contended for the last few years now that, in a league so skewed to the pass, teams don't have to have great running attacks anymore. The one caveat: That if you do have a productive running game, it allows you to do so much more. But Atlanta is beginning to make us re-think at least part of that premise. The Falcons have become increasingly one-dimensional the past couple seasons, and some Atlanta players privately feel that has been a factor in the team's "red zone" and third-down conversion problems. "They can't run the ball, in the 'red zone' or anywhere," one New England defender told NFP last week. "And I'm not sure it's just the injury to (Steven) Jackson."
+BY THE NUMBERS
*Manning's 16 individual touchdown passes are more offensive touchdowns than had been scored by all but four teams in the first four weeks of 2013. Chicago, Detroit, New Orleans and San Diego were all tied with 12 offensive touchdowns. Even including returns, no team had scored more than 15 touchdowns. Thirteen franchises had scored eight offensive touchdowns or fewer.