August 14, 2011 -
Barry Dorey
NFP Sunday Blitz
Cam Newton is trying to earn a Ph.D in less than two months. It's up to professors Rivera, Chudzinski and Shula to figure out how.
The Panthers are not locked into having the first overall pick of the draft be their opening day starter. In fact, it might not be remotely possible. But if it is, they certainly would welcome Newton being under center.
The problem is there is so much to learn in so little time. Newton might have more to learn in a single camp than any quarterback in history, given that he played in a radically different offense at Auburn, he had no offseason work with coaches and offensive coordinator Rob Chudzinski uses a notoriously complex playbook.
The Panthers wisely have whittled down that playbook. At present, they are using only a small fraction of it, as per their coaches. "We lost 24 practices, 1,500 snaps," Carolina head coach Ron Rivera said of the lockout's fallout. "We're not able to get that back. I don't want to say it's slow down mode, but I don't know how to say it. We've had to back off."
Though they are intrigued by Newton's incredible skills, the Panthers are being realistic. Rivera told me it's just not possible for Newton to learn everything he needs to know in such a small window of time. "It took Philip Rivers three years in this system before he became the kind of quarterback he is today," he said.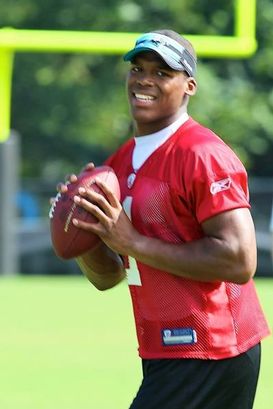 Cam Newton seems to be trying to do everything the right way for the Panthers.
Quarterbacks coach Mike Shula has said the biggest adjustment for Newton is going from a no-huddle offense and a silent count to playing in a pro-style offense and having to verbalize everything. General manager Marty Hurney said reading defenses and knowing when to check down and live for another play are potential hurdles.
The Panthers are trying to help Newton over those hurdles and others in a variety of ways.
For instance:
*They are giving him an inordinate amount of reps in camp. Whereas most teams split camp reps among three or even four quarterbacks, Newton and Jimmy Clausen are getting almost all of the snaps in Panthers camp in a 50-50 split. If Clausen gets five first team reps, Newton gets five. Rivera said he'll try to do the same thing in preseason games. "This way we can get an honest, fair evaluation," he said.
*They are installing concepts and keeping each one elementary initially. "Whether it's high-low combinations, in and out combinations, mirror routes, attacking specific coverages, we'll install each concept and then build off it gradually," Rivera said.
*Chudzinski is playing to Newton's strengths. He has even installed some red zone option plays, which Newton excelled at in college.
*They will consider using both Newton and Clausen in regular season games, though nothing is decided at this point. "Would we use both and could we?" Rivera said. "Yes."
Newton has high expectations for himself, but he acknowledges his head is spinning like a pottery wheel. "It's been a whirlwind," he told me. "At the same time, it's been interesting. It's force feeding yourself. Every day it's a new thing…. "It's mentally frustrating. I know my part as a quarterback. The hard part is translating it to everybody else."
Newton said he has been starting to feel more comfortable over time, but once he thinks he knows one thing, he has to learn another. "The day when all the installation is over will be the day when I say, 'Whew, ok now I can go back and review everything that I've done,'" he said. "At this point I haven't even had the time to say, I know this play, okay I feel comfortable. It's putting more batter on top of batter on top of batter."
Newton said it helped to spend time working with former Panthers quarterback Chris Weinke at the IMG Academy in the offseason. "He gave me everything I needed," Newton said. "From the most simple to the most complex—knowing what to expect when coach is calling this play, what are the situations, the area of the field you want to work this particular play, this particular route. What are some of the variations of the defense you set up with his play?"
It also helps that by all appearances, Newton is trying to do everything the right way. He's spending extra time after practice and frequently is one of the last players off the field. He says he is staying up late with his playbook and working so much, he barely has time to speak with family members.
He's even taking time—quite a bit of it—after almost every practice to sign autographs for the hundreds of fans who yell, "Cam! Cam!" from behind the fences at Wofford College in Spartanburg. And after a rough practice and long autograph session, he was most gracious with his time for this reporter.
It's a big mountain that Newton has to climb. But he and the Panthers are doing everything they can to get him to the top with as little slipping and sliding as possible.
Things I Didn't Used To Know
*Julio Jones wants it. Bad. The Falcons first round pick had to be told to stop diving for passes in training camp practices because his coaches feared he might hurt himself. "I'm a competitor, see ball, get ball," he told me. "I've been trying to work on calming down. If a ball is out of reach or if I have to dive to catch it, just let it go."
*The reason HGH testing never was an issue in CBA negotiations is NFL commissioner Roger Goodell demanded it would not be. Goodell insisted on the testing from the start of labor talks and made it clear it was not a point of negotiation. He was so intent on adopting a testing policy for the drug that he took a test himself to see what it was like so he could be better educated about it. And yes, Roger was clean.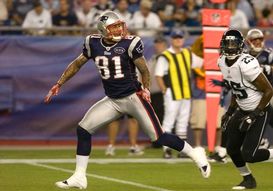 How long will Ocho be wearing this uniform?
*Chad Ochocinco and Albert Haynesworth might not be long for New England. One day before this story came out by my guy Mike Reiss, one NFL executive familiar with the Patriots ways told me he believes one or both of the big name acquisitions will be cut before the season starts. The front office man thinks coach Bill Belichick will use the controversial players to help control and send a message to his locker room.
*NFL teams are using a new term this year as part of the post-lockout language. You have heard of "walk-throughs." Now there are "talk-throughs," which are walk-throughs without the walk. Talk throughs are a response to no OTAs and no two-a-days.
*There hasn't been much of a trade market for Taylor Mays because some teams, at least, believe he is a man without a position. One talent evaluator said Mays' inability to play in space and his lack of ball skills are deal killers for a safety. He also said ten years ago, Mays might have been a fine safety in the John Lynch mold. But teams don't play their safeties like Lynch was played anymore because of the way offenses are spreading out and using multiple receivers.
*Many players are pricing themselves out of the market. One nego tiator told me he was impressed with the way one high profile agent with a long client list sent out an email early in the free agent process telling teams what price he would accept for each of his available clients. The prices were reasonable, and many of the players subsequently landed deals. They probably weren't the types of deals they were hoping for, and they might have been disappointed with their agent, but he ultimately served them well.
My Sunday Best: Supplemental Draftees
The supplemental draft, which is scheduled for Wednesday, often is dismissed as inconsequential. And often it is. But it hasn't always been. In fact, there have been some very significant players who came into the league as supplemental draft picks. Here are my best players who were supplemental picks.
1. Cris Carter. He had to enter the 1987 supplemental draft after he was ruled ineligible for his senior year because he signed with agent Norby Walters. The Eagles chose him in the fourth round, and he didn't really hit his stride until Buddy Ryan cut him. That sobered up Carter, who acknowledged he was into drugs, and he went on to have an outstanding career with the Vikings. He is a potential hall of fame player.
2. Bernie Kosar. He wanted to play for his home team, and he found a way to use the supplemental draft to make it happen in 1985. The Browns traded two first round picks, a third and a sixth for the right to draft Kosar with the first overall pick of the draft, and it was an excellent move. He was a productive quarterback in Cleveland for a long time, and one of the franchise's most popular players ever before his release nearly caused a city-wide revolt in 1993.
3. Jamal Williams. The second round pick of the 1998 supplemental draft went to three Pro Bowls for the Chargers. After a year in Denver, the nose tackle currently is out of the league.
4. Rob Moore. He was the first overall pick of the 1990 draft by the Jets. Moore had some ups and downs but was a pretty good player, earning two Pro Bowl appearances and having three 1,000 yard seasons. In 1997, he led the league in receiving. His best days came with the Cardinals.
5. Mike Wahle. Drafted by Ron Wolf in the second round of the 1998 supplemental, Wahle was a starting guard for the better part of a decade. He played for the Panthers and Seahawks in addition to the Packers, and made one Pro Bowl.
6. Steve Walsh. Jimmy Johnson left the University of Miami and took his quarterback with him, claiming Walsh with the first overall pick of the 1989 supplemental draft. Walsh couldn't beat out Troy Aikman, however, and was eventually traded to the Saints. In his 11-year career, Walsh also played for the Bears, Rams, Bucs and Colts. He mostly was a good backup who never justified being selected first overall, but he did have some moments.
7. Dave Brown. The first overall pick in the 1992 supplemental, Browns' best season came in 1994 when he led the Giants to a 9-7 record. His career was mostly disappointing. If he had not been chosen so high and had the burden of big expectations, Brown might have developed into a decent No. 2.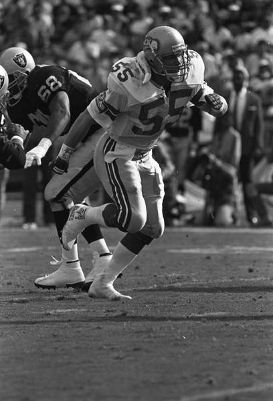 The Boz talked a better game than he played.
8. Brian Bosworth. The Seahawks used a first rounder on the Boz in 1987, and came into the league with great fanfare. He was widely considered to be a very good pro prospect, but his career highlight was being run over by Bo Jackson in a game his rookie season. Bosworth was out of the league in 1989, and making B movies by 1991.
One Man Yelp: Perform—A Journey for Athletes, Musicians, Coaches and Teachers
I've known for a long time that Paul Alexander of the Bengals is one of the most respected offensive line coaches in the league. What I didn't know is that he also is a serious musician who has studied for three years under concert pianist Alex Muhlbock. Alexander writes about his experience, and relates teaching football to teaching music, in his intriguing new book Perform.
You wouldn't think the two disciplines would go together, but Alexander proves they do. Alexander is an out of the box thinker who sees himself more as a teacher than he does a coach. He says he went to college to learn to teach, and so he is always looking for new ways to reach his students. Relating music to football is one way.
"I can't use same coaching clich