January 12, 2014 -
Dan Pompei
NFP Sunday Blitz
As of Saturday, the NFL had only three African-American head coaches—Marvin Lewis (Cincinnati), Mike Tomlin (Pittsburgh) and the newly hired Lovie Smith (Tampa Bay)—pending the resolutions of four remaining vacancies.
It would seem that, of the known candidates for the still-open positions, Jim Caldwell arguably has the best chance of landing one of the jobs, although guys like Ray Horton and Todd Bowles certainly have chances as well.
At the same time, there are six African-American general managers (a record in 2013), and that number may be expanded, given the current candidacies of people such as Lionel Vital, Ray Farmer, Marc Ross and perhaps a few others as well. John Wooten, the respected chairman of the Fritz Pollard Alliance, which advocates for minority candidates for coaching and high-ranking executive positions, and who typically is a voice of reason in such matters, told NFP last week that he is pleased overall with the level of interviews, but, obviously, hopes for better results on the coaching front.
"We've always maintained that one of our goals is to get more people 'in the pipeline,' and I think we're doing just that," Wooten said. "It's not just teams wanting to comply with (the Rooney Rule); people have been serious candidates, we feel. But we can always do better."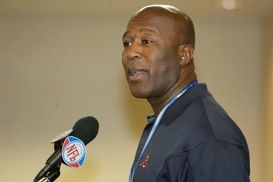 ICONAt the moment, Lovie Smith is one of just three African American head coaches in the National Football League.
Wooten said he is especially pleased with the increased interest in minority candidates for the GM jobs. The successes of men such as Ozzie Newsome and Jerry Reese, both of whom have won Super Bowls as general managers, he conceded, has something to do with it. "But I just also think there are more qualified people coming (up through) the ranks . . . and that owners are paying more attention to them," Wooten said.
Certainly the recent increase in the number of minority general managers reflects the initiative to improve diversity in the league. All of the African-American general managers have considerable clout with their respective franchises, and control of roster and draft decisions, and that's been a definite plus in raising the profiles of minority candidates for upper-echelon jobs. But as Wooten noted: "In most cases, the face of the franchise, the 'out-front guy,' is still the coach. And so we need to do better on that front."
+AROUND THE LEAGUE
*League vice president of officiating Dean Blandino tried his best last week to suggest that the referees call playoff games the same way they do regular-season contests – in essence, the theory that a penalty is a penalty regardless of the situation – but few were buying it. Including many of the players in the postseason and several not in the playoffs. The numbers indicate there are fewer flags in the playoffs and have been for years. "They think we don't notice that?" one NFC player still involved in the Super Bowl chase told NFP. "Everybody knows you can get away with more (in the postseason). You see games where the announcers say, 'Oh, they're letting them play and that's good.' You think the league doesn't hear that? Yeah, it's a game, but it's entertainment, too. And people don't want to see flags all over the place in the playoffs. That's not entertainment."
Five of the 14 teams that drew 100 or more penalties in the playoffs made the postseason. The top seeds in each conference, Seattle and Denver, ranked among the most penalized clubs during the season. So the old excuse that there are fewer penalties in the playoffs because of the quality of the teams involved doesn't quite wash, either. Last week, former New York Giants offensive coordinator Kevin Gilbride, recently retired, suggested Seattle defensive backs had raised pass interference to an art form. Said one opponent of the Seahawks: "He's right. They're the experts at it."
*They're not quite shouting "good riddance" in Cincinnati with the departure of offensive coordinator Jay Gruden, the new Washington head coach. But there definitely are some players, team officials and fans (perhaps even a few assistants), who felt that, for all the positives Gruden brought to the Bengals offense, he frequently was too enamored of the passing game and sacrificed some degree of balance. In just three of 17 games, including last week's wild card defeat, did the Cincinnati offense have more run than pass plays. Of the team's 1,176 snaps, only 43 percent were running plays. In the passing-skewed NFL, that's not outrageous, but it's still a bit lopsided.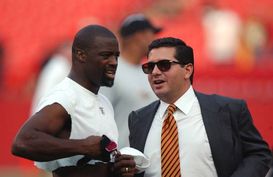 ICONDid Redskins owner Daniel Snyder make the right hire in bringing Jay Gruden on board?
Case in point: In last week's loss to San Diego, a one-score game for much of the contest, Gruden ordered up 54 pass plays on 79 snaps. For a quarterback as potentially shaky as Andy Dalton, that's a lot, as we all saw. Gruden did some terrific work in Cincinnati, especially with the development of Dalton, and it's not just coincidence that the club advanced to the postseason in each of his three years there. But he also bears some of the culpability for the Bengals being a playoff one-and-done team each year. And some of that was an over-reliance on the pass. New coordinator Hue Jackson has already said all the right things about wanting to run the ball and be more physical, and the players seem to believe in that, even though there's a healthy dose of skepticism. Jackson, though, seems to understand the need to be different, because he knows that much of the criticism toward Gruden was coming from the Bengals' locker room, where many felt that rookie Giovani Bernard needed the ball in his hands more in 2013.
*There definitely have been mixed reviews about Atlanta's hiring of Mike Tice last week as the new offensive line coach, replacing the dismissed tandem of Pat Hill and John Dunn. Forget the charges of "cronyism" raised in some quarters, since Tice and Falcons coach Mike Smith worked together in Jacksonville, and the only other known candidate Atlanta sought out was Jeff Davidson, who was denied permission to interview by Minnesota, even though Vikings coach Leslie Frazier was fired. Let's be honest, most NFL head coaches hire guys they know, right? It's not like Smith is alone in that regard.
But a bigger issue, despite glowing endorsements from some of his former players in Chicago, is whether Tice is the guy to fit an offensive line that sorely underperformed in 2013 and was one of the major components of Atlanta's historic collapse. In 16 seasons as an NFL assistant or head coach, Tice presided over running offenses that finished in the top 10 eight times. But his protection schemes – and, let's face it, the Falcons are a finesse passing team now, and Matt Ryan is their main guy – have been shaky. In three seasons in Chicago as either the line coach (2010-2011 or coordinator (2012), Tice's lines permitted an average of 49.7 sacks. His lines have allowed 42 or more sacks in five straight seasons and in 10 of the last 12. Some of the Tice apologists note that he wasn't always the line coach in all 16 seasons, or that he was hamstrung by the Mike Martz offense for part of his Bears tenure. The second point has some credence. The first? No matter what Tice's title was, his fingerprints were on the line and its blocking schemes. If the Falcons brought him in to make the line tougher, well, any familiar with Tice's personality and coaching style will agree that's likely to occur. How much better he makes the unit, though, remains to be seen. And that's the question being asked in Atlanta right now.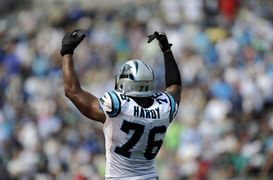 Hardy has been on an absolute roll this season in Carolina.
*Carolina defensive end Greg Hardy, who has 24 sacks in his last 25 starts and has been on a roll getting into opponents' backfields, has tempered earlier comments about how he might afford the Panthers some "home discount" when he hits the unrestricted market. "It's about the money," Hardy allowed. "I love the (Panthers) and my teammates . . . but I've got to take care of me, too." Hardy has been in the spotlight with Carolina's rise to prominence, and can elevate his profile even more against San Francisco and left tackle Joe Staley, one of the NFL's best blockers. "It'll be a test . . . but for him, too," Hardy said.
*The 439 yards allowed at Cincinnati last week notwithstanding, the San Diego defense has been excellent over the second half of the year. In the regular season, the unit allowed 400 or more yards in four of eight games. In the second half of the season, it surrendered 400 yards zero times. The difference? Well, one of the biggest improvements was with the San Diego linebacker corps. Jarrett Johnson got healthy, rookies Manti Te'o and Tourek Williams (a sixth-rounder from Florida International of all places) improved, and Donald Butler, arguably one of the most underrated all-around 'backers in the NFL, asserted himself.
"You could just see, watching the tape, how much better they were, how they kept making strides," one Denver player told NFP last week. "The whole defense got better, but the linebackers really jump out at you."
Second-year veteran Melvin Ingram, the team's first-round pick, who pretty much had a disappointing debut season, really picked up the pace as well. Ingram was an absolute monster in the wild card win against the Bengals and, at times, was close to unblockable. "It gets contagious," Ingram said. "We feed off each other, and we've been playing hungry lately."
*Since Indianapolis and New England will have already played on Saturday night by the time the Sunday Blitz is published, this is interesting more as a retrospective. But it is worth noting, that going into the game, Colts star linebacker Robert Mathis, the NFL leader in sacks this season (19.5) and probably the favorite to claim defensive player of the year honors, had never sacked Tom Brady even once in Gillette Stadium. Of his 111 career sacks, five had been against New England, the most versus any team outside of the AFC South. But four of those were at home. His lone sack against New England in Gillette Stadium actually came against Doug Flutie, of all people, who relieved Brady in a lopsided 2005 home loss to the Colts.
So while the Pats coaches spent much of last week designing protection schemes meant to thwart Mathis, he hadn't really hurt them much in New England home games. For his career, Mathis had 69.5 sacks either in the Hoosier Dome or Lucas Oil Stadium, the Colts' two home stadiums in his 11 seasons with the franchise, and eleven more in other domed stadiums. So, like most great pass rushers, he's been less effective on grass.
*Credit new Houston coach Bill O'Brien for mixing in some experienced assistants for his first staff. Word is that O'Brien will probably bring with him 6-7 aides from his Penn State staff to the Texans. But his prior NFL stint likely demonstrated to O'Brien the need for league veterans as well. Thus the hire of Romeo Crennel as defensive coordinator and the retention of Bill Kollar, arguably one of the NFL's top defensive line assistants and the lone member of Gary Kubiak's staff who was kept on the payroll. O'Brien is also trying to hire recently fired Tennessee Titans coach Mike Munchak as his offensive line assistant.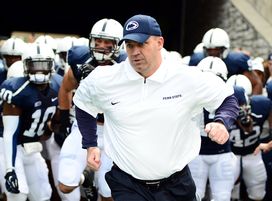 US PRESSWIREO'Brien left Penn State to take over for Gary Kubiak in Houston.
Too many coaches who come to the NFL from the college ranks overlook the importance of an experienced staff. O'Brien, by the way, has told Houston officials that he is not as enamored of Central Florida quarterback Blake Bortles as some have claimed. That's not to say he doesn't like Bortles, who led UCF to an upset win at Penn State this season, who those who have suggested he prefers him to Teddy Bridgewater of Louisville are perhaps reading too much into one game and trying too hard to connect the dots. The truth is that O'Brien barely has his feet on the ground, hasn't dug in yet to draft personnel, and is still an open book. And that, say people inside the organization, includes the possibility of trading the first overall selection.
*In most years, wide receiver Jordan Matthews, who had over 100 receptions in 2013 and established new SEC records for catches and yardage, would be a certain first-round draft choice. But the Vanderbilt star, who is a cousin of Jerry Rice, may have to wait until the second day, because of the influx of underclass receivers. There could be 5-7 wide receivers chosen in the opening round, and it would not be surprising if all were underclass players. Guys like Sammy Watkins (Clemson), Mike Adams (Texas A&M), Marqise Lee (USC), Brandin Cooks (Oregon State), Kelvin Benjamin (Florida State) and others lead an incredibly deep wideout class. In '09, there were six first-round wide receivers, and all of them were underclassmen. The 2014 draft could offer an encore of that.
+SHORT YARDAGE
*Cleveland owner Jimmy Haslam, who frankly was embarrassed by the ham-handed handling of the Rob Chudzinski situation (both hiring and firing after only one season), is taking a much more hands-on approach to interviews with prospective coaches this time around. . . . Under the tandem of general manager David Caldwell and coach Gus Bradley, who just completed their first season with the Jacksonville Jaguars, the club has made a mind-boggling 246 roster moves. . . . Question: Has Washington owner Dan Snyder, noted for making the big splash, realized yet that he didn't hire Jon Gruden to coach the Redskins? . . . San Francisco quarterback Colin Kaepernick is 2-0 on the road in the playoffs. He's the first San Francisco quarterback in history to win two road playoff starts. Amazingly, Hall of Famers Joe Montana (1-3) and Steve Young (0-3) were a combined 1-6 on the road in the playoffs. John Brodie was 1-1 and Jeff Garcia was 0-2. . . . Since 2002, when the league implemented its current alignment and playoff format, the four top-seeded teams – two from each conference – have all advanced to the conference title games together just twice, in 2002 and 2004. . . . Crazy, esoteric stat: Jim Nantz and Phil Simms will broadcast the Denver-San Diego game on Sunday for CBS. The Broncos are 6-0 this season with the Nantz-Simms tandem in the booth. . . . Look for the Carolina Panthers to take some fairly extreme measures to check San Francisco wide receiver Michael Crabtree on Sunday night. Not only will Crabtree draw double coverage in the secondary, but the Panthers may try to bump him around some with linebacker Thomas Davis. Notable is that Crabtree, whose return from an Achilles injury has dramatically boosted the San Francisco passing game, did not play in the regular-season meeting between the clubs. . . . In a league where the number of 3-4 defenses has declined a bit the past couple years, this weekend's games (and maybe the postseason in general) has brought some relevance back to the scheme. Seven of the 12 teams that qualified for the playoffs employed the 3-4 as their "base" front. And in a real quirk, all four of this weekend's matchups featured a 3-4 road club against a 4-3 home team. New Redskins coach Jay Gruden has already announced he plans to keep the 3-4 and probably coordinator Jim Haslett. The improvement of teams like New Orleans – long a 4-3 team, but a defense that switched to a 3-4 under Rob Ryan – could prompt some people to rethink the defense. . . . The decision by Oakland owner Mark Davis to keep coach Dennis Allen will lend some stability to an organization that desperately needs it. Allen becomes the first coach since Jon Gruden (1998-2001) to begin three straight seasons with the Raiders. Certainly if the team doesn't do better than its consecutive 4-12 finishes, Allen (and possibly GM Reggie McKenzie as well) could be in some trouble in 2014. But continuity counts in the NFL and, for now at least, the Raiders have a modicum of it. . . . Career points leader Morten Andersen on Thursday became the first kicker to be named as a finalist for the Hall of Fame since 1991, when Jan Stenerud was inducted. We've lobbied in this space for Andersen's inclusion, and perhaps this will be the year selectors decide a kicker is chosen for the class of inductees. . . . Kansas City is into negotiations to extend the contract of quarterback Alex Smith. . . . New England is developing considerable depth at defensive tackle with the play of youngsters Chris Jones, Joe Vellano and Sealver Siliga, a trio that's been forced to log plenty of snaps with starters Vince Wilfork and Tommy Kelly on I.R. The Pats acquired veteran Isaac Sopoago from Philadelphia in late October but, after starting his first two games with New England, he didn't even dress for the past two.
+BY THE NUMBERS
*C.J. Spiller. OK, you're right, the Buffalo tailback isn't a number. But if he was, it would be 1, since he's the only player in the league to register an individual 100-yard rushing performance against either the San Francisco or Carolina defenses, which meet Sunday in the division round. In the second game of the year, a 24-23 Buffalo victory over Carolina on Sept. 15, Spiller carried 16 times for 103 yards. That was the lone 100-yard game against a Panthers unit that was second in overall defense and also in defense versus the rush during the season. The 49ers, who were No. 4 in rushing defense, obviously didn't surrender a single 100-yard rushing game to an individual. Including the 49ers' playoff victory at Green Bay last week, the two defenses have allowed only 12 games of 100 yards or more by an opponent in 33 outings. Ironically, both teams' offenses had 100 rushing yards – San Francisco 105 yards and Carolina 109 yards – when they met November 10.