September 15, 2013 -
Dan Pompei
NFP Sunday Blitz
What's a 26-year-old quarterback, one who has been a starter since halfway through his rookie season in the league and whose dossier includes 57 starts (and counting), worth on the open market? Well, the NFL, and everyone else, could find out in about six months.
Only three years ago, after Josh Freeman's first full season as a starter, prominent Tampa Bay officials privately suggested to several reporters (including this one) that they would not trade their young quarterback for any player in the league. Fast-forward to the present and the sentiment is hardly the same. Given the obviously strained relationship between Freeman and Bucs' second-year coach Greg Schiano, the status of the quarterback as an untouchable "franchise player" isn't exactly the case so much anymore.
As widely reported, Freeman missed the team photo a week ago, and Schiano claimed there have been other incidents of tardiness by the quarterback. The two have attempted to publicly patch things up and "play nice," but the future certainly looks murky, to say the least. Freeman is in the final year of his original rookie contract and Tampa Bay management currently doesn't seem motivated to extend him beyond it. Good-guy general manager Mark Dominik said last month that there won't be an extension during the year, and that the two sides will address the issue next offseason.
But that could create the very unusual and rare situation of a proven starter—one who will be just 26 years old in January and likely with 70 or more starts on his resume by that point—possibly being on the open market next spring. How often does that happen in the NFL? Uh, almost never. Teams typically sign quarterbacks to long-term deals well in advance of their contracts lapsing. To have a 26-year-old guy with a track record become available is virtually unheard of in the league.
Coming off the early portion of his career, when the Bucs were essentially promoting the 2009 first-rounder as the face of the franchise and the guy around whom the team would be constructed, such a possibility seemed unfathomable. In 2010, his second season, Freeman threw 25 touchdown passes and just a half-dozen interceptions, and appeared poised for stardom as the young Bucs went 10-6. But he has almost as many interceptions (39) as touchdown passes (43) over the past two seasons, and Tampa Bay has only one more victory combined in those two years than Freeman posted in 2010. There has definitely been some regression, especially in Freeman's basic mechanics and accuracy, acknowledged pro personnel directors from other franchises.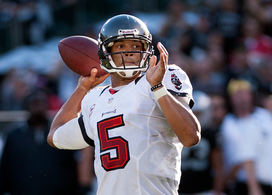 If it doesn't work out in Tampa, Freeman could find himself with plenty of suitors come free agency.
"But to get a guy like that at just (26 years old), with his physical (tools), in a league where a lot of quarterbacks don't click until they get to the right situation . . . man, you'd have to be crazy not to take a hard look at it if you need (a quarterback)," allowed one AFC general manager, who was careful with his words, because of the league's anti-tampering guidelines. "Yeah, we're seeing young quarterbacks come right into the league and make an immediate splash anymore. But there are still a lot of examples of guys not 'making it' until a little bit later on. The history of the league is filled with quarterbacks who didn't hit until they changed scenery. There are a lot of teams that would (relish) the chance to see what they could do with (Freeman)."
Of course, assuming things don't change and the Bucs don't sign Freeman to an extension, the club could slap the franchise tag on him in the spring and then try to trade him. The danger in that is that Freeman could immediately sign a franchise tender and guarantee the exorbitant one-year salary, which might make a trade a bit more difficult. Still, it's hard to see the Bucs allowing Freeman to just depart with no compensation. But it could happen. Schiano runs a tight, no-nonsense ship, and he basically has become the key figure in a fairly faceless franchise, and it's become increasingly difficult to see the coach and Freeman co-existing in the long term.
Way back in 1991, then-rookie quarterback Brett Favre overslept on the morning the Atlanta Falcons were taking their team picture. When a groggy Favre arrived late to the shoot, coach Jerry Glanville would not allow him into the picture. Figuratively he kept Favre out of the picture for the remainder of the season as well, burying him on the depth chart and playing him only in embarrassing mop-up roles, and then unceremoniously dealing him to Green Bay in the subsequent offseason.
No one is suggesting that Freeman, who enjoys solid popularity among many of his teammates, we're told, will become Favre. But there are quarterback-needy teams in the league that, if the situation in Tampa doesn't improve over the next few months, will begin to clearly focus on the quarterback who missed the Bucs' team picture. And who will avidly line up for a shot at Freeman if he somehow makes it to the unrestricted market next spring.
+AROUND THE LEAGUE
*One starting-caliber quarterback potentially making it to free agency is, as noted, incredibly rare. More than one? It might be historic. As is the case with Freeman in Tampa Bay, team officials in Chicago have said there will be no in-season discussion of an extension for Jay Cutler, who is in the final year of his deal. And Michael Vick's reworked contract in Philadelphia is basically a one-year deal as well. And, of course, recent events certainly point to the distinct possibility that the Jets will part ways with Mark Sanchez, who led the team to the AFC championship game in each of his first two years in the league, after the season.
Cutler's perceived petulance could give some clubs pause, but there is no denying his talent, even though he can be a polarizing presence at times. Vick can be erratic, but it's still difficult to ignore his skills-set. And Sanchez, given the torn right labrum revealed last week, may be damaged goods, even if his shoulder is either rehabilitated (through the regimen he is about to undertake) or surgically repaired. Nonetheless, it could be quite a spring 2014 for franchises trolling around for veteran help at the game's most critical position. And that's not even counting the possibility that Jacksonville ends the Blaine Gabbert experiment after three seasons. There are indications that, were it not for an $8.25 million guaranteed salary for this season, the Jets might have cut ties with Sanchez before the shoulder injury occurred. But all guaranteed bets are off after this year. Sanchez, who signed a three-year extension in 2012, is owed $37.75 million in salary and roster and workout benefits for 2014-2016. While the team would assume some "dead money" were it to release him, none of those payments are guaranteed.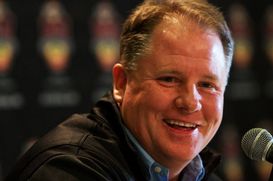 Chip Kelly's Eagles ran a total of 53 plays during the first half of their Week 1 win at Washington.
*It's only one game – a negligible sample size, to be sure -- bu t the 2013 openers last weekend provided some indication that this season could be one in which offenses snap the ball at a relatively dizzying pace. In each of the past four seasons (2009-2012), the number of offensive snaps per game increased annually from the previous year. In fact, over the past 10 seasons, there were only three times in which the number of snaps per-game decreased. In '12, the league averaged 128.4 offensive plays per game, up from 127.0 in 2011. That represented about a 4 percent bump from 2008, when snaps were at their lowest point (123.75) in the decade. But the league-wide average for the opening week this season was 130.4. While some of that could be attributable to the fire-drill offense first-year Philadelphia coach Chip Kelly brought with him from Oregon, there were actually two teams, New England (89 snaps) and Baltimore (87), that ran more plays than the Eagles (77). Detroit had just as many snaps. In all, 11 teams ran off 70 or more plays and six had 75 or more. For all the naysayers, with Carolina coach Ron Rivera being the latest, the faster offenses clearly are in vogue. Even on Thursday night in the rain, in a sloppy game that featured pedestrian offenses, the offenses of the Jets and Patriots combined for 135 snaps. "It's a fast-break out there," said Washington cornerback D'Angelo Hall, whose team had problems early on in their opener maintaining pace with the Philly attack. "You turn around and they're snapping it."
*In reaction to the hurry-up schemes cited above, there have been plenty of complaints already about defensive players feigning injuries in an attempt to slow the tempo of some offenses. Notably, Jerry Jones broadly hinted that New York Giants defenders were faking injuries in the opener, a charge that prompted defensive lineman Cullen Jenkins to suggest the Dallas owner needs glasses. And the crowd at Foxboro was vociferous Thursday night when Jets defensive lineman Muhammad Wilkerson went down with an ankle injury. The ire seemed to be misplaced, because the injury, which appeared to be legitimate, didn't keep the clock from winding after Wilkerson exited the field with assistance. Nonetheless, the subject of faked injuries in a New Age league where offenses don't huddle and the intent seems to be to wear out defenses, or at least limit situation substitutions, forced a few phone calls last week between members of the competition committee, the NFL has confirmed. There have been some reminders to game officials but, if the complaints continue, legitimate or not, better monitoring of game pace and of defensive injuries could become a more official point of emphasis at some point in the season.
*Given Atlanta's marquee galaxy of receivers – with wideouts Roddy White and Julio Jones, along with future Hall of Fame tight end Tony Gonzalez, commanding most of the headlines – it's easy to get lost in the shuffle. But the group's forgotten man, five-year veteran wide receiver Harry Douglas, is beginning to create some attention for himself.
Because of a high ankle sprain that has slowed White, who played in the opener but continued to be hampered last week in practice, Douglas is getting more time on the field in "base" formations, and making the most of it. Douglas actually logged more snaps in the opener (45 of 55) than White (37), and caught four passes for 93 yards. Typically a slot receiver, the former Louisville standout, a third-round pick in '08 who missed all of the 2009 campaign because of a torn ACL, is playing a bit more on the outside. Some observers felt Douglas might struggle outside, but he has made plays there and continued to be a force in the slot as well. Last week, he had a 50-yard reception out of the slot on a crossing route, the seventh time in his last 11 appearances Douglas caught at least one pass for 20 yards or more.
"He can run away from people," White said. "I think he fools some (defenders) with his speed. He's not just the prototypical slot guy."
Indeed, Douglas might lack the short-area, quick-twitch maneuverability of some slot receivers, but he's probably a bit faster, and retains the kind of toughness an inside receiver must possess in the NFL. "And," said quarterback Matt Ryan, "he's smart. He knows and understands the game and what we're trying to do . . . and he knows all the (receiver) positions." In his four healthy seasons, Douglas has averaged just 31.5 catches, and, in fact, has never registered 40 receptions in a year. Plus, he has never scored more than one touchdown in a season. But the Falcons have always been confident that Douglas can be a difference-maker. With White not expected to be fully healthy for another three weeks or so, Douglas' role, which now includes punt returns, and his profile, might continue to expand.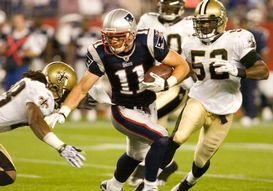 ICONEdelman has recorded 20 receptions through his first two games this season.
*On the subject of slot receivers, one would have to think there are a few league general managers and personnel chiefs kicking themselves right now for not having indicated any interest at all in New England's Julian Edelman when he was an unrestricted free agent during the offseason. Yeah, Edelman was coming off a foot injury that kept him out of the Patriots' final four games, he isn't the biggest or most physical guy, and the onetime Kent State quarterback has just average speed. But teams took fliers on some guys who don't have Edelman's versatility – he has played every wide receiver position, lined up at defensive back (like Troy Brown used to do) in a pinch, and is a steady special teams player who now is the league's career leader in punt return average – and the fifth-year veteran was never going to be particularly expensive. But the phone didn't ring and the Pats ended up signing Edelman to a modest, one-year contract with a minimum base salary of only $715,000. What's Edelman, who has 20 receptions in two games, worth now to New England, whose trio of young wideouts Kenbrell Thompkins, Aaron Dobson and Josh Boyce, has combined for nine catches? With Rob Gronkowski still rehabilitating; Aaron Hernandez, Wes Welker and Brandon Lloyd gone; and Danny Amendola out with a foot injury, Edelman has become Tom Brady's most trusted security blanket, and a big reason the team is 2-0. As pertinent a question: What will Edelman be worth next spring, if the Patriots don't sign him to an extension during the year and he is eligible again for free agency, and will teams be a lot smarter this time around.
"What the old 'Who' song? We won't get fooled again?" an AFC general manager said on Friday morning, after Edelman posted 13 catches Thursday night. "It's early (in the season), but he's making himself a lot of money."
*Their opening-game loss at San Francisco aside, the Green Bay coaches felt their defense clearly played better last Sunday than in the playoff loss last year to the 49ers, and part of the improvement was better depth along the defensive line, largely because of the unlikely comeback of Johnny Jolly. Banished from the NFL for three entire seasons as the result of a substance abuse indefinite suspension, and then a jail sentence for a violation of his parole, Jolly hadn't played in a game that counted since a Jan. 10, 2010 playoff loss to Arizona that concluded the 2009 sea son. But he started against the 49ers, provided the Packers with solid rotation, and gives the unit another behemoth (six of the 3-4 team's linemen weight 300 pounds-plus), the kind of up-front girth coordinator Dom Capers prefers. Jolly chipped in two tackles, one sack and another quarterback hit, not bad for a 30-year-old guy some felt would never play again.
"It's great to have another big body," said lineman Ryan Pickett, who started alongside Jolly and wide-body B.J. Raji. "Now that (Jolly) has his (stamina) back, he can be a force. We can roll a lot of guys in and he figures to play a big part." It's testimony to Jolly that, during his forced absence from the game, he didn't give up on playing again someday. And as indication of the potential that he still possesses, there were more than a few 3-4 teams watching closely to see if he made the Packers' final cutdown to the 53-man roster.
*In part because St. Louis hasn't been to the playoffs since 2004, and averaged only 4.5 victories per year in the eight-season stretch 2005-2012, some of the team's good players get overlooked. But the Rams, who statistically are the youngest team in the league for 2013, with nearly two-thirds of the roster having two or fewer seasons of NFL experience prior to this year, just might have the best front four in the business.
"They all come off the ball hard and they can all make plays," said Atlanta guard Derrick Blalock, whose unit faces St. Louis on Sunday. "They're good all-around, and the ends are really something." Indeed, Chris Long (left) and Robert Quinn (right) have developed into one of the league's best outside tandems. And that was even before Quinn notched three sacks and forced three fumbles against Arizona last week, a performance that earned the third-year veteran NFC defensive player of the week plaudits. Long and Quinn were one of only two end pairings to each register 10 or more sacks in 2012. And the Rams' front was one of just six in the league with four players who had four or more sacks each.
"We feel like we can play with anyone," said tackle Michael Brockers, one of the three former first-rounders on the defensive line. "I think we all have an attack mentality." Despite playing the left side, Long has matured into one of the premier strong-side rushers in the league, with 24.5 sacks over the last two seasons. Quinn had 10.5 sacks in 2012, and had really learned to use his hands and natural leverage, apparently a spin-off from his days as a wrestler, much better. "(Quinn) can 'corner' and make himself small, about as well as anybody, and he's going to be a big-sack guy for a long time," Long said of his end partner.
*There are a lot of things that first-year coordinator Rob Ryan has changed with a New Orleans defense that surrendered the most yards in league history in 2012. Most conspicuous, of course, is the scheme, installing a 3-4, a defense that not a single Saints' veteran had played before in New Orleans. But one under-the-radar move that Ryan has made is his utilization of three safeties on the field at the same time in many of the schemes he's employed. When the Saints chose Kenny Vaccaro of Texas in the first round, many observers suggested it could jeopardize incumbent strong safety Roman Harper, a veteran strong versus the run and on the blitz, but often a liability in pass coverage. Indeed, Vaccaro started last week alongside free safety Malcolm Jenkins, but Ryan found a way to mix in Harper as well, and he responded with a solid outing. In the end, Jenkins and Vaccaro each played all 55 defensive snaps. But Harper, who gave the secondary a three-safety look that had not been used much in the past in The Big Easy, logged 49 snaps as well. And that included the Saints' final defensive play of the game, when Harper intercepted a pass intended for Gonzalez, one that Vaccaro tipped away from the tight end. "We've got (three) guys who can play (safety)," Jenkins said, "and Ryan has figured out a way to get us all involved."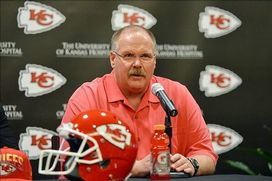 Andy Reid's 3-4 defense surrendered zero points in the team's Week 1 win at Jacksonville.
*Apparently, an old dog (no offense, Andy Reid) actually can learn some new tricks. After a long tenure in Philadelphia where the Eagles almost always used a four-man front, Reid has opted for a 3-4 defense in Kansas City. And some Chiefs players allow that decision, along with the hiring of Bob Sutton (with whom Reid had no work history), have permitted the unit to improve. "Usually, a new guy means new schemes, you know, starting over and all," said linebacker Justin Houston, who had three sacks in the Chiefs' opening-day victory. "We're doing some things differently, but not a lot. And the (defense) plays to our strengths." Indeed, Reid apparently concluded early on that the strength of his defense was in a linebacker corps that includes Houston, Tamba Hali and Derrick Johnson, and chose the status quo, rather than a wholesale alteration that would have altered the dynamic. "It's been great," Houston said, "to be able to do what we do best."