April 14, 2013 -
Dan Pompei
NFP Sunday Blitz
Some teams have graded Jonathan Cooper and Chance Warmack as highly as any players in the draft. But it is likely players with much lower grades, like West Virginia quarterback Geno Smith, for instance, will be taken ahead of Cooper and Warmack.
Why? Because they are guards. And some teams believe guards have limited value.
Other teams see hidden value in guards. One of those teams is the Tennessee Titans, who happen to be coached by Hall of Fame guard Mike Munchak. Their offensive line coach is Hall of Fame guard Bruce Matthews. If any team understands the importance of a guard, it is the Titans.
"I probably more appreciation for the position because I played it," Munchak told me. "I appreciate the value…. Those guys are more valuable than people think they are."
The Titans are rumored to be interested in selecting a guard with the tenth overall pick. And this is after they invested $46.8 million in free agent guard Andy Levitre.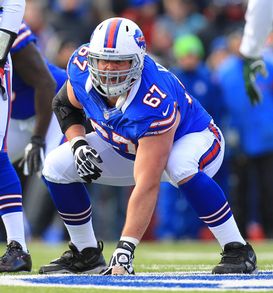 Andy Levitre will give the Titans something they were missing last year.
Some questioned the signing of Levitre. With all of the free agents at all of the positions, why did the Titans splurge on Levitre?
Well, the guard position was a train wreck for the Titans last year, as they had five players start games. And along came Levitre, who had become one of the best young guards in the league in Buffalo. He was one of the highest graded free agents available at any position.
"He was the best one who was out there, and we could get him within the parameters of what the top guards were making," Munchak said. "You need someone like that who could make a difference. The perfect storm for me is that he was only four years in the league, he's been healthy, hasn't missed a game and he can play all three positions. His best years are ahead of him. His next four, five years are the best years he's going to play. That's why we stepped up for a guard, because of all the things he brought to the table. That's where he distanced himself from a lot of guys on the market."
Tennessee general manager Ruston Webster put it this way: "Levitre helps solidify a part of our team that was in flux all of last year. He brings talent and toughness."
The hope is that Levitre can improve the Titans at more than one position. Believe it or not, a guard can do that. In addition to helping the quarterback and the running back, a good guard helps free up the other players on the line, and could even help the play caller keep fewer players in for protection.
Conversely if the guard is a weak link, other players on offense can be affected negatively. "People don't realize that a lot of times the guard is harder to help if you have a mismatch problem," Munchak said. "You can help on the edge with backs chipping, tight ends getting in the way, sliding a certain way. A lot of times the guard is more one-on-one than people realize. Especially a right handed team, you're working left all the time. The [right] tackle gets help from the tight end on that side. The line slides to the left to protect the left tackle, so you have three on two. The right guard then is on the island all day with no help."
Tackles, especially left tackles, are more valued than guards. Even Munchak concedes this. That's because they are more difficult to find. The ability to pass protect against an elite edge rusher is not common.
But there is a school of thought that says guards are gaining on tackles in terms of value in many offensive schemes. As offenses have emphasized quicker drops and fast throws, defenses have countered with pressure packages up the middle. In the read option, guards can be every bit as valuable as tackles.
There are more players who can function as guards, but not necessarily more who can excel at guard.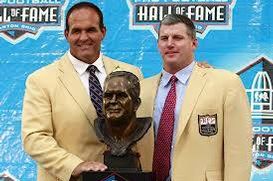 Who knows guard play better than the Titans, who employ Bruce Matthews (left) and Mike Munchak?
In fact, the bromide goes that if you draft a tackle and he fails at that position, he can always move inside to guard. In fact, Levitre was a college tackle who since has moved to guard.
But it's not always such an easy change. "The general thinking is you can always move a tackle inside to play guard," Munchak said. "In some cases you can. But it's a lot different for a tackle because he's not used to having things coming at him from two directions. A lot of those tackles can't adjust to all the activity in there."
So teams will be looking for guards in this draft, even after Warmack and Cooper are long gone. Others who may be able to start as rookies include Brian Winters of Kent State and Hugh Thornton of Illinois. There also are some center/guard prospects who could be quick contributors such as Travis Frederick of Wisconsin, Barrett Jones of Alabama and Khaled Holmes of USC.
Many front office men feel a level of security with selecting a guard relatively high in the draft. "I would think you hit on guards more than other positions, and if you do hit on them, you are going to keep them a long time," Munchak said.
Munchak has always studied guard play with particular zeal. He recalls watching John Hannah when Munchak was a rookie. He learned from Matthews when they were teammates. He has studied Randall McDaniel. He appreciated Steve Hutchinson from afar until the Titans acquired him last year.
So take it from a true expert on the subject—guards can be quite valuable.
My Sunday Best: NFL Guards
Almost everyone has an opinion on who the best quarterbacks or running backs or wide receivers are. But not many people can talk about who the best guards are. So here, with some help from a few pro personnel men, are my Sunday best NFL guards.
1. Mike Iupati, 49ers. Three seasons into his NFL career, Iupati has shown steady growth. He still is a little unrefined in some areas, but at 6-5, 331, he arguably is the most physical and powerful mauler in the NFL. "Defenders are not going to beat him with strength," one front office man said.
2. Carl Nicks, Bucs. He is another huge (6-5, 349) blocker who physically overwhelms defenders. "You can't move him," a pro scout said. Nicks is so wide that he's difficult to beat with quickness, too.
3. Jahri Evans, Saints. He may be the best guard in terms of having all-around skills. He combines size with strength and agility. "He's physical, but quicker than you think," the pro scout said. "His guy rarely makes a play."
4. Davin Joseph, Bucs. He is one of the most athletic guards in the NFL. He is solid in run blocking and pass protection. "He has no area of weakness," a pro personnel director said.
5. Andy Levitre, Titans. Personnel men think he is a cut below the top four, but they still believe Levitre is a very solid player. Said one, "There are not many holes in his game."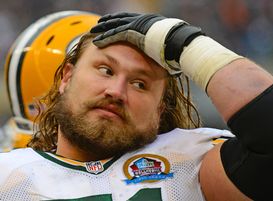 Josh Sitton is one of the league's best, as Aaron Rodgers would undoubtedly attest.
6. Josh Sitton, Packers. He is a tough, all-around blocker who plays hard on every snap and is technically sound. A front office man pointed out the Packers usually slide protection away from Sitton and give him very little help, and he doesn't require any.
7. Logan Mankins, Patriots. One front office man thought the five time Pro Bowler was declining a bit at the age of 31, but another thought he still was a pretty special player. "He's tough as nails, a real physical guy," one said.
8. Chris Snee, Giants. There also was some disagreement on whether or not this 31-year old had seen better days. But Snee remains one of the league's better guards. "Year in and year out, he plays at a high level," one front office man said. "He is strong and solid fundamentally."
Things I Didn't Used To Know
*There is a chance the Cardinals got a steal in free agent running back Rashard Mendenhall. He hasn't produced much for the Steelers over the last two years, but some of that was injury related. In 2012, Mendenhall wasn't completely healthy after an ACL tear the previous year. One front office man said he believes Mendenhall, given his size and speed, is physically superior than any running back available in the draft. The question he has is if Mendenhall will stay on course and be able to shake off injuries better than he did in Pittsburgh.
*The Jaguars know a lot about two of their veteran free agent acquisitions who could end up as starters because their coaches have worked with them before. Defensive line coach Todd Wash worked with Roy Miller when they were on the Bucs. And one of the reasons the Jaguars were interested in Miller is Wash knew Miller would bring a great work ethic and intensity to the organization. That's something the Jaguars were looking for. Outside linebacker Geno Hayes, meanwhile, played under Jags defensive coordinator Bob Babich in Chicago, and head coach Gus Bradley also was on the Bucs staff when Hayes was in Tampa. Babich and Bradley knew Hayes was a good scheme fit for what the Jaguars intend on doing.
*NFL teams still were trying to find out about an incident in which a hotel room at the combine was trashed, apparently by two players who were staying there. One of the players is a potential first round draft pick, and the incident could affect both players' stock. Front office men hoped to speak with one of the players about it at his pro day, but the player curiously made himself unavailable to talk.
Hot Reads
*You have to love it when Jaws breaks down the QBs.
*If it's a Matt Bowen fix you need, check this out on bargain free agents.
*Here is Russ Lande's latest mock draft, with some interesting twists.
*I agree completely with Kevin Kolb about "behind the scenes" things leading to his release from his Cardinals. That's because whatever happened on the trainer's table was behind the scenes, and Kolb spent a good chunk of his time as a Cardinal on that table.
*If the NFL wants to see more incompetence on offense, this is a great rule change.
*If the league really wants to improve the game day experience, forget about electronics and do something about this dirty little problem that my man Jeff Legwold wrote about.
*The Vikings' famous "Love Boat" sails again,