January 15, 2012 -
Dan Pompei
NFP Sunday Blitz
Whereas Skittles fueled Marshawn Lynch's success in 2011, Starburst JellyBeans played a little-known role in Aaron Rodgers' magnificent season.
Rodgers was able to take his game to a higher level by cutting back on his beloved Starburst JellyBeans and other sweets. Rodgers tells me that was one of the hidden reasons for his improvement this year.
There is little doubt that Rodgers, who is expected to win his first most valuable player award, has taken his game to a higher level this year. The Giants are likely to realize that Sunday when they travel to Green Bay for a divisional playoff game.
These are some of the reasons why:
*Rodgers paid more attention to what went in his mouth.
It turns out Rodgers, like Lynch, has a sweet tooth. He has a particular weakness for Starburst JellyBeans and ice cream. So he worked with a specialist to help him figure what he should be eating and when. And he has cut back on some of the good stuff.
"I wanted to make sure I was aware of the things that went into my body, what they did to my body," he said. "I felt sometimes later in the season, even early in the season, I've struggled with concentration levels and energy at times during the week, and even on game day. I wanted to be aware of how my diet affects my performance."
It's no joke to Rodgers. "I don't think that can go completely overlooked in some of the success I've had this season," he said. "You have to give some credit to how I've eaten. I feel I've been able to be a lot more consistent because of how I've taken care of my body."
*Rodgers made a concerted effort to improve his down the field throws, and he believes he is better on long balls.
He had a career-high 64 passes of 20 yards or more, which is 10 more than he had a year ago, according to Stats, Inc. He also averaged a career best 9.2 yards per completion, almost a full yard per pass better than his average (8.3) one year ago).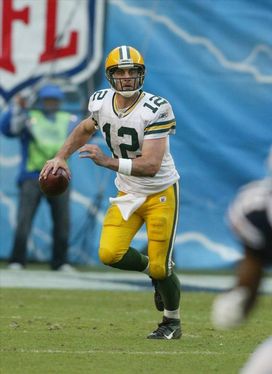 ICONBetter accuracy has made Rodgers a better deep ball thrower.
Rodgers believes these numbers are reflective of more accurate passes. "To work on my down the field throwing, I was very critical of where my feet are at all times," he said. "It's being in position where I can deliver the ball accurately. That has made a difference in being more consistent with all the throws."
In 2010 Rodgers' receivers gained 1,877 yards after the catch. In 2011, they gained 286 yards more. The difference might be more in Rodgers than the receivers. "I'm aware that if I can put the ball in a certain spot where a guy can make a better move after the catch, it's going to be better for both of us," he said. "Being more accurate leads to higher yards per attempt and more opportunities for touchdowns."
*Rodgers doesn't have as many peaks and valleys as he once did.
He had only two games all season when his passer rating was below 100. "I've closed the gap between the games when I'm not as on as others and the games when I'm really on," he said.
Rodgers attributes this to experience and preparation. He's now had 69 career starts. As Perry Fewell and the Giants are likely to discover Sunday, it's difficult to throw something at Rodgers he hasn't seen before and isn't ready for.
Little known fact about Rodgers: as Bart Starr once did, Rodgers keeps a binder with detailed files on opponents. There is one on Fewell has been studying. And probably another on Giants free safety Antrel Rolle. Rodgers picked up his system from former NFL quarterback Rich Gannon.
"He came and talked to us in I think 2006 or 2007," Rodgers said. "He would keep a binder every week on the opponent, and would write notes after the game. Drawing on my notes has been helpful. It gives you more things to be able to recall quickly."
What Rodgers has become is a complete professional in every aspect of his game. And as much as anything, that is why he is the NFL's best player.
Things I Didn't Used To Know
*Jay Gruden had excellent reasons for returning to Cincy. The new contract helped, as did the prospect of coaching Andy Dalton and A.J. Green another year. So did the fact that he should be in even greater demand as a head coach one year from now. But the best reason? His son will be a senior in high school next year and Gruden did not want to move him for two straight years.
*Had Jeff Fisher not chosen the Rams, the team was prepared to start looking at general managers from a second pool. In fact, the Rams had already done quite a bit of legwork and put out feelers to potential candidates. The initial candidates the Rams pursued—Lake Dawson from the Titans, Ruston Webster from the Titans, Ryan Grigson formerly from the Eagles and Les Snead from the Falcons--were chosen because they were perceived to be good fits with Fisher.
*Some were pushing for Fisher to hire Mike Martz as his offensive coordinator in St. Louis. All kinds of interesting connections there. Martz' Rams [he was offensive coordinator] beat Fisher's Titans in Super Bowl XXXIV. Later, the two worked together as members of the competition committee. And Martz' Rams and Fisher's Titans held joint training camp practices.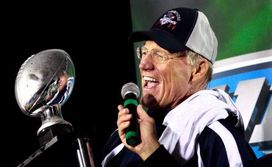 If Marty comes back, Brian might not be by his side.
*If Marty Schottenheimer lands a head coaching gig with Tampa Bay, the preference of son Brian is not to work for daddy again. The younger Schottenheimer would prefer to carve his own legacy and not be perceived as a coattail rider. Then again, after what happened with the Jets, the younger Schottenheimer might not have options.
*The Seahawks might want to lock up massive defensive end Red Bryant before he becomes a free agent, because there is likely to be quite a bit of interest in him if he is on the open market. When the Seahawks drafted Bryant, they were playing a 4-3 defense and he played tackle. But the team knew he was a better fit as a 3-4 end. They just thought he was such a value in the fourth round of the draft that they shouldn't take him. Now that the Seahawks are playing a 3-4, Bryant is in his element. He had an outstanding season and still could be improving.
My Sunday Best: Coach of the Year Candidates
The coach of the year award usually goes to the coach who most surpasses expectations. As a voter for the Associated Press award, I really don't like judging coaches that way because the expectations have to be factored in. So I try to base my vote more on the moves the coach made, the way he deployed personnel and his success developing players rather than just looking at how he fared relative to preseason predictions. That's why I had a hard time choosing between my top two candidates. Here are my five best coach of the year candidates for the 2011 season.
5. Marvin Lewis, Bengals. He won five more games than he did last year by subtracting proven veterans and replacing them with rookies. He gets high marks for player development and player deployment. Lewis clearly mad a good move by hiring Jay Gruden.
4. Gary Kubiak, Texans. What was impressive about Kubiak was the way he was able to navigate his team around injuries. The Texans lost Mario Williams for 11 games, Matt Schaub for six games and Andre Johnson for nine games. These were the three most important players on the team, a nd they still found ways to win. That's good game planning. He also made the right move by bringing in Wade Phillips to run the defense.
3. John Fox, Broncos. It would have been easy for the Broncos to bag it after a 1-4 start, but Fox kept them believing. He worked wonders with the Broncos defense, but nobody even notices that. Fox made the bold move of starting Tim Tebow, and redesigning his offense into something that came straight out of left field. It paid off with a division title.
2. Mike McCarthy, Packers. He will get overlooked by most as a coach of the year candidate, but not by me. In fact, I think he is as deserving of the award as anyone. It's true he had the best team on paper going in, but he made the Packers better. McCarthy took his offense to new heights, and he found ways to minimize damage from leaks in the defense. This team could have gotten full of itself as many teams trying to repeat do, but McCarthy set the right tone and provided outstanding leadership. Head coaches don't come any better.
1. Jim Harbaugh, 49ers. I voted for Harbaugh because he changed the culture of the 49ers and turned around a team in a year in which there was no offseason. Going from 6-10 to 13-3 would be very impressive any time, but doing it this year was no less than incredible. He resuscitated the career of Alex Smith and maximized the abilities of many others. No head coach made a bigger difference in his team in 2011 than Harbaugh. If McCarthy's Packers beat Harbaugh's Niners next Sunday in the NFC championship game, it will shed a different light on this award for many, but it really shouldn't.