August 25, 2013 -
Dan Pompei
NFP Sunday Blitz
The offseason addition of two-time Super Bowl champion defensive end Osi Umenyiora, the former New York Giants' standout signed as an unrestricted free agent, figures to be a solid move by the Atlanta Falcons. But bringing in Umenyiora, the NFL's 10th-leading sacker among active defenders, also magnifies one of the very few failures of the Arthur Blank-Thomas Dimitroff-Mike Smith triumvirate.
Yep, there's a big doughnut hole in the middle of the trinity's collective resume. And, no, we're not alluding to the most conspicuous shortcoming: The failure to deliver a Super Bowl championship in the trio's five seasons together. Instead, we refer to the bagel that has been the Falcons' glaring inability to draft and develop a viable pass rusher over the past five years.
Make no mistake, Dimitroff, essentially the architect of the roster, has enjoyed an extraordinary run as general manager. Ditto Smith, a still-underrated coach who has piloted the Falcons to four playoff berths in five seasons (the franchise had never even posted consecutive winning seasons before his arrival), and who led the franchise to within one victory (10 yards) of a Super Bowl invitation last season. Indeed, of the 22 position players who started for the Falcons in the NFC championship game seven months ago, 15 were acquired under the Dimitroff-Smith tandem, and half of them were draft picks made in that stretch.
During that period, though, the Falcons were unable to draft and nurture a true pass rush threat. Thus, in part at least, the necessity to sign Umenyiora. And before that, to trade for John Abraham in 2006, although that wasn't on Dimitroff's watch. Need we mention the ill-fated 2011 free agent signing of left end Ray Edwards, who was added as the presumptive complement to Abraham, and who cost the Falcons nearly $4 million per sack – 3.5 sacks in 25 games – before his ignominious release after nine games in 2012?
None of this is intended, certainly, as an indictment of Dimitroff or Smith. They have been a superb pairing, no doubt. Instead, the lack of a young, home-grown pass rusher is simply a reality, one that has been all but overlooked in evaluating Dimitroff's deservedly-ballyhooed draft acumen. It's a fact that, in the five drafts previous to this April, Dimitroff tabbed 13 "front seven" defenders. Only one of them, five-year veteran end Kroy Biermann, ever managed five sacks in a season.
Not as rookies, mind you. Ever.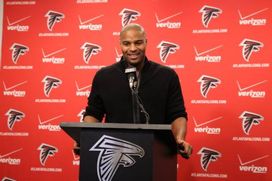 The Falcons hope that Umenyiora, who has notched 15 sacks over the last two seasons, is the answer to their pass rush issues.
Biermann collected a career-best five sacks in 2009. He's never equaled that total, and never, in fact, had more than four sacks in a season since that sophomore campaign. None of the other defenders chosen by Atlanta's talented current football regime since 2008 has ever posted more than four sacks in a single season.
A few more inarguable facts: Only twice in the past 10 seasons – with tackle Jonathan Babineaux in 2009 and end Patrick Kerney in 2004 – has a player initially drafted by the Falcons led the club in sacks. The last time Atlanta drafted and developed a true pass rush threat was with Kerney in 1999. Other than that, it's been mercenaries who have been charged with pressuring the pocket. Abraham led the Falcons in sacks in five of his seven seasons. The last home-grown "edge" rusher to have more than six sacks for Atlanta was Kerney, with 6.5 in 2005.
And so the need for Umenyiora, a 10-year veteran who, at 31, is three years younger than the departed Abraham, who was released in the offseason and subsequently signed with Arizona. But the classy Umenyiora is also a player whose sack totals have decreased in each of the past two seasons, who notched just six sacks in 2012 (his lowest total since 2006), and who had demonstrated some signs of decline the past couple years.
In an effort to produce a more consistent rush, and create advantageous matchups, Umenyiora will be used as a stand-up linebacker/hybrid defender in some of the fronts that are being installed by coordinator Mike Nolan. And Babineaux, who has at least three sacks in five of the past six seasons, will move from tackle to end at times.
OK, so a home-grown pass rusher isn't a prerequisite for a playoff team. No arguing that. But of the 20 defenders who collected 10 or more sacks during the 2012 season, 15 were with their original league franchises. Over the past three seasons, 39 of the 57 players who had double-digit sack totals were employed by the franchises with which they originally came into the NFL. Of the 11 other teams who qualified for the playoffs in 2012, not counting the Falcons, eight featured sack leaders that they drafted.
In the league, a team has to employ all available methods in terms of talent acquisition, and the draft is just one of those components. But drafting a rusher, and developing him, history has demonstrated, is considerably cheaper than getting one in a trade or via free agency, even in this time of blunted salaries for free agent pass rushers. And the ability to draft a pass rusher, and to have him in a team's system from the outset of his professional career, has longer positive effects.
Easier said than done, choosing a young passer rusher, and having him flourish? Sure, it is, but it's hardly impossible. Other clubs have done it. The Falcons, under their present football regime, clearly haven't yet.
They are hopeful that rookie ends Malliciah Goodman (seven sacks in 2012) and Stansly Maponga (nine sacks in 2011) will buck the Falcons' recent track record. And that second-year veteran Jonathan Massaquoi will improve. Said Smith: "Those (young) guys are going to play and get their chances." For the Falcons to improve their sack numbers, the kids are going to have to come through, it seems.
The popular theory has been that, in addition to adding Umenyiora, Atlanta may have bolstered its pass rush through the draft, with the additions of Goodman from Clemson (fourth round) and TCU's Maponga (fifth). But that hasn't been the case of late. Only once, in 2008, have the Falcons ranked above the league season average in sacks. Never under the current regime has the club ranked among the top 10. Three times in five years, Atlanta has been 20th or worse. The NFL average in 2012 was 36.5 sacks per team, and Atlanta managed just 29, and Abraham had 10 of those. In the past five seasons, Atlanta totaled 153 sacks, and Abraham accounted for more than one-third of them.
No Dimitroff-drafted player has had more than two sacks as a rookie, so history doesn't bode well for a guy making an immediate impact.
Some might argue Atlanta had few opportunities to select a pass rusher in the draft, or that circumstances dictated that the team address other positions as a priority. Such suggestions are disingenuous at best. First off, there are few positions in the NFL as critical as pass rusher, particularly given the way the game is played now. Second, Dimitroff has had a few shots at players who have emerged as pass rush threats, and he passed on them.
And we're not talking just about in the first round.
In his first draft, 2008, Dimitroff chose cornerback Chevis Jackson in the third round, with the stanza's fifth pick. Twenty-four slots after that, Detroit grabbed end Cliff Avril, one of the NFL's premier young rushers, a guy who averaged 9.7 sacks over the past three years, was tagged a franchise player by the Lions in 2012, and who defected to Seattle this spring as a free agent. Jackson is currently not on a league roster. Dimitroff selected safety Schann Schillinger in the sixth round in 2011. Four picks after Schillinger went off the board at the No. 2 slot in the round, division rival Carolina snatched Greg Hardy, who had 11 sacks last year. The failure to take and develop a pass rusher even predates Dimitroff. In 2007, for instance, the Falcons passed on end Charles Johnson, who has 33 sacks for the Panthers the past three seasons, and opted for Laurent Robinson. The wide receiver lasted two seasons in Atlanta before being traded.
Guys like Charles Johnson of Georgia, end Michael Johnson (Cincinnati) from Georgia Tech, and former Bulldogs "edge" rusher Justin Houston (10 sacks for Kansas City in 2012), were all in Atlanta's back yard. And the Falcons failed to get any of them.
The oft-cited contention of the Falcons' brain trust is that young veterans such as Massaquoi (fifth round in 2012) have shown pass rush potential in camp and might develop into sack threats. And, true, Massaquoi, who had one of the team's three sacks in the first two preseason outings, might yet emerge as a rusher. But the kind of promising rhetoric that is being afforded Massaquoi and others is eerily similar to that which regularly was employed with Lawrence Sidbury for a few years.
A fourth-round draft choice in 2009, Sidbury was chosen primarily for his pass rush potential. In four seasons with the Falcons, though, he never started a game, and totaled only five sacks in 48 appearances, before defecting to Indianapolis as a free agent in the offseason.
Nolan is a terrific and inventive coordinator, and perhaps, in his second season in Atlanta, he can manufacture more pressure than the Falcons did a year ago. But for the pass rush to improve in both the short- and long-term, the Falcons probably need to develop a young sack threat. And for all its brilliance under the current regime, that's something the franchise hasn't accomplished yet.
+AROUND THE LEAGUE
*Given the turnover at the backup quarterback position in the league this offseason and the relative inexperience of the No. 2 signal-caller group around the NFL, as noted in this space last week, it was at least mildly surprising that nine-year veteran Seneca Wallace was not more seriously pursued when he was released by New Orleans last week. But the former Seattle and Cleveland veteran, with 21 starts on his resume, didn't garner a lot of interest outside of that demonstrated by San Francisco, which signed him to a one-year contract. That's not to even remotely suggest Wallace is a big-time player. But he is a proven commodity, which is more than a lot of backups right now.
"Even though I didn't play (in 2012, after the Browns released him), I thought I still had something left," Wallace said. With backups Colt McCoy, Scott Tolzien, and B.J. Daniels seemingly providing little security behind starter Colin Kaepernick, the move seems a prudent one by San Francisco officials. All of the Niners' backup candidates have struggled in the preseason and, even though he hasn't played in a year, Wallace seems capable of stepping in for a short time. It helped him that his former head coach in Cleveland, Eric Mangini, is now a consultant for the 49ers. Kaepernick is a sturdy, durable guy – notable is that Alex Smith threw just one pass after losing the starting job in 2012 – but the youngster has some susceptibility because of the "pistol" offense and the "zone-option" that are such big components of the San Francisco offense. It's probably just an inexplicable quirk, but the starting quarterbacks for each of the last seven Super Bowl champions, and 10 of the past 11, didn't miss a game because of injury (Aaron Rodgers and Drew Brees sat out the 2011 and 2009 season finales, respectively, but not because of injuries). But the 49ers seem intent on providing a safety net in case the streak doesn't continue.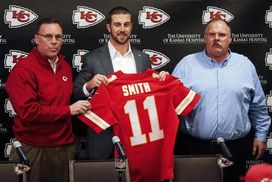 Smith has struggled during the preseason, but apparently has won over the coaching staff and locker room.
*Speaking of Alex Smith, the eight-year veteran has struggled some in preseason play, and was just seven-for-16 (with an anemic 54.7 passer rating) in last week's loss to his former San Francisco teammates, but Kansas City coaches and players have been raving about his work ethic, leadership, command of the offense, and the stability he brings to the position.
"He's everything you want at the position," said offensive coordinator Doug Pederson. Added safety Eric Berry: "He handles himself so well; (he's) a real pro about everything."
Smith is a guy without a public agenda but, even though he handled himself with great decorum when he was benched in favor of Kaepernick last season, the word in Kansas City is that he still privately chafes a bit about the demotion and quietly uses it as motivation. His preseason numbers notwithstanding, Smith seems to have won over his new teammates and coach Andy Reid's staff.
*A couple weeks ago, Minnesota tailback Adrian Peterson, who threatened Eric Dickerson's single-season rushing record last season, opined that he could break Emmitt Smith's career mark in 2017. Teammates don't disagree. For as much as Peterson worked hard last year to overcome the ACL injury he sustained at the end of the previous campaign, some Vikings veterans have claimed he hasn't let up any, and might even be approximating that work level as he attempts to become the first two-time, 2,000-yard rusher in NFL annals.
"The way he works," said right tackle Phil Loadholt, of Peterson, scheduled to make his first appearance of the preseason this weekend, "you put nothing past him. The man is a beast." Peterson, 28, has two more full seasons until he hits the dread 30 years old, typically the decline demarcation line for running backs. But, in terms of career pace, he trails Smith by only 107 yards for his first six seasons, and has played in four fewer games than did the all-time rushing leader in his first half-dozen campaigns. Several elements will be interesting over the next few years: Whether the Vikings, be it with Christian Ponder or someone else, increase the passing-game burden of their offense. How many carries Peterson, who has averaged 341.7 attempts in the three seasons in which he played all 16 games, gets per year. And, of course, injuries. But Peterson, who needs 9,506 yards to top Smith, certainly seems intent on owning the record, as he has publicly suggested. Several years ago, working on a story about whether there could ever be a player capable of making the seemingly impossible jump from high school to the NFL, we queried some league players about the prospects. The name that came up most often was that of Peterson, who was just a freshman at Oklahoma, and fresh out of Palestine (Tex.) High School, at the time.
*When Pittsburgh chose Rashard Mendenhall in the first round of the 2008 draft, there were some internal rumblings that the former Illinois star was a "soft" runner, a guy with tailback-quick feet and a fullback-sized body, but one who didn't always move the pile. During his Steelers' tenure – in which he twice rushed for 1, 000 yards, averaged 1,103 yards and 9.7 touchdowns, and led the club in rushing in all three years in which he was healthy and started more than four games – Mendenhall quieted at least some (but not all) of the critics. The same kinds of whispers haven't begun yet about the team's latest high-round runner, second-round rookie Le'Veon Bell, but there is similar frustration so far regarding the onetime Michigan State standout. Bell didn't miss a game during his three seasons with the Spartans, appearing in 40 contests and starting 19 of them, and demonstrating fine durability, like playing through a painful shoulder injury late in 2012. But he wasn't on the field much in training camp, sustaining three different injuries that have limited him to only four preseason carries. And while the foot injury he suffered last week isn't the Lisfranc sprain that was widely reported by some outlets, it will sideline Bell for a while. And it almost certainly led directly to the Steelers' acquisition of Felix Jones from Philadelphia on Friday. It will probably also exacerbate the frustration level – with the coaches, the front office and, yeah, Bell himself.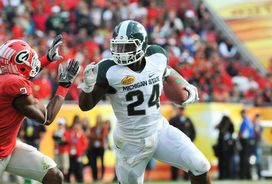 The Steelers will have to find a way to run the rock early in the season without Bell.
"Sure it is (frustrating)," Bell said. "I'm used to being out there everyday. I've just got to work harder when I am on the field." The Steelers selected Bell with the presumption he would start ahead of Isaac Redman and Jonathan Dwyer, come to camp and claim the No. 1 job, but that hasn't been the case. They're hoping his slow start, like that of Mendenhall, isn't an omen. . . . Two quick Ironies on Bell and the Steelers: First, the team passed on Eddie Lacy in the draft because of the former Alabama back's injury history, notably a fused toe joint. Now Bell can't stay on the field. Second: The Steelers shipped Dwyer, their leading rusher in 2012, during the draft. It may be fortunate Pittsburgh unearthed no potential trade partners, since Dwyer could wind up being the starter again.
*Plenty was made last week of the selection of former Oakland punter Ray Guy to one of the two "senior" finalist slots for the Hall of Fame. The choice of Guy likely facilitates his chances of becoming the first pure punter enshrined in Canton, since the senior candidates are not subjected to the same reduction procedure during the deliberations as are the 15 "modern" finalists. But probably equally as deserving as Guy, even though it didn't merit the same level of attention, was the choice of former Atlanta (1968-78) and Philadelphia (1979-81) defensive end Claude Humphrey by the Hall's senior sub-committee. Humphrey didn't even play a single season during which sacks were a statistic officially recognized by the NFL. But NFL historians, in particular the always thorough John Turney, have credited him with 124.5 sacks during his career, which earns him the No. 20 spot on the all-time list.
There are at least three defensive linemen in the Hall of Fame with fewer sacks. Talk to guys who played either with or against Humphrey, and they universally suggest he belongs in the Hall of Fame. This is actually the second time Humphrey has been nominated by the senior group (the Class of 2009 was the other), and he was also a three-time "modern" finalist. In the past, there has been some feeling that Humphrey was more a one-dimensional defender, who didn't play the run well, but that notion has been somewhat debunked by contemporaries. There was also a feeling that he forced a '79 trade to the Eagles, to be reunited with Marion Campbell there, but Humphrey and independent team sources have denied that. It's rare for a player to get a second chance as a "senior" candidate – Humphrey becomes only the sixth man to do so – but the sentiment (and the odds) seem to be with him this time. If Guy makes it to the Hall, his induction, just like last week's nomination, will command plenty of attention. But Humphrey may be every bit as deserving.
*As of Friday, there had not been an official, written decree from league offices to the 32 teams about the MRSA infection that has recently plagued the Tampa Bay Bucs and affected guard Carl Nicks and kicker Lawrence Tynes. But there had been plenty of discussions between trainers and equipment men from several clubs, one trainer from an AFC franchise acknowledged, and it was expected NFL officials will issue more guidelines, suggestions, and precautionary measures for attempting to avoid the kinds of problems the Bucs have experienced.
"We've all been aware of it, but you can bet that (the league) almost certainly will magnify on that," allowed the trainer.
MRSA is a staph infection-type bacteria resistant to many conventional antibiotic treatments, and can be most prevalent in moist environments, like locker rooms, although it has also thrived in some hospital settings as well. The Cleveland Browns have experienced MRSA problems in the past (Kellen Winslow), although it has never been definitively proven that MRSA was an element of the staph infection of the knee that essentially ended the career of former Browns center LeCharles Bentley. The Bucs, by the way, had their facility treated once last week and again this weekend, and other teams almost certainly will bring in experts to analyze their headquarters as well.
*There isn't a lot on which the two parties represented on the House Oversight and Government Reforms Committee agree these days – witness the partisan stances on issues like Benghazi and the IRS auditing of some groups – but on the preference for HGH testing in the NFL, there's certainly a consensus that reaches across the aisle. A spokesperson for Cong. Darrell Issa (R-California) confirmed to NFP on Friday that the committee may soon "begin to lean on" the NFLPA in an attempt to move forward the type of testing to which the union tacitly agreed two years ago as part of the CBA accord.
Earlier in the week, Cong. Elijah Cummings of Maryland, the ranking Democrat on the committee, told the Associated Press that congress might soon "intervene" if the issue isn't resolved. Said the Issa spokesperson: "I'd say that is accurate. Enough (delay) is enough." In a verbal spitting match last week, NFL vice president of labor policy Adolpho Birch and NFLPA mouthpiece George Atallah sparred over HGH testing. Birch suggested the NFLPA is experiencing "buyer's remorse" over the CBA agreement regarding testing. The union has agreed to testing for the purposes of developing a population study, but there are still questions about administration and governance of a program that would actually have some teeth. The advancements made in Major League Baseball, which once badly trailed the NFL in PED testing, but which now seems to have moved ahead, and which appears to enjoy the support of the rank-and-file, puts a lot more pressure on football players. And if that isn't enough, it sure looks like congress is preparing to exert itself.
"The clock is ticking," the Issa spokesperson said.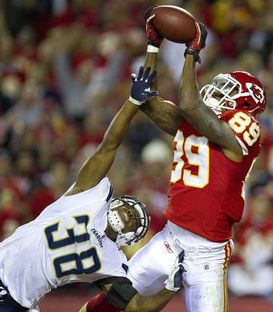 Will a change of scenery benefit Baldwin?
*It was hardly a blockbuster, and actually just a swap of disappointing former first-rounders, but the early consensus on last week's trade of wideouts Jonathan Baldwin (from Kansas City to San Francisco) and A.J. Jenkins (to the Chiefs from the 49ers) is that the Niners probably got the better end of the deal. For all his issues, Baldwin is a physically talented receiver, an athletic and at times acrobatic pass-catcher with the kind of size San Francisco coaches prefer, and might benefit from a change of scenery and new environment. Jenkins, a mildly surprising pick in the first round in 2012, wasn't seen as particularly tough physically or mentally, and wasn't reacting well to criticism.
+SHORT YARDAGE
*Another player-for-player trade last week, wide receiver David Reed (to Indianapolis) for tailback Delone Carter (to Baltimore), is seen as more of a break-even deal. But the Colts do feel Reed, who was injured for much of 2012 but was a standout kickoff returner before that, can be more than just a special teams guy. . . . Oakland officials won't comment on the contentions expressed by former St. Louis GM Billy Devaney that offensive tackle Alex Barron is motivated more by money than by his ardor for the game. But the Raiders are hardly sold on Barron, who hasn't played in a game since 2010 and was signed out of semi-desperation because of an injury to Jared Veldheer, and will keep their eyes peeled for another veteran tackle once the mandatory roster reductions begin. . . . Although he didn't sign with San Diego until Friday, picking the Chargers over Jacksonville, there are already indications that veteran cornerback Richard Marshall, released by Miami recently, could contest for a starting spot, at least in the nickel, at the outset of the season. . . . Notwithstanding the assertion by Michael Vick that he will run more in 2013, despite the risk of injury and the whispers he might be a bit too fragile, Philadelphia rookie coach Chip Kelly has insisted his up-tempo offense doesn't include a lot more designed runs for the quarterback than do many NFL offensive designs.
+BY THE NUMBERS