April 17, 2011 -
Dan Pompei
NFP Sunday Blitz
Let's forget for a moment that many NFL teams find Ryan Mallett as embraceable as a porcupine. Let's look strictly at the athlete and ask this question: can you win with him?
The issue with Mallett is his ability to avoid pressure.
This is not 1980 anymore. Marc Wilson, for instance, couldn't cut it in today's NFL, at least not in a starting lineup. Movement skills never have been more important for a quarterback.
Think about it. Is there an example of a current successful quarterback who can't get out of his own way? Peyton Manning probably wouldn't be a threat to win Dancing With the Stars, but he is one of the very best at avoiding pressure. Carson Palmer has become less mobile with time, but he still can avoid. Philip Rivers, Eli Manning, Matt Schaub and Kyle Orton aren't going to form a relay team, but they all have pocket presence. There really isn't a quarterback who is having success in the NFL who, either with his feet, his release, his mind or a combination of the three, can't avoid a pass rusher.
We're not saying every quarterback has to be Michael Vick. "There is a difference between mobility and agility," Saints coach Sean Payton told me. "Drew Brees has tremendous agility. He may not run or look for running opportunities, but he has good foot quickness."
Mallett, at 6-7, 253 pounds, doesn't move much like Brees. This is what one scout told me about Mallett's mobility. "You don't see him run past the line ever. He does not break down and make plays. He is a statue."
And another: "He's going to struggle when he's pressured. He's not a very good athlete and his footwork is so poor. When he got off his mark, he wasn't very good. Can you win with Drew Bledsoe and Byron Leftwich anymore? I think it would be real tough."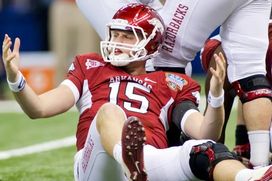 ICONIf Ryan Mallett ends up on the ground a lot, it won't bode well for his NFL career.
To be fair, we should point out that not every talent evaluator is as concerned about Mallett's immobility. One head coach who is considering drafting Mallett told me he thinks Mallett has enough pocket savvy to overcome his Frankenstein feet. Producer Greg Cosell, who watches tape for a living at NFL Films, tweeted this over the weekend: "Mallet pocket mobility a concern. But after 400 snaps saw a number of plays in which he moved, re-set and delivered accurately. Coaching."
Mallett ran a 5.37 40 yard dash at his pro day. That's really slow, but it's really not the issue. Tom Brady was timed at 5.24 at the 2000 combine. I once asked Chiefs general manager Scott Pioli, who drafted Brady, about that 40. "Tommy's speed and running has nothing to do with his pocket presence," Pioli said. "Here is a guy, he has vision. He has the feel. He has the sense. He knows when to step up, so his athleticism is due to his awareness."
The issue is whether or not Mallett has a feel in the pocket, and if he can get rid of the ball quickly when he needs to. His long delivery is going to compound his problems. In the NFL, Mallett could compromise his offense, forcing it to make allowances to try to protect him.
"If you are talking about a player who is a sack liability, I think they become harder to protect more than anything," said Payton, who was not specifically talking about Mallett. "At some point at third and eight, they still are going to have to be able to drop back, set in the pocket, and read the defense. If a player can break down the defense with their feet, it's certainly an asset. We would spend a long time trying to find the last immobile Super Bowl winner. The agility aspect is most critical."
If Mallett slides in the draft, it may be because he can't slide and sidestep in the pocket.
Things I Didn't Used To Know
*As it is looking more and more likely that Cam Newton will be a Carolina Panther, we should consider that there likely would be better landing spots for Cam. New Panthers offensive coordinator Rob Chudzinski's playbook is believed to be somewhere in the vicinity of 900 pages, which makes it one of the most voluminous in the league. Virtually every play has a shift and/or motion. It's a difficult offense for an experienced quarterback. Newton is inexperienced even among incoming rookies, and he the offense he was exposed to at Auburn is nothing like this one. If Cam goes to the Panthers, Chud might have to do some serious dumbing down of the offense in 2010.
*A number of teams at the top of the draft are all ears when it comes to trade-down possibilities, but so far they have been underwhelmed with phone calls. The Chargers and Patriots have the ammo to make a move, but neither team has sent any indication that they have the desire. If a team does move up (hello, Redskins), it is likely to do so for whichever quarterback is not taken first. So assuming Newton is the first pick in the draft, Blaine Gabbert becomes the bait.
*The hubbub about Nick Fairley missing a flight for a team visit wasn't such a big deal in the eyes of many front office men. As one executive told me, prospects routinely miss flights. He said a couple missed flights for visits to his team this month, including one player who is expected to be chosen near the top of the draft.
*In response to this story, Ohio State quarterback Terrelle Pryor is saying the supplemental draft is not in his future. And staying in school probably is a smart move. He may be a great college player, but scouts I've spoken with say Pryor would likely go in the fourth or fifth round of the supplemental draft. They see him as a player who is not an NFL style quarterback, an inaccurate passer and a player who struggles making decisions.
*Illinois linebacker Martez Wilson is knocked by scouts for his lack of instincts, but Stats proprietary X-info reveals that if he lacks instincts, he's overcome it pretty well. According to a study of defenders in Big Ten games, Wilson led the conference in "impact tackles," which are defined as tackles made for gains of two yards of less, including sacks. Wilson had 56 impact tackles, or nine more than J.J. Watt, 12 more than Ryan Kerrigan, 13 more than Corey Liuget, 24 more than Greg Jones and 28 more than Adrian Clayborn.
*The NFL is miles ahead of most other sports when it comes to player evaluation. But it's nowhere near as good as it could be, as this story illustrates. This should be required reading for every NFL team owner.
My Sunday Best: Quarterback Evaluators
If your team was picking a quarterback in the draft, who would you want picking it? These are my best quarterback evaluators. Any arguments?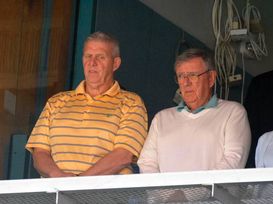 Even Bill Parcells might have benefitted from Ron Wolf's advice when it came to evaluating quarterbacks.
Ron Wolf—If I needed a quarterback, I'd ask for the retired GM of the Packers to be a consultant and review some tape. He is in a class by himself when it comes to quarterback evaluation. In Green Bay alone he traded for Brett Favre, drafted Matt Hasselbeck, Mark Brunell, Ty Detmer and Aaron Brooks and signed Kurt Warner as an undrafted free agent. When he was wit h the Bucs, he drafted Doug Williams. And when he was with the Raiders, he took part in the drafting of Ken Stabler.
Bill Walsh—Joe Montana in the third round was one of the greatest draft picks in history, but Joe Cool wasn't the only quarterback Walsh found. Of course he traded for Steve Young. When he was with the Bengals, he had a big role in the drafting of Ken Anderson. What Walsh did as well as anyone was find players who could fit the system.
Bill Belichick—He was reputed to be a defensive mind, but we've all learned he's much more than that. Among the things he's done exceptionally well is identify quarterback talent, finding Tom Brady in the sixth round and Matt Cassel in the seventh. Of course Belichick has drafted a lot of quarterbacks in the mid to late rounds who haven't panned out. But there isn't a Brady or Cassel to find very often. Belichick keeps taking chances and hits every so often. And what Belichick probably does better than evaluate quarterbacks is develop them.
Andy Reid—The Eagles currently have more quarterback talent on their roster than any team in football with Michael Vick, Kevin Kolb and Mike Kafka. That is a testament to Reid. In the most important decision of his career, he chose Donovan McNabb over Akili Smith, Daunte Culpepper and Cade McNown, and probably would have chosen McNabb over Tim Couch if he had been picking ahead of the Browns. Reid found a late round gem in A.J. Feeley. When he was in Green Bay, Reid was the man who pushed for Matt Hasselbeck to be drafted.
Bill Polian—Taking Peyton Manning over Ryan Leaf seems like a no-brainer now, but it wasn't back in 1998. What's interesting is the Colts might be looking to draft Manning's successor this year, if the tea leaves can be believed. We can't give him credit for Jim Kelly because Kelly was drafted the year before Polian arrived in Buffalo, though it was Polian who lured Kelly from the USFL. He did, however, draft Frank Reich for the Bills. And when he was with the Panthers, Polian drafted Kerry Collins.
A.J. Smith—The Chargers G.M. is the man credited with resurrecting Doug Flutie's career after the NFL had given up on him. But Smith also acquired Philip Rivers and was part of the front office that drafted Drew Brees. Other quarterbacks he has had a hand in drafting include Charlie Whitehurst and Todd Collins.
Scout Talk: Players who may not be NFL ready
Last week, I wrote about players who are ready for NFL prime time. This week, let's look at some players who might need some seasoning.
Cam Newton is first in a long line of quarterbacks who aren't experienced in a pro style offense and likely will take some time before getting comfortable. Others include Blaine Gabbert, Colin Kaepernick, Ryan Mallett and Andy Dalton. NFL men suspect Newton's transition could be slowed by his lack of quality college starts. The fact that he reportedly scored a 21 on the Wonderlic doesn't set any minds at ease either.
There is little doubt A.J. Green should be a star of stars in the NFL, but there is doubt that the receiver will hit his stride immediately. For a receiver to have a quick impact, he usually has to be capable of learning multiple positions quickly. Some NFL front office men believe Green might be difficult to coach, and they also question his ability to integrate a complex system on short order.
Green is polished from a technique standpoint, but the same can't be said of Maryland receiver Torrey Smith. He'll have to learn to run better routes before he can take full advantage of his incredible gifts.
Arkansas offensive tackle DeMarcus Love is a pretty highly regarded prospect, but scouts would be surprised if he becomes a starter from day one. Love was inconsistent in college and he needs to clean up mechanical issues, particularly with his footwork. The word out of Arkansas is it might take Love some time.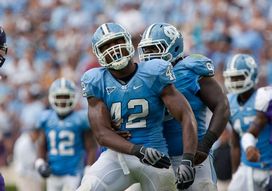 ICONIt may take Robert Quinn awhile to get the hang of NFL football.
Both of the gifted defensive linemen from North Carolina also might not be overnight sensations. Robert Quinn and Marvin Austin both sat out the 2010 season and don't have a lot of college experience. Quinn needs to add to his moves and learn to play lower, according to one scout. Austin also plays high at times, and he doesn't always prepare the way he should.
Muhammad Wilkerson of Temple is another defensive lineman whose transition could be slow. Wilkerson needs to build strength and improve his fundamentals, according to scouts. He also will have to learn to play against a higher level of competition.
Akeem Ayers could be in the mix to be chosen in the first round because of his outstanding athleticism, but he could be another player who doesn't have success right away. Front office men question the UCLA linebacker's instincts and ability to understand a complex defense quickly.
One Man Yelp: The Kennedys
If ever a family's story were made for a miniseries, it is the story of the Kennedys--politics colliding with celebrity, scandal, dependency, organized crime and more. And an eight-part miniseries finally has been made. The Kennedys, a very entertaining piece of work, is showing on the Reelz Channel this month.
Greg Kinnear is excellent in the difficult role of John F. Kennedy, though the series portrays him as a somewhat sympathetic character who is tortured by Addison's disease and victimized by a pushy father and bad advisors. Tom Wilkinson is a show stopper as Joseph P. Kennedy, the family patriarch and puppeteer.
The show is a little dangerous and a lot controversial because it's drama about history. The lines between fiction and fact are blurred. In fact, that's ostensibly why The History Channel, under pressure from historians and Kennedy supporters, punted its rights to the show. We know just about everything in the story happened, but we really don't know how it happened—the dialogue, the emotions, even the whys. So we have to classify the show as entertainment and not education.
If we can accept The Kennedys for what it is, we'll find that it's really good television.
Hot Reads
*I've always admired Derrick Mason as a player, but attack on NFL commissioner Roger Goodell has been disrespectful and out of line.
*If Sirius radio host and former NFL player Ross Tucker is correct in saying that players don't want to settle before August because they want to avoid camp, can't we just put these negotiations on hold and stop the sniping?
*Good move by the Bucs to lock up general manager Mark Dominik with a contract extension. Now they need to get him some more help in the front office.
*Sorry, Ray Lewis. You may be the king on the football field, but Tom Zbikowski would be king in the ring. Size and toughness can't overcome experience and savvy in boxing.
*Postponing the Super Bowl a couple of weeks is a terribly unappetizing idea, unless of course you are hoping like to see tulip buds outside of Lucas Oil Stadium on your way to the big game.
Dan Pompei covers pro football for the Chicago Tribune at chicagotribune.com. Follow him on twitter@danpompei