April 30, 2012 -
Dan Pompei
Nine best 'bang for the buck' draft picks
Editor's note: This column originally appeared in Dan Pompei's "Sunday Blitz."
There are great picks, and then there are great value picks. These are my best value picks, or picks that represented the most bang for the buck.
Courtney Upshaw by the Ravens, 35th overall. Leave it to Ozzie Newsome and Eric DeCosta to trade down, acquire an extra pick and then draft a pass rusher who at one point was considered one of the best in the draft. Upshaw has produced against top competition over time. Smart move.
Jerel Worthy by the Packers, 51st overall. The thing you have to like about getting Worthy so late is he has as much upside as any player like him in the draft. Trader Ted Thompson got the job done with this guy, who easily could have been picked a round earlier.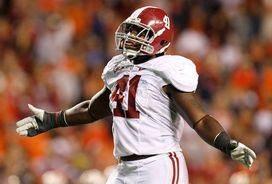 ICONRavens general manager Ozzie Newsome took advantage of Courtney Upshaw's slide.
Devon Still by the Bengals, 53rd overall. At one point in time not long ago Still was considered the best DT in the draft and a player who was likely to be a high first round pick. And it's not like Still did anything to hurt his stock.
Chris Givens by the Rams, 96th overall. Givens was a rated a second round talent by a number of teams. He fell because of concerns about his knees and concerns about off field conduct.
Keenan Robinson by the Redskins, 119th overall. A fourth round pick was a cheap price to pay for a linebacker with Robinson's versatility, production and measurables. He should be an NFL starter.
Nick Toon by the Saints, 122nd overall. If Toon had entered the draft one year ago as had been speculated, he likely would have been a first round pick. Mickey Loomis and the Saints finally had a little luck go their way when Toon fell to them in the fourth.
Josh Norman by the Panthers, 143rd overall. Norman is a second round talent. He went in the fifth because of character concerns.
George Iloka by the Bengals, 167th overall. Based on my conversations with scouts I had him as the third ranked safety in the draft, and figured he would be a second round pick based on the lack of talent at the position. Between the first and fifth rounds, only one safety, Brandon Taylor was taken. That left Iloka for the Bengals in the fifth.
Juron Criner by the Raiders, 168th overall. He was a third round talent that went two rounds later. But Criner comes with some risk because of some character concerns. Nice move by Reggie McKenzie in his first draft.
Alfonzo Dennard by the Patriots, 224th overall. I was not particularly high on Dennard. He was my 12th-ranked cornerback. He ended up being the 31st cornerback selected. Dennard was considered second round worthy going into the season. He had a down year but still was worth of a fourth round pick. He went in the seventh. Score one for Bill Belichick.
Follow me on Twitter: @danpompei