October 22, 2013 -
Dan Pompei
Not so unstoppable after all
The good news for Denver – relatively speaking, since the Broncos dropped their first game of the season Sunday night, a 39-33 defeat in Peyton Manning's emotional return to Indianapolis – is that the team is still on pace to obliterate the NFL's single-season scoring mark and its four-time MVP quarterback figures to make a mockery of most one-year passing records.
The bad news: To advance deep into the playoffs, and possibly to a berth in Super Bowl XLVIII, the defensively deficient Broncos might need every bit of that glittering offensive output to overcome their shortcomings.
Only five times since 1978, the season in which the NFL implemented a 16-game schedule, has a franchise gone to the playoffs while allowing 400 or more points. After Sunday's debacle, in which the defense permitted 37 points (you can't blame the unit for the safety the Colts scored) despite surrendering its second fewest yards of the year, Denver is on pace to give up 450 points. Among the playoff qualifiers since '78, only the St. Louis Rams, who surrendered 471 points while winning a wild card spot in 2000, were more generous.
It didn't seem to matter that Indianapolis netted "only" 334 yards in the victory. We say "only," because just Oakland, with 293 yards in a Sept. 23 loss to the Broncos at Sports Authority Field, had fewer. In fact, the Raiders were the only one of Denver's six victims in '13 to generate less than 360 yards. Two opponents – including Dallas, which rang up a monstrous 522 yards in the Broncos' 51-48 shootout victory just a couple weeks ago – had 450 yards or more. Even winless/hapless Jacksonville, the lone opponent to score fewer than 20 points this season versus the Broncos, had 362 yards.
Colts quarterback Andrew Luck had an efficient but not great outing, throwing for 228 yards. No Indianapolis back rushed for more than 37 yards. Yet the resourceful Colts seemed to bully the Denver defense, made plays when they had to, and kept drives alive. Sure, the Colts' defense deserves plenty of kudos for holding Denver to so many field goals, but the offense set a physical tone as well, and that should be worrisome to the Broncos' defense.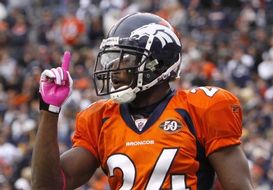 Cornerback Champ Bailey returned to action in Week 6 only to suffer another setback.
"Way too many mistakes," lamented safety Rahim Moore after the Broncos' first loss of the season. "We've got to be better than that."
Indeed, the defense does, at least if Denver plans to play for the championship.
For the first six weeks of the season, when the Broncos were undefeated, their high-octane offense likely camouflaged some of the defensive problems. But following the loss at Lucas Oil Stadium, there was no hiding the Broncos' defensive lapses, which were certainly exposed in front of a national television audience. It might be tough for opponents to easily duplicate the Indianapolis defensive effort against Manning, to employ as a template the aggressive man-to-man coverages and solid pass rush versus an injury-ravaged Denver offensive line, to hold the Broncos and all their explosive pieces in check. But there figures to be other games in which the offense doesn't casually score 40 points, or in which Manning stumbles a bit, and the defense will need to pick up the slack.
On Sunday night, when its problems were conspicuous, the unit seemed incapable of handling that chore. Said one front seven player, who acknowledged Monday to NFP that the defense played too soft: "We can't count on (the offense) to win games for us every week. You can't be just half a team in this league. It wasn't like Sunday was the only game where there have been problems (with the defense). But when you win, it covers up a lot of stuff.
"On Sunday, though, a lot of scabs were ripped open."
In fairness, it should be pointed out that the Broncos played the first six games of the season without edge rusher Von Miller and cornerback Champ Bailey. But in his return against the Colts, Miller appeared rusty and Bailey limped off with what appeared to be a reoccurrence of the left foot injury that had sidelined him. Middle linebacker Wesley Woodyard, arguably among the most underrated defenders in the league, did not suit up and he was missed.
Miller may play himself back into shape, but Bailey is 35 now and the 12-time Pro Bowl cornerback might finally be in decline. The Broncos might need some other players to step up and, frankly, must play sounder overall. Denver right now is a prime example that pure statistics don't always matter. After all, the Broncos have nine interceptions and only five teams have more. They have permitted opposing quarterbacks a completion rate of fewer than 60 percent and a passer rating of 89.7, and neither is particularly bad.
But the Broncos also are on pace to allow 5,118 passing yards, which would be a new NFL worst. And after surrendering only 38 completions of 20 yards or more for the entire 2012 season, they've given up 40 such plays already. Those are, it seems, conspicuous numbers that do count.
It's somewhat ironic that one loss, even to a team as solid as Indianapolis, could make a team's problems stand out so much more. But the defeat to the Colts kind of unmasked some of the Denver deficiencies, and they are areas that need addressed by coordinator Jack Del Rio and his staff.
Sunday night's hiccup notwithstanding, Manning has been a stallion for the Broncos. The defense against the Colts, though, looked like glue-factory nags at times. And if the Broncos want to be true thoroughbreds, and finish the season in the winner's circle, it's got to get a lot better.