January 19, 2011 -
Dan Pompei
One man's All-Pro vote
The two most difficult positions to pick All-Pros for are outside linebacker and guard. But the reasons are entirely different. At outside linebacker, there is a glut of talented players, several more than you can squeeze onto an All-Pro team. At guard, there really aren't any true standouts in the NFL these days. There isn't a lot of separation between the best guards in the league and the below-average ones.
Here is how my All-Pro ballot shakes out.
Quarterback—Tom Brady, Patriots. Philip Rivers and Aaron Rodgers would have been strong contenders in another season, but Brady really blew away the competition this year. Of course, that was before the playoffs began. Votes had to be cast then.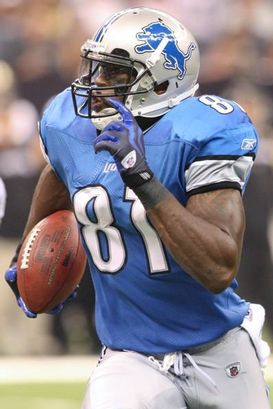 ICONIf Calvin Johnson played on the Colts or the Packers, he'd break records.
Wide receivers—Calvin Johnson, Lions and Dwayne Bowe, Chiefs. You could have gone a number of ways here. Tough to argue with Roddy White, and Reggie Wayne is a consideration every year. Brandon Lloyd merited a look. Mike Wallace and Greg Jennings are personal favorites. And Andre Johnson probably is the most talented of all. But Bowe scored 15 touchdowns despite getting virtually all of the attention from opposing defenses. And Calvin Johnson is the NFC's version of Andre Johnson. The Lions kept changing quarterbacks, and Johnson was the only constant in their passing game.
Running backs—Arian Foster, Texans and Jamaal Charles, Chiefs. Foster may have meant more to his offense than any non-quarterback meant to their offense. And Charles' 6.9 yard average per carry is the bomb.
Fullback—Ovie Mughelli, Falcons. He was a hammer on lead blocks for Michael Turner, and he helped keep Matt Ryan clean all year.
Tight end—Marcedes Lewis, Jaguars. Antonio Gates probably gets this spot if he didn't miss so many games. Jason Witten was tough to ignore too. But this was a good year to take notice of Lewis, an old fashioned tight end who blocks better than he runs, but still can make tough catches.
Offensive tackle—D'Brickashaw Ferguson, Jets and Andrew Whitworth, Bengals. Jake Long and Joe Thomas are solid, solid players are were strong considerations. But Ferguson pass protects as well as anyone. He gave up only two sacks all year according to STATS despite frequently being left on-on-one with the opposing team's best pass rusher. Whitworth was named the Bengals' MVP, and for good reason.
Guard—Brandon Moore, Jets, and Josh Sitton, Packers. Moore was very consistent in all phases of his game, and is a premier run blocker. Sitton was the best blocker on the Packers' line. Chris Snee of the Giants also as a worthy candidate.
Center—Nick Mangold, Jets. He may have been better one year ago, but he still was as good as any center.
Defensive end—Julius Peppers, Bears and Jared Allen, Vikings. For much of the season, many people were wondering why these two guys weren't getting more sacks. But they were both rushing the passer exceptionally well and helping to create opportunities for others.
Defensive tackle—Haloti Ngata, Ravens and Ndamunkong Suh, Lions. Ngata really came into his own this season, adding some pass rush to his incredible run defense. And Suh was a force right from the start.
Outside linebacker—Clay Matthews, Packers and DeMarcus Ware, Cowboys. Matthews is the one lock. The second spot was up for grabs between Ware, Cameron Wake, Tamba Hali, James Harrison and Terrell Suggs. I gave it to Ware because he led the league with 15.5 sacks even though he didn't play on a team that had as many pass rush opportunities as most.
Inside linebacker—Brian Urlacher, Bears and A.J. Hawk, Packers. Tough to argue against Ray Lewis ever. But Urlacher was outstanding. I'm really surprised he hasn't gotten more attention for his overall game. And Hawk was the best-kept secret in the league.
Cornerbacks—Darrelle Revis, Jets and Tramon Williams, Packers. Revis is a rubber stamp candidate. Williams is another player hardly anyone knows about, but he came on strong this season to edge out Oakland's Nnamdi Asomugha on my ballot.
Saftey—Troy Polamalu, Steelers and Ed Reed, Ravens. This was the easiest choice. No contest, really.
Punter—Shane Lechler, Raiders. His combination of leg strength and touch is unbeatable.
Kicker—Billy Cundiff, Ravens. He set a record with 40 touchbacks, and was darned good on field goals too.
Returner—Devin Hester, Bears. Teams changed their game plans because of him on a consistent basis, and he frequently still made them pay.
Dan Pompei covers pro football for the Chicago Tribune at chicagotribune.com.