February 17, 2011 -
Dan Pompei
Open season on Hall of Fame
It has been open season on the Pro Football Hall of Fame and its board of selectors recently, so as a member of the board, allow me to respond to some of the criticisms before I take another arrow in the back.
First, let me say that some of the critics, including Jason Whitlock from Fox Sports and Mike Florio from ProFootballTalk.com, make some compelling and worthwhile points. I can't disagree with these men when they write that 44 selectors are too few. As it stands, all you need are nine votes to kill a candidate. That makes each of us probably a little more powerful in the process than we should be.
I believe it would enhance the process to add more voices, maybe twice as many as are currently in the room. There are several long-time NFL writers not on the board whose wisdom could benefit the process. And there are broadcasters who could raise the level of discussion, some of whom are former players or coaches. I'm thinking about men like Bill Cowher, Matt Millen, Al Michaels and Ron Jaworski.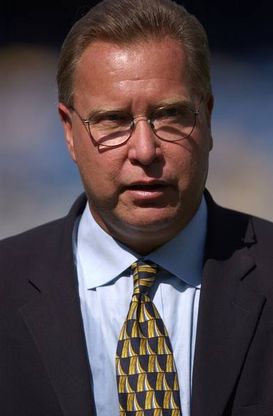 Someone like ESPN's Ron Jaworski could add a lot to the Hall of Fame's board of selectors.
Outside of the media, there are others who are qualified to be selectors. It would be wonderful to get the perspective of former general managers like Ron Wolf, Charley Casserly and Ernie Accorsi. And I'd like to see some hall of famers in on the process too. After listening to Jack Ham and Charlie Sanders talk at the meeting to determine the senior candidates, there is no doubt in my mind men like them could be considerable assets to the process.
Of course, adding men who were a part of the game means introducing more bias to the room. But bias already is there. Bias exists wherever human beings exist. The selection process never can completely get away from that. But it can control it. Part of the intended benefit of having journalists vote is we are supposed to be capable of being more subjective than people who haven't been trained to control biases. If the board of selectors doubles in size, individual biases won't matter anywhere near as much.
But to suggest that the current group of selectors is working in concert to keep qualified candidates out is preposterous. Trust me, we are trying. Maybe we aren't always perfect. In fact, I know we're not always perfect.
I've scratched my head at times over some of the decisions we have made as a board. I think we all have. But that's part of the beauty of the process—it's a subjective thing. That's why so many people are outraged after hall of fame voting is announced every year. Large segments of the population are absolutely convinced that the candidate they support is very worthy, and more worthy than most other candidates. Rarely is there ever a complete consensus on a candidate.
If, after hall of fame voting were announced, fans and media members from all over the country were up in arms because one candidate was not voted in, that would make me think. But that's never the case. Fans and media members are usually up in arms because 15 candidates were not voted in. And we only have possible five spots (seven if you count seniors).
Whitlock is outraged about Willie Roaf's absence. Others are indignant about Curtis Martin. Some can't believe the continued omission of Cris Carter. A number of people can't understand how Charles Haley hasn't been voted in. I have heard a lot of griping about Kevin Greene, Dermontti Dawson and Donnie Shell. What about Roger Craig, Jerry Kramer, Todd Christensen, Jay Hilgenberg, Mike Kenn, Karl Mecklenburg, Eddie DeBartolo and Steve Tasker? On and on.
The biggest challenge we face is figuring out where the draw the line. The hall of fame is a very exclusive fraternity. Some candidates just are not quite good enough.
For more on how the board separates the candidates, check back Friday.
Dan Pompei covers pro football for the Chicago Tribune at chicagotribune.com