February 18, 2011 -
Dan Pompei
Open season on the Hall of Fame, Part II
For Part 1 of my thoughts on the Hall of Fame voting, click here.
I have great appreciation for the Hall of Fame selection process in part because I have never emerged from a meeting without getting an education.
The knowledge and research that many board members bring to the table each year would blow you away. Trust me, these men are not spouting uneducated opinions about players they watched play a few times 25 years ago. The expertise of the board is impressive, but it could be even more impressive. That's why I would welcome an expanded board with voters from a cross-section of NFL involvement in part becasue it would expand our horizons more and give us perspectives we currently don't have.
As selectors, our responsibility is to make the Hall of Fame selection process as black and white as possible. And when we are in that room, after seven hours of debate, it often becomes more black and white than the outside world could ever understand.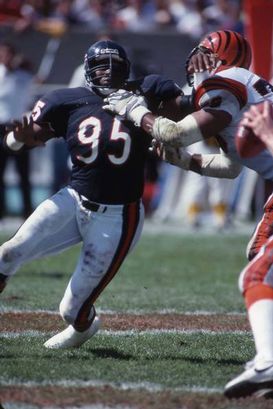 Anyone who watched Richard Dent's career closely knows he belongs in Canton.
Some have been critical of Richard Dent being voted into the Hall of Fame. I would bet that none who have been critical saw Dent play live more than a handful of times when he was in the prime of his career.
Dent played in four Pro Bowls, which is the primary knock against him. Some of his critics talk about Pro Bowls as if Pro Bowls are the be-all, end-all in determining a player's worthiness to the Hall. It's the first thing they bring up, and often the only thing. If Pro Bowl appearances are so significant, why is it that we spend so much time and space every year ripping Pro Bowl votes, talking about snubs and reputation picks?
Hall of Fame voting is much more credible than Pro Bowl voting because Pro Bowl voting is done hurriedly, without a lot of thought, but with more bias. Hall of Fame voting is done with much contemplation, conversation and research. What I've told the other selectors is just because Pro Bowl voters or All-Pro voters got it wrong doesn't mean we should. The Hall of Fame selectors have the advantage of being able to completely dissect a career, season by season.
Willie Roaf and many of the other players who people are upset about are likely to have their day. In time. One of the tricky parts about Hall of Fame voting is deciding when the time is right for a candidate. It's not just about one candidate. You can't look at a player in a vacuum. It's easy to say so and so should be a Hall of Famer. It's a lot more difficult to say so and so belongs in ahead of this guy.
It's about the process, and about treating every candidate fairly. If selectors allow every flavor of the year to jump the line, we are going to end up with a lot of worthy Hall of Famers getting lost in the shuffle. It has happened plenty in decades gone by, and we have someone of a problem now because of it.
Would it help the public understand if they could witness the meeting? Probably. And some have called for transparency in the process. I have no problem with my votes and thoughts being made public, but I understand the value of doing it the way it is done. The people who run the Hall want selectors to feel completely free to speak their mind in the meeting, and to vote the way they believe in their heart is best. Make everything public, and you might make the process more political. That would not be a good thing.
Michael Lombardi of NFL.com suggests the board of selectors should look at game tape. That's an outstanding suggestion. Tape says so much more than words or numbers could. The more we know, the closer to the bullseye we will come.
It also has been inferred that those of us who are on the board participate because it looks good on our resumes, or because we enjoy being power brokers. I will speak for myself but I know many of my fellow selectors feel the same way. It is not always enjoyable being on the board. It's work. It's hassle. It's time. It's being a bad guy. It's being willing to fight for what you believe in. It's making hard decisions. It's being put in uncomfortable positions. It's leaving yourself vulnerable and failing.
That's not all though. It's an honor and a privilege, sure. It's probably even good for your ego.
But that's not why I do it. I do it because it's important. Really, really important.
Dan Pompei covers pro football for the Chicago Tribune at chicagotribune.com.