April 21, 2011 -
Dan Pompei
Overriding the draft board
A team spends literally years setting up a draft board. It is a project that tens of people take part in. Hundreds of thousands of dollars are invested. Scouts log thousands of miles traversing the country. All day meetings go on for weeks and weeks. So much tape is watched that remote controls are worn out. Great care is taken in making sure consensuses are reached.
And then, sometimes, when a team is on the clock, the big cheese in charge will forget about all of it and pick the guy he really wants. It doesn't happen too often (outside of Oakland, that is). But it is not altogether unheard of for a decision maker to override the board.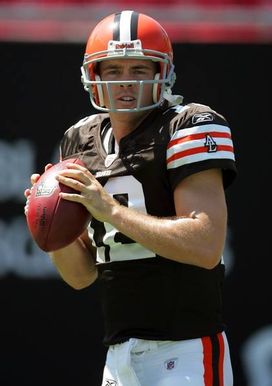 ICONOverriding the draft board to take Colt McCoy might be a defining move for Mike Holmgren.
It happened last year when the Browns selected quarterback Colt McCoy in the third round. The players at the top of the Browns' board as pick No. 85 approached were defensive tackle Corey Peters and guard Shaun Lauvao. But team president Mike Holmgren saw this quarterback he liked was sliding, and he could not help himself.
Peters went off the board to the Falcons before the Browns picked. But instead of drafting Lauvao, Holmgren surprised the draft room. "The fates were telling me something," Holmgren told Sports Illustrated's Peter King at the time. "We had to pick him. I said to Tom [Heckert, the team's general manager], 'Let's pull the trigger.' I tried to run this draft the way Ron Wolf used to in Green Bay. Everyone contributed. But I kind of pulled rank a little bit. I said, 'Let's do this.'"
The Browns ended up taking Lauvao with the 92nd pick. The scouts got their guy. And Holmgren got his.
This is what Holmgren says about it now, after some separation. "I wouldn't suggest in any way Tom didn't want him. But when we were preparing for that round, we did not expect for Colt to be there. And we were going to take a quarterback in the draft at some point. We were looking at a couple of other people in that round who had gotten taken. When it came time, my suggestion was let's just take this guy. We like him. We didn't expect him to be here. 'Tom you OK with this? Eric [Mangini]?' They were, so we did it. I guess I kind of pushed the envelope a little bit, yeah."
It appears to have worked out OK for the Browns, as McCoy is the odds on favorite to be the team's starting quarterback in 2011. Maybe a year or two from now, we will be saying it was a fantastic, bold move by Holmgren.
But it was a dangerous move. It's always dangerous to ignore what months of group research and premeditated strategizing are telling you in favor of a whim, or in favor of a personal preference. It's always dangerous to undermine a scouting system and turn what looks like a democracy into what looks like a dictatorship.
These kinds of moves can tilt the playing field in training camp. When a player is the hand-picked selection of the highest ranking authority in the building, he usually is given more benefit of the doubt than his competitors.
Holmgren acknowledges the risk. "It can be dangerous I suppose," he told me. "If Tom said, 'Mike, there is no way we can do it and these are the reasons why,' I respect him enough to have that discussion. But we already had most of those discussions, so I knew we weren't going to take Colt in the first round. But for the third round, it was OK. I'm not going to go in there and pound the table. They have to want to do it too. If they gave me good reasons for not wanting to do it, then I probably would listen to them. I can't guarantee I'd listen to them, but probably."
Sometimes, people in power don't care if others get on board with a decision. In Holmgren's view, drafting McCoy was not that kind of play. It was a move he could sell and others would buy.
Someone in Holmgren's position easily can justify the move. The owner of the Browns appointed Holmgren to his position for his expertise, especially his quarterback expertise. Holmgren should know better than anyone what kind of quarterback he needs to run his offense. He is an experienced voice in the draft room. Why not exercise some control?
It is likely there will be similar moves in the draft this year. Al Davis makes them on a regular basis. Maybe John Elway will start feeling his oats in Denver. Jerry Jones might play a hunch. Mike Shanahan could flex his muscle with one of the Redskins' picks.
The moves might all work out. They might even work out fabulously. But that doesn't mean they won't be dangerous.
Dan Pompei covers pro football for the Chicago Tribune at chicagotribune.com.