September 08, 2010 -
Dan Pompei
Packers' Finley emerges as tough matchup
If the NFL is indeed a matchup league, then one of its most valuable players is Jermichael Finley.
The Packers tight end, in a short period of time, has become perhaps the league's most difficult player to match up with.
He stands 6-5, weighs 247 pounds, and the former basketball player can just about jump over the cross bar. That makes him impossible for defensive backs to cover. He's too fast and athletic for a linebacker to stick with him.
What's more, he is quickly becoming known for the circus catch. In Packers training camp, he was like a one-man Cirque du Soleil. One-handed catches are ho-hum. He caught one behind his lower back, basket style. Then there was the one he caught behind his head with his back to the throw. And the one that hit off his chest and bounced up. Finley ran past it and caught it behind his back.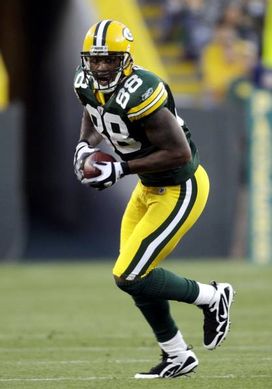 ICON Including the Packers' playoff loss, Finley was the team's leading receiver in the last eight games of '09.
"He's put on some pretty good shows," Packers general manager Ted Thompson said.
He put on some pretty good shows last season, too. In his last eight games, including the Packers' playoff loss to the Cardinals, he was the team's leading receiver. If he can be as productive for a full season, he will have 88 catches for 1,150 yards and eight touchdowns.
The thing about Finley is he's just starting to realize his potential. He's 23 years old. He came into the league with two years of eligibility remaining at Texas, as green as his jersey. "Coming in my rookie year, it was overwhelming," Finley said. "Coming from college, the playbook was like going from a picture book to a dictionary. I think I've learned a lot these past three years. Aaron [Rodgers] has helped me especially. Every time he sees me run a route, he tells me you have to push your depth up or widen or expend a little more."
In determining how to cover Finley on Sunday, Eagles defensive coordinator Sean McDermott is making some very important decisions this week. Last year, the Eagles struggled with some tight ends, giving up 76 receiving yards or more to tight ends four times.
The best way to defend Finley unquestionably is to put a big body on him at the line and try to knock him off his route, and then cover him over the top with a big corner or safety. That won't always work either, but it's the safest bet. The only problem is it leaves Greg Jennings, Donald Driver and Jordy Nelson or James Jones with too much space.
"I hope they double him," Packers coach Mike McCarthy said. "Then there are a lot of opportunities for everyone else."
The key is to be physical with Finley, so a linebacker should be involved frequently. The Packers' offense is based on timing. The ball isn't coming to him if Finley is slowed down at the line or impeded from being where he needs to be.
This year, the Packers plan on moving Finley more than they did in the past because he's more comfortable with the playbook. He said he prefers being flexed five yards from the tackle because it creates more advantageous matchups.
Finley already has seen virtually every possible coverage, and he says he is ready for anything. Especially a man-to-man matchup. "I ain't run across no killer who gets after me yet," he said. "I'm down for a matchup. It's all in my personality. I'll get nasty with them for sure."
If there is a defender who can cover Finley all over the field, I'd like to see him.
Email Dan Pompei your questions at dan.pompei@nationalfootballpost.com