November 03, 2010 -
Dan Pompei
Player development is the Chiefs' secret
Drafting talented players is great. Developing them is better.
And player development has as much to do with the surprising success of the Kansas City Chiefs as anything.
Obviously the Chiefs have some good young talent. Some of the players were drafted by current general manager Scott Pioli. Some were drafted by former general manager Bill Kuharich.
Players from both groups have been developed by head coach Todd Haley and his staff. Haley learned how important player development is in his formative years. His father Dick Haley, an NFL personnel man for close to 40 years, told him a long time ago that his No. 1 objective as a coach should be to develop players and highlight their abilities. Bill Parcells, for whom Todd worked under as an assistant, drove home the point.
Talking about developing players is easier than actually doing it. "You have to coach them," Haley says. In order to coach them, you have to have coaches with the same objectives. That's why Haley has so many coaches on staff who he previously worked with.
"It's a bunch of guys who have seen it done the way I believe you have to do it — push the players, coach them hard, and allow them to play to their strengths," Haley said. "That's what Bill always impressed on me. Don't be a system coach. You have a system and terminology, but you better play to your players' strengths. That's what I always did as a coordinator and assistant. That's why you saw us throw a bunch more than people thought you could and be successful [with the Cardinals]. It's also why you see us running now."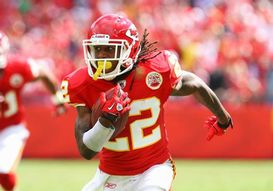 ICONDexter McCluster made an immediate impact with the Chiefs.
Some of Haley's rookies have made quick contributions. Among them are safety Eric Berry, receiver Dexter McCluster and tight end Tony Moeaki. Some of his young players have made natural progressions this season. Among them are quarterback Matt Cassel, running back Jamaal Charles and cornerback Brandon Flowers. And some others have taken their games to higher levels. Among them are defensive end Glenn Dorsey, outside linebacker Tamba Hali and inside linebacker Derrick Johnson.
The most interesting group is the last one. Some teams might have chosen to cut ties with all three players. The Chiefs chose to try to mold them to fit their scheme.
Dorsey weighed 345 pounds last year and wasn't in the kind of condition he needed to be in to play defense the way this staff wanted him to play. He lost about 30 pounds and converted from a 4-3 defensive tackle to a 3-4 defensive end. "He's still learning," Haley said of the fifth pick of the 2008 draft. "But he's a player with unique abilities. I'm happy he's starting to see some of the fruits of his labor.
Hali had a similar conversion, going from defensive end to outside linebacker. He had some ups and downs in his first season as a linebacker, but now is starting to look like a natural at the position with seven sacks. Two more and the fifth-year veteran will have a new career high.
"He's made a lot of progress," Haley said. "Tamba is as hard a worker, and he's as competitive a guy as I've been around. He has some real pass-rushing skill, and is developing into a 3-4 outside linebacker talent."
Johnson started slowly in the Chiefs' new system too. "He had a tough year last year," Haley said. "He was nicked up. Then he realized it wasn't going to be alright to be nicked up. He lost his starting job. But he grew through it and set his mind this year that he was going to come in and win the job. When we got here he was an extremely skilled guy. Now he's becoming a talented football player. He's been a real big impact player for us."
None of it would have been possible without a commitment to player development.
Dan Pompei covers pro football for the Chicago Tribune at chicagotribune.com.