April 14, 2011 -
Dan Pompei
Players as consultants
Earlier this week, Cardinals receiver Larry Fitzgerald was quoted talking about what his team might do with the fifth overall pick in the draft. "I would doubt that we would draft a quarterback that high. I would doubt it," Fitzgerald told foxsportsarizona.com. "But, who am I? I'm just a player. Management hasn't told me if they are going to go in any direction."
Fitzgerald went on to express opinions about Blaine Gabbert and Cam Newton, players who have been linked to the Cardinals.
Earlier this offseason, there had been some talk, apparently unfounded, that Cardinals management had asked Fitzgerald his opinion about what to do about their quarterback situation.
All of this is pretty innocuous. But it has raised headlines. And it also raises an interesting topic—should NFL teams be interested in what their veteran leaders have to say about personnel moves?
It is not entirely uncommon for teams to survey players. But it's usually a hush-hush operation because of the potential perception issues it can create.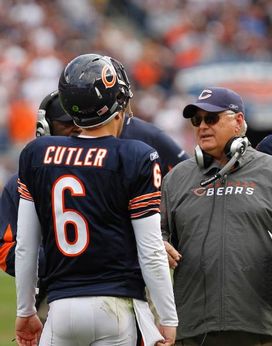 ICONBefore the Bears hired Mike Martz, they wanted to get input from Jay Cutler.
When the Vikings were considering signing Brett Favre in 2009, then-coach Brad Childress wanted to know that influential veterans in the locker room would be OK with the move. Before the Bears hired an offensive coordinator one year ago, they got quarterback Jay Cutler involved in the process. The team even flew Mike Martz to Nashville to make sure Cutler and Martz were comfortable with one another.
The primary benefit in consulting players isn't enlightenment. The primary benefit is getting the organization to move in lock step, to make sure there are no dissenting voices, to sell before the fact instead of trying to scramble after. Consulting players creates trust. It gives players ownership of decisions, instead of risking making them feel like outsiders.
This is what Cardinals coach Ken Whisenhunt told me about the concept. "We discuss a lot of things with our players. We think players' input is important in a lot of areas. Larry and some of the other leaders are very important obviously. We ask them a lot of questions. What they think of travel, for instance. We obviously solicit input on game plans, how we prepare for teams. It's important to get your players' opinions. They're not making the decisions, but it is a team sport. As a former player, I always felt good when our coach asked me what I thought about things. It bought me into the system. I had some vested value in this, and it was important. I have an open door policy and have been upfront about that. If players have things to talk with me about, I'm open to discuss it. They're not always going to agree with you, but it creates a line of communication that is important."
The opinions of players can be particularly helpful if those players have played with, worked for or played against someone the organization is trying to gather information about. But asking a player about someone he has had experience with is different from asking a player his opinion about what is best for the organization.
Sometimes, players don't have to be asked. They often offer their opinions without solicitation, kind of like a nosey in-law. Unsolicited advice from players rarely is heeded, and might not even be taken seriously.
Some teams prefer to leave players out of the decision-making process completely. "We don't consult with players," one NFC general manager said. "We'll talk to them if they are familiar with someone. But making a decision is what we get paid to do. You have to be careful they aren't running the asylum."
No one wants players running the asylum. But you don't want them turning a team into one either.
Dan Pompei covers pro football for the Chicago Tribune at chicagotribune.com. Follow him on facebook and on Twitter danpompei