November 10, 2010 -
Dan Pompei
Pompei's All-Pro midseason team
Here are my picks for All-Pro at the halfway point of the NFL season.
Quarterback—Philip Rivers, Chargers
Others have quarterbacked their teams to more victories, but Rivers has done more with less, given some of the personnel issues of the Chargers' offense. Rivers leads the league in passer rating (102.9), yards per pass (8.9), yards per game (327.1) touchdown passes (19), first-down percentage (43.2) and passes of 20 yards or more (47). Despite what Peyton Manning and Tom Brady have meant to their teams, this one isn't really close.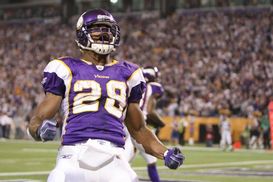 ICONAdrian Peterson has had a lot of nice runs to celebrate, even if he hasn't had many victories to celebrate.
Running backs (2)—Adrian Peterson, Vikings, and Arian Foster, Texans
Peterson has taken a bigger load on his shoulder this season with Brett Favre and the passing game struggling at times. And he has yet to fumble. Foster really has been impressive with a 5.5 yards per carry average and nine touchdowns. But the number that stands out most with him is first downs—he has 51, nine more than the next closest player.
Wide receivers (2)—Roddy White, Falcons, and Brandon Lloyd, Broncos
Tough to leave Terrell Owens off the team, but White and Lloyd have been slightly better. White leads the league in receiving yards and arguably has been the Falcons' MVP. Lloyd has been overlooked on a team that has struggled, but he leads the NFL in average per catch (20.9) and yards per game (109.8).
Tight end—Antonio Gates, Chargers
He is clearly the best tight end in the NFL this year. Even without the benefit of a great run game and a dynamic wide receiver to draw defensive attention away from him, Gates has been almost uncoverable.
Offensive tackles (2)—Jake Long, Dolphins, and D'Brickashaw Ferguson, Jets
You can make a strong case for Joe Thomas of the Browns, but these two belong. Long has taken his game to a higher level in his third season. Ferguson has stonewalled some pretty good pass rushers.
Guards (2)—Jahri Evans, Saints and Steve Hutchinson, Vikings
It's hard to find two guards who stand above the rest. The large majority of the guards in the NFL are in the mediocre category. Evans has continued to play pretty well after breaking out last year. Hutchinson started out slowly but has come on of late.
Center—Nick Mangold, Jets
This consistent player has been one of the keys to a very effective blocking unit.
Defensive ends (2)—Osi Umenyiora, Giants, and Brian Orakpo, Redskins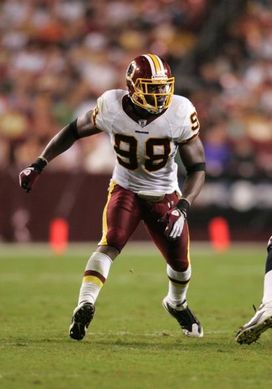 ICONSecond-year man Brian Orakpo is hitting his stride in Washington.
Umenyiora has really taken to Perry Fewell's new scheme. He's helped by some good pass rush talent around him, but he has taken advantage of favorable matchups. Orakpo has seven sacks but easily could have a dozen if opponents hadn't been holding him so much.
Defensive tackles (2)—Haloti Ngata, Ravens, and Ndamukong Suh, Lions
Ngata has given the Ravens a pass rush element to go along with his fierce run defense. Even two men have a hard time blocking him. And the rookie Suh has been a sensation for the Lions—a force against both the run and pass.
Outside linebackers (2)—Clay Matthews, Packers, and James Harrison, Steelers
There are a lot of solid candidates here, including Tamba Hali of the Chiefs, Cameron Wake of the Dolphins, Chad Greenway of the Vikings and Lance Briggs of the Bears. But Matthews, who is used perfectly by Green Bay defensive coordinator Dom Capers, may have a bead on defensive player of the year. And Harrison keeps changing games for the Steelers.
Inside linebacker—Ray Lewis, Ravens
The old man still has it. He gets the edge over Lawrence Timmons of the Steelers and Brian Urlacher of the Bears.
Safeties (2)—Laron Landry, Redskins, and Troy Polamalu, Steelers
Washington defensive coordinator Jim Haslett has gotten Landry to play the best ball of his life by keeping him close to the action at strong safety. He has become a player the quarterback has to identify before every snap. Polamalu missed 11 games last year but is playing like he hasn't missed a beat.
Cornerbacks (2)—Nnamdi Asomugha, Raiders, and Tramon Williams, Packers
Quarterbacks go to great lengths to avoid Asomugha—which is the ultimate compliment for a cornerback. Williams, formerly an undrafted free agent, has come on strong for the Packers and become one of the league's best cover men.
Kicker—Billy Cundiff, Ravens
In addition to being a high-percentage field goal kicker, Cundiff also has been one of the best kickoff men in the league.
Punter—Shane Lechler, Raiders
He is the best by almost any measure.
Kick returner—Leon Washington, Seahawks
He has been consistently good and occasionally fantastic.
Punt returner—Devin Hester, Bears
Opponents have stopped punting to him because they fear him so much.
Dan Pompei covers pro football for the Chicago Tribune at chicagotribune.com.