September 13, 2010 -
Dan Pompei
Ravens flying high with receiver depth
The Ravens of recent vintage have had it all — except for big-time receivers. But the Ravens of current vintage have more receivers than Cam Cameron might know what to do with.
If the biggest issue on this team is star receivers bickering for the ball, it's going to be one great year in Baltimore.
Since last season ended, the Ravens have undergone a wide receiver makeover. They traded for Anquan Boldin. They signed Donte' Stallworth. They re-signed Derrick Mason. They drafted David Reed. And they picked up T.J. Houshmandzadeh from the scrap heap. To make room, they traded Mark Clayton and they cut Derrick Williams.
What is the aggregate? The Ravens still can't stretch the field, though they might get a little boost when Stallworth returns from a broken foot about midway through the season.
They are much more capable, as Jets defenders are sure to find out Monday, in two areas. The first is the inside passing game. They never had a physical presence who could win battles over the middle and work the underneath zones consistently. Now they have two in Boldin and Houshmandzadeh.
The other area they should be better at is the red zone. In the past, the Ravens' smaller receivers would disappear as the field shrunk. Now, Joe Flacco will be able to throw the ball with confidence in the red area even when Boldin and Housmandzadeh are covered.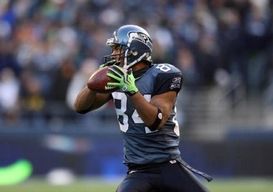 It will be interesting to see how the Ravens work in T.J. Houshmandzadeh.
It will be interesting to see who emerges in the Ravens' offense. It wouldn't be surprising if Mason remained top dog, given the chemistry he has developed with Flacco and his feel for Cam Cameron's offense. But each of the top receivers has played that role before. Boldin, Houshmandzadeh and Mason each had at least 73 catches last year. And each has had a 100-catch season in his career.
The receiver group looked set with Clayton as the third until Houshmandzadeh became available. The Ravens essentially traded Clayton for Houshmanzadeh, though Clayton went to the Rams for a sixth-round pick. Last year, Clayton had 34 catches for 438 yards for the Ravens. It's difficult to envision Houshmandzadeh, who had 79 catches for 911 yards for the Seahawks, not being more productive than Clayton.
What's more, Houshmandzadeh's cost is more appealing. The Ravens are paying Houshmandzadeh the veteran minimum of $855,000 (the Seahawks are picking up another $6.15 million); whereas Clayton would have cost them $2.2 million. That's a lot of cabbage for a third wide receiver.
And paying Clayton that much would have been harder for the Ravens to swallow considering they already have two high-priced non-starters in Willis McGahee ($3 million) and Trevor Pryce ($2 million).
There is nothing wrong with Clayton. He had a good preseason and camp. He should be productive for the Rams. Williams, too, could do well when he hooks up with a team. He has untapped potential.
But Housmandzadeh appears to be the perfect fit for this team.
With Houshmandzadeh, the Ravens now have three receivers who have been Pro Bowlers, three running backs who have been Pro Bowlers, one tight end who has been a Pro Bowler and one quarterback who has been a Pro Bowler.
Even with Darrelle Revis back, the Jets are going to have their hands full with all of these receiving weapons.

Email Dan Pompei your questions at dan.pompei@nationalfootballpost.com