January 26, 2011 -
Dan Pompei
Rivera brings a blend of coaching styles to Carolina
It didn't take me long after meeting Ron Rivera some 25 years ago to come to the conclusion that he would make a good head coach.
Two things stood out about Rivera.
The first is he was very good at explaining Xs and Os, and why things happened in a game. He was my go-to guy when he was a backup linebacker on the Bears because he always helped me figure out the whys in a game. That's a gift. It's one thing to understand strategies. It's another thing to be able to help others understand them, especially without game tape or visual aids. I've known a lot of coaches who aren't very good at it.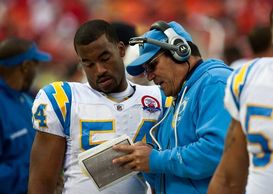 ICONRivera knows a lot of different ways to skin the cat.
The second thing about Rivera is always knew how to handle people. In a volatile locker room, he earned the trust of teammates and coaches alike. He knew what to say, when to say it and how to say it. He was well liked, but more importantly he was respected. I would venture to say you would have to look long and hard through his history to find anyone who would say something bad about the guy. Even Lovie Smith, who replaced him as defensive coordinator, speaks well of him.
So Rivera had the foundation for being a good coach from the start. He built on it by learning from a ton of successful coaches.
His defensive philosophy, for instance, is a blend of Buddy Ryan, Jim Johnson and Smith.
"There is some of what I learned from Buddy that I used in the past, the way you attack people," Rivera told me. "And I had the great fortune of being around Jim Johnson. I really appreciate the influence from him. They both liked to pressure, but were different. Buddy's style was complete sellout almost. We're going to hit them, sell out. With Jim, it was more controlled. You attack with control.
"Being around Lovie Smith, I took some things from him. I told coach Smith I learned so much from him by the way he had me do things. I learned a lot of football. There is a place in my repertoire from what I learned from all these guys. I've learned from all of them."
With Sean McDermott as Rivera's defensive coordinator, it is likely the Panthers will incorporate many of Johnson's ideas. But Rivera's diverse background—he even coached a 3-4 in San Diego—will probably mean the Panthers will have a versatile defense that can change from game to game depending on matchups.
"I think I've learned that there are some things you can do as a three man front and still incorporate a 4-3 scheme," Rivera said. "Especially when you get to your sub packages, the different nickel and dime things you do."
It will be interesting to see how Rivera's head coach personality develops. As an assistant, he has worked for men who go about the job in different ways. "I've been fortunate to be around four guys with unique styles," He said. "I had the very personable, likeable, get to know your guys style of a Dave Wannstedt, to the CEO style of an Andy Reid, to the demanding, I want real men, hold you accountable style of Lovie, to the very imaginative Norv Turner. I've learned from all those personalities."
Of course Rivera also learned from Mike Ditka, whom he played under for nine years. Five men who played for Ditka have been head coaches in the National Football League.
"A lot of things he used to say to us, I say, about doing things the right way, being accountable, taking ownership, challenging yourself," Rivera said. "I've taken so much from him in my every day coaching."
I've told a lot of people through the years that I thought Rivera would be a good head coach. It's good to see the Panthers look at him the way I do.
Dan Pompei covers pro football for the Chicago Tribune at chicagotribune.com