February 13, 2013 -
Dan Pompei
Scout Talk
Jaguars quarterbacks coach Frank Scelfo made headlines when he told the Florida Times Union that Blaine Gabbert would be the first quarterback taken in the 2013 draft. Said Scelfo, "If you graded him out right now, this is his draft class. If he were coming out and the quarterback draft class the way it is, would he be the top guy taken? I think the answer is yes," Scelfo said. "Ask the scouting departments and the general managers around the league and I think you would end up with a yes on that. Basically at his age, 23, the number-one pick in the draft with two years of experience already under his belt. That's pretty good."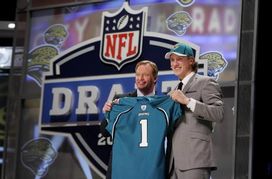 ICONWould Gabbert be No. 1 in this QB draft class?
In 2011, when he entered the draft, Gabbert was seen as a mid to low first round talent. He was pushed up to the tenth pick in the draft because of the need for quarterbacks. In the two years since, many have come to the conclusion that Gabbert was overdrafted. But maybe if he would have stayed at Missouri for another couple of years, Gabbert would have come to the NFL more polished and more ready for whatever he has struggled with. We don't know that for sure though. Maybe the extra time at Missouri would have exposed more flaws.

Let's say Gabbert would have entered the 2013 draft rated as a mid first rounder. Based on what scouts are saying, that very well might put him No. 1 on most boards, as Scelfo said. See, Scelfo's statement was more interesting for what it said about the quarterback class of 2013 than what it said about Gabbert.
It is probable a quarterback or two will go in the first half of the first round--but not because their grade warrants it. The need for quarterbacks and involvement from ownership or upper management will likely lift the stock of a passer or two well above where the player or players should be taken.
It tells us something that with the combine just around the corner, there still is no consensus No. 1 quarterback. In fact, at this point scouts say there are five players who could be the first quarterback taken.
The most likely to go first remains Geno Smith, but if a front office man is shot in the can over him, I have yet to hear from him. Many scouts I have spoken with have strong reservations about him. Smith can help quell a lot fears by scoring well on his Wonderlic and interviewing well. But teams still are questioning how committed he will be off the field. One AFC front office man said he would feel comfortable taking Smith in the mid teens. That's the highest I've heard.
If there ends up be a default quarterback taken first, it could be Ryan Nassib. He hasn't blown anyone away, and he probably is not a day one starter, but scouts have a hard time finding things to dislike about him. He's pretty good at everything. "The whole package could be better than Smith's," one said. "He has more talent than Christian Ponder."
Some like Mike Glennon more than others. He can be very good at times, but is not always consistent. His focus and intelligence are selling points. Some front office men question his ability to lead.
Matt Barkley looked like he would be the No. 1 quarterback taken before the season, but the later it gets, the less love for him you find. His accuracy and decision making are issues. Perhaps his stock will rebound with a strong combine performance.
The dark horse to go first would be Tyler Wilson. He doesn't have everything scouts are looking for in a high first round pick, but they love his toughness and gunslinger mentality.
The truth is it's difficult to find a quarterback who should go first. But someone has to.
Dan Pompei covers pro football for the Chicago Tribune at chicagotribune.com.