September 05, 2012 -
Dan Pompei
Scout Talk
A lot can change between now and April, and probably will. But based on what we know in early September, here are the top senior quarterback prospects in the draft.
1. Matt Barkley, Southern California. He is the undisputed top guy right now, but there is a chance he could be passed. One scout said he would not put Barkley in Andrew Luck's class, but he would put him in Robert Griffin III's class. That isn't to say he is a similar player to Griffin, however. Barkley lacks ideal height as Griffin does (some scouts believe he is shorter than the 6-2 he is listed as), but he is not as mobile and won't make as many second chance plays. He also is a better pocket passer, with decent arm strength and accuracy.
2. Tyler Wilson, Arkansas. Some front office men believe his ceiling is higher than Barkley's. He has good tools. Wilson is a bit of a gunslinger, and needs to improve his accuracy.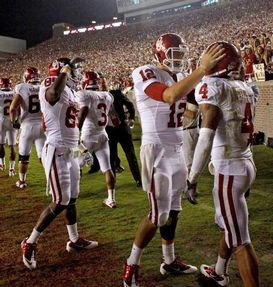 ICONKeep an eye on Landry Jones' draft stock this fall. It could skyrocket.
3. Landry Jones, Oklahoma. He would have been a first round pick if he came out last year. He gets compared a lot to Sam Bradford. As of now, he isn't as highly regarded as Bradford, but he could gain ground with a big season.
4. Mike Glennon, North Carolina State. This is a big pocket passer with an impressive arm. One scout thinks he is a little like Matt Ryan.
5. E.J. Manuel, Florida State. He will fit in well with the new wave NFL quarterbacks who are highly athletic and strong armed. In the right NFL offense, he could be outstanding, but he might not fit every team.
6. Geno Smith, West Virginia. He has a nice combination of arm talent and mobility, and he has been a successful passer. He is from a shotgun system and might need considerable refining.
7. Ryan Nassib, Syracuse. He is a poised passer with accuracy who can make all the throws. Nassib could develop into an NFL starter.
8. Sean Renfree, Duke. This three year starter is an accurate passer with good arm strength. He's mostly a pocket passer.
9. Zac Dysert, Miami of Ohio. He was a very productive quarterback even though he played behind a poor offensive line. Dysert is tough and accurate.
10. James Vandenberg, Iowa. This dropback passer does not have an outstanding trait, but is pretty good at everything. He needs to improve his accuracy, however.
Some underclassmen to keep an eye on include Zach Mettenberger from LSU, Logan Thomas from Virginia Tech and Aaron Murray from Georgia.
Dan Pompei covers pro football for the Chicago Tribune at chicagotribune.com. Follow him on Twitter at @danpompei