October 03, 2012 -
Dan Pompei
Scout Talk: Heisman candidates
Just because a player is a Heisman candidate does not necessarily mean he is a candidate to be chosen at the top of the NFL draft. I asked a few NFL scouts to rank some of the Heisman candidates based on where they would be drafted if the draft were held today. This is what they told me.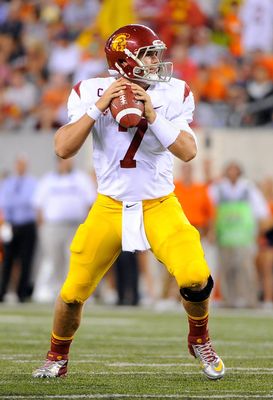 US PRESSWIREBarkley's draft stock is sliding.
1. Matt Barkley, Southern Cal QB: His Heisman stock is down, and his draft stock is down. But he still is a pretty solid draft prospect and likely will be the best pure passer in the draft. There are differing opinions on Barkley, and there is a chance, maybe even a good chance, that he will be dethroned from the top of this list as the season and postseason goes on.
2. Manti Te'o, Notre Dame MLB: He is a long shot to win the Heisman because of the position he plays, but Te'o's draft stock is shooting up. He's having a great season, considerably better than one year ago when he was playing hurt. His combination of ability and intangibles make him a top of the draft prospect.
3. Geno Smith, West Virginia QB: He is the Heisman favorite at this point and may end up being the best draft prospect. But scouts are still trying to wrap their arms around who Smith is as a player. He is playing lights out football and drawing comparisons to RGIII. He's making good decisions, getting rid of the ball quickly, throwing accurately, making plays downfield and creating problems for defenses with his feet. Physically, Smith has it all. But he has not played like this in the past. Scouts didn't think he was a great prospect coming into the season and would like to see him produce over a long period of time before proclaiming him the top player in the draft. But there is a chance he will be that if he keeps on the path he is on.
4. E.J. Manuel, Florida State QB: His draft stock is up too, but he still is thought of more in the second round range. He needs to keep showing he can make good decisions and deliver the ball accurately, and he can continue to rise.
5. De'Anthony Thomas, Oregon RB: At 173 pounds, he is not a prospect to be an every down back in the NFL. But he could be an outstanding weapon in the right hands. Thomas looks like a second round pick at this point.
6. Aaron Murray, Georgia QB: He lacks ideal size and arm strength for the NFL, but he could be a decent system quarterback if he develops. It's possible he will be best suited as an NFL backup.
7. Collin Klein, Kansas State QB: At 6-5, 220 pounds and with fine running skills, Klein has drawn comparisons to Tim Tebow. That could help him or hurt him. Klein, like Tebow, still has a lot to prove as a passer. But he has improved his accuracy this year.
8. Braxton Miller, Ohio State QB: His athleticism and running ability is excellent, but Miller is a raw passer who needs play time and skill refinement.
Dan Pompei covers pro football for the Chicago Tribune at chicagotribune.com.