October 10, 2012 -
Dan Pompei
Scout Talk: Ranking the top Senior WRs
The wide receiver draft board remains a fluid one, and NFL teams are hoping for a healthy influx of underclassmen. It is possible that none of the seniors will be chosen in the first round, as the best receivers from the 2013 class—Justin Blackmon, Stephen Hill, Alshon Jeffery, Rueben Randle and Mohamed Sanu—came out early a year ago. Here is who scouts say are the best senior wide receivers at this point.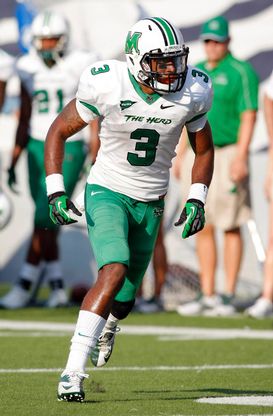 US PRESSWIREMarshall's Aaron Dobson.
1. Aaron Dobson, Marshall, 6-2, 204: Dobson is gifted physically but still developing. He has not reached is full potential. He could rise in the postseason, and he could be a better NFL player than college player. He has very good hands but does not have explosive speed.
2. Aaron Mellette, Elon, 6-3, 218: He has size, hands and instincts. He is compared frequently to last year's small school phenom at the position Brian Quick. But he is not as fast. Mellette has had some production against high caliber competition.
3. Tavon Austin, West Virginia, 5-9, 185: He could be riding Geno Smith's coattails straight up draft boards. Lack of size is his only drawback. Austin is an explosive, quick slot receiver and a legitimate return man. He has been very productive.
4. Terrance Williams, Baylor, 6-1, 190: Williams has production, ability and decent size. He is not as highly regarded as former teammate Kendall Wright, but like Wright he can get downfield. Scouts need to study him further to see how much of his production is the result of scheme and how much is talent.
5. Denard Robinson, Michigan, 5-11, 197: The quarterback will have to concede to a position switch, and nobody really knows about his hands. But Robinson has special athleticism and excellent speed. He moves like a receiver and could be a modern day Antwan Randle El.
6. Marcus Davis, Virginia Tech, 6-4, 232: He should be taken fairly high because he has a rare combination of size and speed (estimated 4.45). But scouts say he is a very raw wide receiver and inconsistent player who is not ready to be an NFL starter. Some wonder if he ever will be.
7. Cobi Hamilton, Arkansas, 6-2, 210: Scouts thought he would come on this year, but they still are waiting. They like his size and ability to catch in a crowd. He could rise in the postseason.
8. Quinton Patton, Louisiana Tech, 6-2, 195: He has decent size and shows a knack to get open and make plays. He does not have elite speed or athletic ability.
9. Russell Shephard, Louisiana State, 6-0, 190: He shows decent speed and quickness in the slot, but is not a special receiver. He has a long history of production.
10. T.J. Moe, Missouri, 6-0, 200: He is a versatile player who can run routes well. Moe does not have a special trait but is solid all-around.
Dan Pompei covers pro football for the Chicago Tribune at chicagotribune.com