November 14, 2012 -
Dan Pompei
Scout Talk: the top senior TE prospects
If you consider only seniors, the 2013 tight end class looks weak. But the expectation is a number of quality underclassmen will declare themselves eligible and this will end up being a decent draft for tight ends.
Among the players with eligibility remaining who figure to leapfrog most of the seniors are Tyler Eifert from Notre Dame, Zach Ertz of Stanford, Dion Sims from Michigan State, C.J. Fiedorowicz of Iowa and Gavin Escobar of San Diego State. Eifert is a potential first round pick.
Here, according to NFL scouts, are the best senior tight ends.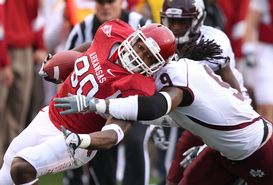 Chris Gragg has some NFL potential as a tight end with movement skills.
1. Chris Gragg, Arkansas, 6-3, 236. He lacks ideal size to be a very good in-line blocker, but he can be a decent receiver. Gragg gets in and out of cuts well and shows pretty consistent hands. He can run the shallow routes and get in the seams. He is tough enough to be functional as a run blocker.
2. Travis Kelce, Cincinnati, 6-5, 260. He has come on strong this season and created ad buzz. Kelce, brother of Eagles center Jason Kelce, is athletic and can stretch the field. He shows good body control and ability to adjust to the football. He is not a powerful blocker, but he is competitive and can be nasty.
3. Joseph Fauria, UCLA, 6-7, 260. His combination of height and hands make him an intriguing prospect. He can run routes and create mismatches. A transfer from Notre Dame, Fauria does not block as well as you might expect someone his size to block. He falls off blocks at the second level.
4. Zach Sudfeld, Nevada, 6-6, 255. He came into the season with two career catches but has been productive in 2012 and is shooting up draft boards. Sudfeld has size and good movement ability. He has some potential as a blocker and could be a decent two-way player. NFL teams will have to take a good look at his medical, as he has had some durability issues.
5. Jake Stoneburner, Ohio State, 6-4, 245. He is a possession receiver who lacks suddenness in his routes. He is better running in a straight line than turning or stopping and starting. He is not the most physical blocker.
6. Matt Furstenburg, Maryland, 6-4, 245. He is an experienced tight end with decent size, athleticism and hands. He needs to still developing the physical aspects of his game.
7. Ryan Otten, San Jose State, 6-5, 245. Otten has decent size but is more of a finesse tight end who can move around in different spots in the formation. He catches the ball fairly well. His blocking needs work.
8. Ryan Griffin, Connecticut, 6-5, 250. He is built well for the position, with a solid frame and long arms. He is a one speed runner. Griffin can catch the ball away from his body. He is an average blocker.
Dan Pompei covers pro football for the Chicago Tribune at chicagotribune.com.