November 21, 2012 -
Dan Pompei
Scout Talk: Top Guard Prospects
It is not a bad year to be in need of a guard, as the draft will offer some quality prospects. The pool of seniors isn't the deepest, but if a few underclassmen come out as expected, the guard crop will be very good. Here is how scouts are ranking the top seniors.
1. Jonathan Cooper, North Carolina, 6-3, 310. He has had an outstanding fall and has risen up boards. He started out the season behind Chance Warmack, but now it looks like he'll be the first guard taken. NFL teams love this kid because of his athleticism and ability to make blocks on the second level. He is rare in that regard. "It's been years since I've seen one who can do the things in space against DBs and linebackers that he can," one front office man said. Another called him a "freak athlete," and lauded him for his explosiveness, intelligence and toughness.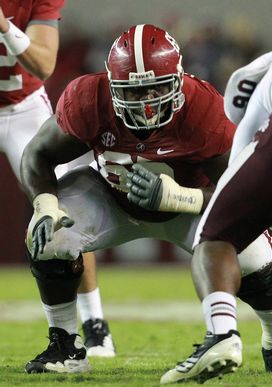 US PRESSWIREChance Warmack is going to help some NFL running back next season.
2. Chance Warmack, Alabama, 6-2, 322. This is a powerful road grader who can help give an offense an identity. Warmack does everything well, but he specializes in run blocking. He has a great lower body and anchors well. He plays with an aggressive mentality. He has the foot quickness to pull and is a likely late first round pick.
3. Barrett Jones, Alabama, 6-4, 305. He is a former tackle playing center who likely will be switched to guard in the NFL. Jones could develop as a center, and his positional versatility will serve him well. He isn't a top athlete, but he is smart, polished and efficient.
4. Hugh Thornton, Illinois, 6-4, 310. Thornton is a solid player who combines very good athleticism with very good effort. He is playing tackle this season but probably will be moved back to guard in the pros. He anchors well and has good feet. Thornton is tough and aggressive.
5. Nick Becton, Virginia Tech, 6-6, 317. He is a left tackle in college, but NFL teams are eyeing him at guard. He has improved his stock dramatically this season. Becton has size and strength, especially in his lower body, and plays with heavy hands. He anchors well and would be a good fit in a power scheme. He can control the point of attack.
6. Larry Warford, Kentucky, 6-3, 343. This massive blocker has experience and production on his resume. In addition to power and mass, Warford also has decent quickness. He needs to sustain blocks better.
7. Uzzie Omoregie, Georgia Tech, 6-3, 302. He is a tad on the small side for some NFL schemes, but he does play bigger than his size. Omoregie uses decent technique and gets movement in the run game.
8. Travis Bond, North Carolina, 6-6, 340. He has marginal athleticism and foot speed, but his size is a plus. In the right scheme, Bond can make it as a power blocker.
Dan Pompei covers pro football for the Chicago Tribune at chicagotribune.com.